Drone Waypoint GPS Navigation Technology Explained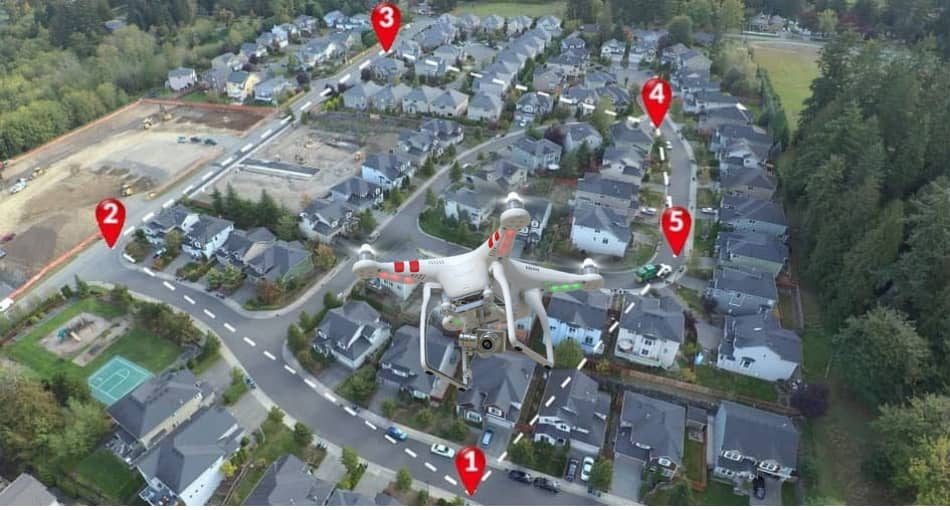 Drone Waypoint GPS Navigation system is part of new-era progressive technology inventions. This system has been very useful throughout the past decade, but it will show its usefulness even more so into the future as drones take on new tasks, roles, and functions in business and other domains. What the waypoint GPS Navigation is capable of is to give a drone ability to fly on its own, where the flying destination or points are preplanned inside the drone navigational system.
It safely leads a drone to its destination and gives information such as the flight height and flight speed, based on the planned route. To simplify, for your drone it can be a route and destination planner.
Waypoint GPS Navigation enables a drone to fly on its own by using the preplanned points or its flying destination that is configured into the drone remote control navigational software. Therefore, the drone has the ability to adjust the set altitude, speed, and trajectory on which it needs to fly at each waypoint.
In this article, there are a few awesome videos that explain what GPS waypoints are, how these waypoints are being used, and the installation process on how you can set them up for your own drone. So, if you want to skip ahead and avoid all the reading, you can watch the videos right away. The video by Lyle Brotherton does an excellent job in explaining GPS waypoints. If something still seems confusing, come back to the article.
If you are in fact continuing to read the article, we sure hope it will be useful and entertaining. So let's start.
What Are Waypoints on a Map or GPS Device?
To simplify things and make the topic as clear as possible, we will start with the basics. A waypoint is a satellite navigation device that functions and can mark any location anywhere on the planet. The term used for this is "Waypoint" and the dictionary definition is that it is a "reference point in physical space".
Before GPS devices were made, we would have to take, open and read a map. We would mark the location that we are currently at and find the one that we want to go to. We would then mark it with a pen. That's exactly what the GPS system does but in a more practical way. It's practically seen in its electronic storation of the points and detailed instructions on how to get to the desired location.
Here we have 3 very useful things that can be done with GPS waypoints that could never be possible with paper maps.
GPS navigation systems have the ability to come straight back from the starting point
Possibility to transfer waypoints in digital mapping software in a computer.
It is possible to share waypoints to multiple groups of people.
Related Article: How Much Does a Drone Light Show Cost?
The Use Of GPS Waypoint Navigation
GPS Waypoint Navigation Uses Outside of Drones
Mountaineers and hikers use the newest technology GPS Waypoint systems along with old style compass and maps.
The taxi drivers, together with delivery personnel in large cities are using Waypoint which helps them find their addresses for deliveries and pickups in the fastest and shortest way possible.
Many tourists are using programed waypoints for all the points of interest they want to visit along with accommodation and restaurants.
Drone GPS Waypoint Navigation Uses
Engineering Project Site Surveys:Waypoints need to be programmed for drones to start going directly to one point or make stops, filming and taking photos of each point. Some of these drones are right now being used to film and photograph the Solar Farms (See video below), Pipe lines, Railway Tracks, Telecoms Masts and Archaeology sites.
Environment & Conservation: Surveying areas of interest. This saves significant time and resources.
Agriculture: In this field the GPS Waypoints can be use to survey farms and to search for missing sheeps or other animals in hills and mountains areas. Additionally, agricultural drones are using advanced thermal vision cameras together with multispectral sensors, which give farmers improved ways to analyze farm data to reduce crop damage.
Parcel Delivery:Some big companies like Amazon are working on this, and will be available in near future.  You need to program GPS waypoints to be able to map routes for delivery drones.  The delivery drones will be able to take packages and deliver parcels from one point to the next without the need for a pilot.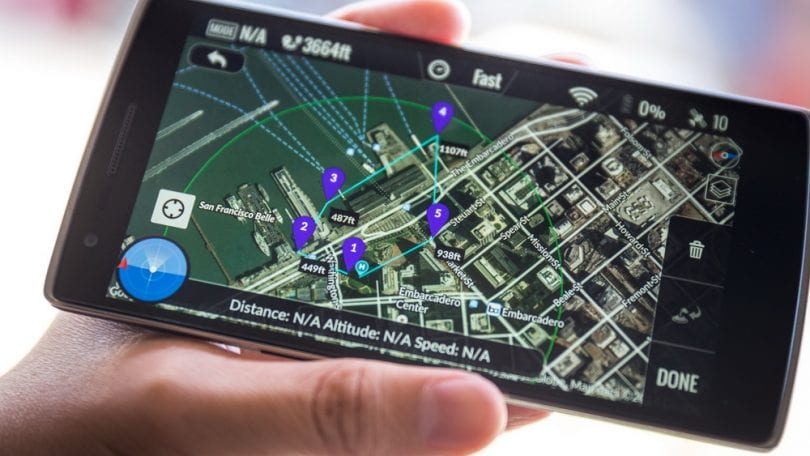 Other than the ones named, the quadcopters will have the job to overcome problems such as obstacle avoidance increase in safety. Additionally, drones right now, are pretty noisy so they will have to improve this area of technology and get quieter. Other than the loudness, drone flight times are too short, averaging flight time is around 15 to 20 minutes. Their endurance will have to improve taking the flight time to at least 50 minutes.
Moreover, because the costs of having a pilot for every drone delivering parcels would be too costly there will have to be a more economical option in function. This is because the drones will be pre-configured with their destination waypoints and they will go straight to their delivery location. As said, for that the technology would have to improve drastically.
There are many companies looking to use drones to deliver parcels, so the market for this is huge and opportunities for companies that are making delivery drones are limitless. By now, The French Postal service is considering to add parcel delivery and a Netherlands based Aerialtronics had an inquiry about using drones to delivery diamonds in the city of Antwerp. Additionally, Google has a program for home delivery called Project Wing and Amazon is also working on their parcel delivery system.
You can read further on the upcoming projects for these products and the latest news on Delivery Drones: The Future Of Drone Delivery Business.
Advanced Waypoint GPS Navigation Technology In Drones
Drone waypoint GPS Navigation is basically an better and upgraded version of the handheld GPS device. It's improved features are visible in its ability to fly the drone, fly it to configured coordinates, and keep the drone very stable in the air. Some drone waypoint software can have up to 500 waypoints programed in themselves.
An important feature that drones with waypoint software have is, that the flight pilot can take control over the drone at any time, even if it is on its way to a specific waypoint. The drones are also programed to take the shortest route to each waypoint. With that they are saving battery and increase efficiency.
Related Article: 10 Best Drones for Construction
Drone Waypoint GPS Navigation Technology Today Usage
Drones are being used for numerous uses and more frequently than ever.  Some examples are construction, railway and road maintenance, power stations, search and rescue, archaeology sites and environmental surveys. Most of the insurance companies are using waypoint GPS navigation for viewing damage that has been made on buildings and in agriculture to inspect crops, fencing and glasshouses.
An important advantage that the waypoint GPS navigation system has given to drone fliers, is the fact now one person can fly and capture any aerial images. Before this technology was available, aerial 3D photogrammetry and Lidar imaging would require a two person setup.  Now the flying to a specific location is pre-programmed and the person can focus on the film and picture taking.
Drone cameras capture hundreds, sometimes even thousands of overlapping photos of the ground and structures or a model. Most of the photos that are captured will overlap with others, by 80% to 90%. After that, the 3D maps and 3D models are then created with the help of aerial image stitching aka. putting them together. The software used for this is called the 3D mapping photogrammetry software.
The drone flies using autonomous waypoints.  Because of the drone's precision each photo captured also has it's GPS coordinates (Geotagging) saved. That helps with building the 3D map. A geotagged photograph is then associated with a geographical location.
Related Article: What Are Ground Control Points (GCPs) for Drone Mapping?
Companies That Use Waypoint GPS Navigation With Drones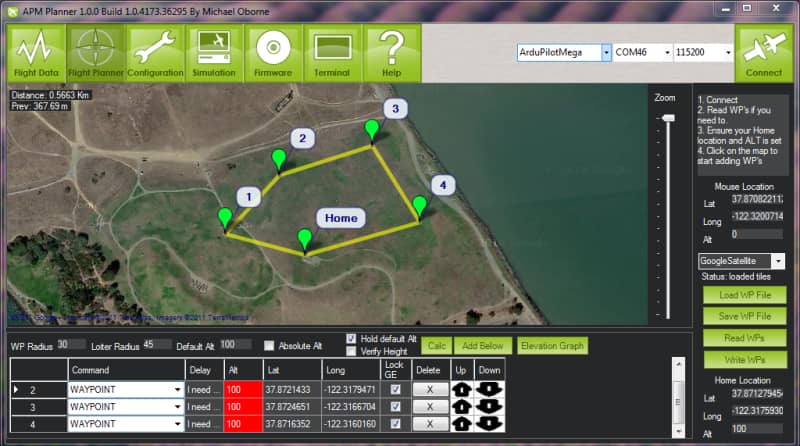 Ace 2 from DJI– It has precise flight positioning, high mobility, and simple use.  It comes with a fully automated aerial work platform with an advanced professional ground station system.
Ace 3 From DJI – Groundstation can be used in DJI GO APP with Lightbridge 2, and in PC Ground Station with Lightbridge 2 or DATALINK PRO. The great thing about A3 is that it comes with 3 IMU units and 3 GNSS, that have analytical redundancies.
ArkBird Autopilot – This model is very capable to provide you with the very best FPV experience in navigation. With ArkBird you have the features such as GPS waypoint flight, 'Return to Home' functionality, auto-leveling, altitude hold and a lot more. It is also capable of utilizing GPS, attitude sensors, and barometer.
Spreading Wings S1000 – This is a professional drone from DJI. This drone comes with waypoint technology that has built-in algorithms together with a choice of either the Ace Waypoint or the Wookong-M Waypoint. This is a high class drone, and its price is also high.
Phantom 4 Pro V2.0  – This model comes with waypoint navigation plus system and with additional intelligent flight modes that are including 5 directions of collision avoidance.
Phantom 3 & Inspire 1 – These models also come with waypoint navigation system. They have built-in hardware that already comes with these models after the update was done in September 2015 that added the waypoint features.
Scout X4 (Walkera) – can program up to 128 waypoints using its Ground Station system. Walker produces great models of drones, so this is one of their quality examples also.
Multirotor G4 – Service- Drone is a German company that is producing the very best drones in their class. The G4 multirotor has a one-of-a-kind GPS flight assistance for manual and fully autonomous flying. It allows setting waypoints before or during the flight. With it, you can fly autonomously with planned survey flights. This model has the ability to configure up to 500 waypoints.
Altura Zenith (Aerialtronics) – This model use Altura GCS Application to manage manual navigation and autonomous flight modes. Here the pilots have few options, such as flying the drone with via waypoints or by the use of flight patterns.
APM Copter (Ardupilot) – This model has a large range of flight capabilities such as; fast paced FPV racing, sleek aerial photography, and fully autonomous complex system. The entire quadcopter is designed carefully to be safe and it is open-ended for custom applications and easy to use even for beginners.
X8 Quadcopters (3DR) – The technology that this model use is Pixhawk v2.4.5 Autopilot hardware that is capable of creating repeatable flight paths, and with the use of that data he collects data beyond the visible spectrum. What this quadcopter can also do is generate point clouds for the precise surveys. The X8 model can work with Mission Planner or APM Planner Software 2.0 for the waypoint navigation system.
MicroPilot – This company is developing and supplying Autopilot software and hardware for drones in more than 70 countries around the World. They are also the world leader in professional UAV autopilots.
Geodedics – This company deals with design and supply of Positioning, Navigation and Timing (PNT) solutions, which also includes LIDAR technology.
Keep in mind that not every drone or quadcopter has installed a waypoint GPS navigation system. But that trend will soon change and more manufacturers are coming to the market, so the competition is increasing, and thus the demand for this technology which greatly aids in doing business.
For the end of this article, we have put a great video that shows an autonomous drone that is flying by using GPS waypoints. This technology is getting better and better, so it is important to stay ahead of the market.
Conclusion
I hope you have understood by now how the Drone Waypoint GPS Navigation system works and how this technology is being used more and more often. This is something that will be extremely important in the near future, and a lot of companies are working on developing them. If you have any more ambiguities, feel free to leave us a comment.