How Much Does a Drone Light Show Cost?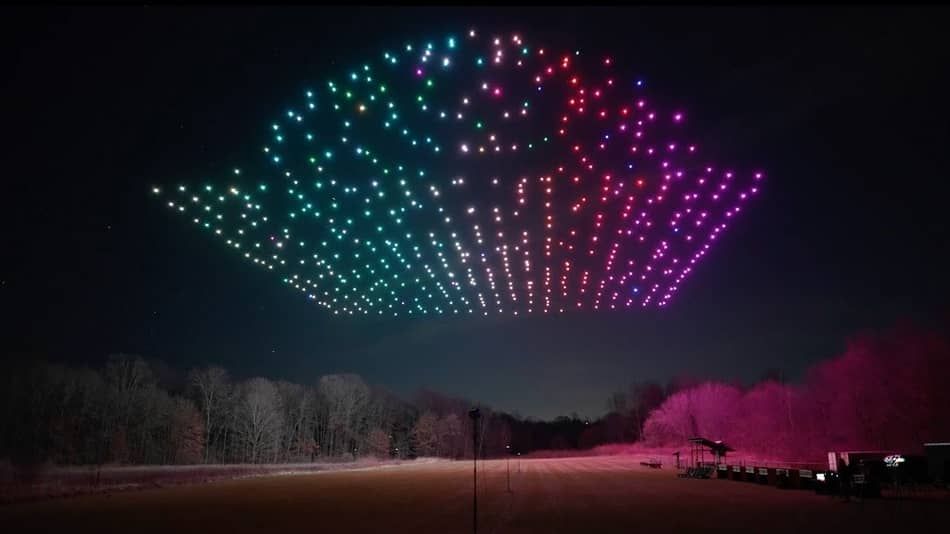 Drone light shows have emerged as a global sensation, presenting a creative alternative to traditional fireworks. Have you ever wanted to express a romantic "Will You Marry Me?" on the sky for your girlfriend?
Perhaps lighting the night sky with star-shaped formations during a sports event or performance? Or even illustrating your company's logo in the air during a corporate gathering? A drone light show is just for that. However, some people may wonder, how is this possible?
Countless small, well-coordinated drones can bring this concept to life in the beautiful sky. Also, there are a lot of companies that provide this offer, and their price varies a lot. In this article, we'll talk about that. So, let's start!
How Much Does a Drone Light Show Cost? The price for a drone light show can range broadly, depending on factors like the drone count, complexity of the show, and operational details. The drone light show starts at $20,000 for more modest shows and can increase significantly for larger, more detailed shows.
Intel, a company that once provided drone light shows (though subsequently sold their technology to Nova Sky Stories), previously disclosed their drone light show pricing online in 2023.
The starting costs for a single drone light show were just below the six-figure mark. Here's a breakdown of Intel's drone light show costs in 2023, covering aspects like on-site management, animations, practice sessions, flight permissions, and location assessments, according to their official website:
| Number of drones: | 200 | 300 | 500 | 500+ |
| --- | --- | --- | --- | --- |
| Show includes: | Solid, 2D shapes and imagery | More volumetric, 3D shapes and animations | Higher resolution imagery, more dimension, detail, and more complex animations and scenes | The most premium experience |
| Starting Price: | $99,000 | $199,000 | $299,000 | Contact Intel for a custom quote |
Table: Drone Light Show Costs
Certainly, those amounts were just basic prices and didn't precisely incorporate expenses related to transporting drones and the travel of the Intel operations team. Moreover, you're also responsible for costs tied to on-location infrastructure, which might involve establishing fences to secure areas beneath the drones' flight path, organizing seating, and additional necessities.
Intel needs a minimum spatial requirement of 25m x 45m for the launch area, secured with fencing, and a minimum of 340m x 300m of airspace.
Intel has indicated that they generally advise a 2-3 month preparation period for their shows, which usually lasts approximately five minutes. Primarily, Intel's drone light shows have been a highlight at grand, vibrant events like musical concerts and substantial conferences.
Related Article: What Is Drone Light Show? Drone Display
What Is a Drone Light Show?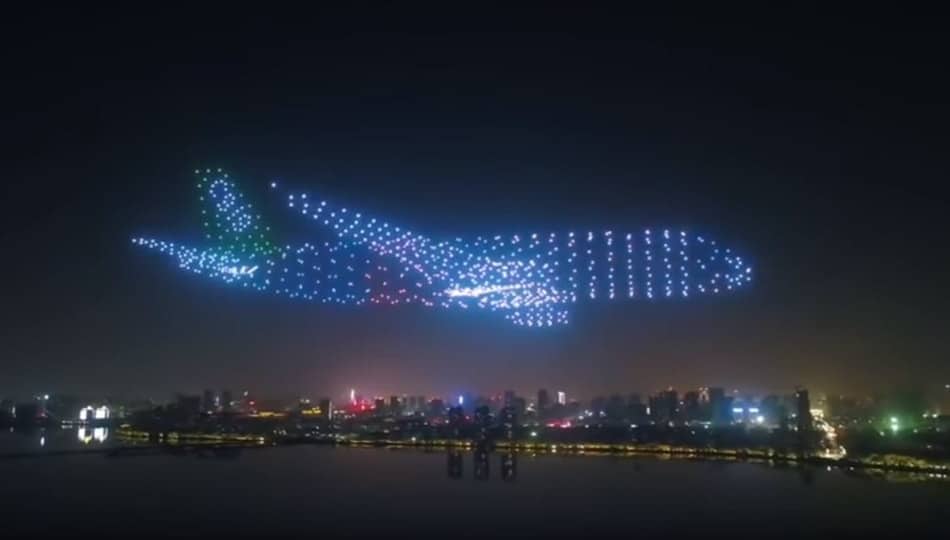 A Drone Light Show is a choreographed display of illuminated drones flying in synchronized patterns to create shapes, patterns, and animations in the night sky.
These drones can be set up in advance to move in detailed patterns and perform synchronized actions, crafting captivating visuals for those watching below. When it comes to grand performances, it's not unusual to use hundreds or thousands of drones to generate magnificent light spectacles.
Large Drone Light Show Hosted By Intel
In 2018, a group of 250 drones illuminated the sky above Las Vegas, Nevada, during a big CES tech conference. During the Olympic Winter Games 2018 Opening Ceremony in PyeongChang, South Korea, an impressive assembly of 1,220 drones took over the sky. The price of this drone light show costed over $200.000 at that time.
Moreover, potentially setting a record for the most massive drone light show ever, 2,018 drones flew above Intel's campus to mark the company's golden anniversary.
Before these events, hundreds of  Intel drones, with FAA approval, lit up the night sky in a Super Bowl Halftime Show that spotlighted Lady Gaga, served as evening amusement at Coachella, and became a staple during the 2016 festive season at Walt Disney World. More recently, drones flew in the form of Baby Yoda as part of a promotional effort for Disney+.
Here, you can see the World's Largest Drone Light Show Ever:
Other Big Companies That Feature Drone Light Show
Intel was a pioneer, being one of the biggest companies to host drone light shows, significantly shaping the framework for the drone light show companies we see presently. Nowadays, another gigantic player in the drone light show industry is Ehang, a drone producer from China who also hosts light shows.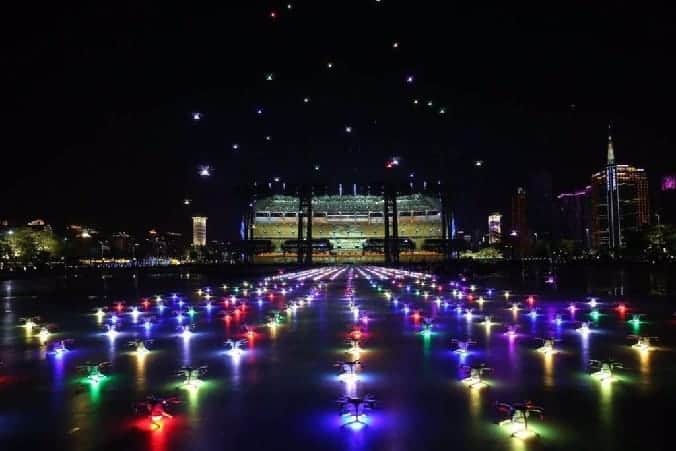 Ehang, which ventures into diverse drone sectors, from passenger drones to those for consumer use, has also gotten into the drone light show arena, routinely competing with Intel to set new records for the largest drone light shows. As more and more companies enter this business, the price becomes more and more acceptable.
Disney has also effectively performed its drone shows these days, including a 2022 performance at Disneyland Paris, marking its 30th anniversary with a show named Disney D-light. For a brief period, Disney utilized drones at its Walt Disney World Resort in Florida during the 2016 holiday season, creating a spectacular evening display.
In Asia, SKYMAGIC, a drone light show company based in Singapore, makes a significant impact. SKYMAGIC has planned several major events, including the 2022 New Year's Eve Show in London, a Pokémon drone show commemorating Pikachu Weekend, and a public performance celebrating the Venice Biennale.
Drone Light Show Companies Based In The U.S.A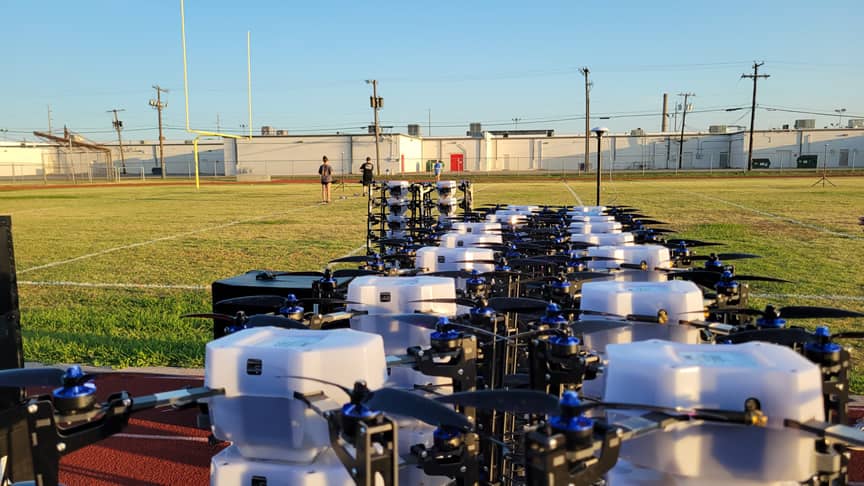 Although the drone light show is quite new, there are only a small amount of companies that do this. A limited number of companies in the U.S. are authorized to perform drone light shows, and here are some of them:
Cost Of Drone Light Show For American Companies
Verge Aero, located in Texas, reveals that its drone shows generally range from $52,000 to $210,000 for an open-air drone light show. Its drones have the capacity to execute sophisticated 3D animations and showcase logos. The firm demands a minimum usage of 100 drones for a basic show (although it mentions it has conducted shows with as little as 50 drones in smaller setups).
On the other hand, for bigger 3D animations, Verge suggests deploying at least 300 drones, leading to a more substantial expense. Sky Elements offers a somewhat lower initial price, indicating that their shows kick off at $20,000 for smaller shows — yet you would rarely end up paying just that minimum as prices swiftly escalate for larger and more detailed performances.
Can Drone Light Shows Replace Fireworks?
Yes, drone light shows can serve as environmentally-friendly alternatives to traditional fireworks. However, are they also friendly to your budget? A small community festive fireworks show usually costs $2,000 to $7,000.
In the context of larger events, Disney reportedly pays roughly $35,000 per performance for its great fireworks at the Magic Kingdom amusement park in Orlando, Florida. And, although drone light shows may lack the auditory characteristic of fireworks, experts highlight that drones — capable of forming a seemingly endless array of 3D configurations and colors — provide a much wider canvas for creativity.
Several prominent entertainment companies, such as Disney, are deploying drones alongside fireworks. For instance, the Marvel drone show in spring 2023 at the Walt Disney Studios Park in Paris mixed fireworks, projections, and drones to create a breathtaking sensory spectacle, showcasing superheroes like Captain America, Captain Marvel, and Scarlet Witch, and introducing Shang-Chi to Disneyland Paris for the first time.
Related Article: What is Drone Racing?
FAQ: People Also Ask
How much does a drone show cost per drone?
The price of a drone light show is determined by charging for each drone, which goes between $350 and $700 per drone. This cost can vary based on numerous aspects, like the intricacy of the show, the place where the show will be performed, and the scheduling timeline.
Why are drone shows expensive?
Multiple elements can impact the cost of a drone light show, like the number of drones, the lifespan of their batteries, the duration of the drone show, atmospheric conditions, and obtaining the necessary official authorizations. A modest drone show might cost around $20,000.
Final Thoughts
Hosting a drone light show usually costs a lot of money and is not profitable for individuals and smaller companies. Whether organizing a wedding or a business gathering for 1000 attendees or desiring something extraordinary for your celebration – knowing the price of a drone light show is crucial to managing your funds accurately and ensuring your event is precisely as you envisaged.
Taking into account every expense linked with creating your distinctive sky exhibition – from the intricacy of the design and the count of drones used to hiring charges – you'll be capable of forming a precise financial plan that adheres to your budget. I hope this article has helped you, and for any questions, feel free to comment below.