Delivery Drones: The Future of Drone Delivery Business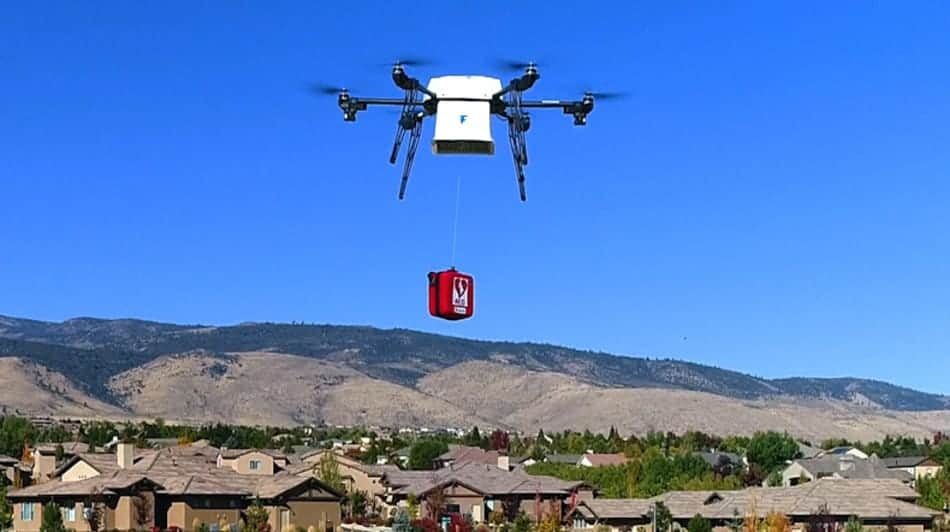 You are familiar with drones, but you don't know anything about delivery drones? If not, now is the right time to learn a few things about delivery drones and what they are capable to do. Can we expect that time has come when drones will take the lead in the delivery World, and drastically speed up the delivery process?
There are more than 2 million drones registered in the U.S., and that number is growing fast. Besides that, its much easyer today to buy a drone unlike the first time they appeared on the market.
Today drones are mostly used for having fun, sports, taking aerial photography or for commercial purposes, but their full potential has not yet been used. A big step forward to use that potential and technology is drone delivery.
A very interesting fact is that the flight technology for making drone delivery is already possible and available. It is true that there are still some problems and shortcomings in this brench, but it's only the matter of time when this things also will be fixed.
Therefore, drones are not used daily for delivery, but in the near future it could be the primary means of delivery. Just imagine how one day instead of the delivery guy you see a drone hovering above your house with package and is ready to land you a package. So let's see how it is drone delivery applied today.
If you are looking to buy a drone, our recommendation is DJI Mini 3 Pro.
The TOP 5 Pioneers in Drone Delivery Business
The technology is improving so fast that we can no longer reliably predict the future, so the future of drone delivery looks very reliable So we talked about how we have a couple more years to do this all at the big door.
In the next couple of years, there will be a huge interest in this market, therefore large companies have already begun to conquer this market such as Amazon, Fedex and Walmart. But how close are they to the realization of drone delivery?
1. Amazon Prime Air
We all heard about Amazon, but did you know that Amazon could be one of the possible future leaders in drone delivery? Amazon Prime Air is a delivery system that use small drones (miniature UAV) vehicles for safely delivering packages to customers in 30 minutes or less within a 10mi (16km) radius. Amazon produces its own drones.
In December, 2013,  Jeff Bezos the CEO of Amazon, introduced plans for Amazon Prime Air. Amazon has been testing the Prime Air delivery drones for years now. The future of drone delivery for amazon is bright.
Amazon Prime Air is using multi-rotor miniature unmanned aerial vehicle (miniature UAV) technology to autonomously fly and deliver individual packages to customers within 30 minutes of ordering. What these drones need to do is to deliver the order in less then 30 minutes with a payload of 5 lbs (2.25kg).
Also it must be small enough to fit in the cargo box that the craft will carry, and must have a delivery location within a 10-mile (16 km) radius of a participating Amazon order fulfillment center.
In future Amazon plan to fly drones weighing an up to 55 lb (25 kg) within a 10 mi (16 km) radius of its warehouses, at speeds of up to 50 mph (80.5 km/h). This project is still in the developing stage, but Amazon can very quickly realize this project with technology they have.
2. Walmart
Walmart is also one of the companies that does not want to lag behind and wants to use drones for home deliveries. Walmart has already applied to patent a system for drone deliveries in the US that would be powered by blockchain.
Interestingly, they ask for premission to test use of drones for home deliveries from the Federal Aviation Administration, and they need approvment. What Walmart has done is that they tested indoor delivery using the Phantom 3 DJI drones.
This both models where tested by SZ DJI Technology of China, and they where ready for outdoor testing for Walmart. What Walmart also want is the premission to use drones to see the contents inside the trucks that are parked at their warehouses.
3. Zipline International
This startup is the first who specializes in delivery of blood and other medical supplies in the Africa. This is one of the famous delivery and logistics companys that is based in Half Moon Bay, California, and they already uses drones to deliver blood to remote hospitals in Rwanda. The company refocused on delivering medical supplies using automated drones since 2014. The company says it can launch & catch up to 500 drones a day with its new delivery system.
They redesigned pretty much everything about the plane and they ground systems to support scaled operations. Since then, they built the world's fastest and most reliable delivery drone, the world's largest autonomous logistics network. The cost of delivery via drone in Zipline is comparable to conventional means by road especially in the cases of emergencies. They are designing they next generation system from the ground up, incorporating with all that experience.
4. Domino's
Domino's Pizza is a very famous brand in the UK for years, but they are going to the next level. Delivering pizza through drones. Domino's Pizza has made an interesting pilot project where they teamed up with another company in its industry and tried to deliver cheese pizza.
The self-made drone has the ability to carry two pizzas, and these were delivered to their supplier. The pizzas were well secured while they were travelling.
This whole process lasted about 10 minutes for a distance of 4 miles and everything went perfectly. What they concluded with this test was that this experiment was much faster than a classic pizza delivery service.
While this service may not be applicable soon and will replace the old delivery method, it was interesting to see the future it was heading towards. What the federal drone authorities estimate is that in just 5 years this industry will be worth nearly $ 100 billion.
5. Fedex
Fedex is still in phase of exploring how they want to use drones. One of the ways they are planing is that the drones may be used as delivery partners, to help drivers with delivery routes in more rural, spread-out areas. The plan is to test FedEx in multiple cities, pending approval and including its home base of Memphis. Shippers, retailers and restaurants are experimenting with drones and self-driving cars in a bid to use automation to drive down the high cost of delivering gadgets, groceries and even cups of coffee the "last mile" to consumer doorsteps.
The Best Ready To Fly Drones (RTF) For Drone Delivery
Best RTF models that are available today on the market are not completely sophisticated for drone delivery business. They are good and capable for that, but in some areas they need to have special requirements like safety and flight time.
Private companies want to modify their drones in the best possible way to fit delivery needs perfectly, which is why they want to start from scratch and build their own drones. These companies have huge budgets, so for them it will not pose any significant problem, unlike a small businessman who has his own restaurant.
So if you have a small business and you want to start delivering your products via drone, then the best thing is to use RTF (Ready to fly drones) for your business. The costs will not be so great that they will exist.
So I will list you here some of the commercial drones that are available on the market today, and can carry a payload. We will start with expensive drones to the less cheaper ones. Here are the drones that are capable to carry an extra weight for drone delivery and are suitable for this purpose:
1. AUGMENTED AERIGON DRONE
This drone is one of the greatest photography drones on the market  for commercial use and it is quite capable of performing delivery tasks as well. The price of this drone is $250,000 with full equipment. Maximum take-off weight of Aerigon is 23kg/50lbs. Drone needs to be strong and stable for a delivery process and need to be secure enough to deliver the product. If you are looking for the best and most expensive camera drone in the world, look no further.
Also, cost of this drone is around the price of my first house. This drone is an elite cinema drone system for professional cinematographers and broadcast specialists. The battery charging time for this drone is 45 min per 6 batteries, but flight time is around 7-15 minutes* including reserves, depending on playload. It have Signal range up to 1000m, the weight is 6,4kg/14.1lbs.
2. AIRBORNE DRONES VANGUARD
Again, this is an another great photography drone that is also capable for delivery tasks as well. The Vanguard is one of the most popular drones on the market in terms of equipment, long range and photography quality. This drone has set very high standards in the market, but it's also one of the most expensive consumer drones in the world.
This drone can carry up to 5kg of payload (11 pounds). This drone has a lot of high quality sensors on it which allows it to detect small cracks and similar things that are required for inspection. In addition to shooting 4K footage. 
The Vanguard can stay up for an impressive 94 minutes, and has capabilities to pass 800 meters per minute, have max altitude (asl) of 4500m. The weight of Vanguard is 9.5 kg. The Vanguard has integrated 2 quality cameras that see everything around in real-time, allowing the user to experience the identical view that Vanguard itself gives from the air. Vangard is one of the drones that provides the cleanest image so far, and has set a very high standard in drone photography!
Related Article: Can Drones Deliver Packages?
3. FREEFLY SYSTEMS ALTA 8
This drone have the intelligence controlling stability and it's easy to fly with Alta 8. One of the big things I was looking forward to was having manual throttle. The advantages of Alta 8 is that it's much more professional, you can get an 8k camera up in the air, focused iris zoom, cine lenses, much higher quality lenses.
Alta 8 uses 350 watt hour batteries, so if you're familiar with that you can't bring those on a plane, you can only travel on the ground with them. It has max lift capacity up to 11.9 kg, and other drones have max lift capacity up to 6.0 kg.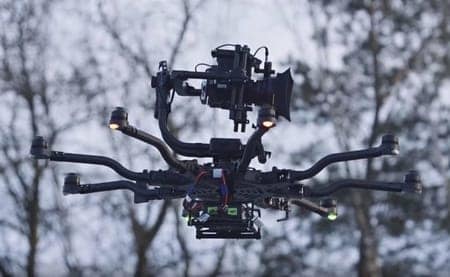 The ALTA silent drive motor controls have incredible closed loop control of the propellers. This drone does have some water resistance by way of a plastic enclosure that covers the flight control and power board. We would still be cautious in the rain or wet conditions regardless.
Related Article: Drone Planet: Tech, History, Future and Jobs
4. DJI Phantom 4
The DJI drones are class of their own and there is no need to compare them with other drones. They can stay longer in the air, they can avoid obstacles, have friendly to use control system and much more. One thing you need to consider is the price.
Indeed, this one might not have such a high payload limit like the previous one, but that's normal when its price is taken into account. This drone can fly for 28 minutes in the air but this depends on the load on the drone. Check out for more pictures, price and reviews on DJI Phantom 4 here.
WHAT ARE THE RISKS OF DRONE ON DRONE CRUSHING?
If all this happens in the near future, there are some issues that need to be solved. When plane notice another aircraft in its vicinity, both planes change their altitude in order to inshure they are not at the same vertical line. Drones have their own control system. Drones have an evasion system, which allows them to get rid of any other object on their way.
There are radar systems in drones that are able to use it. But regardless of the fact that if two different drones are found on the same path from different companies and their radars are hanging, it still poses the problem of how drones react and this is one thing that needs to be solved.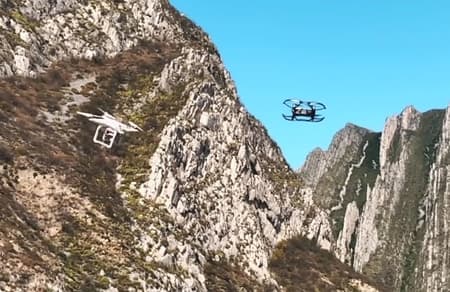 WHAT'S THE FUTURE OF DRONE DELIVERY?
It's just a matter of time when Drones have the potential to eliminate the challenges people face every day. Drone delivery is inevitable, it's just a matter of time. When regulation loosens, and the infrastructure is in place, we will see drone deliveries for many purposes. Drones could enable a step change in the availabiliy of everyday physical items. One of the main advantages of drone deliveries is speed. When you want something fast, you almost certainly want it delivered right to you.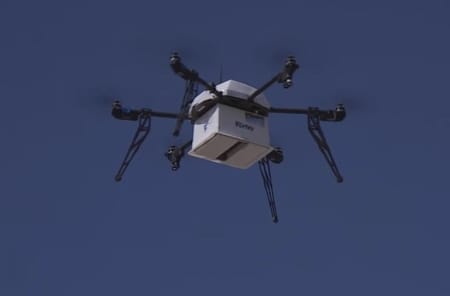 The future is to summon an item with a button on your smartphone and shortly afterwards, pluck it out of the air directly in front of you, and the future potential goes beyond adding convenience to online shopping.
Pinpoint accurate delivery to any smartphone may improve the feasibility of life-saving applications for drones such as EpiPen or defibrillator deliveries. For about 10 years when drone technology will allow us to carry heavier loads for longer distances will change everything. Check out also 10 Ways Drones Will be Used in Future.
BENEFITS OF DRONE DELIVERY
Drones come in all shapes and sizes, many with the same trademark buzz. One of the benefits is that aerial photography market is gonna explode. Searching the landspace after a hurricane tornado or flood can lead responders to where they're needed most.
It is just illustrated how important the need is for us to use unmanned technology in severe weather applications. Unlike helicopters a drone like Syfy's only cost 25 cents an hour to run. Drones are flying from the hands of researchers, farmers and hobbyists, but any use for commercial purposes is banned. New regulations are said to be on the way, so here are some Pros and Cons of Drone delivery.
PROS OF DRONE DELIVERY
1. A very large payload can be transferred in a very short amount of time.
2. No obstacles will affect your transportation time as it is in modern transportation
3. Packages can be transmitted very quickly, safely and with high quality using drones as they have vertical take off and landing.
4. Pilots are not needed here, so this package transfer will be significantly cheaper than conventional modes.
CONS OF DRONE DELIVERY
1. Drones are still in development, so the cost per kilogram will be much more expensive because of the energy that is required.
2. Drones are not yet able to carry very heavy payloads, so don't expect TV delivery in the near future. For now they have the option of 5-10 kg payload to transport.
3. Drones currently have the only major drawback – and that is the range they can go cross for a single charge.
Conclusion
Drone production is rapidly growing, and by 2020, worldwide market sales are expected to cross £11.2 billion in drone industry. Private companies start to build their own drones from scratch. On the other hand, best ready to fly drone (RTF) models that are available today on the market are not completely sophisticated for drone delivery business and they need to have special requirements like safety and flight time. Therefore one of the World's largest companies has started to race for this multi bilion market.
These companies have huge budgets, so for them it will not pose any significant problem, unlike a small businessman who has his own company. But since this is a very new market there is plenty of room for everyone.  We will wait until this delivery technology run more stages of testing, and we must wait until then. If I missed something or you have any questions, feel free to leave them in the comments below.