10 Best Drones for Construction – Buyer's Guide & Reviews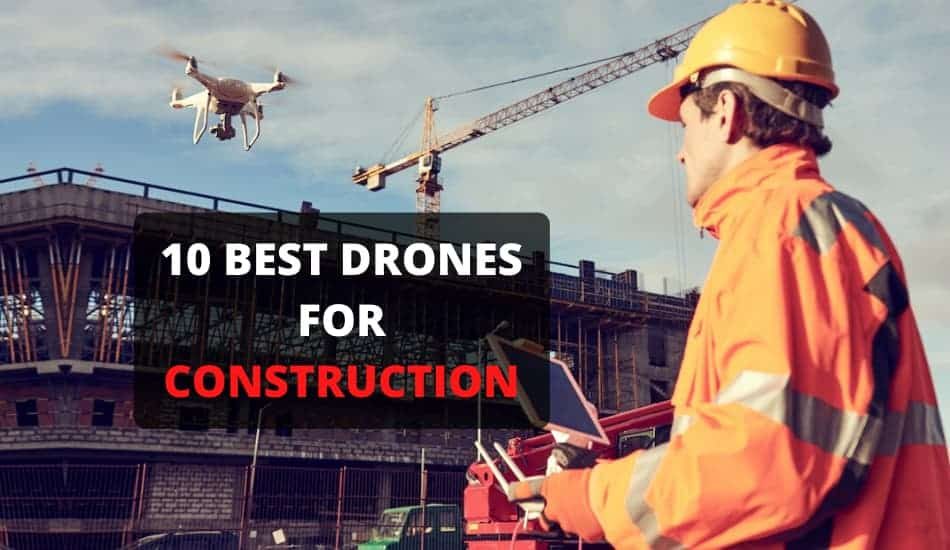 Over the past few years, we have seen new, innovative ways to use drones that improve various aspects of our lives, as well as promising directions for their use in the future. In the construction industry, the potential of this technology is realized more quickly, and specialists are already using the advantages that drones have.
UAVs have opened new doors for technologies that historically should have been extremely expensive and time-consuming, helping businesses of all sizes minimize costs and offering completely new and effective ways to work with projects.
The results of traditional ground-based observations are inferior to the data obtained from the drone in all respects: accuracy, acquisition speed and cost. UAVs in construction are a real saving in time and financial costs. So to pick the right drone for the job when it comes to construction, we have putted the list of 10 best drones for you.
Here are the 10 best drones for construction that you can buy today:

(Below is a detailed list and reviews of all these drones)
Drones in Construction: How Does it Work?
To monitor the progress of the work, the quadcopter takes off in the air above the construction site, flies around the territory, makes a survey and transmits information to the base. From the ground it is controlled by a pilot. 
In a few hours, the engineer will be able to see on a computer a 3D model of the construction site and the buildings being built. At zero cycle, thanks to the data obtained from the drone, the engineer can remotely calculate the volume of soil removed from the pit.
The question of whether it is worth the construction company to recruit the position to a drone pilot engineer to the staff will probably be resolved positively in the near future. But today, the scope of the use of drones is still limited to shooting and transmitting video in real time. Therefore, even large construction companies prefer to contact organizations with specialists with extensive experience in such work.
Advantages of Using Drones In Construction
PRE-PLAN BUILDS
Site survey for 3D modelling
using drones
MEASURE PROGRESS
Create 3D models, and keep the project on time
SHARE DATA
Easily share data with others
and save time
Specialists in the construction industry do not have a question whether it is worth investing in drones, because this is more than obvious! Drones are cheaper and faster than humans, they can track progress at a construction site as often as the operator desires, and they are able to record and transmit information remotely from a construction site or even from hard-to-reach areas with a simple click of a button. The data collected by the drone is superior in volume to the data collected by the engineer, and the speed of inspection increases tenfold.
The method of television infrared aerial photography with the help of an drone is being successfully applied and developed. Also, geoscanning tools are successfully installed on the drone.
Perhaps in the future, with the development and popularization of science and technology, drones will be able to take physical samples and carry out their delivery. Every company that uses drones in construction industry claims that their business has significantly accelerated, and that investing in drones has paid off.
Buyers Guide: How To Choose Drone For Construction
To have a successful drone program in your construction, you need to keep things simple and economically efficient. Before you opt for a drone program, it's important to select the right model for the job.
So to get the best ROI in your investment, we will help you with some important things to look for before buying a drone. As a reminder, here are the factors that most people take into account when looking for the best drone for the job:
Flight Stability: You need to have a great flight stability with your drone if you want to use it in construction industry.  When operating a drone, you are not always able to choose the weather conditions in which you will fly, so you need to get images in the best possible quality you can. If you think that wind will often occur during your job in construction, we recommend that you choose a drone that can fly at wind speed resistance of 20 mph.
Camera: When it comes to a good camera for construction purposes, I recommend that you have at least 14 MP or more on your drone. The camera specifications are very important when it comes to ground sample distance (GSD). For those who don't know, GSD is measured in cm/pixel and is the real-world size of pixels in a image. Therefore, camera quality and gimbal mount are things that are desirable to have on your drone. It would also be good if the drone has the ability to replace the camera, so you can swap the camera if needed.
Battery Life: Flight time is very important thing to look for when you are purchasing a drone. The best drones on this list have a flight time up to 31 minutes. Be sure to purchase additional batteries and have them recharged before each flight session. Also keep in mind that stabilizing your drone during the strong winds will reduce your battery. Don't take a drone for serious business if it has flight time less than 20 minutes.
Flight Range: Loss of communication is something that can happen when you use a drone and cross the flight limit or simply you have short-term interruption, which puts your drone at risk of collision and damage. Therefore, it is advisable to have a drone that has a fairly large flight range, approximately 5 km or more. Also if you have a larger area to monitor you may consider more than one quadcopter for your business.
Ease of Use: If you are going to use the drone in construction industry often, I recommend that you choose RTF (ready-to-fly) drone. By that, you can easily get your drone out of the box and he is ready for the job. Therefore, how fast and easy you will put your drone into the air will make a difference. This is considered a big advantage in all jobs.  Drone controls should also be simple; the drone need to have sensors to avoid obstacles with certain flight modes.
Price: What is your budget? If you set a price range, it's easy to narrow the number of options! The price always plays a big role when it comes to choosing the best drone for the job. Most drones that are very popular, such as DJI models, are manufactured in large quantities and are easy and fast to buy (and sometimes cheap). The more you are willing to invest, you can expect better drone in every segment.
Best Drones for Construction 2020 – Choose Your Drone
1. DJI Inspire 2
DRONE SPECS:
Dimensions: 427 x 425 x 317 mm
Flight time: 27 minutes
Flight range: 7 km
Max speed: Up to 94 kph
Photo resolution: 24 MP (6016×4008)
Video resolution: 6K (6016×3200); 60 fps
Weight: 3440 g
The DJI Inspire 2 is still the most powerful professional drone from the Chinese manufacturer on the market. This is mainly due to its unsurpassed speed and maneuverability, as well as the ability to carry professional DJI Zenmuse cameras. This drone is designed specifically for aerial photography and offers its own selection of cameras, where Zenmuse X7 is currently the best available.
While other drones with a 4K camera in the 4K resolution "only" record a maximum of 30 fps, the Inspire 2 can go to 60 fps. Single images are recorded with 6016×4008 pixels, and it has a 6K interchangeable lens camera. The 24MP Zenmuse Super 35 sensor camera can shoot in 6K CinemaDNG, 5.2K Apple ProRes, etc.
For DJI Inspire 2, the best way to control it is with two pilots, where one person controls the drone and the other uses the camera. The drone flies at a speed of 94 kph while the flight time is up to 27 minutes. After take-off, the Inspire's axes move upwards, which gives the camera as the lowest part of the drone a clear view in all directions. This drone is the best choice for construction business, so I put him at #1 on this list.
       PROS:
High wind resistance
4280 mAh battery, flight time 27 min
6K; Zenmuse X7 high quality camera
Flight range 7 km
Obstacle Avoidance system
       CONS:
2. DJI Phantom 4 Pro V2.0
DRONE SPECS:
Dimensions: 350 x 350 x 191 mm
Flight time: 30 minutes
Flight range: 7 km
Max speed: Up to 72 kph
Photo resolution: 20 MP (5472×3648)
Video resolution: 4K (4096×2160)
Weight: 1368 g
The DJI Phantom 4 Pro V2.0 has been optimized both in terms of signal transmission and in terms of flight controllers (ESCs). In addition, this drone has integrated "silent propellers", which is noticeable by a quieter flight noise. This model includes: the charger, charging cable, battery, transport case, spare propeller, gimbal and camera protection for transport, microUSB cable, 16 gigabyte microSD card, and remote control.
The new DJI Phantom 4 Pro V2.0 is completely pre-assembled, so after charging the battery you are ready to fly. The Phantom 4 Pro V2.0 weighs only 1,368 grams, has flight time up to 30 minutes, and a flight range up to 7 km.
The DJI Phantom 4 Pro V2.0 uses an extremely high-quality camera gimbal unit with 20MP camera and resolution up to 5472 x 3648. Also, this model V2.0 has GPS and Glonass integrated snesors, which helps the drone to ensure stable flight behavior.
This model has all kinds of intelligent flight functions, which includes, for example; a Fail-safe or return to home function, so that the aircraft automatically returns to the departure point when the connection is broken or automatically performs a landing maneuver at the current position. In addition, the DJI Phantom 4 Pro V2.0 also offers the ActiveTrack flight mode, which is suitable for the construction industry. This model is cheaper than the previous Inspire 2, but it is also definitely a great choice for construction survey.
       PROS:
Long range transmissions 7km
Perfect flight behavior
Obstacle sensors
Great camera quality – 20 MP
Overall performance
       CONS:
Price
Extra batteries are expensive
3. DJI Matrice 200
DRONE SPECS:
Dimensions: 716 × 220 × 236 mm
Flight time: 38 minutes
Flight range: 7 km
Max speed: Up to 50.3 mph
Photo resolution: Zenmuse X5/X7
Video resolution: 6K; 30 fps, full HD 1080p
Weight: 3800g
The DJI Matrice 200 is a big quadcopter specifically designed for industrial use, and has the body of carbon fiber. With this model you can collect aerial photographs, high-altitude surveying drawings, patrol surveys, etc., and you can take pictures in flight regardless of rain or severe weather. The M200 can be equipped with Zenmuse X5 and X7 gimbal cameras. 
This drone has 2 intelligent flight modes, where the first one is; Activetrack – It can follow the moving objects. The second; Point of Interest – the drone can circulate in certain path around a specific subject by using the DJI Pilot App.
The Matrice 200 four-axis drone has IP43 waterproof and dustproof functions. In addition to the built-in FPV lens, there is also a gimbal stabilizer to allow users to add additional lenses: Matrice 200 is equipped with a single gimbal under the fuselage.
The maximum fligh range is up to 7 kilometers, and it can transmit RAW videos that are up to 6K/30 fps and photos that have resolution up to 24 MP. This model can also add thermal camera so you can use it for building inspections as well. This drone is the most expensive on our list, but definitely also the great for construction if you are willing to invest in it.
       PROS:
Flight time up to 38 min
Compatible with Zenmuse sensors
Smart obstacle detection system
Numerous camera options
IP43 – waterproof and dustproof
       CONS:
4. DJI MAVIC 2 PRO
              DRONE SPECS:
Dimensions: 322 x 242 x 84 mm
Flight time: 31 minutes
Flight range: 9mi (8km)
Max speed: Up to 44 mph
Photo resolution: 20MP (5472 x 3648)
Video resolution: 4K (3840 x 2160)
Weight: 2 pounds / 907 g
The DJI Mavic 2 Pro is the perfect drone for the job and it is equipped with multiple obstacle detection sensors so you can concentrate on perfect aerial photography in your construction business. This means that there are visual sensors around the drone that can detect any obstacles up to 15 meters away and instruct the quadcopter to stop or fly around.
The maximum flight time is 31 minutes at the 44 mph flight speed. With its foldable design, the Mavic 2 Pro is not only the one of the best camera drones but also the best when it comes to foldable drones.
A Hasselblad L1D-20c camera is built into the DJI Mavic 2 Pro. For those who don't know about Hasselblad: It is a Swedish manufacturer that has a tradition of producing the best medium format cameras in the world.  It has Aperture F2.8 to F11 for the perfect picture in bright and light conditions and bokeh from the air. 
When it comes to video; 10 bit HDR video, 10 bit Dlog-M color profile and a resolution of 5472 × 3648 pixels (20 MP) in single image at 28 mm focal length and 4K at 30 fps. Flight range of the Mavic 2 Pro is impressive 8 kilometers. My recommendation is this drone in terms of price and quality for this job!
       PROS:
Equipped with obstacle sensors
4K 10-bit HDR Video
Excellent camera quality 20 MP
Great flight time up to 31 min
3-axis stabilization suspension
       CONS:
Extra batteries are expensive
5. DJI Mavic 2 Zoom
DRONE SPECS:
Dimensions: 322 x 242 x 84 mm
Flight time: 31 minutes
Flight range: 9mi (8km)
Max speed: Up to 44.7 mph
Photo resolution: 12 MP (4000×3000)
Video resolution: 4K (3840 x 2160)
Weight: 2 pounds / 905 g
The DJI Mavic 2 Zoom also has everything you need for construction industry: 31 minutes of flight time, 8 km of range and, thanks to OcuSync 2.0, a live that extends for miles Image in 1080p. In contrast to the Mavic 2 Pro, the zoom does not have a 1" CMOS sensor, but only a 1/2.3" CMOS sensor.
What makes the Mavic 2 Zoom unique for videos is the optical zoom: In contrast to the Mavic 2 Pro, this drone has a double zoom. In the wide angle at 24 mm, with 2x zoom is 48 mm. This means that by moving the lenses in the camera, the image is enlarged and not digitally by crop.
The fact that a section is not simply "zoomed in" at the expense of pixels at a given resolution has the advantage that the ideal picture section can be taken even at a great distance without lossing the picture quality. In addition, the DJI Mavic 2 Zoom has a Dolly Zoom Mode, in which the drone can zoom while flies backwards. 
On the Mavic 2 Zoom, Ontop has "Super Res" images, in which the quadrocopter makes use of the optical zoom of the lenses once again: In this series, 9 zoomed images are taken and a 48- megapixel image is captured.
       PROS:
4x optical zoom
3-axis suspension
Ease-of-use
Portability & storage
       CONS:
Extra batteries are expensive
6. DJI Mavic 2 Enterprise
DRONE SPECS:
Dimensions: 242 x 84 x 322 mm
Flight time: 31 minutes
Flight range: 9mi (8km)
Max speed: Up to 45 mph
Photo resolution: 12MP
Video resolution: 4K Ultra HD 30fps

Weight: 2 pounds / 905g
The DJI Mavic 2 Enterprise (M2E) was specifically designed for sectors that are for inspection, fire response, public safety, construction industry etc. The foldable professional quadcopter is equipped with a dual camera, which combines the advantages of a conventional visual and image camera with the functionalities of a thermal imager.
This model has 3-axis gimbal stabilized camera. With DJI Enterprise, the market leader DJI Innovations has launched its own line of professional aerial photography systems. This drone has DJI's AirSense technology that helps pilots during the flight to gain safety so they get instant real-time alerts of other nearby manned aircrafts that are near by through the DJI mobile app.
The Enterprise models also reached comparatively high top speeds of up to 45 mph . The integrated LiPo battery has a capacity of 3,850 mAh and is fully supplied with fresh energy within 90 minutes. The flight time of DJI Mavic 2 Enterprise is approximately 31 minutes, while an operating range is 8 km.
The DJI Mavic 2 Enterprise are not for sale directly in the DJI online store. Instead, the professional models are available via the contact form or on request from authorized DJI dealers and DJI sales partners.
       PROS:
12 MP, 4K Ultra HD 30 fps
Flight time of 31 min
Obstacle Sensing system
Integrated thermal Sensor
Great flight range of 8 km
       CONS:
7. Yuneec Typhoon H PRO
DRONE SPECS:
Dimensions: 520 x 457 x 310 mm
Flight time: 25 minutes
Flight range:6 km
Max speed: Up to 30 mph
Photo resolution: 20 MP (5472×3648)
Video resolution: 4K (4096×2160 60fps)
Weight: 1950g
The Typhoon H Pro is a professional drone primarily created for aerial photography and videos, therefore, his place on this list is definitely justified. This model have Intel RealSense technology and additional sensors for automatic obstacle detection and route determination. Typhoon H Pro is the ready-to-fly (RTF) drone with a flight time of 25 minutes. 
This drone provides a 20 MP camera, that can shoot 4K videos at 60 fps. Yuneec's trademark is the FPV monitor integrated in the huge remote control, which serves as a central control unit and function management.
For pilots who have not yet been in contact with any Yuneec product, the powerful and huge remote control will certainly be frighteningly chunky. An adapted Android system runs on the remote control. In addition to the general flight characteristics and camera quality, the orientation systems of Intel RealSense technology should of course be in the foreground. 
These expand the forward-facing sensors, which in the normal Typhoon H Pro consist of only two ultrasonic sensors, by two additional optical cameras, which enable a 3D image. With this drone you can shoot images in low light conditions thanks to f/2.8 lens and expanded ISO range that Typhoon H Pro have.
       PROS:
Good features
Super remote control
Flight time up to 25 min
Rotating 4K video camera
Obstacle detection system
       CONS:
Short flight range of 1.6 km
Large dimensions
8. DJI Mavic Pro
DRONE SPECS:
Dimensions: 322 x 242 x 84 mm
Flight time: 30 minutes
Flight range: 7 km
Max speed: Up to 40 mph
Photo resolution: 12 MP (4000×3000)
Video resolution: Full HD (1080p 96fps)
Weight: 743g
The DJI Mavic Pro is an awesome drone with many pretty amazing features. This drone camera is stabilized by 3-axes and films in HD 1,080p at 96 frames per second so that you can create incredible slow motion and 4K video (3840 × 2160) at 30 frames per second. Compared to the best 4K drones, the DJI Mavic Pro is still in the upper midfield. 
The Mavic Pro has a 12 megapixel camera that have 1/2.3 inch Sony matrix lens. This drone comes with 3830 mAh battery, which takes about 80 minutes to fully charge. Videos in slow motion are also possible at 1080p and 96 fps, which is a little worse than the Mavic Air.
The camera on this drone is incredibly easy to control. Once you have downloaded the DJI Go app and installed the latest firmware, you can go flying straight away. The Mavic Pro is very stable in the air, can fly for a good 30 minutes and, thanks to OcuSync Downlink, have a flight range of 7 kilometers. This FPV image is displayed on the smartphone or tablet. GPS and GLONASS, ultrasound and VPS (Visual Positioning System) ensure precise positioning.
       PROS:
Stability of the device in the air
4K camera in Ultra HD
Foldable drone
High autonomy
Ready to fly (RTF)
       CONS:
Quite noisy device
SD card inaccessible when the drone is folded
9. Parrot Anafi 4K
DRONE SPECS:
Dimensions: 175 x 239 x 63.5 mm
Flight time: 25 minutes
Flight range: 5mi (4 km)
Max speed: Up to 33 mph
Photo resolution: 21 MP (5344×4016)
Video resolution: 4K FHD (1920×1080)
Weight: 320g
The Parrot Anafi is an affordable and also the quality drone on our list for those who want to participate in construction business. This drone is quite small, since it weighs only 320 grams and can be easily stored in a backpack when folded together. The Parrot Anafi is a drone that have a 4K camera, with 21 MP and can capture a single photo in 5344×4016 pixels resolution.
In video mode, 4096 × 2160 pixels (4K) are recorded at 25 frames per second, while in UHD mode (3840 × 2160) 30 fps or in slow motion 1920x1080p (Full HD) at 60 fps. A time-lapse function is also available.
ANAFI is a drone designed to bring Parrot back into the ranks of leading manufacturers, which is a serious challenge. With 25 minutes of flight and an amazingly portable format, ANAFI is perfect drone for many things including the construction jobs.
The drone also has a couple of useful features: from a 2.8x lossless zoom to how its camera can lean vertically upward, which allows you to shoot scenes from below. One of the advantages of this drone is that you can charge the battery directly with a USB cable.
       PROS:
Dolly Zoom feature
Very small dimensions
3x digital zoom lens
21 megapixel, 1/2.4-inch CMOS sensor
       CONS:
No obstacle avoidance system
Sensitive to strong winds
10. Yuneec Mantis Q
DRONE SPECS:
Dimensions: 250 x 187 x 58 mm
Flight time: 33 minutes
Flight range: 2 km
Max speed: Up to 16 mph
Photo resolution: 13 MP (4160×3120)
Video resolution: 4K (3840×2160 30fps)
Weight: 505g
The Yuneec Mantis Q is the cheapest drone with a 4K camera on our list, but with some amazing features. This drone have gimbal stabilization with whom you can get smooth sharp images & videos in 4K resolution. It also comes with extended voice control so you can control your Mantis Q by voice commands.
The Mantis Q was not quite pure 4K, but rather UHD (Ultra HD), with 13 megapixels it delivers a sufficiently sharp image to be able to be a good camera drone.  The Mantis Q mechanically compensates for wobbling and unwanted movements of the camera in any axis and tries to compensate for this with electronic, digital image stabilization.
However, the very long flight time of 33 minutes by the 3,000 mAh battery and the nice autonomous flight maneuvers, makes the Yuneec Mantis Q an inexpensive drone for different occasions, should be mentioned positively. 
Compared to other camera drones, the quadcopter can also be controlled via voice commands, with the drone supporting you thanks to facial recognition and AI. Waypoint is a big Pro on this drone if you want use this drone for construction business because you can plan flight routes in advance on a map.
       PROS:
Impressive flight time of 33 min
GPS & RTH Support mode
Great folding design
Good charging time
       CONS:
Hard to get spare batteries 
Not the best voice control
Construction: Determine Your Needs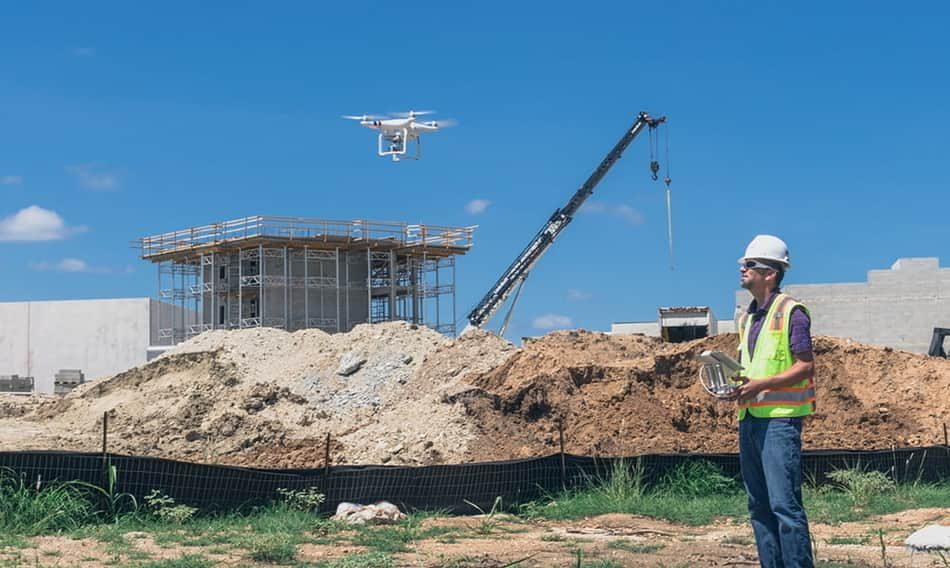 Before you decide to buy a drone, you need to determine how you will use it in construction. To get a better understanding of what to expect from a drone when it comes to this type of business, you need to ask yourself the following questions:
• How You Will Use Your Data And For What Purpose?
Marketing: HD photos & 4K video

Inspection: 30 fps or more shutter 
Survey: GPS & Smart modes

Vertical Scan: 3D Software
This question will give you a better understanding and guide you on what kind of drone you need to buy. Therefore, you will know how to get the best value from your drone and how to use your data.
• How Often You Will Use Your Drone?
Daily/Weekly: Often
Monthy/Quarterly: Rarely
From Time-to-Time:
How often you use a drone to do the job will affect both the hardware and software plan. If the job is going to be done daily, or rather frequently, the recommendation is to take a ready-to-fly (RTF) drone.
• How Good Camera Do You Need On Your Drone?
Video Resolution: 4K video; 1080p

Image Resolution: HQ resolution
LIDAR/Thermal: replaceable gear

Visual Inspection: 3-axis gimbal
With a drone you can do much more than just take site survey on construction field. With a HD camera, you can capture quality videos and photos for marketing purposes. Once you have all this footage, you can make a good advertisement.
• What Weather Conditions Will You Fly Your Drone?
Rain: Water-Resistant
Wind: Resistance to strong wind

Temperature: subject to high and low temperatures
You will often come across wind and rain, as these are the two biggest problems when using a drone outside. Most drones today can handle well in winds, but rain and a slightly darker environment can make it difficult for drone to capture clear, high quality and accurate images for the job.
Related Article: Top 10 Best Surveillance Drones in 2023: Review
Drone Saves Time and Money in Construction
The drone helps to quickly detect various violations and technological failures. With it, you can take air samples in a matter of minutes, measure the level of noise and radiation, which can usually takes hours and days. Today in Europe and Russia, about 30% of construction companies, architects and engineers use drones, and 70% plan to do this in the next few years.
Often, UAVs perform the functions of an assistant at a construction site – they move small loads or mount lightweight constructions at a height, produce glazing and wash large areas of glass structures. In order not to endanger the life and health of the worker, installation of mineral wool slabs and washing windows at heights are increasingly entrusted with special equipment. 
Patrolling of buildings under construction, protection of building materials and equipment can be carried out using a drones. Security monitoring of facilities significantly reduces production costs. The drone data can be obtained both outside and inside the object, and the survey of building structures is carried out with high detail.
Conclusion
With the help of a drones, you can sell the view from the window of a house not yet built. The drone creates impressive and compelling content – such an advertisement is ideal for the modern real estate market, on which not only the thickness of the walls and the size of the balcony are important, but also the visual image of the future building and the surrounding landscape.
In this article we have seen how drones can drastically help in construction industry and reduce the cost of investment. We have given you a list of the 10 best drones that are suitable for this job. Inspection and architectural supervision of an object using a quadcopter allows you to obtain objective evidence in real time without interrupting the progress of work. 
The drone data is available for viewing in real time from different devices, in addition, the automatic change tracking algorithm gives a complete picture of the entire construction process from zero cycle to commissioning. I hope this article helped you with your drone selection.