DJI Inspire 1 Full Review, Features, Specs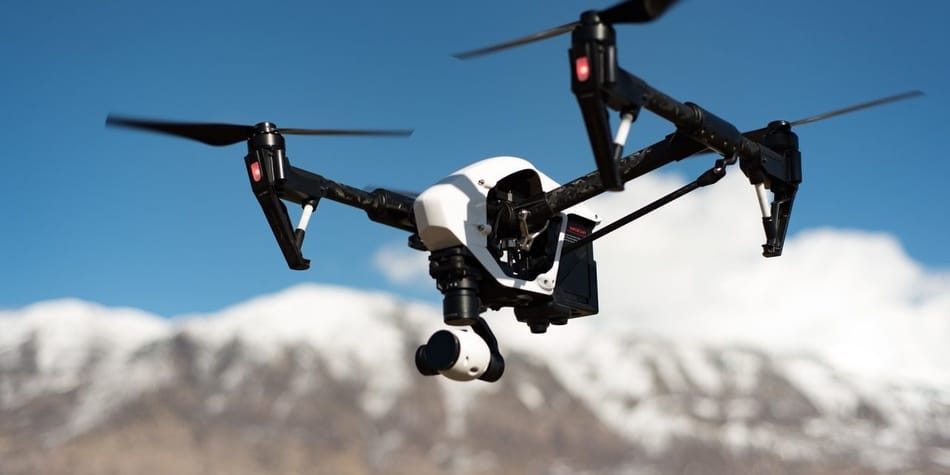 The DJI Inspire 1 was first released back in 2014, and at that time it was one of the most powerful and reliable drones that DJI has released. It offers an amazing level of control, solid build, and the ability to upgrade certain items like the camera, battery, and propellers. Bigger and frankly more threatening than the DJI Phantoms that look small and cute on the side, the DJI Inspire 1 was created for professionals and passionate individuals.
The Inspire 1 Pro is a quadcopter model used for professional aerial photography and filming. It is stable and reliable, providing maximum visibility through the ability to rotate the camera. The flight time of this model is 18 minutes, while Inspire 1 is able to rise to an altitude of 4500 meters. 
The powerful motor and propellers that this drone has, allow him to reach speeds of up to 80 km/h, thanks to which the model can cover a distance of up to 5 km. Power is supplied by a 6S battery, the remaining charge of which is automatically monitored by the system. Inspire 1 is foldable and raises the beams on takeoff for maximum viewing angles. The control is carried out using the remote control, where it is possible to work together with the second operator.
At first glance, the main feature of the DJI Inspire 1 is its design, which does not at all fit into the established concept of quadcopters. The manufacturer decided on a global change in the appearance of the drone towards compactness, in order to obtain maximum maneuverability and piloting speed. The user will be presented with an elongated apparatus on thin long legs.
In this review, we will talk about DJI Inspire 1 features such as; design, intelligent flight modes, camera, and gimbal capabilities. We'll also answer the most frequently asked questions such as the DJI Inspire 1 range, max height, distance, altitude, frequency, transmission, WiFi, sensors, camera, and much more. So without further ado, let us begin.
DJI Inspire 1 Pro – Full Review
DJI Inspire 1 And DJI Inspire 1 Pro
The DJI Inspire 1 comes with two models, the Standard and Professional version, and they vary in the camera and gimbal features. The Inspire 1 Standard can use only the Zenmuse X3 gimbal camera, while the Inspire 1 Professional uses the Zenmuse X5 gimbal camera. The Pro version has 2 models that are compatible with the gimbal, Zenmuse X5 and X5R. The Zenmuse X5R is a much powerful model than the X5 and has major benefits such as a Max Video bit rate of 2.4 Gbps.
DJI Inspire 1 Performance
When the DJI Inspire 1 is in the air, it's hard not to be impressed by its capabilities. Not only is it easy to operate this model, but this drone is also incredibly stable, and surprisingly fast, and it also comes with a wide range of features, settings, and options that are available through the DJI GO app for iOS and Android.
It is recommended that you take some time to get comfortable before heading off on your first flight, and DJI has thoughtfully added a Beginner Mode to make it easier for you. It creates a virtual safety net that prevents the drone from flying too far, giving you a chance to grapple with its controls.
The Inspire 1's GPS tracking is surprisingly accurate, and even if left on for a long time, the drone doesn't drift like many others. Perhaps the most important feature worth familiarizing yourself with is "return to home".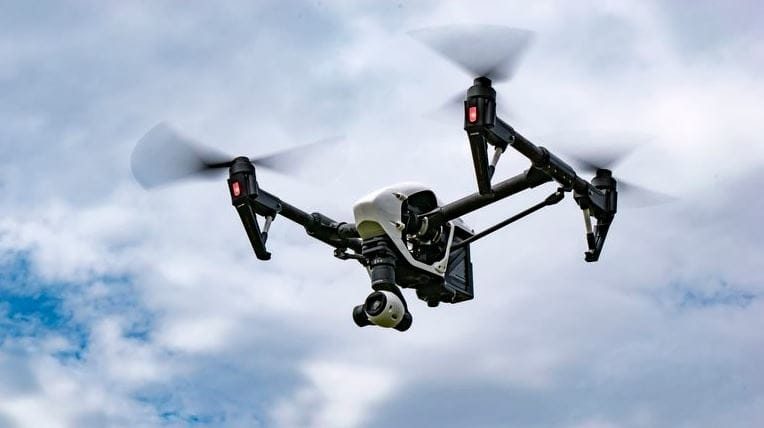 DJI Inspire 1 Weight
The DJI Inspire 1 weight is slightly less than 7 lbs (2935 grams). This model can be easily carried, and it comes with a portable box.
DJI Inspire 1 Flight Time
The DJI Inspire 1 maximum flight time is Approx. 18 min in normal conditions. Factors that can also affect flight time are camera weight, strong wind, flight altitude, etc.
DJI Inspire 1 Battery Capabilities
The drone with the DJI Inspire 1 camera has a lithium polymer battery. The standard configuration is a 4500 mAh battery, which corresponds to 18 minutes of flight. Despite the fact that such a time indicator is relatively small, in comparison with other models from DJI, it is compensated by wide functionality and high quality of shooting.
By using the DJI GO app, the user has the opportunity to receive information about the state of charge of the battery, the time required to return the drone to the start before discharge, and the number of charge/discharge cycles directly on the display of the mobile device.
DJI Inspire 1 Max Speed
The DJI Inspire 1 has a max speed of 72 feet (22 meters) per second. Also, the maximum speed is measured under normal windless conditions.
DJI Inspire 1 Max Transmission Distance
The DJI Inspire 1 maximum transmission distance is up to 3.1 miles (5km).
DJI Inspire 1 – Brushless Motors
The DJI Inspire 1 comes with brushless motors that are most commonly used in the quadcopter industry. The Inspire 1 has much better brushless motors than other models, and it uses specially designed curved magnets which fit perfectly into the design of each motor on the quadcopter. The advantage of such motors is that they stop air from flowing and that increases the effectiveness of the motor.
Another great thing about DJI is that they are using thicker strands of copper in the DJI Inspire 1 brushless motors. By this, there is no wasted space between the quadcopter strands and it allows more copper in each motor, which gives more power and less resistance.
DJI Inspire 1 – Propeller Design
The DJI Inspire 1 comes with a unique 13-inch rotor and propulsion system, which is also called the Z-Blade. These propellers are enforced with a carbon fiber, that provides extra stability. The big advantage of these propellers is that they are strong and light which gives more efficiency to the quadcopter.
DJI Inspire 1 ESCs
The DJI Inspire 1 comes with the great sinusoidal drive electronic speed controllers (ESCs) which is replacing the square wave drive of the most traditional ESCs. If you didn't know, the vast majority of quadcopters are using the square wave drive ESCs. Because of such things, DJI is the leader in the world of drones, and here he made a revolutionary change and redesigned the whole drive system.
The benefits of the new ESCs from DJI are that they have features such as distinct functional redundancy and closed-loop torque control that give the drone more flight stability and efficiency.
DJI Inspire 1 Design Material
The DJI Inspire 1 arms are made from Carbon Fiber material, which is an extremely strong and light fiber-reinforced polymer material. With this combination, the quadcopter is extremely light, which allows the Inspire 1 more flight time, and gives extra strength.
This model was used to record many films in Hollywood together with the World Rally Championship. To record such complex things, you need a very fast and agile quadcopter like DJI Inspire 1. Here is the video that will show you how it is used in that World Rally Championship.
https://www.youtube.com/watch?v=wpicVAcYrxQ
DJI Inspire 1 Aerodynamic Design
The DJI Inspire 1 drone body has excellent aerodynamic performance, which adds control to your drone and helping to reduce air resistance and increase flight time. Landing gears that are constructed from carbon fiber provide maximum strength and rigidity with minimum weight. They are capable of transforming (lifting up), and providing a full 360° view of camera, which gives the pilot the complete freedom of filming, regardless of the direction he is flying.
Unlike some of the pocket drones we see on the market, Inspire 1 comes with monstrous dimensions. It goes without saying that you shouldn't expect it to fit in your backpack if you're hiking.
On this model, the integrated gimbal, which is called the OSMO, and the camera are removable. DJI has its own integrated gimbal sensors that fit Inspire 1. The first gimbal that was integrated into this model was the Zenmuse XT, along with a thermal imaging sensor.
By this, you can see how seriously DJI made the effort to make the Inspire 1, a unique drone for aerial photography and photogrammetry. Therefore, this model can be used for a variety of solutions, not just for shooting as most drones do.
DJI Inspire 1 Intelligent Flight Modes
The DJI Inspire 1 comes with a lot of flight intelligent modes as follows;
Follow Me – Gives the drone ability to track, follow and record the moving object.
Waypoint Navigation – Possibility to set multiple GPS points so the drone can fly to them automatically.
Points of Interest – Enables the Inspire 1 to take off from a moving position.
Home Lock – Ability to fix controls to be relative to your Home Point.
Course Lock – Allows the drone to fly in a set direction as you fly alongside the moving objects.
Dynamic Home Point – Allows the drone to have a new home point, which is different than the takeoff home point.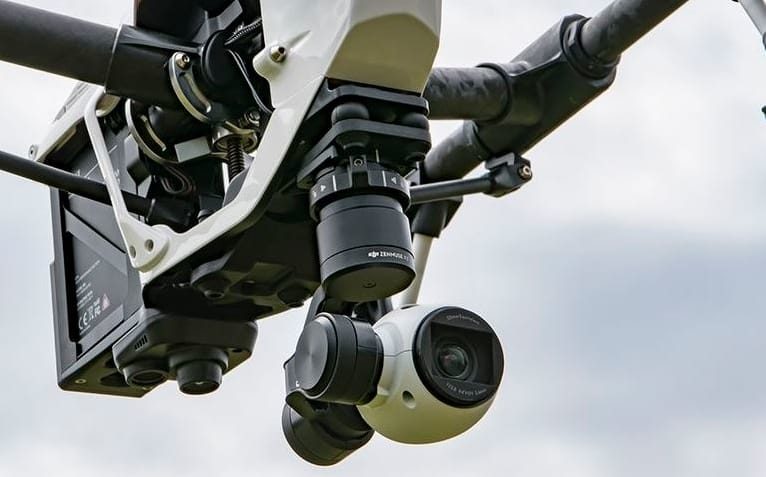 DJI Inspire 1 Go APP
With the use of the DJI GO App, you can have full control of the camera in real-time. Here are the features that the DJI GO App provides.
Possibility to easily adjust camera settings and use real-time view to get high-quality photos.
You can easily save your real-time stream from your camera to your mobile, where you can edit them later.
Ability to create professional movies within minutes by using the DJI Director video editor.
All footage that you record with Inspire 1 can be easily stored in one place, where you can browse, share and send it to someone.
Using SkyPixel you can share your footage to other platforms for aerial filmmakers around the world. With the GO App, you can also connect to Facebook, Twitter, and other social platforms to make quick posts.
You can see your flight platform on a live map where you are recording.
By using DJI GO you can record data of your photos and videos and review them in an instant.
You can download the DJI GO App from Google Play or iOS.
DJI Inspire 1 Suspension System
Any camera, even the best one, will be completely useless without a 3-axis stabilization system. The gimbal mount is the result of years of DJI research into camera stabilization and is designed to provide smooth, stable footage in all flight conditions and achieve 360° all-around visibility. DJI also took care of the transportation of the gimbal camera, which can be easily detached from the drone.
DJI Inspire 1 Remote Controller
All DJI Inspire 1 models come with the standard redesigned remote controller. It is equipped with buttons for raising and lowering the landing gear, starting/shooting video, adjusting flight control modes, rotating the camera, and controlling exposure. Also on the body of the remote control, there is a separate button for taking photos and playing back footage.
The versatility of the DJI Inspire 1 remote control is far from all the possibilities since the Chinese manufacturers offer the user the ability to purchase an additional remote control that will only be responsible for turning the camera.
The main DJI Inspire 1 remote device is designed to work with tablets, smartphones, and other types of devices to which video material can be transmitted in real-time in 720p (or 1080p) format from a distance of up to 2 km.

For the best shots, the DJI Inspire 1 can be operated by two RC at once. The first operator is responsible for directing the drone and its flight, and the second operator is busy with video shooting and catches the best shots. 
DJI Inspire 1 Price
The price of DJI Inspire 1 is absolutely justified as it offers a top-class equipped drone for filming. This drone can be used for professional filming, surveying, creating 3D maps, structures, and models. This quadcopter has the ability to change cameras, so it can also be used for photogrammetry applications.
The DJI Inspire 1 is specially designed for those who want to get high-quality video and images with maximum functionality: 4K camera capable of 360-degree rotation, moving chassis, powerful battery, the ability to receive video from a distance of up to 2 km and many other "goodies". If you want to know the current price of this model, you can check it here on Amazon, or on the official DJI page.
Here you can find a great review of one great drone also; Yuneec Typhoon Q500 4k Review, Features, Specs.
DJI Inspire 1 Drone Review – Cameras Options
For professional video shooting, you need a camera that has 4K quality. With this quality of video shooting, all your materials will be easy to post-process. The DJI Inspire 1 camera lens is made up of 9 separate elements, including an aberration-free lens designed for extreme image clarity, and Adobe DNG RAW support lets you create a masterpiece from every shot you take.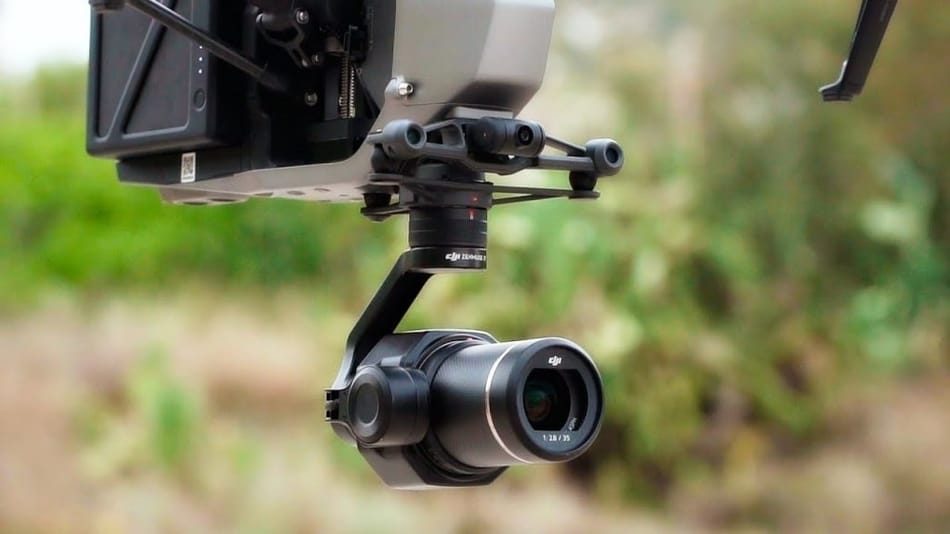 Gimbals – Zenmuse X3, X5, X5R, Z3, XT
DJI is an expert in gimbal design, quality, and stabilization with their Zenmuse series. The Inspire 1 contains a camera that has been integrated into the gimbal, so you don't have to worry about finding supporting cameras when shooting aerial photography. DJI's latest 4k camera on the Inspire 1 gets a lot of attention too- it's one of their most advanced cameras.
If professional aerial filming is what you're looking for then there are 3 choices available for your DJI Inspire 1: Zenmuse X3, Z5, or XT (thermal imaging). We will describe each of these models in detail below.
Zenmuse X3 (Inspire 1 Standard)
The DJI Zenmuse X3 Gimbal has an ultra-fast, custom-made processor. You won't find this stabilization technology in any other gimbal on the market because it's miles ahead of its competition. The advantage of this gimbal is that it uses GPS data and with it the camera is perfectly stabilized. The 3 axis gimbals are able to re-compensate for movements and tilt within milliseconds as well!
Zenmuse X3 Camera
The Zenmuse X3 camera is a revolutionary aerial camera that will capture every view with ease. It has an incredible 9-layer lens, curved rectilinear lenses to eliminate distortion and the focal length of 20mm allows for wide-angle shots without a fish-eye look. The Inspire 1 software app lets you rotate and tilt your own photos like never before as this compact 360-degree range captures 4k video p30 or 1080 p60 stills at 12 megapixels quality – all in one sleek gadget!
The new update from RC Drone Cameras provides flight footage up close by way of their high-tech drone cameras which are called the AS1004K Pro Camera Version 3+.
Zenmuse X5 Gimbal (Professional)
The Zenmuse X5 gimbal comes equipped with a 3-axis gyro stabilizer that is capable of completely stabilize your camera in flight. The powerful brushless motors instantly respond to any minor movements and keep the camera leveled when capturing long exposure or time-lapse content, even during arduous maneuvers like hovering.
Zenmuse X5R Camera (RAW)
The Zenmuse X5R is a top-quality, Micro Four Thirds aerial camera that shoots high-quality footage in 4k UHD resolution. It has an output frame rate of up to 30 fps and records video at 1.7 Gbps with the average bitrate being about 2.4 Gbps for maximum performance.
The highly versatile MFT sensor allows you to take 16 MP images with stunning details while 3 axis stabilization ensures your shots are level every time. The Zenmuse X5R gives you excellent shooting options whether it's capturing photos or videos. With that, you can capture high-quality images even in low light situations with an ISO range from 100 to 25600. 
https://www.youtube.com/watch?v=1BjMuMYXPhE
In this video you can see the full review of Zenmuse X5R DJI camera.
Zenmuse Z3 Camera (Zoom)
The Zenmuse Z3 is a great camera technology that can be added to Inspire 1. This new gimbal and camera not only offers an optical zoom lens, but it's also the first time that DJI has integrated one on their cameras! The type 1/2.3 CMOS sensor supports 4k video recording & 12 MP still photos with a 3.5x optical zoom and 2 x digital zoom, which is perfect for those far-off shots you need to capture but can't get close enough to.
The Zenmuse Z3 was designed specifically for DJI Inspire 1, Matrice 100, and 600 models. As always, this 3-axis gimbal system from DJI can be mounted onto any of three different drones.
Zenmuse XT Thermal Imaging Camera
DJI announces a new set of thermal imaging sensors, which are from the world leaders in thermal cameras FLIR. The Zenmuse XT is an accurate temperature sensor that can be used for analytics and telemetry. It also allows Inspire 1 to go beyond what one would see with just their eyes by making subtle differences in temperature visible on images or videos taken outside.
The DJI Zenmuse XT Thermal Imaging Sensor was developed as part of a partnership between FLIR Systems (world leaders in infrared camera technology), and it is also built into the Phantom 4 Pro drone for aerial surveillance applications, such as environmental intelligence gathering and law enforcement operations where visibility is limited due to darkness or smoke cover during firefighting efforts.
https://www.youtube.com/watch?v=Z625R9eljIc
Multispectral Imaging
Precision farming uses multispectral sensors mounted on unmanned aircraft including drones like DJI Inspire 1. These remote, aerial data collection devices use Green, Red, and Near-Infrared wavebands to capture both visible and invisible images of crops in order to create more accurate measurements for the farmer's business plan – without having them walk all over their fields. It saves farmers time while also reducing water usage which is guaranteed good news not only for local ecosystems but consumers as well.
We can say that Inspire 1 is expanding into many different sectors with its design and new innovative uses that give precision farming a whole new meaning. Some of the new technology such as Parrot Sequoia multispectral imaging sensing can be attached to the DJI quadcopter, making it the perfect choice for farming.
I wrote an interesting article about this technology that you can read here; Multispectral Remote Sensing Drones For Golf Course Vitality.
Inspire 1 Drone Review – Flight Systems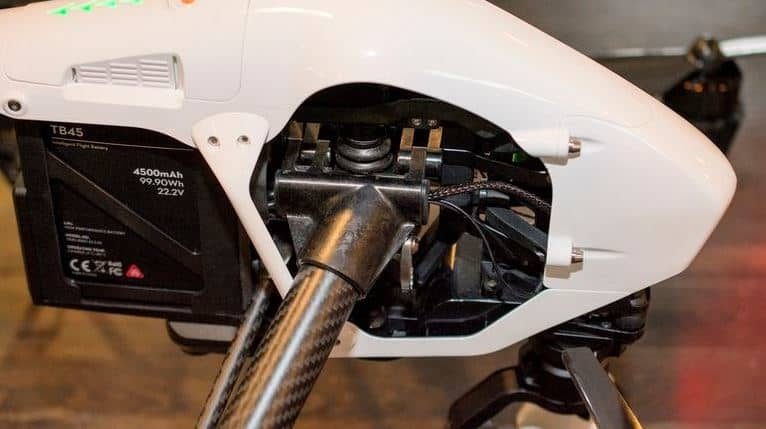 Intelligent Flight Control System
Indoor Flight
DJI has created a new Vision Positioning System that comes with visual data and sonar waves in one unit. This system can detect both variance patterns on the ground as well as current altitude, which makes it perfect for indoor flight or when GPS satellites cannot be acquired. With this positioning system, you have the ability to hover anywhere with your Inspire 1 while automatically raising or lowering its arms at takeoff and landing respectively without any input from yourself!
This system can be activated with just one press of a button, with the help of a CPU chip that is processing the information. The CPU chip takes in and output data and can recognize the difference between objects and ground patterns.
Long Flight Range
The Inspire 1 Remote Control features a number of buttons that provide control for flight and camera settings. There are dedicated buttons to both photo capture, video recording, as well as dials for gimbal tilt movement and more. This controller also has an integrated Lightbridge which allows you live view to any screen or mobile device when it is connected with the drone's camera. This means your range is up to 2 km at maximum power.
The Main Controller is the brain of your Inspire 1. It receives and translates the thousands of bits of data every second into flight movement. The controller tells every part of your aircraft what to do, then calculates those conditions in real-time, and ensures that it responds instantly to any control command you give so you can fly with full confidence!
Here you can learn also about What Is FPV Camera Technology In Drones & Best Uses.
Inspire 1 Positioning System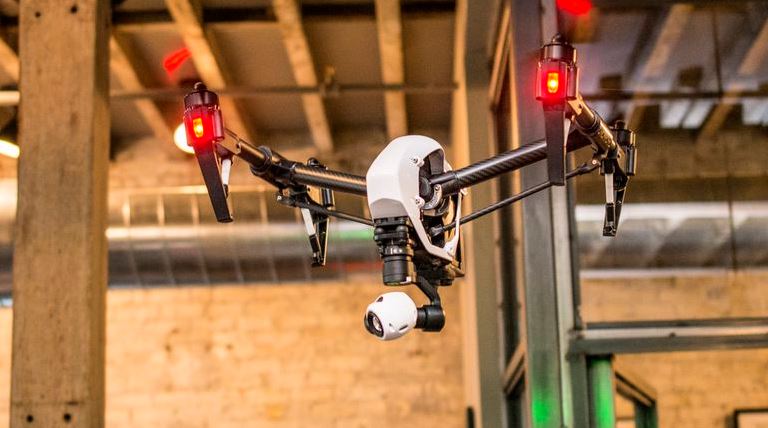 GPS / GLONASS System
The DJI Inspire 1 does a great job at keeping track of where it is. Inside the drone, there are 2 satellite systems. One from GLONASS and one for GPS that updates its position every second you're in flight so it knows exactly how close or far your drone is away.
This means if you ever need to find your way back home but can't see any landmarks nearby (or just want to explore), all you have to do is press "HOME" on your RC screen then watch with amazement for this incredible piece of machinery magically fly itself right towards safety like some kind of robotic superhero.
This technology means that you don't have to worry about getting lost in the middle of nowhere. The Inspire 1 quadcopter memories the takeoff point and tracks the drone's current position.
IMU (Inertial Measurement Unit) Technology
The IMU (Inertial measurement unit) is an advanced piece of technology that keeps Inspire 1 stable and steady during flight. The 6-axis gyroscope measures every movement, ensuring stability for even the tiniest adjustment to keep it from tipping or spinning out of control. And with such a fast response time, this can all happen within seconds! This really is incredible tech!
Smart Flight Technology
The Inspire 1's dual positioning systems and smart flight technology will help you find your way back home if you find yourself in a situation where you have a low battery or connection. We've got a video tutorial that'll walk you through the process of calibrating your compass, completing an aircraft checklist before takeoff (and while in-flight), advanced maneuvers like flips, orbiting around things or taking selfies with your friends!
The DJI Inspire 1 Packing
The  DJI Inspire 1 drone comes in a reliable plastic case with a zipper, with all accessories and the device itself, which has a rather impressive weight – 8 kg.
The kit includes:
DJI Inspire Quadcopter 1.
2 sets of propellers – main and spare.
Camera placed separately.
Battery 4500 mAh, it is possible to replace the battery in 6000 mAh.
Remote control, weighing about 1 kg.
Neck mount for remote control.
User's Manual.
A certificate confirming the passage of tests from the manufacturer.
Charger for simultaneous charging of the battery and the remote control.
USB power cord.
Additional cable, 2 sets of USB and micro USB cables for connecting the remote control to a mobile device.
Quadcopter assembly tools.
DJI Inspire 1 – Pros & Cons
Pros:
Stable and fast work
4K video recording
Multifunctional mobile application
Great remote included
Minuses:
Battery life could be better
The price makes it out of reach for many consumers.
Conclusion
DJI inspire 1 is rightfully called the best fully flight-ready quadcopter. It has a powerful propeller system and is capable of lifting a professional camera. A flight range of 2 km and full flight data telemetry will give you complete control over the status of your quadcopter. And the possibility of control from two consoles will open up the possibility of building a frame with professional accuracy from close distances to the object. I hope we helped you in this review for DJI Inspire 1.