Drone Gimbal Parts, Design & Types For Aerial Filming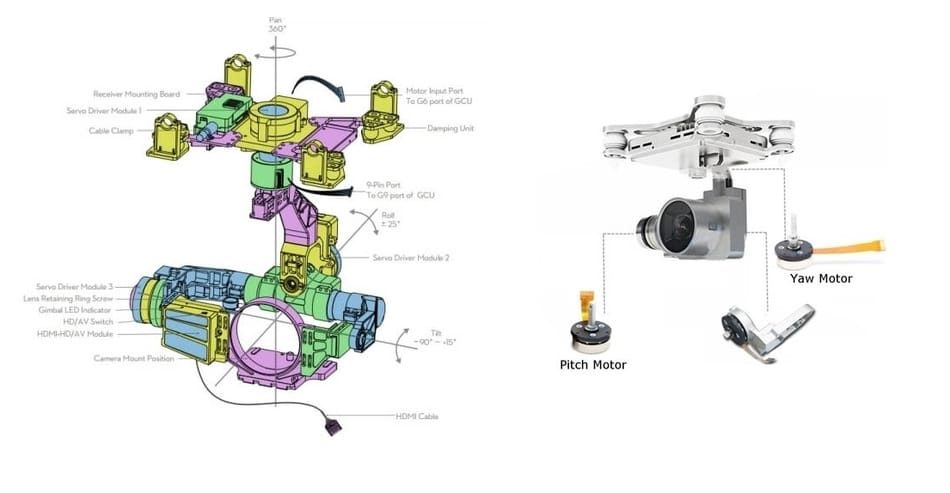 Even if you do not plan to do aerial photography at a serious level, create 3D maps or do things such as surveying with a laser (Lidar) and creating images of certain objects using sensors, you will certainly be interested to know how the drone stabilization system on gimbals for aerial cameras works and functions.
Without stabilization technology, even amateur aerial photography will not bring much pleasure due to the loss of quality, because a flying camera shoots in more extreme conditions than a ground one. Modern stabilization systems must keep pace with innovations in the field of UAVs and be compatible with key components, such as the flight controller, in order to function effectively and adequately in the situation.   
Therefore, it is worth knowing how a gimbal components work so that you can avoid any problems that you may encounter around gimbal. The best part about a drone gimbal is that you can mount it on any compatible drone. The mechanics of the gimbal are simple. It essentially consists of rings that rotate at right angles around the camera, which helps keep the device steady while the drone is moving. 
Some big drone manufacturers such as DJI, Walkera, and Yuneec are already producing their own cameras and gimbals. DJI's latest top models have some of the best gimbals on the market that provide perfect flight and footage stability.
Other important factors when it comes to camera stabilizations are Drone Gyro Stabilization, IMU And Flight Controllers. On the other hand, if you want to learn more about drone technology, read this great article How do Drones Work and What is Drone Technology.
What Is A Drone Gimbal?
The main purpose of a drone gimbal is to keep your camera stable during the flight so you can have the same angle regardless of the movement that you make in the air, by the use of remotely controlled electric motors.
Drone gimbal can be mounted or handheld on a drone so it can give the drone pilot the ability to record videos or take pictures without any vibration during the flight.
There are 2 types of drone gimbals; 2-axis and 3-axis gimbals. The 3-axis gimbals are most commonly used and they use 3 brushelss motors to keep the camera stable on all 3 axes (pitch, yaw, roll) while the drone flies. This is possible due to IMU (Inertial Measurement Unit) system that utilizes these three separate motors and stabilizes the camera.
Specially designed algorithms also help to stabilize the camera and they can detect movements such as tracking shots and pans. By this the camera is able to record and take photos through the air like it is floating.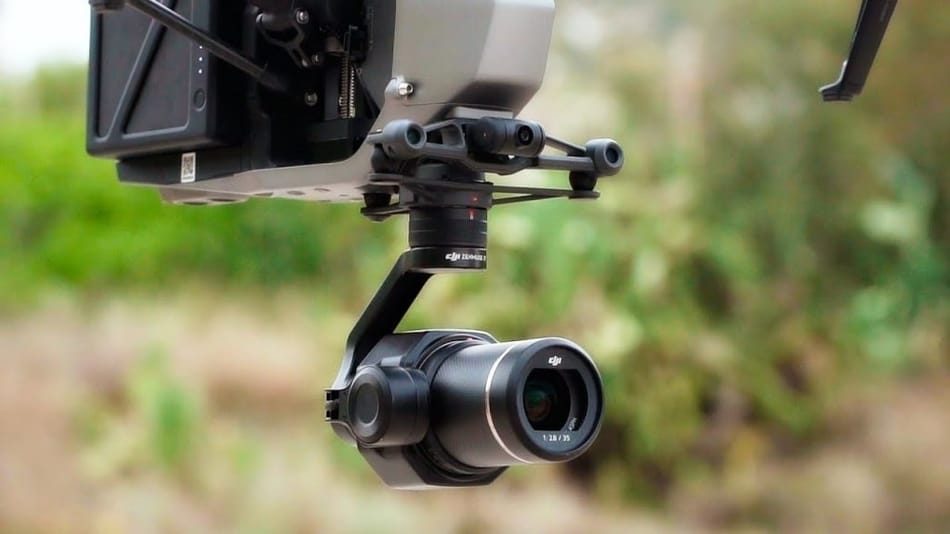 Modern Drone Gimbal Technology For Aerial Filming
The main task of a gimbal with a stabilization system installed on a quadcopter is to give the operator (pilot) the ability to take pictures or shoot video without affecting the quality of the frames by vibration or camera shake. As a rule, on the vast majority of drone models, the camera can move at the request of the pilot. If a special gimbal like DJI Zenmuse is used to operate the camera, then there are even more possibilities for shooting.
The technology of gimbals has advanced a lot in the last couple of years. Today you have complete control over your drone camera, and various sensors that gives you the ability to have great smoothly photos.
Previously, you had to turn on the camera before the flight and set it up so that you could take and record aerial shots during the flight. Today you can do all this during the flight, and you don't have to worry about settings. Now you have the complete control over your gimbal and camera during the flight. If you want to learn more about gimbals, read this article; Drone Gimbals Explained: How They Work.
Parts Of A Drone Gimbal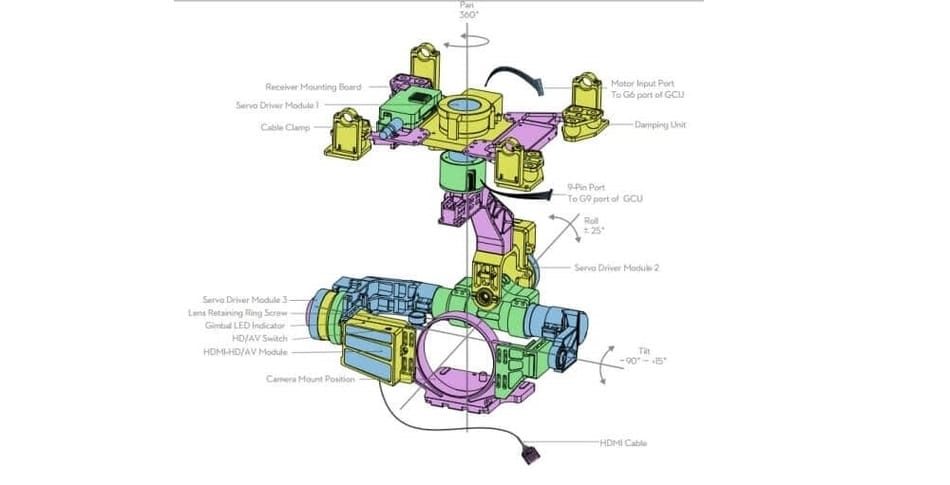 The diagram above shows a DJI Zenmuse Z15-5D III (HD) gimbal that can be used to mount a Canon 5D Mark III camera on it. Most modern gimbals on the market resemble Zenmuse Z15 in their gimbal design. Therefore, if you understand these components, you will understand the this and other models of drone gimbals also.
1) Drone Gimbal Axis Movements
Yaw: The yaw motion is the lateral movement of the gimbal (camera) to the left or right. Most drone gimbals have 360-degree motion. If your drone is equipped with a retractable landing gear, then this device provides a full 360-degree all-round view for the gimbal camera. 
Roll: A positive roll angle raises the gimbal (camera) to the left or right. For example, the Zenmuse Z15 gimbal has +/- 15 degrees of roll.
Pitch: Allows the gimbal and camera to move up and down. In the above gimbal diagram, you can see that it has a range of movement from -90 to +15.
2) Drone Gimbal Brushless Motors & Angles
Three Servo Driver Modules are used to move the gimbal (for panning, Roll and Tilting the system). As a rule, DJI and other manufacturers make gimbals, including their components, taking into account the peculiarities of specific cameras and matrix. This approach to the gimbal design should provide perfect shooting, because the gimbal is already "sharpened" for the weight and balance of a particular camera.
Almost all modern drone gimbals work thanks to brushless motors. The difference between a brushless motor and a brushed motor lies in the principle of supplying electric current to the commutator or electromagnets, which cause the rotor to rotate. Since there are no brushes in a brushless motor, the transfer of current and the rotation of the rotor does not occur mechanically by means of brushes (as in a collector), but with the help of electronics and without physical contact.
It may seem to an ordinary user that it is precisely the absence of brushes and physical contact that is the basic difference between the two electric motor models, but this is not entirely true. An important element is the presence of electromagnets around the perimeter of the rotor, which has already been mentioned. They can be located in the form of a cross. This design ensures the efficiency of the brushless motors and saves power.
3) Gimbal Anti-Vibration Dampers (Absorber)
If you ever have to disassemble the suspension on the gimbal or see it disassembled, then you will definitely pay attention to the plate with special rubber elements that resemble something like springs or shock absorbers. This is one of the most important components of a modern suspension – a vibration damper.
The importance of this unit is indicated by the range of tasks that it is designed to perform: to reduce or damp the vibration of medium and high frequencies that are generated by the drone and directed towards the camera. In this case, the damper allows low-frequency movement of the plate along with the movement of the drone body. If you have to change this suspension element, then you should not save money, especially since its total cost is not so high. High-quality professional dampers are made using composite materials and high-quality rubber for shock-absorbing balls.
4) Drone Gimbal IMU
Most modern gimbals, such as the DJI Zenmuse range, have a built-in inertial measurement unit (IMU). In addition, Zenmuse gimbals have an optional built-in infrared module. The IMU unit works on the basis of special algorithms that provide not only complete stabilization of the shooting process, but also convenient and simple control over the entire system. 
Since the IMU is already built into the gimbal, no additional hardware or wiring is required. This allows you to save weight and shoot faster. For example, you can remotely control the shutter using an infrared receiver.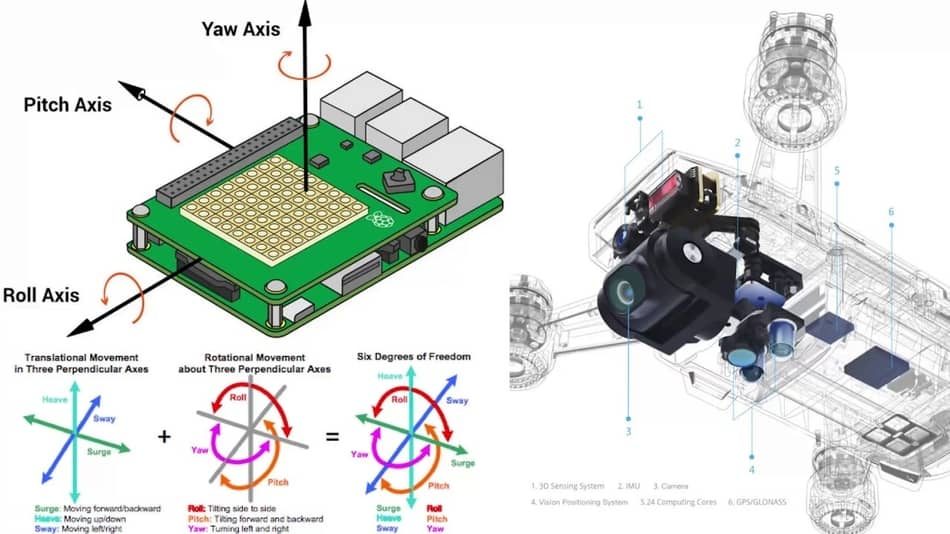 The IMU may experience a time offset both initially and after installation. If the angle of view is correct, the camera captures the horizon in a straight line. But if the viewing angle is shifted, then there are problems with the tilt of the horizon. Don't worry too much about this though, as there are several methods to remedy this problem, including a gimbal and drone calibration method.
Returning to the IMU, let us note the list of tasks that it is designed to perform: measuring and transmitting information about the specific force of a body, measuring and transmitting data about the angular velocity, and sometimes about the magnetic field surrounding the body. 
These tasks are performed using a combination of accelerometers and gyroscopes, and sometimes also using magnetometers. As such, the data collected from the IMU sensors allows the computer to track the location of the gimbal and the aircraft (such units are installed on airplanes, drones and other devices, not just gimbals).
5) Drone Gimbal Control Unit (GCU)
The Gimbal Control Unit (GCU) is essentially a version of a computer that receives data from gyroscopes. Based on these, one sends commands to the gimbal motors, telling them how to move. The gimbal control unit is usually connected to the flight control system and actively interacts with it. The flight control system helps to control the operation of the gimbal. At the same time, the control unit is responsible for outputting video information to a video link for transmitting a video signal. 
Flight control systems are also called flight controllers. DJI has released several generations of such devices, for example, the DJI N3 and DJI A3.
6) Cameras and Sensors
All of the above parts are useless without a camera or sensor for aerial photography, video filming, or 3D imaging. The gimbal must have special correct mounts, screws and cables that needed to connect the camera to the gimbal and control unit.
7) Components For Drone Gimbal And Camera
To solve professional problems, users can retrofit their flying platform with gimbal and camera with various equipment. This is often done in construction, geodesy and other areas of professional activity, where accurate measurement data of ground objects from the air, mapping and 3D models of objects are required.
For example, a user can install a DJI iOSD Mark II telemetry sensor on their drone, which interacts with the camera and gimbal. But its advantage is not only in the efficient execution of direct tasks. It has a built-in BEC module in its design. It can connect a 3S – 6S LiPo battery to power the camera and main controller.
And since devices such as the DJI iOSD MARK II work in conjunction with a flight controller, you also get the added benefit of stable piloting and reduced vibration, which can negatively affect gimbal and camera performance.
Types of Drone Gimbals
Drones are generally available with 2 and 3 axis brushless camera gimbals. Each of these types has its own pros and cons. Which one you choose depends on the purpose of use.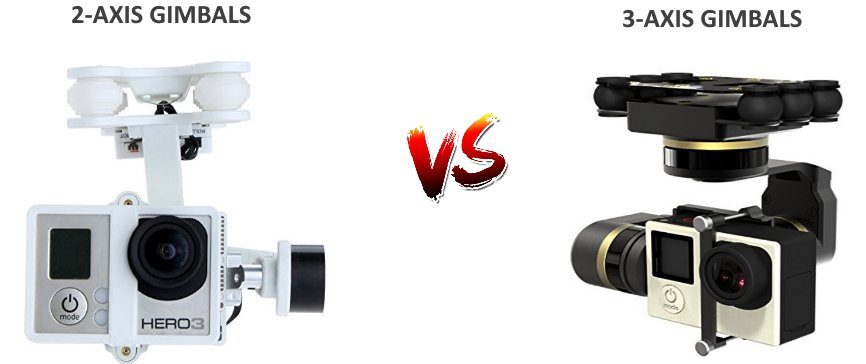 2-axis Drone Gimbal
This type of gimbal works to stabilize camera video in 2 axes, mainly pitch and roll axes. Most of the horizontal movement becomes very noticeable in the case of a 2-axis gimbal. However, it is lightweight and therefore easy to carry around for a drone.
He is able to perfectly hold the camera in place without any difficulty. If you are a drone enthusiast and want to fly for POV viewing, the 2-axis gimbal is a good option for you. This is because it is lightweight, consumes less energy and can last longer. Due to its lightweight structure, the drone retains its mobility.
3-axis Drone Gimbal
This gimbal is much heavier than the previous version and much more expensive. But it does have one important advantage. This gimbal provides 3-axis stabilization, namely yaw, pitch and roll. It has an additional motor that absorbs all kinds of unnecessary movements.
Because of that, any horizontal vibration that is coming from the quadcopter is completely eliminated. For aerial photographers and filmmakers, a 3-axis gimbal is an absolute must. It will provide you with more stable and clearer videos despite shortening the final flight time of the drone. Additional batteries will become a necessity if you are flying with a 3-axis gimbal.
The Difference Between 2- and 3-axis Gimbals
The main difference is in the quality of shooting, as 3-axis gimbals provide better stabilization for video shooting compared to 2-axis gimbals. The reason is simple. While 3-axis models stabilize on three axes (yaw, pitch and roll), two-axis gimbals only on the pitch and roll axis.
If the gimbal has 3-axis stabilization, then it can either significantly reduce or even completely eliminate the "jelly" effect. This is due to the work of the third engine, which absorbs unwanted movements along the yaw axis. True, three-axis suspensions also have disadvantages: higher weight and price, higher energy consumption due to the presence of their own motors.
Top Drone Gimbals For Aerial Filming
Now that we have explained that it is necessary to have the best possible gimbal in order for the camera to record the high-quality videos with less vibration, we will see what are the currently best models on the market and how to choose one.
For people involved in creating 3D maps or 3D models, the correct gimbal is extremely important. Vibration must not be present, and software that has the ability tofly autonomously, take and store hundreds of photos per second is extremely important.
The softwares that are coming with the cameras need a strong processor to process thousands of photos and create a photogrammetry images. One of the best companies that produces such software is DroneDeploy and Pix4Dmapper. So, let's start to see what are the best drone gimbals for aerial filming.
1. Best DJI Gimbals For Aerial Filming
Great Zenmuse gimbals are designed for specific cameras such as Panasonic, Sony, and Cannon. Some more expensive models from DJI like Inspire 2 and Phantom 4 Pro have already intagrated cameras that are the part of the gimbal system.
We must keep in mind that drone technology is moving forward and gimbals are essential equipment for every camera. DJI have one of the most advanced gimbals on the market. Models such as Zenmuse Z30, that is capable of taking 30x optical zoom, it great for site surveying.
DJI Zenmuse – Thermal Gimbal Cameras
In addition to the normal cameras used for aerial filming, DJI comes with 2 Thermal cameras also.
Zenmuse XT gimbal – Integrated FLIR Thermal Sensor
Zenmuse XT2 gimbal – Integrated FLIR Tau 2 Thermal Sensor
These gimbals are compitable with DJI M100, M200, M600, DJI Inspire 1 and DJI Inspire 2 models.
DJI Matrice 600 – 6 Compatible Gimbal Camera Models
One of the DJI's best heavy lift drones that is available for commercial use is Matrice 600 Pro and has the ability to mount 6 different cameras. That model can mount the following gimbals;
Zenmuse XT
Zenmuse XT2
Zenmuse X5R
Zenmuse Z15-A7
Zenmuse Z15-GH4
2. Best Walkera Gimbals For Aerial Filming
Walkera that is one of the biggest drone manufacturers in the World is also designing their own gimbals for their own drone models. One of their popular models, Voyager 5 is a great example that comes with 3 different gimbal solutions.
Walkera Voyager 5 Gimbal
The Walkera Voyager 5 drone comes with a bunch of flight systems that include a dual compass, dual IMU, and dual GPS system, which makes this model very reliable and safer during the flight.
Here are the 3 gimbal options that comes with this model;
Thermal Infrared camera
30x Optical Zoom lens
Low light night vision camera
3. Best Yuneec Gimbals For Aerial Filming
Yuneec is also one of the most famous drone manufactuares, and they produce a great quality drones. They have been on the market since 1999.
Yuneec Typhoon H CGO3+ Gimbal
The Typhoon H 3-axis CG03+ gimbal camera is able to capture ultra-stable 4k UHD footage with 12 MPx images. It has also the ability to rotate full 360 degrees.
The other great thing about this gimbal is that comes with great high-quality glass wide angle lens that has 98° field of view and can perform with manual camera settings during the flight. Other equipment that can be added on Typhoon H is C23 1 "sensor camera. 
Buying Guide: What To Look For In A Camera Gimbal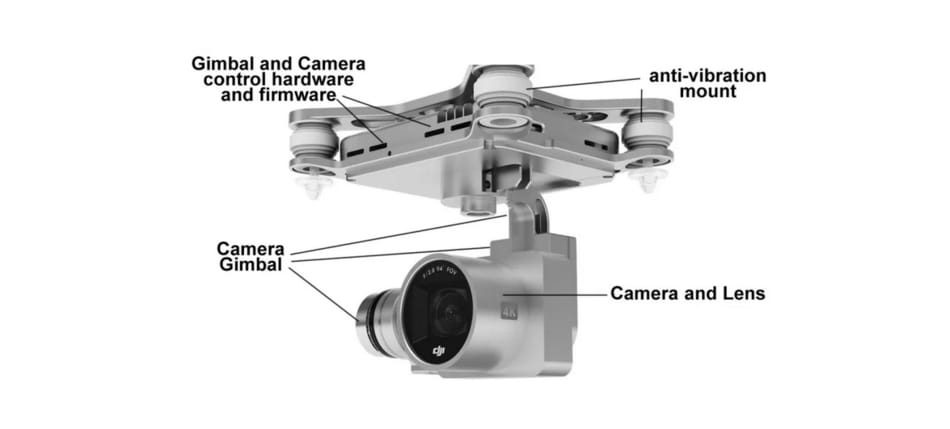 Choosing a gimbal for your drone's camera is not an easy job. There are a number of factors to consider. The right gimbal for your drone mainly depends on what features you are looking for and the purpose of using the drone. Let's take a closer look for what to look:
• Price
If you are on a tight budget, you should choose gimbal accordingly. A servo gimbal works best in this situation. Yes, the quality of your video may be slightly compromised, but it should be enough for FPV. However, if you're willing to spend a few extra hundred dollars on a gimbal to get the best aerial photography and video capture, a brushless gimbal is your best bet. You can check the gimbals on Amazon.
• Photography and Cinematography
This is another aspect to consider. For general aerial photography, you can use a servo gimbal, which is cheaper and weighs less. You can make some adjustments by holding the drone stationary while you take a picture. This eliminates jitter in photos.
To record video, you will need to use a stable gimbal that eliminates unnecessary movement. In this case, a brushless gimbal is better suited for this purpose. Alternatively, for some new ideas and tips for aerial photography and photography, you can check out our drone photography article.
• Flight Time
The next question to ask yourself is how long do you want your drone to fly? Even on the most efficient drones, flight times will decrease if you use a heavy gimbal that consumes a lot of power. Here we will focus on brushless gimbals.
If you opt for a 2-axis gimbal, it can compromise the video quality, but it certainly uses less power and therefore the drone will last longer. This is enough for FPV and everyday flying. However, if you want the best quality footage, you will have to compromise and opt for a 3-axis gimbal. It uses more power and you get less flight time than usual.
• Image Quality
This is the most important factor to consider when purchasing a gimbal for your drone. If you want the best videos without noise, interference and jitter, a brushless gimbal is your best bet. Between the two gimbals, a 3-axis device will provide clearer images.
However, we are often limited by other factors: price, power consumption, etc. If we neglect other factors and base our choice solely on video quality, the best option would be a 3-axis brushless gimbal, which provides 3-axis stabilization and keeps the camera absolutely still for the clearest videos.
Drone Gimbal Design Videos
After going through the gimbal parts, design, types and settings in detail and how they work, we will now show you a video with the latest gimbal technology that is avaible. The Zenmuse X7 series that DJI Inspire 2 use, has the breattaking features that will surprise you.
The Zenmuse X7 Gimbal Series come with a lot of sensors and can capture incredible 6k CinemaDNG files with 16 megapixel photos.
https://www.youtube.com/watch?v=v6Ef2dzEe-8
The Pros And Cons of Drone Gimbals
The PROS:
Camera stabilization is the biggest benefit of using a drone gimbal. No matter which direction the drone is heading and how often it makes quick, sharp turns, the camera will always point in the right direction and you will get the most stable shots without vibration.
Better pictures – even when the drone is flying in relatively bad weather conditions, the pictures will be clear.
Using Long Lenses– By using the gimbal in your drone, you are free to use long lenses for your camera. This ensures a wider range of photographs to please any aerial photography enthusiast.
Side Shooting– You don't have to worry about orienting the drone in a specific direction to get a good shot. Since the gimbal can rotate the camera and take pictures from the left and right sides of the device, you can simply fly in the direction of the wind and still get good quality photos.
The CONS:
Power consumption– a good and efficient gimbal tends to draw more power from the drone's battery, resulting in the battery draining very quickly. 
Shorter flight times– Due to the excessive power consumption of the gimbal, the drone now provides shorter flight times.
Price– Some gimbals can be very expensive and add to the overall cost you spend on a drone.
Conclusion
As we've seen, gimbals work to reduce vibrations and another unnecessary movement from the camera while the drone is in flight. Thus, an ideal gimbal should provide maximum accuracy, good image quality, lower power consumption, and the like. Using a gimbal would improve the quality of images and especially video, as it helps keep the camera stable even when the drone is flying at high speeds. Different drones use different gimbals depending on the type of camera being used. I hope that you enjoy reading this article.