Multispectral Remote Sensing Drones For Golf Course Vitality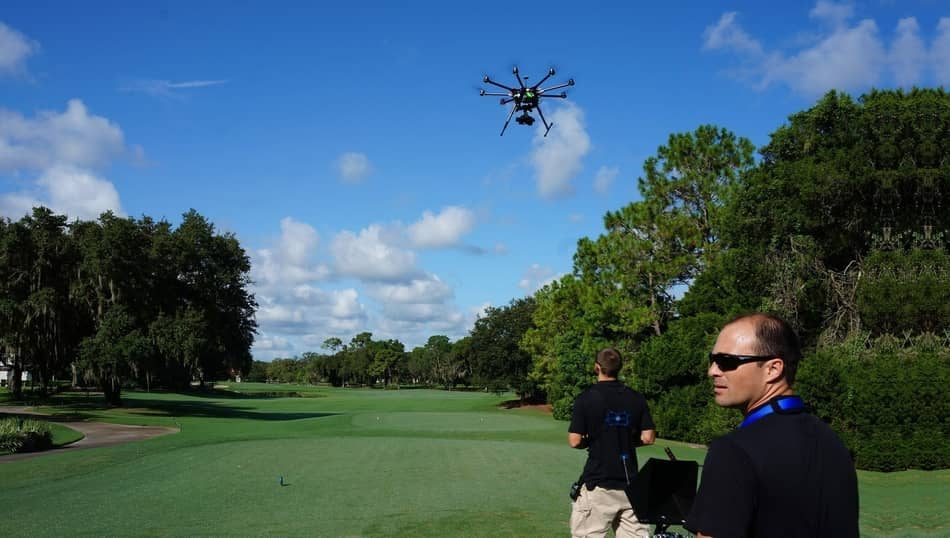 Multispectral remote sensing drones are essential to the health of a golf course because they provide informational data. This is because, it's possible for drone operators and researchers alike to detect problems from pests, rough, disease, or invasive weeds long before they would be noticeable by just looking at them.
Therefore, golf courses around the world are now investing in a new multispectral drone that is also called Remote Sensing Platforms. These drones can be used to measure everything from slope angles and elevation changes to roughness of the terrain, proximity to water hazards, and more!
In this article, we'll explain why golf course owners should invest in this essential tool that every golf course needs. But keep in mind that drones can be used for various purposes on Golf Courses (not only for detecting problems), and can give a lot of benefits such as aerial footage for marketing and promotion.
By this you can easily promote the golf course, and help members to manage and study the course better.
But with the use of Multispectral Remote Sensing technology, drones can also create data and maps and give us the health and overview of the golf course in a short period of time. So let's get started, to see all the benefits that multispectral data can bring to the maintenance and health of a golf course.
Multispectral Remote Sensing Technology on Golf Course
Increase Golf Course Beauty by Using Multispectral Data
Almost all golf courses consist of a wide variety of grass, trees, fauna, and shrubs. Therefore, it is very important to take care of the health of these plants and vegetation, so that the course can stay nice and healthy. With the use of multispectral data, the owners can maintain the golf course with data that the drone provides.
This technology uses red, green, red-edge, and near-infrared (NIR) wavebands to collect imagery of the complete golf course. What this multispectral data provide is the early detection of the stress to greens, shrubs, fairways, and trees, where the landowners will then take all necessary steps to maintain it.
The big advantage of drones is that they can go around the whole golf course very quickly and give a full picture. By this, the teams can respond very quickly and take urgent attention if it is needed.
If you want to know more about Drones on Golf Courses, read this article.
Multispectral Remote Sensing Data On Golf Course
Drones can help a lot in the golf course maintenance with the use of their aerial cameras and multispectral sensors;
Multispectral remote sensing data can identify disease, pests, and invasive weeds. By this, the maintenance team can react and help the golf course.
The insight into plant spacing. It can be prevented and given insight if a species is trying to overpopulate the golf course.
Can provide plant heigh and biomass measurements.
Possibility to measure irrigation to identify areas of the golf course to find out where water stress or drainage is not properly working.
Supervision of the golf course after the strong storms to see is there any damage to the course or trees.
Drone that is good for this job is the DJI Phantom 4 Pro.
Time-of-Flight 3D Camera Sensors
The Time-of-Flight 3D Cameras can be used along with a multispectral solution to help in the maintenance of golf courses, and this can be used to provide more data in 2 ways;
ToF camera sensors give better flight stability to the drone during the process of capturing Multispectral images. You will get much better quality data.
ToF 3D uses depth technology for measuring volumes. Things that can be measured are stockpiles of manure, logs, mulch, etc.
Ways on How You Can Capture Multispectral Data
There are a lot of different drones on the market, but if you want to collect high-quality imagery and data for your project then you must choose new models with multispectral sensors. These vision-assisted drones can navigate themselves by waypoints so that they're never out of sight.
They also come equipped with specialized software which helps process the images that are collected in order to create maps. Keep in mind that it is not necessary to own a Multispectral drone for a Golf course. Multispectral sensor manufacturers can also help you connect with companies where you can rent multispectral services.
Best Multispectral Remote Sensing Drones On the Market
The following drones can be used to carry multispectral sensors:
Multispectral Remote Sensors
This is the list of the most popular and used multispectral remote sensors on the market for drones:
Most Popular Multispectral UAV Applications
Pix4Dmapper Ag is the best software to use in precision agriculture and golf courses because it can convert multispectral images into accurate reflectance or index maps. Pix4DMapper also uses RGB imagery to generate high-resolution orthomosaics.
The Precision Hawk is also a company that has a professional mapping and analysis software package called PrecisionMapper that is used for multispectral and photogrammetry data. Another company that's in precision agriculture is DroneDeploy. They use the same technology but offer it as well for golf courses that need a plant health assessment.
Multispectral Remote Sensing – For Those Who Want to Know More
Multispectral drone technology is growing at a rapid rate. Drones can take measurements in the form of infrared, visible light, and shortwave radiation which are then compiled together to create images that show plant health and soil quality with high levels of accuracy.
Next, I have a series of videos to help with your understanding of multispectral remote sensing technology and how it works. The 1st video will cover NDVI technology, which is one key component in analyzing the data from these types of sensors. The 2nd and 3rd videos give you more information on what this technology does and how it can be used effectively for applications such as agriculture or water quality monitoring.
NDVI Video
NDVI (Normalized Difference Vegetation Index) has been used as a measure of health and vitality for centuries. Today, it is still one of the more important ways to analyze multispectral data because NDVI provides an indication on how healthy plants are in certain areas. Watch this video that explains exactly what NDVI means and why it's an integral part of remote sensing technology.
https://www.youtube.com/watch?v=rxOMhQwApMc
Multispectral Remote Sensing Video
This is a video about how optical sensors can be used to find out information that you might not see with your own eyes. It also explains some of the basic principles of the electromagnetic spectrum, spectral resolution, and bands in data by showing different uses for this type of data like examining health plants on the ground or using it as a form of a security camera.
https://www.youtube.com/watch?v=3iaFzafWJQE
Remote Sensing Video
This video talks about the basics of remote sensings, such as electromagnetic energy. It also goes into color theory and spectral pattern analysis to help you understand analog vs digital imagery better!
https://www.youtube.com/watch?v=EYQsXs1Jr0Y
Conclusion
Golf course owners are always looking for ways to improve their courses. One way is by using multispectral remote sensing drones that provide informational data about the health of a golf course. With drones they can detect problems from pests, rough, disease, or invasive weeds long before they would be noticeable by just looking at them. The new Multispectral Remote Sensing Platforms will help you keep your golf course healthy and thriving! I hope you learned a lot in this article.