Top 10 Best Drones For Photogrammetry
Wondering what are the best drones on the market, and which of these drones could be used for photogrammetry? Clearly, we have pointed out that the first and basic criterion is the budget you have available, and it is precisely on that budget that it depends most on how good the drone you will buy will be. There are also driving capabilities, camera quality, steering capabilities, battery life and generally the sensors the drone is equipped with. So there are many different elements that affect drone quality and therefore photogrammetry.
But today we are going to introduce 10 super drones that are worth buying and which by their characteristics are worthy of being on this list. The drones listed below will vary greatly, so we believe everyone can find the perfect solution for their budget.
What is Photogrammetry?
Photogrammetry is a technique that is used when the drone flies around the specific area and makes a 3D map out of it. Therefore, people are increasingly opting for this type of work because it is much sought after and well paid in the world, and it is used for surveying property, checking on your crops if you're a farmer, etc. Photogrammetry can be defined as the science that is measured from photographs, usually those taken from the air. For photogrammetry we can say that its ultimate goal is a map or some kind of 3D model, all of which comes from aerial photographs.
If you didn't know more than 90% of today maps that we use were made using photogrammetry and we use that maps today. Mapping with drones is very similar to this, the main difference being the low altitude a drone can fly and capture higher quality images. Through photogrammetry we can track all changes that occur on earth, including the direction of flight of birds, the movement of fish from the sea, and other movement processes.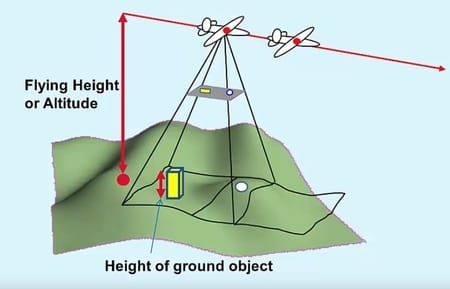 1. DJI Inspire 2
The most expensive, and by many features, the best drone on our list is definitely the DJI Inspire 2. It is a drone whose case is made of magnesium and has great video recording capabilities. It even supports 5.2K videos, but also CinemoaDNG and ProRes recording. To prevent flight problems, it is equipped with crash prevention and obstacle avoidance technology, which is extremely important to it because it can fly at high speeds in predefined flight modes. To capture every moment on camera, the built-in camera has a 360-degree rotation capability, making it much easier for you to work and shoot. An intelligent control system should make it easier for you to work with a drone, and it's interesting that we can't really find a weak point with this drone.
The downside will soon be related to the fact that you need to have a pretty strong computer and such programs that support the formats mentioned above, in order to process such high quality and large video formats. All of the above is backed up by a pretty high price tag. However, it is worth mentioning that this drone is intended primarily for professional use, and it is quite certain that true professionals will not worry too much about the price, but about what kind of device they will get. 
> Check Price, reviews and pics <
2. DJI Mavic 2 Pro
The DJI Mavic 2 Pro is a drone that is in many ways similar to the DJI Phantom 4 Pro drone described below, especially when it comes to the capabilities it can execute. The focus of this drone is on a high-quality camera that can handle 4K video, as well as 20MP stills in Adobe Raw and JPG. Also these features that Mavic 2 Pro has are very suitable for photogrammetry. The drone is designed to be as portable as possible for users, meaning it can be easily ported when traveling or on some other adventures. The maximum speed of the aircraft is 65 km/h, in addition to stabilization in three axes.
Of course, it has a built-in object detection system, so it will avoid them if they get in the way. We will also mention that it has an extremely good and large battery that allows it to hold more than 30 minutes on a single charge in the air. This drone also has a fairly high price tag, so only those interested in its full potential will try to buy this drone.
> Check Price, reviews and pics <
3. DJI Phantom 4 Pro (My Pick)
DJI Phantom 4 Pro is another DJI brand and this time it's a truly fantastic device that can withstand the toughest of tasks. It is for this reason that we consider this the ideal drone selection for photogrammetry. Among the advantages, it is definitely worth noting quite a reach when driving, but also detecting obstacles on the road, both from the front and back. Also this drone has automation that is essential for photogrammetry. The safety system allows the user to fly the drone carelessly as he will return to the starting position on his own when the battery is discharged. In terms of driving capabilities, in this segment, this drone is brilliant because it has an automatic flight system, but also different modes of use (eg sports mode). The camera can handle 4K video at 60fps, and there is a 20MP shooting option in Adobe Raw and JPG.
The Phantom 4 Pro has a special camera design that allows for unwanted in-flight vibration, so photos are crisp and high-quality even in the most extreme of conditions. The fantastic camera also supports the subject recognition system, if you monitor it while you are shooting. The only major drawback we can point out is the need to plug in a smartphone or tablet so you can use the full potential that the DJI Phantom 4 Pro drone has to offer. Flight time is an impressive 28 minutes. Of course, some users will mention the slightly higher price that you can see below. 
> Check Price, reviews and pics <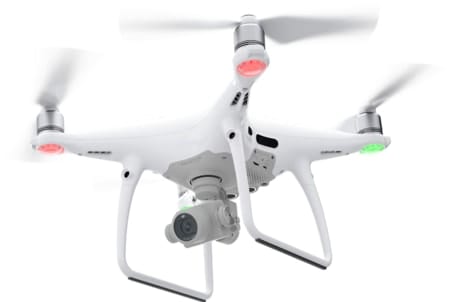 4. Autel Robotics EVO
Autel Robotics EVO is a drone of pretty interesting and quality design that allows you to record quality video material. It is able to work with 4K video at up to 60fps. Of course, you will need a large memory card to record such material, and one of the interesting drawbacks we can object to this drone is the rather narrow slot for said card. The obstacle avoidance system is well designed and it is important to mention that the drone can function with or without a smartphone.
Unfortunately, the security system could be at a slightly better level and some things in that segment are missing. The positive thing is the battery life that can keep you in the air for a long time. The price of an Autel Robotics EVO drone is around $ 1,000, which is not to expensive if you are going to use it for photogrammetry.
> Check Price, reviews and pics <
5. DJI Spark
DJI Spark is an extremely popular drone that is often taken by adventure lovers because of its portability and small size, this drone can be packed in almost any backpack or bag. Exactly small dimensions are one of the biggest advantages of this drone, and when paired with the quality that the DJI brand offers – it's clear that we get a super drone that's as fantastic for photogrammetry as it is for travel lovers.To complete its purpose, this drone has the ability to control gestures and can also be controlled via a smartphone. As for the camera, it can record video up to 1080p, and one of the great features of the camera is that it can track the subject in motion.
A GPS stabilization system has also been developed to provide this drone with security components – that is, returning home unattended. The short-lived battery life, which can last up to 12 minutes on a single charge, is a major drawback, which is a relatively short time. The price of this drone is not high, but if you want, and the associated remote control you will have to pay extra. > Check Price, reviews and pics <
6. Parrot Anafi
Just like the previous drone we described, the Parrot Anafi offers users small dimensions, so it is extremely convenient for travel. Unlike some of the drones on this list, this one has a few more features, among which it is worth pointing out the feature of 4K video material that is supported by HDR. The drone can take 21MP photos, and features include 3x digital zoom, which can be useful in some cases. Unlike the drone described above, the Parrot Anafi has a slightly larger battery that can hold it in the air for up to 25 minutes. Also, it is interesting that this drone can be charged via USB-C port, so the charging itself is relatively quick and easy.
We can say that this drone is very suitable for photogrammetry, just because of its user-friendly capabilities. From the problem, we will single out a slightly weaker housing that seems fragile, but also a lack of sensors to detect obstacles that the drone might find along the way. You will need a smartphone to operate the Parrot Anafi drone. The price of this drone is around $600.
> Check Price, reviews and pics <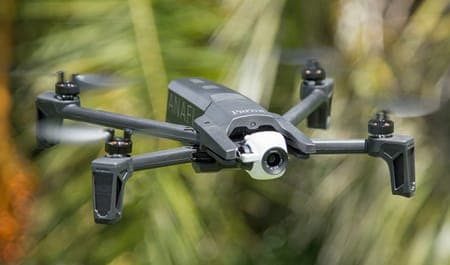 7. Parrot Bebop 2
This company has become famous for multirotors and aircraft that can be controlled by smartphones or tablets. Their newer product, Bebop 2, continues that tradition at a relatively affordable price (it can be found for around €450). As one would expect from a spacecraft like this, it also comes with a camera, but instead of optical image stabilization, Bebop 2 uses a neat trick – using wide-angle optics and software stabilization (frame cutting). This drone gives FPV (First Person View) capability, giving the user easier and better insight into 3D mapping, which is perfect for photogrammetry. Unfortunately, Parrot has locked in some of the special features of Bebop 2 and needs to pay a bit more money to unlock it.
These features include flight route planning and the functionality of keeping track of users in running, running, etc. activities. It is possible to fly for up to 25 minutes, with 2700mAH battery, although in practice this light aircraft (weighing only 500 grams) in the air can be kept much shorter. What makes Bebop 2 great for beginners is the fact that the range is limited to three hundred meters. This will distract many from dangerous flight beyond the visual range.
> Check Price, reviews and pics <
8. Xiaomi FIMI A3
When we pick this drone and consider what sets it apart from other cheap drones, we get that this drone does not require a smartphone but comes with a controller. We can say that the camera is excellent in terms of price range. This drone can record videos with 1080p and 30 frames per second with a 1 km range. The controller has a screen built into it, so you're FPV is in the control and you don't need to pair it up with your mobile phone.
This is ideal drone for beginners and people that wont to spend a lot of money. So if you want to get into photogrammetry, this is the best drone for learning to fly. Controller is very good and it has its own screen. It has charger which is 14V, and has 3 Li-po batteries of 2000mAH, which can give us up to 25 minutes of flying time.
> Check Price, reviews and pics <
9. ZeroTech Dobby
For those whose high-end video footage is only a secondary matter and the primary thing is the ability to record a flight with a very compact aircraft, ZeroTech Dobby is a great solution. This multirotor is priced under €400 and weighs just 199 grams. It may have a silly name, but in general, the advanced functionality of the aircraft is still there – especially with the manufacturer emphasizing the 'selfie' mode. Clearly, Dobby can also track objects around him, recognize faces, respond to voice commands, and has a variety of audio-visual aids that also allow him to fly inside the apartment.
The Dobby is controlled by a smartphone and its range is very limited (less than 100 meters). In addition, flying should be avoided whenever something more powerful than the breeze blows – this drone just can't handle it because of its low mass. Small dimensions, unfortunately, mean one more thing – a flight on a single charge can only take about 10 minutes. 
> Check Price, reviews and pics <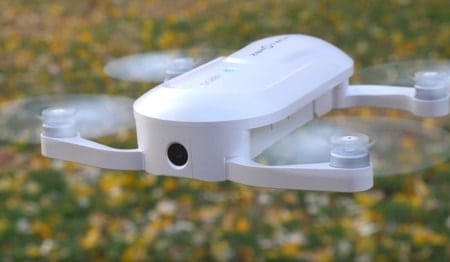 10. Holy Stone HS100
This drone is slightly larger in design than the other listed drones on this list. But this drone is 100% recommended if you want to buy a cheap drone at fair qualities. It is super easy to operate this drone that pretty much anybody can fly it. It has amazing specs like; GPS, one key return feature, Follow me mode, intelligent battery, altitude hold mode, headless mode, HD camera, 9 Axis Gyro and much more. It has 720p HD Wi-Fi camera, so you must watch out if you go above 120 meters or so, you're gonna start losing connection with the camera, but the good news is that it has a bult-in SD card.
So it will continue recording for you even when you lost signal between your smartphone and the transmitter. Battery is 7.4V, 2500mAH, which gives you 15 minutes of flight mode. It needs almost 2 hours to charge your battery from zero to full charge. This drone comes with extra landing gears and everything you need to get going and do photogrammetry right away. This is one of the best beginner drones that i've seen in quite a while.
> Check Price, reviews and pics <
TOP 3 Camera's for Drone Photogrammetry 2020
1. GoPro Hero 7 Black (My pick)
The seventh-generation GoPro HEROs continue in the direction of the 5th generation, when the waterproof housing was discarded, that is, when the GoPro cameras themselves became waterproof. This is why the 7th generation HEROs look almost exactly like the previous two-generation HEROs. This has its advantages and disadvantages. The advantage is that you do not have to have an extra plastic waterproof case, so the cameras are smaller, more elegant and always protected from water, whether it is a fall into the river or the sea, or whether it is rain or snow. The videos and photos produced by Black are, as expected, top quality among action cameras.
There is nothing special to say – if you are not satisfied with the video quality of Black, then you will not be satisfied with the video quality of any action camera. Of course, in dark conditions, noise will be seen, but this simply cannot be avoided without a large increase in camera dimensions, because for better performance it requires a larger sensor and a larger aperture lens. This GoPro camera is the perfect choice for photogrammetry. 
> Check Price, reviews and pics <
2. Hasselblad X1D
Hasselblad introduced the X1D, a mid-size mirrorless camera with a 50 MP CMOS sensor, last week. With weather and dust-proof prisons, you don't have to be scared to leave photo studios. It also has an ISO range of 100 to 25600 and the ability to record 1080 / 25p HD video. Not surprisingly, the X1D also comes with a new XCD series lens. Two XCD lenses have been announced at the launch of the camera – 45mm f / 3.5 and 90mm f / 3.2, which have a field of view equivalent to 30mm and 70mm full-frame lenses.
More choice will follow with the 30mm (24mm equivalent) lens that will be unveiled during Photokine in September. The H lens adapter will be introduced to support the already existing Hasselblad H system, with fully functional autofocus. If you decide to buy a Hasselblad X1D you will not regret it for sure. 
> Check Price, reviews and pics <
3. Sony A7 Series
This is the first generation of Sony A7 Serie. Sony A7 have 24 MP FF CMOS sensor, 117 point of autofocus and it can record 1080P up to 60 frames per second. The first reason you should buy this camera is the price. You can find this camera on amazon. This A7 camera have the 36 millimeter full-frame.
Also, with A7 you can capture some of the best photos you can take on a camera. It has great video quality, with autofocus that is awesome. When it comes to stabilization the sony has sensor stabilization which is important when you fly a drone in the air. Sony can stabilize any lens. Sony by the far have the best autofocus system in the world, period! > Check Price, reviews and pics <
Conclusion
Several years ago, it was questionable how popular the drone market would be and whether it would gain in popularity at all. With increasing competition, falling prices and increasing opportunities, drones have become one of the most important elements for anyone working in the creative industries, especially in photography and video. Above we have listed some fantastic drones that are currently among the best models on the market and worth investing in if you opt for photogrammetry. But there are more and more enthusiasts who try drones out of curiosity and fun, so the market is becoming more and more diverse. Given that the list contains a very colorful drone, anyone reading this on the list can find something for themselves. We hope that we have at least helped you a little in deciding which drone to buy for photogrammetry and have given you good information on what all the smart market has to offer.