15 Best Heavy Lift Drones In The World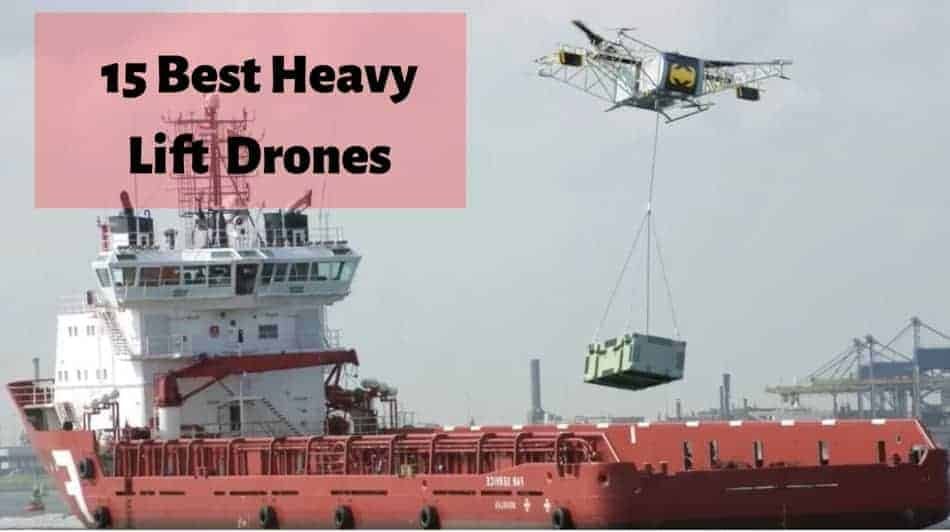 People today are using drones for everything, from photography, surveillance, as well as scientific research. However, weight is a critical parameter when it comes to flight. When it comes to airplanes the same rules apply, which means they also use light composite materials to improve flight dynamics. With today's technology development this ratio of battery energy density has improve, but there is still plenty of room for improvement.
Drones biggest problem so far was the battery limitation, but now that the boundary has been moved, the future for drones looks bright. Therefore, the main purpose for drones to fly and perform some basic things are no longer sufficient, we want them to do useful things in flight and to carry extra weight.
There are a lot of drones that can carry much more than just a camera at their disposal. With this new rising market, you must know exactly what are you looking for. I will present you the World best heavy lifting drones with ranges of max payload by 1.6 kg all the way up to 400 kg. Here are the 15 best heavy lift drones of the market.
Table of Top 15 Best Heavy Lifting Drones in The World
| Drone | Max payload: | Range: | Time: |
| --- | --- | --- | --- |
| 1. Yuneec Tornado H920 (Available on Amazon) | 1.6 kg | 1.6 km | 24 min |
| 2. Airborne Vanguard | 4.5 kg | 55 km | 94 min |
| 3. Tarot T-18 | 8 kg | 3.2 km | 20 min |
| 4. Augmented Aerigon Drone | 9 kg | 2.5 km | 15 min |
| 5. Freefly Systems Alta 8 (Available on Amazon) | 9.1 kg | 2 km | 15 min |
| 6. DJI Agras T16 (Available on Amazon) | 10 kg | 1 km | 24 min |
| 7. DJI Spreading Wings S1000 | 11 kg | 3 km | 15 min |
| 8. Onyxstar Hydra-12 | 12 kg | 5 km | 25 min |
| 9. DJI Matrice 600 Pro (Available on Amazon) | 15.5 kg | 30 km | 40 min |
| 10. Vulcan UAV Raven | 24 kg | 10 km | 20 min |
| 11. Vulcan UAV Airlift | 24 kg | 8 km | 20 min |
| 12. Ehang184 | 100 kg | 16 km | 23 min |
| 13. Scorpion 3 Hoverbike | 104 kg | 21 km | 40 min |
| 14. Griff 300 | 226 kg | 15 km | 45 min |
| 15. Skyf Drone | 400 kg | 350 km | 8 Hours |
1. Yuneec Tornado H920
This drone is designed for advanced pilots.  What this drone provides is easy control during flight, which is very convenient for beginners. The Tornado H920 has a high quality camera for capturing super pictures and videos in large format. The price of this drone is reasonable, so if you are a beginner, this drone might serve you well.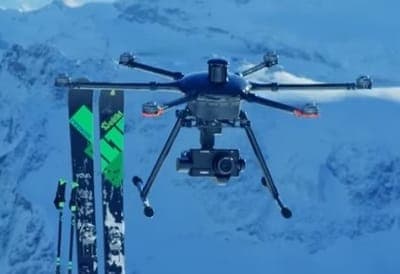 Tornado H920 also has a retractable landing gear and a wide array of handy features such as fail safe auto return to home, auto takeoff and landing, air pressure sensors and fail safe folding arms. It's important to add that it can go up to 2 kilometers away from its transmitter and can stay in the air for roughly 25 minutes. Yuneec Tornado H920 takes two 4000mAh 6S 22.2V Lipo batteries, with the capability of fitting 3 of them. See user reviews and more info on Amazon.
| Tornado H920 | |
| --- | --- |
| Dimensions: | 165 x 219 x 196 mm |
| Flight duration: | 24 min |
| Max speed: | 40 km/h |
| Range: | 1.6 km |
| Weight: | 1.2 kg |
| Max payload: | 1.6 kg |
2. Airborne Vanguard
Vanguard dont need to be introduced to the drone world. This drone is known to a large population by drone fans. The Vanguard drone system is their solution to security and surveillance needs, but it's also one of the most expensive consumer drones in the world. It is also ideal for inspection and detection where fine detail such as cracks and signs of wear are needed.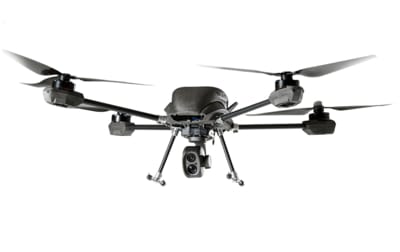 In addition to shooting 4K footage, the Vanguard can stay up for an impressive 94 minutes, and has capabilities to pass 800 meters per minute, have max altitude (asl) of 4500m. The weight of Vanguard is 9.5 kg. Vanguard has excellent two high tech cameras that deliver flawless, real-time images and transmit them to the pilot. It also gives a clear view of movement, with the great speed it can achieve.
| AIRBORNE VANGUARD | |
| --- | --- |
| Dimensions: | 835 x 835 x 350 mm |
| Weight: | 9.5 kg |
| Max speed: | 18m/s |
| Max altitude: | 4500m |
| Max flight time: | 70-94 min |
| Max payload: | 4.5kg |
3. Tarot T-18
This Tarot T-18 V2.0 Ready To Fly Drone is an excellent drone for those looking to carry a heavy, specialized payload through the skies . The Tarot T-18 can be the perfect tool to add to any aerial photographers. Why play big? Because when it comes to flying object, the bigger the aircraft, the more stable it is. This T18 is a Foldable 1250 size octocopter, it's even bigger with propellers installed. 
The tarot is built of carbon fiber, which also gives it extra quality. The payload this drone can achieve is 17 lbs (8 km) and it can reach a range of 3 km. It can stay in the air for up to 20 minutes, including normal conditions such as wind.
| TAROT T-18 | |
| --- | --- |
| Dimensions: | 1250 mm radius |
| Flight Time: | 20 min |
| Max range: | Up to 3.2km |
| Max payload: | 8 kg |
4. Augmented Aerigon Drone
If you are looking for the best and most expensive camera drone in the world, look no further. This fully equipped drone costs '$250,000, footage Will Probably Be The Best Video You'll See, so if you are looking for the best and most expensive camera drone in the world, look no further. This drone is not for everyone, though, because its price is astronomical, and very few people can afford it.
This is solely because AERIGON provides incredible capabilities. Shooting 4K at 1000 FPS, the Phantom Flex4K is undeniably a powerful piece of equipment for filmmakers. This drone charges an average of 45 minutes, allowing 7- 15 minutes flytime. It has a range of up to 1000m and weighs a 6.4 kg.
| Augmented Aerigon Drone | |
| --- | --- |
| Dimensions: | 620 x 610 x 614 mm |
| Weight of the drone: | 4.2kg/9.3lbs |
| Flight time: | 15 min |
| Max payload: | 9 kg |
| MTOM (Performance edition) | 25kg/55lbs at MSL* |
5. Freefly Systems Alta 8
This is a unique drone with unique specifications. One of the big things I was looking forward to was having manual throttle. The advantages of Alta 8 is that it's much more professional, you can get an 8k camera up in the air, focused iris zoom, cine lenses, much higher quality lenses. Alta 8 uses 350 watt hour batteries, so if you're familiar with that you can't bring those on a plane, you can only travel on the ground with them.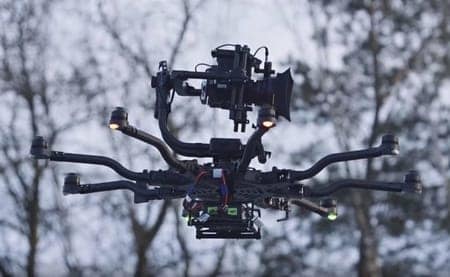 This drone has a specific load capacity of up to 11.9 kg, which is significantly higher than other drones on the market. The ALTA silent drive motor controls have incredible closed loop control of the propellers. This drone has the ability to maintain stability and safety while flying even in extreme conditions such as wind.
ALTA 8 makes it easy to monitor and analyze the performance and 'health' of your machine using our proprietary high speed data logging via micro SD card. This would still be cautious in the rain or wet conditions regardless.
Check the current price and more info on Amazon.
| FREEFLY SYSTEMS ALTA 8 | |
| --- | --- |
| Dimensions: | 1325 x 660 x 263 mm |
| Flight time: | 10-25 min |
| Weight: | 364 kg (802 lbs) |
| Power: | 12.3 kWh |
| Max payload: | 9.1 kg |
6. DJI Agras MG-1
This is the first agricultural aerial platform drone, that is designed for ultimate effectiveness, witch have industry-level reliability and precision spraying. One single Agras MG-1 can carry 10 kg of fluid and can cover 10,000 square meters on a single charge. This is 40 to 60 times faster than manual spraying. The Grass MG-1 is dust-proof and corrosion-proof and its water-resistant.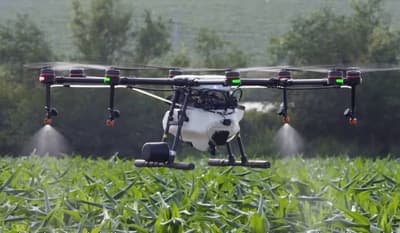 This drone has the ability to protect plants that are susceptible to corrosion, and can save large costs that are otherwise quite expensive and also shorten the cleaning time. The MG-1 automatically records its current coordinates and remembers its past coordinates as it makes its way across the field.
The MG-1 has a specific design that has the ability to assemble and disassemble a drone without additional tools.
Check out the current price, reviews and more info on Amazon. (DJI Agras T16 New Model )
| DJI AGRAS MG-1 | |
| --- | --- |
| Dimensions: | 1471 x 1471 x 428 mm |
| Max power: | 6400W |
| Total weight: | 22.5 kg |
| Max range: | 1 km |
| Max Flying speed: | 22m/s |
| Max payload: | 10 kg |
7. DJI Spreading Wings S1000
This drone is marketed as being able to carry a heavier load than other drones, but still being extremely stable due to an eight motor propulsion system. This drone has a specific design but provides very high energy efficiency. DJI makes one of the highest quality drones on the market, so this model does not lag behind other popular models, and provides stability in the air, regardless of whether one of the rotors fails.
Each rotor is individually powered so that it has the ability to continue flying if a single rotor fails. It is more efficient, reliable and easy to install and it eliminates the need for soldering. The DJI Spreading Wings S1000 has the ability to, despite carrying a very heavy camera, still maintain impressive stability during flight. All 8 wings this drone has are foldable, allowing for very easy transfer. This drone has a wide price range because of the accessories that can be retrofitted with the features you choose.
| DJI Spreading Wings S1000 | |
| --- | --- |
| Dimensions: | 1045 x 386 mm |
| Max power: | 500W |
| Flight time: | 15min |
| Weight of drone: | 13kg |
| Max payload: | 11kg |
8. Onyxstar Hydra-12
The HYDRA drone has 12 motors, and it is designed for heavy payloads, allowing it to carry up to 12 Kg of effective payload. Despite the heavy payloads it has to carry, this drone is a precise tool. This drone is made of a special material that makes it much lighter than other drones and is considered quite safe in the air.
The HYDRA-12 is a very promising drone with its capabilities, and appreciated by plenty of people involved in the drone industry, justifying its place at the very top.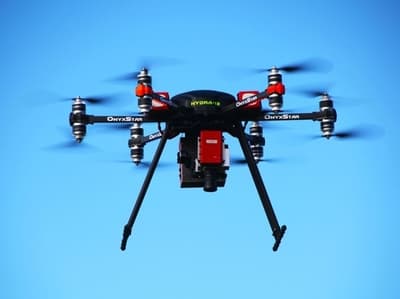 More than just GPS accuracy, it can be upgraded to Real-Time Kinetik precision (RTK), according to specific needs. Therefore, we can say for HYDRA-12 that it justified all its specifications, price and safety offered to users.
| ONYXSTAR HYDRA-12 | |
| --- | --- |
| Max speed: | Up to 39km/h |
| Max flight time: | 25 min (without payload) |
| Max takeoff weight: | 22,78 kg |
| Batterys: | 2 x 16000 mAh |
| Range | 5000m |
| Max payload: | 12 kg |
9. DJI Matrice 600 Pro
This DJI Matrice 600 Pro model boasts a beautiful design with the best possible equipment needed for the top quality and performance of every professional filmmaker. The shots this drone can deliver from the air are flawless.
This model provides long flying times and maximum reliability. The price of this model is not a bit cheap, but if you do this type of work, you will certainly not go wrong if you invest money.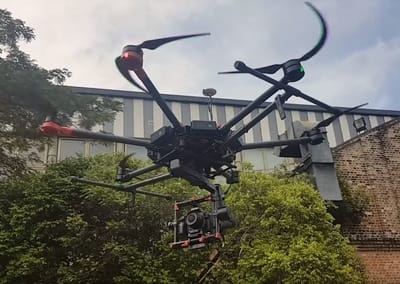 It includes everything needed to go from assembly to flying. Powering the M600 is a set of 6 DJI Intelligent Batteries. It is very simple and trivial to transport this kind of drone, so you will have no trouble transferring it even in the car.These batteries give the M600 a fully loaded flight time of up to 15 min. In terms of flight range, this drone has the ability to cross 5km and also boasts its own speed.
Check the current price and more info on Amazon.
| DJI MATRICE 600 Pro | |
| --- | --- |
| Dimensions: | 1668 x 1518 x 727 mm |
| Weight: | 9.5 kg |
| Capacity: | 4500 mAh |
| Flight time: | 40 min |
| Max speed: | 40-65 mph |
| Max payload: | 15.5 kg |
Related Article: Most Expensive Drones in the World 2023
10. Vulcan UAV Raven
The Vulcan UAV Raven is an absolute workhorse of a multicopter. Purpose-designed to be able to handle the toughest of jobs, this drone is capable of carrying a payload of up to 20 kg thanks to its high-grade carbon fibre and aluminium frame. The Raven frame, landing gear and motor mounts are made from high-grade carbon fiber and the arms are aluminum alloy making it one of the strongest and stiffest airframes available.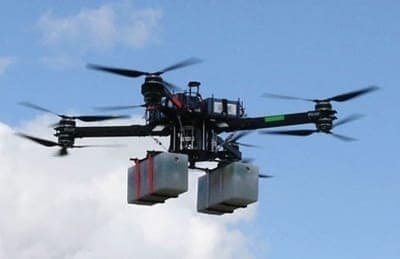 A 2.4GHz Bluetooth downlink and ground control station allows the operator to program waypoints, view aircraft location, heading and altitude, and other flight data on a iPad or laptop. The rigid and strong airframe coupled with the powerful WooKong-M flight controller allow the author to easily keep the raven in a stable hove. It's designed for strength so it is a heavy and sturdy frame, which is why it can handle such large loads.
| Vulcan UAV Raven | |
| --- | --- |
| Dimensions: | 40 x 60 x 30 cm |
| Range | 10 km |
| Flight time: | 20 min |
| Battery: | 16,000 mAh |
| Max payload: | 24 kg |
11. Vulcan UAV Airlift
This Vulcan Airlift model has an impressive payload of almost 30 kg. As for the design of this drone, it is shaped by a very solid, premium and aesthetic design. It consists of transparent tanks and tubes di to see exactly how much funds are left to work in this drone, both from the air and the remote control that monitors everything through the sensor.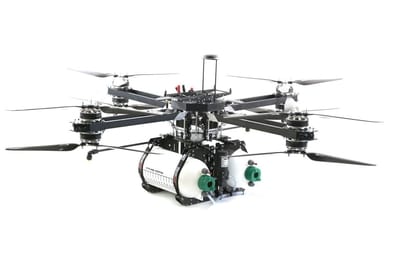 The electronics of this drone are protected so that you do not have to be afraid of light rain, it is waterproof and can be used under any conditions without fear that something will happen to it. The opportunities offered by this Airlift are really wide, so we don't have to go into them, even though people use it most often in agro-culture today. The Airlift also features a unique folding system that allows the airframe to be reduced to a very manageable size when folded for transportation or storage.
| VulcanUAV Airlift | |
| --- | --- |
| Diameter: | 1150 mm |
| Max Batteries: | 4 x Lipo |
| Configuration: | X8 co axial folding |
| Flight time: | 20 min |
| Max payload: | 30 Kg |
12. Ehang 184
This is the world's first electric passenger drone. This drone was designed to carry and fly a person around, from point A to point B. One of the features this drone have is 54 motors. Ehang 184 has the ability to carry one person for 23 minutes at an average speed of 62mph (100km/h). One interesting thing about Ehang 184 is that it only take about 2 to 4 hours to recharge the batteries for another run.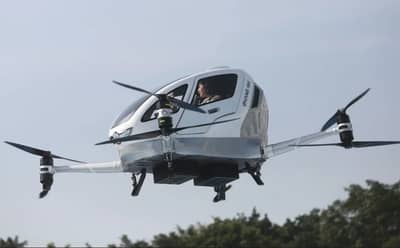 It can cruise at speeds of up to 6 to 2 miles per hour and has a ceiling height of 11,000 ft (3352m) above sea level. Similar to hobby drones the passenger drone can take off land and fly automatically with a single click in addition it includes an automatic safe landing system should one of the propellers or murders fail during flight. Ehang 184 is passenger drone that requires no license or previous flying experience. Drone has now flown over 200 test flights both wheeled and with out pilots.
| Ehang 184 | |
| --- | --- |
| Dimensions: | 3989 x 1447 x 4024 mm |
| Interior (seats): | 395 x 860 mm |
| Flight speed: | 100km/h |
| Charging time: | Up to 1h |
| Aircraft net weight: | 260 kg |
| Range | 16 km (10 miles) |
| Max payload: | 100 kg |
13. Scorpion 3 Hoverbike
Hover Surf is a Russian company that builds drones has been developing a rideable drone called the Hoverbike. The latest version of the Hoverbike is called Scorpion 3, which merges a standard motorbike design with drone quadcopter technology to allow riders to maneuver in the air as if they were riding a bike. The Scorpion 3 can carry a 104 kg or 229 pounds in weight, while hitting speeds of up to 43 miles per hour and reach an altitude of 33 feet. 
This electric bike has a range of 13 miles with between 20 and 40 minutes of flying time on a single charge. This vehicle is still in a concept in prototype stage, the craft might be used in the immediate future. The debye police force has reportedly tested it for use in monitoring large highly trafficked areas although the debye police have placed a 20 foot flying limit on the bike, even though it can fly higher. The Scorpion 3 Hoverbike is available for consumer purchase through hover surfs website as stated for $150.000 as of February 2018. In most countries registration or a Polish license is not required when the aircraft weighs below 115kg.
| SCORPION 3 HOVERBIKE | |
| --- | --- |
| Battery capacity: | 12.3 kWh |
| Flight Duration: | 20-40 min |
| Max speed: | 43miless/hour |
| Altitude reach: | 33 ft |
| Range | 21 km |
| Max payload: | 104kg (229lbs) |
14. Griff 300
The drone company Griff Aviation has launched the Griff 300 model UAV that can carry around 500 lbs (226kg) of payload weight. Griff 300 is an 8-propeller UAV with a very high power. Another interesting thing about this drone is that can sustain 45 minutes of airtime.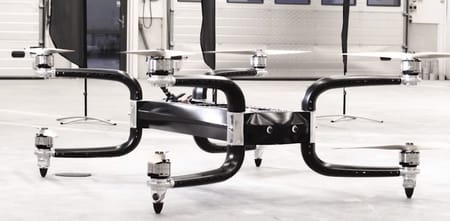 When we consider the weight that some drones need to carry, a typical professional camera weighs about 2 kg, and these are the minimum requirements that professional drones must satisfy. Griff Aviation's UAVs will be priced from around $250,000 but this price is not final, it depend upon the customer's requirements. One of the important features of the GRIFF 300 drone is easy to transport, assemble and operate. Also, one great feature is also great emphasis on the ease of interaction between the person piloting the drone and its control systems. For example, if the customer wishes, he can use a helicopter cockpit or a captain's chair, with full view of the map, telemetry and video feed.
| Griff 300 | |
| --- | --- |
| Dimensions: | 265cm x 280cm x 50cm |
| Dimensions folded: | 90cm wide x 160cm |
| Rated payload: | 150Kg (45 min) |
| Max payload: | 226 kg (500lbs) |
| MTOW : | 350kg |
15. Skyf Drone
Skyf Drone or the famous "hulk" knocked it down and currently holds the world record for the largest payload lifted by a single drone with a load of 64 kg in 2016. It can lift weights of up to 250 kg (550lbs), with a perspective of increase up to 400 kg (882 lbs), and it has an enviable 350 km of reach that can cross, and its flight time exceeds any drone on the market and is up to 8am. 
Team of SKYF is developing a universal platform with a high cargo carrying capacity for a global market. The SKYF drone has excellent aerodynamic capabilities and has very adaptable heavy lifting and lowering functions. What's interesting about this drone is that it is economically more cost effective than any helicopter with the same specifications available on the market. Skyf drone uses ordinary gasoline (petrol) instead of expensive aviation fuel that makes maintenance cheaper and more accessible.
| Skyf Drone | |
| --- | --- |
| Flight Range: | Up to 350km |
| Flight Duration: | Up to 8h (with 50kg payload) |
| Maximum speed: | 70km/h |
| Flight height: | 5 to 3000m |
| Positional accuracy: | Within 30 cm precision |
| Fuel: | Petrol |
| Max Payload: | 400 kg |
DIY Heavy Lifting Drone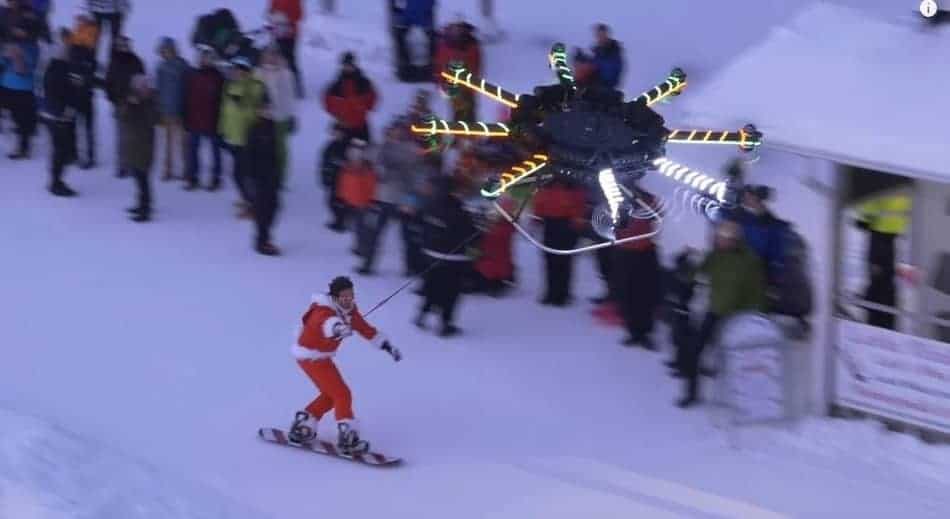 YouTuber Casey Neistat recorded a spectacular adrenaline video on his latest holiday, with a custom-made drone that's capable of lifting and flying around an human on a snowboard. The drone is specifically designed and customized for the video that Neistat recorded over the course of a year after he was unable to find any commercially available drones for this project.
This huge drone have the massive 16-rotor machine and it's given the weight it needs to be able to carry. In this attempt presented by Neistat we can see one-man drones capable of carrying people from point A to point B which was not possible before. This example where Neistat demonstrate actual human-carrying drone, he noted that this video was sponsored by Samsung. He used Samsung's Gear 360 camera which also appeared a couple of times in the video in addition for being used for some footage.
Related Article: 12 Best Heavy Lift Drones 2023
What Matters in a Heavy Lift Drone?
If you have decided to buy heavy lifting drone, you need to ask yourself 2 main questions: 1. what's the payload and what do you need to do with it? We have to consider that there is a number of factors that affect the drone's payload capacity. The most important among them are the motor power, the size and number of propellers, type of battery and the weight of the drone.
One of the factors we need to keep in mind is that the propeller thrust should be twice the total weight of the drone and the payload. Drones also need to know how to deal with wind, air pressure and moisture in the air which can drastically influence your drone. 
Drones that need a big lift requirement also needs a battery with a bigger capacity, which also adds weight to the drone. Heavy lift drones beside extra weight that they need to carry also need a strong and durable drone frame which is heavier than the standard lightweight construction of the hobby drones.
There is also one very important thing besides from adding the payload to the drone, and that is take-off weight or capacity that drone must use to take off which we must take into consideration. Take-off weight is usually the heftiest capacity the drone can handle for it to fly without any complications. Because there are still a couple of factors that are here like battery life, and control of the drone in the air while carrying the payload.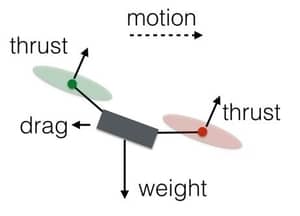 Become an FAA Certified Heavy Lift Drone Pilot
So the number one thing you need to do if you are planing to start a drone busniess and earn some money is to get your Part 107 license. For The Small UAS the rules are very clear – if you fly for recreation, you do not need a Part 107 Certificate. If you want to fly for work or business according to the FAA gov website, you must be at least 16 years old, you must pass an initial aeronautical knowledge test that FAA approved knowledge testing center.
If you decide to become a certified Drone Pilot, the Drone FAA 107 License Study Guide will help you master the entire course successfully. So the registration for a traditional aircraft are very different from the rules that are implemented in Part 107 certificate. For Part 107 license, the course includes 70 lectures that cover a wide variety of topics such as drone laws, weather & micrometeorology, national airspace systems and much more. Also you need to be a certified drone pilot, and you'll need to master basic flight proficiency. It takes 8 weeks to get certified. Once you have 107 certificate is when the practicing needs to begin.
Conclusion:
Today the drone industry is quickly spreading to new frontiers. When we see how fast technology is developing with more durable and lightweight materials, drones will have more potential to evolve and carry more loads in the future. Professional drones are primarily designed to carry extra weight while flying. Today we can see that manufacturers already built drones for all kind of purposes. Here we presented you the best heavy lifting drones in the World, where some of them can raise the payload of 400kg.
One of the main advantages of drone deliveries is speed. The world of heavy Llift drones that are capable to carry weights are very common today, because of its nature of businesses involvement. One of the biggest drawbacks in professional drones are flight time which is reduced by half by the weight and the batteries therefore last short. There is still so much more we can do with them. I would love to hear your opinions in the comments below.