Most Expensive Drones in the World 2023
Welcome to the world of most advanced and expensive drones! We'll make the collection of drones for you from range of $6000 all the way up to $300,000. The technology and features that these drones possess are breathtaking. We have here agricultural drones, high tech drones, movie recording drones and drones for millionaires. Here we can see the most advanced drones in the world that have unimaginable capabilities. We have 4 categories for this drones: filming, drone mapping, spying, transporting goods and passengers, and more. So what are most expensive drones that you can buy today? Here are the most expensive drones you can buy on market today, starting with the highest priced drone!
(This article has been updated for 2021)
1. EHANG 184 – $300,000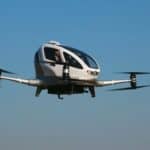 This is the world's first electric passenger drone. Ehang the maker of the Ghostdrone series has produced a manned version of a traditional drone UAV called the EHang 184 for the drone uses 8 electric motors to power 8 propellers which can carry one person weighing up to 100kg, which includes any personal luggage such as briefcases or handbag. Drone flies there automatically. The drone has a battery allowing for 25 minutes of flight time and has a range of up to 30 to 50 kilometers from a single charge and takes 2 hours to recharge. It can cruise at speeds of up to 6 to 2 miles per hour and has a ceiling height of 11,000 ft (3352m) above sea level.
Similar to hobby drones the passenger drone can take off land and fly automatically with a single click in addition it includes an automatic safe landing system should one of the propellers or murders fail during flight. Ehang 184 is passenger drone that requires no license or previous flying experience. The reason for this is you are not the pilot of the aircraft, you are no more than a passenger in a taxi. Drone has now flown over 200 test flights both wheeled and with out pilots.
RATING: 6/10
Can carry up to 100kg
Can achieve speed of up to 6 to 2 mph 
Requires no license 
 
Flight time up to 25 

Price of $300,000
2. AUGMENTED AERIGON DRONE + PHANTOM FLEX4K – $250,000
This '$250,000 Drone' Footage Will Probably Be The Best Video You'll See, so if you are looking for the best, the highest quality drone on the market, you're in the right place! A large number of drone pilots love the power, control and stability of AERIGON. This drone is specially made for special movies and commercials with one of the best cameras that are available on the market today.  Shooting 4K at 100o FPS, the Phantom Flex4K is undeniably a powerful piece of equipment for filmmakers. Also, cost of this drone is around the price of my first house. This drone is an elite cinema drone system for professional cinematographers and broadcast specialists. The battery charging time for this drone is 45 min per 6 batteries, but flight time is around 7-15 minutes* including reserves, depending on playload. It have Signal range up to 1000m, the weight is 6,4kg/14.1lbs.
RATING: 7/10
Shooting 4K at 1000 FPS
range up to 1Km
Weight is 6,4kg 
Price of $250,000
Flight time is around 7-15 minutes 
3. SCORPION 3 HOVERBIKE – $150,000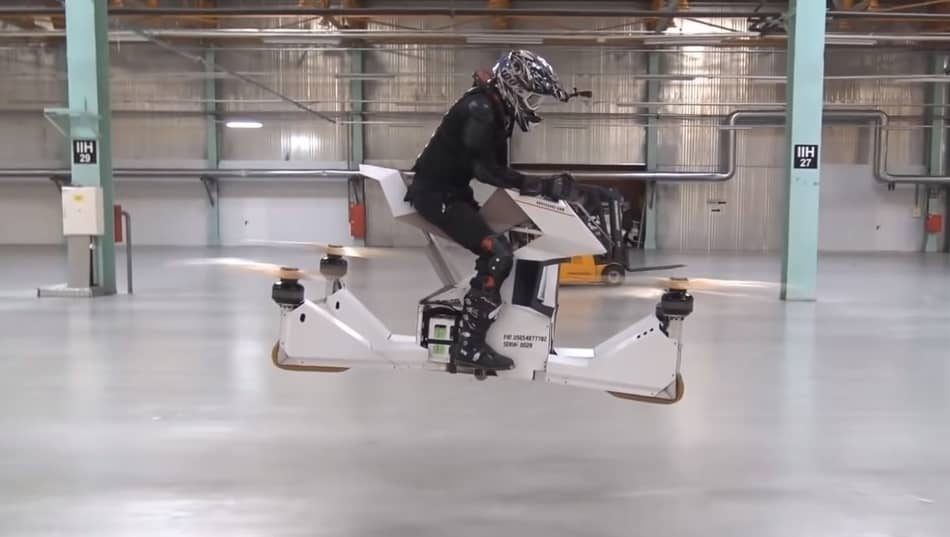 Hover Surf is a Russian company that builds drones has been developing a rideable drone called the Hoverbike. The latest version of the Hoverbike is called Scorpion 3, which merges a standard motorbike design with drone quadcopter technology to allow riders to maneuver in the air as if they were riding a bike. The Scorpion 3 can carry a hundred and four kg or 229 pounds in weight, while hitting speeds of up to 43 miles per hour and reach an altitude of 33 feet. This electric bike has a range of 13 miles with between 20 and 40 minutes of flying time on a single charge. Depending on the battery type its batteries can be recharged in three hours or they can be swapped out in a minute. The Hoverbike has been designed with diverse conditions in mind and employs inbuilt software for full manual and automated control it's marketed as safe thanks to the state-of-the-art flight controllers that keep checks on parameters like altitude and speed. This vehicle is still in a concept in prototype stage, the craft might be used in the immediate future. The debye police force has reportedly tested it for use in monitoring large highly trafficked areas although the debye police have placed a 20 foot flying limit on the bike, even though it can fly higher. The Scorpion 3 Hoverbike is available for consumer purchase through hover surfs website as stated for $150.000 as of February 2018. In most countries registration or a Polish license is not required when the aircraft weighs below 115kg. 
RATING: 7/10
Speeds of up to 43 mph
license is not required
can carry a 104 kg 
Flying Time of 20 to 40 min
Price of $150.000 
4. XACTSENSE TITAN – $120,000
The price of this drone is a whopping $ 120,000 and is the most advanced version of these models. This drone has an autopilot and can do most of the work automatically. It has the ability to carry loads up to 55 lbs. This drone has a unique range of 10 km, which is much more than other commercial drones, while in the air it can be a little over 30 minutes. XactSense delivers the worlds only total solution for UAV LIDAR mapping. Using the most advanced LIDAR and imaging sensors as well as Inertial and Global Positioning systems, extremely high resolution maps can be created of nearly any area. Poised to revolutionize the way we gather spatial data, XactSense is leading the way for UAV sensing technology. Applications that are included in this drone are: surveying, disaster relief aid, search and rescue, civil engineering, architecture, construction, power line inspection, pipe line inspection, stock pile, mapping and forestry.
RATING: 5/10
Can flown completely on autopilot
Can carry equipment up to 55lbs 
Flight time up to 30 m
Priced of $120,000
5. AEE F100 – $58,000
From the same company that made the F50 comes the F100. This AEE model have 4 drive rotor system, which is very rare for drones today.  Priced at $58,000 its specs are insane. Kvadrokopter can flexibly change the task board equipment to meet different needs. It can reach an altitude of 7,000 meters with a top speed of 100 kmph. The interesting feature of this drone is also the distance of 20km with a single charge and fly time of 1 hour. It can also track multiple people and objects which makes it a perfect tools for the military and law enforcement. F100 can be equipped with a professional on-board equipment, on-board super low illumination, an onboard infrared camera for night shooting, board professional camera with 16 million pixels, and the possibility of rotation 0-105 degrees up and down. Weight with battery is 6 kg. Kvadrokoptera design is made of high molecular integrated ultra high-strength carbon fiber composite. 
RATING: 8/10
Camera with 16 million pixels
Can fly for up to 1 hour 
Can reach an altitude of 7km 
6. AIRBORNE DRONES VANGUARD – $45,000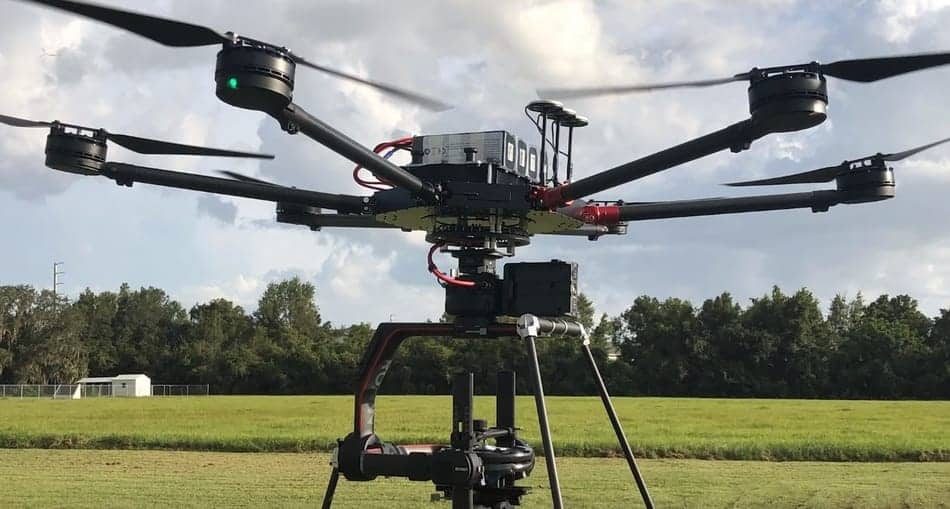 This drone is one of the most modern drones from the Airborne Company. This drone provides superior surveillance, security and is very easy to operate, but it's also one of the most expensive consumer drones in the world. this drone has the ability to detect small cracks and a very sharp camera.. In addition to shooting 4K footage, the Vanguard can stay up for an impressive 94 minutes, and has capabilities to pass 800 meters per minute, have max altitude (asl) of 4500m. The weight of Vanguard is 9.5 kg.
With the dual camera that Vanguard has, it's possible to see identical things that the drone itself sees from a flying perspective. It also comes with a thermal camera capable of detecting special objects and high quality zoom. What makes Vanguard special is that it delivers high quality images even in the most demanding conditions with its dual antenna system!
RATING: 6/10
Can shoot 4K footage
Up in air to 94 min
10x Optical Zoom camera 
Weight of 9,5kg 
Price of $45,000 
7. SCI.AERO CYBERQUAD – $37,000
Sci Aero Group was established in 2018 when two of WA's leading aerial operators decided to combine forces to meet industry demand. CyberQuad is made primarily for industrial purposes, it has max flight time up to 25 min, thermal camera and max speed of 16.6m/s. The range of this drone is 500m, it has 4 rotors and it weight 1,7kg. This drone have multispectral camera abilities with automatic geotagging of all dana, which helps users to study everything from vegetation cover to the topographical features of an area. The price of this drone is up to $37,000, and it's not affordable for most people, especialy for the average farm.
RATING: 3/10
High range up to 500m
Flight time up to 25 min
8. XACTSENSE MAX-8 -$20,000
Xactsense Max-8. This drone wouldn't be used for photographers, instead it's used for surveying and mapping land. This drone lets you create a 3D images of land. This drone has the ability to add extra equipment and can greatly improve the performance of this drone. Once you've mapped an area you can move around freely in the 3D environment, this drone has the ability to display an interactive map of the area you pass so that you have a map included instead of just a recorded video file.. With this done you also get Photo Mapping Package. The weight of this drone is 4.54 kg, it can be in air up to 35 minutes.
The MAX-8 was designed from the bottom-up to be a robust and easily transported aircraft for surveyors interested in photogrammetry and LiDAR. It is a compact design that can fold to fit in a rugged case and deployed in minutes. The Photo Mapping Package comes loaded with everything you need to get started with photogrammetry on a professional level.
RATING: 4/10
Create a 3D area of land
Up in air to 35min
9. FREEFLY SYSTEMS ALTA 8 – $17,500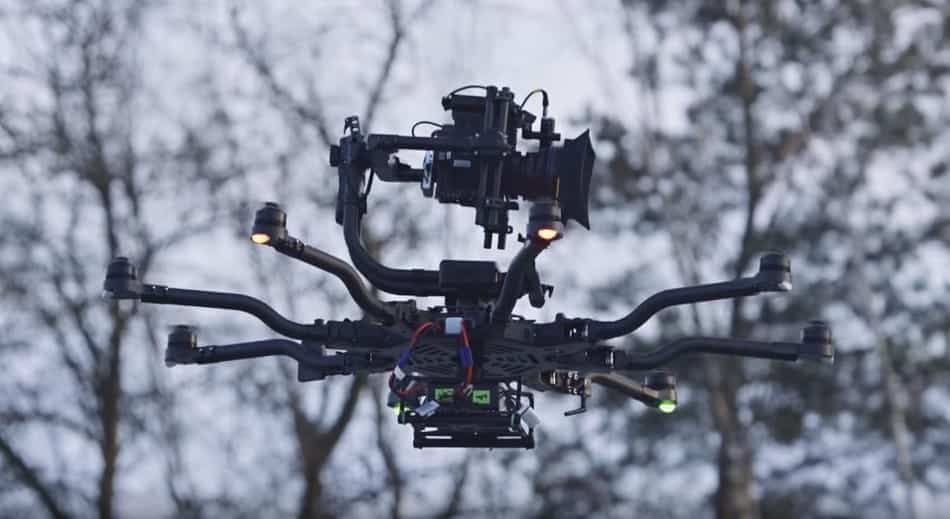 One of the big things I was looking forward to was having manual throttle. The advantages of Alta 8 is that it's much more professional, you can get an 8k camera up in the air, focused iris zoom, cine lenses, much higher quality lenses. Alta 8 uses 350 watt hour batteries, so if you're familiar with that you can't bring those on a plane, you can only travel on the ground with them. It has max lift capacity up to 11.9 kg, and other drones have max lift capacity up to 6.0 kg. The ALTA silent drive motor controls have incredible closed loop control of the propellers. One awesome feature of ALTA is that regardless of the weather conditions it can hold stable position, which can be useful. ALTA 8 makes it easy to monitor and analyze the performance and 'health' of your machine using our proprietary high speed data logging via micro SD card. The Alta does have some water resistance by way of a plastic enclosure that covers the flight control and power board. We would still be cautious in the rain or wet conditions regardless.
RATING: 7.5/10
Weather Resistance
Dual Battery System
Professional Quality Camera
Requires UAV Certification 
 Price of $17,500
10. DJI INSPIRE 2 – $6,000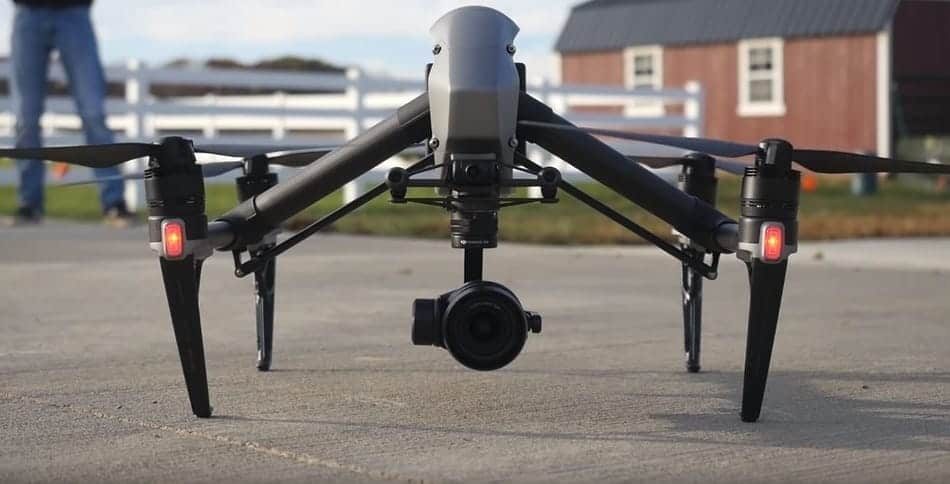 The DJI Inspire 2 is the first drone with an ibuilt camera that records videos at 5.2K in cinema DNG RAW. What sets this apart from other drones the DJI has released previously is the fact that it really just has 2 of everything. So it's got two batteries, it has two cameras, it has the camera that you shoot with and also an fpv camera. It also has two IMU sensors inertial motion units and two barometeres. The benefit of having two batteries is that not only does it give you more time to fly around and get great footage, but also it can power more processors and power more sensors which makes the smarter overall. Every pilot who has suffered from a dana loss will love the DJI inspire 2 – as the footage can be recorded on both, the SSD and microSD card at the very same time.
RATING: 8/10
Supports 360 degree camera rotation
dual operator control using FPV pilot camera
5.2K camera that recordsreal cinema 
license key for 5.2 K raw is just too expensive 
You need to purchase SSD card with minimum of 480 gigabytes