12 Best Heavy Lift Drones 2023 – Buyer's Guide & Reviews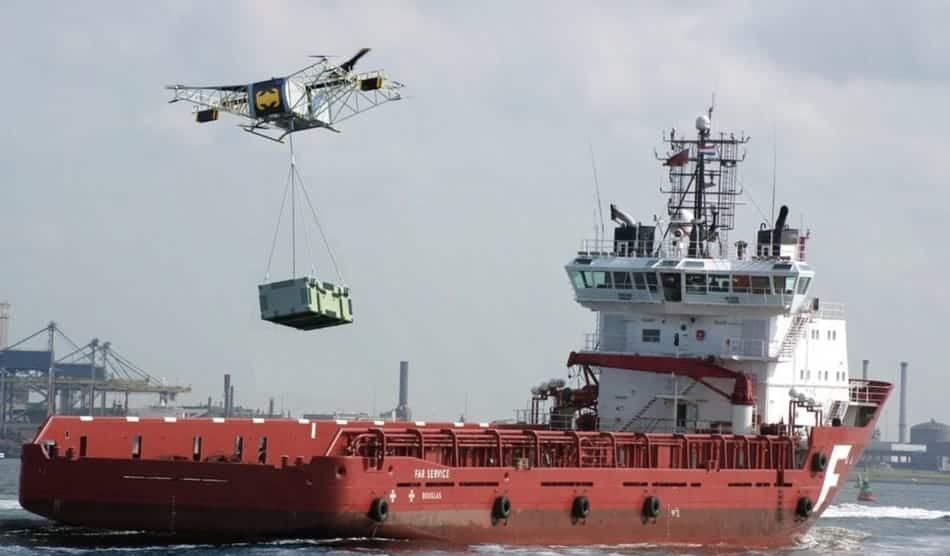 The days when heavy lifting drones were reserved just for the military are finally over. The market for load-carrying drones is slowly starting to develop. Drone technology is constantly evolving and drones are no longer fragile machines unable to lift heavy loads. This type of drone can also handle heavy payloads and can therefore be equipped with professional video and photo equipment.
Drones are used for air surveillance, various jobs, the delivery of packages and of course also for photo and video recordings. We took a closer look at the 2021 market innovations. These heavy lifting drones are anything but cheap. Therefore, if you decide to buy such drones, we will present you the best heavy lifting drones that are available in the market with their pros and cons.
Benefits of Heavy Lift Drones
Owning a heavy lift drone today can be considered that you are a professional drone pilot. When we talk about jobs in this industry, they are very easy to find. And with the help of this class of drones, you can very easily set up your own service company. Today's social networks like Facebook, Instagram and YouTube can very easily promote your business and your drone, which puts you in a very good position. If you are a fan of drones and if you invest your money in buying a heavy lift drone, with a little creativity you will find a lot of potential candidates who will need your services.
Top 12 Heavy Flying Drones in 2021
Table of best Heavy Lifting drones in 2021:

Become an FAA Certified Heavy Lift Drone Pilot
If you want to start your own business using drones, one of the things you'll need is a certificate. To learn how to fly heavy lift drones and get a 107 FAA license, you need to successfully complete the course. There are a number of companies that are involved in this type of training, and one of which we recommend is the Drone Pilot Ground School. Click Here to Start Your Course to Get a FAA Certificate.
How Much do Heavy Lift Drones Cost?
The price of these drones ranges from $2,000 to $20,000 or more. There are also heavy lift drones that are made specifically to the customer's specifications, so their price depends on how many models are produced. As these drones have not yet fully reach their potential, their production is limited, and therefore the price is higher. We will have to wait a little longer until this market expands and we will gain much more affordable and better quality drones in this class.
How Much Weight Can a Drone Carry?
One of the most common questions when it comes to drones is: how much weight can a drone carry? It all depends on the type of drone, as each drone is designed specifically for different uses. When we talk about different variables ordinary small drones have the ability to carry between 0.2 and 2 kg, while professional drones have the ability to carry from 20 to 400 kg.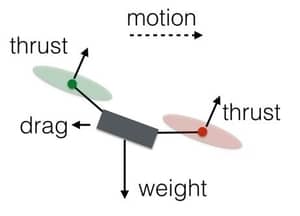 Heavy Lift Drones: Under 10kg Payload
1. DJI MATRICE 100
Maximum Payload: 3.6 kg
Flight Time: 40 min
Weight: 12 kg
DJI Matrice 100 combines the advantages of an easy-to-use quadcopter with the ability to lift a relatively high payload of around 3.6 kg for this type of drone. The X configuration of the drone offers the perfect support for the on-board 4K camera and the space to attach a supported third-party camera (such as a GoPro). The flight drone was specially designed for developers, meaning that you can equip the matrice with sensors, circuit boards and communication devices to carry out complex tasks.
Thanks to a maximum flight time of 40 minutes, you have enough leeway to realize your planned aerial photos.  The strong and durable housing allows you to install any equipment on the device: sensors, cameras, communications. The copter control board is optimized for quick setup and programming using DJI open source software. The main advantage of this DJI Matrice 100 is the ability to fly around obstacles due to a powerful processor, camera and ultrasonic sensors, as well as an advanced machine vision algorithm. 
2. DJI MATRICE 600
Maximum Payload: 6 kg
Flight Time: 35 min
Weight: 10 kg
DJI Matrice 600 has the ability to carry a payload of approximately 6 kg, and it is also suitable for professional applications. The Matrice offers very good flight characteristics and handling is easy to learn, which is very suitable for heavy lifting drones. This 10 kg hexacopter can carry a wide range of nacelles with camera like the Zenmuse and Ronin. Its maximum charge autonomy is certainly less important than that of the Inspire 2, but the Matrice 600 Pro compensates by its foldable design.
The arms and the landing gear can fold in seconds to facilitate its transport. In order to ensure maximum safety, the flight controller has triple redundancy . The system also benefits from increased interference protection, making the DJI Matrice 600 an excellent drone for industrial environments.  Characteristics of this drone are: 35 min flight time, iOS and Android compatibility.
3. DJI S1000
Maximum Payload: 7 kg
Flight Time: 15 min
Weight: 4.4 kg
DJI S1000 promises almost perfect flight characteristics. Thanks to the carbon frame, the flight drone is very light at 4.4 kg and can also be distinguished by its exceptional stability. The design ensures reduced vibrations and less noise, which benefits the quality of the aerial photographs. The DJI S1000 can carry a payload of up to 7 kg and spend a maximum of 15 minutes in the air. Spreading Wings 1000 is an octocopter – an unmanned aerial vehicle with 8 beams, on which propellers are located.
This is a model from the Flying Platfroms category of the Chinese company DJI Innovations, which has already made a name for itself in the production of drones for civilian use. And for more convenient transportation, the S1000 can be folded, which significantly saves space in the car.  In other cases, buying this copter does not make sense and if you want to shoot a video "for yourself", then it is better to pay attention to the Phantom or DJI Flame Wheel ARF KIT series from the same manufacturer. This drone is for professional use.
4. Tarot T-18
Maximum Payload: 8 kg
Flight Time: 20 min
Weight: 11 kg
Tarot T-18 drone is suitable for professionals who want to take high quality aerial photos. This drone is a great heavy-lift drone for photography. Thanks to the payload of up to 8 kg, the flight drone can also carry anything but light DSLR cameras. Due to the total of 8 rotors, stability problems are not an issue, even with a maximum payload. The maximum of 20 possible flight minutes should be sufficient for most applications.
Also, the T-18 model incorporates the latest flight safe technology, which enables safe flight and landing even in bad weather. Although this drone has a huge multi-rotor, it folds very lightly and does not cause problems with transportation. Tarot T18 is made of Carbon Fiber Plates fabrics, Aluminum CNC parts. Be sure to check out some more YouTube videos for this drone to see what it really looks like.
5. DJI S900
Maximum Payload: 8.2 kg
Flight Time: 18 min
Weight: 3.3 kg
DJI S900 is an impressive drone that you can use for any kind of shooting. You can attach a suitable camera to the bottom of the drone, it is lightweight and strong enough to be controlled anywhere. The DJI S900 weighs only 3.3 kg, but can still function as a heavy lift drone with a maximum payload of 8.2 kg. The low weight in conjunction with the foldable rotor arms make it very easy to transport, which pays off over long distances, especially on foot. The flight time will vary depending on the battery capacity and take-off weight of the drone.
For example; a drone with a battery capacity of 12,000 mAh and a take-off mass of 6.8 kg can fly on a full charge battery for about 18 minutes. This drone offers you freedom of choice when we talk about flight. This is done so that you can fly it without any problems. The DJI S900 is specifically designed for photographic purposes and for those who want something more from a technical point of view. This is an upscale drone with enough power to easily fly into the sky, and also soar in one place for some time.
Heavy Lift Drones: Over 10kg Payload
1. Onyxstar Hydra-12
Maximum Payload: 12 kg
Flight Time: 30 min
Weight: 7 kg

Check the price on Official Website

(An order is required)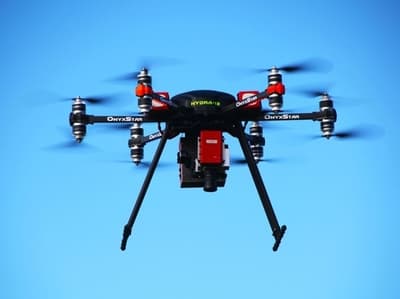 The Onyxstar Hydra-12 with its 12 rotors can only smile tiredly when it comes to quadcopters with their four rotors. A payload of up to 12 kg is no problem for the drone. With a flight time of up to 30 minutes, the Hydra-12 from Onyxstar can also be used for complex and time-consuming tasks. The OnyxStar Hydra-12 unmanned aerial vehicle is designed exclusively for the civilian sphere of operation, in particular, using this airborne tool, real estate and large objects are shot, work related to search operations is carried out, and hard-to-reach areas that are investigated. 
This drone is equipped with twelve powerful electric motors, the generated thrust of which (each individually) depending on the modification and version of the UAV, can be about 650 W to 1160 W, which provides the aircraft with a sufficiently large lifting force and allows it to move at a speed of 35 kmh. This drone certainly belongs to this class of heavy lift drones and deserves its place on this list.
2. FREEFLY ALTA 8
Maximum Payload: 18 kg
Flight Time: 15 min
Weight: 6.2 kg
Freefly Alta 8 is an extremely powerful drone that does not crash even with a payload of 18 kg. A special feature of the flight drone is that the external camera is attached above and not below as with other drones, which protects the expensive camera equipment during landing. One battery charge is enough for around 16 minutes of flight time. FreeFly Alta 8 is a multi-purpose unmanned aerial vehicle developed by the American company FreeFly.
The FreeFly Alta 8 model has a rather compact design of its fuselage, which, being made in a hexocopter configuration, has a length of 1 meter 12 centimeters and a width of 1 meter 32 centimeters, which ensures a rather high efficiency of using this drone. The power unit of the American multi-functional unmanned aerial vehicle FreeFly Alta 8 is represented by six electric motors, with a total traction power of 950 watts, which in turn allows the air vehicle to reach a maximum flight speed of 75 km/h. This heavy lift drone is one of the best in this class to shoot professional movies.
3. AZ Green Bee 1200
Maximum Payload: 20 kg
Flight Time: 20 min
Weight: 14 kg

Check the price on Official Website

(An order is required)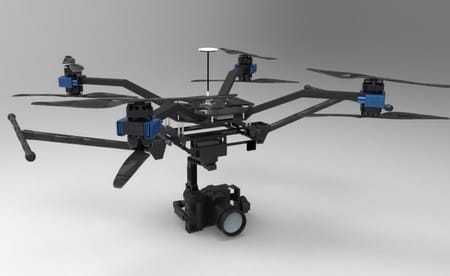 Green Bee 1200 is definitely one of the trusty heavy lifting drones on the market. This coaxial quadrocopter is able to take off with a total weight of up to 20 kg. Despite such an impressive indicator of carrying capacity, the drone is able to remain in the air for about 20 minutes. This drone certainly deserves to be on our list as one of the better heavy lift drones. Charging time is about 3 to 4 hours. Features of the drone are: Large frame for mounting a 4K camera;
Together with the gimbal and camera, the drone's stability is improved by 30% due to the optimal center of mass setting; Dural folding beams provide compactness and at the same time stability of the apparatus and camera in flight. When designing a quadrocopter, the development team paid special attention to the shortcomings after several test flights. Due to this, it was possible to achieve a significant improvement in some characteristics. Be sure to check out more specifications offered on YouTube if you are interested in this model.
4. Vulcan UAV Raven
Maximum Payload: 20 kg
Flight Time: 15 min
Weight: 15 kg

Check the price on Official Website

(An order is required)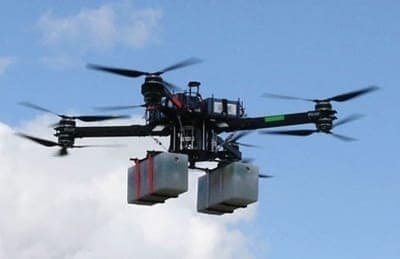 The Vulkan UAV Raven is a true workhorse in the form of a multicopter. Designed for professional and industrial applications, the drone can take off with a payload of up to 20 kg and remain in the air for up to 15 minutes. Thanks to the extremely high quality processed frame, which was made of carbon and aluminum, the UAV Raven can also withstand extreme external conditions.
This drone has quick fold mechanism and it is extremely safe in flight. It can handle rain and light wind so bad weather does not play a role when it comes to this heavy lift model. You do not need any additional tools to enable drone for flight. The UAV Raven has the ability to carry 4 large lipo batteries. It has also built-in LEDs that can in bad weather or in the dark give a signal where the drone is located, and is easily visible.
5. Vulcan UAV Aircraft
Maximum Payload: 30 kg
Flight Time: 13 min
Weight: 13 kg

Check the price on Official Website

(An order is required)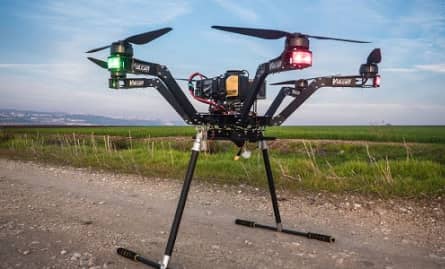 The Vulcan UAV Aircraft is one of the heaviest drones you can buy in free trade. This heavy lift drone is a multi-purpose airborne vehicle capable of performing both surveillance and patrol operations, including environmental monitoring, fire control, etc., as well as performing work related to cargo transportation. The extremely stable frame of the flight drone makes it possible to lift a payload of up to 30 kg. Due to the specially protected power supply, the Vulcan UAV Aircraft can also cope with difficult environmental conditions such as rain showers.
The dead weight of the unmanned aerial vehicle is only 13 kilograms, which was achieved through the use of modern composite materials, which in turn provides the drone with relative ease of use. Depending on the specific goal, the Vulcan Airlift can be equipped with an electro-optical, infrared and even thermal camera, which allows monitoring in almost any conditions. The power plant of the Vulcan AircraftUAV includes eight electric brushless motors that allow the drone to reach a maximum flight speed of 50 km/h.
6. GRIFF 300
Maximum Payload: 225 kg
Flight Time: 45 min
Weight: 75 kg

Check the price on Official Website

(An order is required)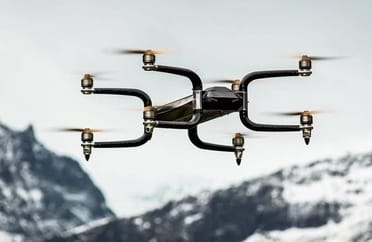 The Norwegian company Griff Aviation sets new standards for professionally used drones. The Octocopter Griff 300 can carry up to 225 kg in flight and can be equipped for various applications. The next largest model, the Griff800 handle, can even lift a total of 800 kg. The Griff 300 is definitely not an off-the-shelf drone or a mail order company. The octocopter of the Norwegian company Griff Aviation is the heavy truck under the drones and, according to the manufacturers, can carry more than any other civilian unmanned aerial vehicle.
That is a payload of up to 225 kg, with another 75 kg for the drone itself – making 300 kg that are brought into the air. According to Griff Aviation – the company name comes from the mythical creature Griffin, a hybrid creature with the body of a lion and the head of a bird of prey that symbolizes strength and vigilance – the next, much larger model of the heavy-duty drone is in preparation. This drone is also operated electrically and is therefore much quieter than a helicopter in terms of noise.
7. SKYF Drone
Maximum Payload: 400 kg
Flight Time: 8 hours
Weight: 100 kg
(Not available!)
SKYF is an unmanned aerial cargo platform for vertical take-off and landing. At the moment, the drone is capable of lifting up to 400 kg of payload, flight range reaches 350 km, flight time – 8 hours (with a payload of 50 kg). Foreign media have dubbed SKYF "Russian Hulk" for its impressive payload. ARDN Technology has already concluded a number of preliminary supply agreements with Russian and foreign companies. Among them are the agrochemical concern August, the Rusagro group, Prodimeks-Holding, AFG National Agro Holding, Slavneft, Pony Express, Avialesohrana BU, the Japanese Carciel, the Vietnamese port of ITC and others.
In addition, the company has applied for certification in accordance with the aviation safety rules of the European Union. A functional feature of SKYF is its universal modular design, which allows developing versions of the drone for various tasks, climatic conditions and features of national regulation. Due to the separation of the functions of the lifting and control screws, it can directly use the energy of the internal combustion engine to create lifting force without an expensive electrical circuit of a serial hybrid.
How to Choose a Heavy Lift Drone?
If you decide to buy a heavy-lift drone, there are some things to consider. Most people who own this type of drone are already familiar with drones and have experience in flying. So if this is your first drone encounter, we recommend that you buy a smaller drone first so you can learn to fly with it. Drones that fall into this category are assigned a specific role. Take some time to explore what all these drones are capable of, and check out YouTube videos showing their use and application. These are things that you need to pay attention:
You need to know that you will not always have the ideal conditions during flight. YYou will encounter bad weather such as rain, wind or snow. Therefore, it would be advisable to choose a flexible drone that can adapt to these weather conditions. If you already know how to use a drone, then choosing one should be easy. Bad weather will drastically reduce your drone's flight time and the payload the drone can carry.
When it comes to price, there is not much that you can do when we talk about this category of drones. If you already know what you will be using this drone for, and what weight you need to carry, then its easy to choose a model. As there is no large range of models of heavy lift drones on the market yet, you will need to choose one that meets your needs. Prices range is from $ 2000 to $ 20,000 or more. Of course, the higher the price, the drone is considered to be of better quality and better suited for the task.
Some heavy-lift drones need to have a special characteristics when doing their jobs. For example; some hotels use drones to deliver bottles of wine to guests on their balconies, and drone need to have exceptional stability when transporting this wine. Some scaffolding companies also use this type of drone to provide masters in high positions with the right material to work with, and should be able to carry some weight. Therefore, if the project you are going to work on needs specific characteristics, you need to choose the right drone for the job.
When carrying payload, the drone should be very stable during flight. One of the rules that is desirable is that the drone is able to carry twice the weight of any payload you intend to carry. This will ensure that there is very little chance that something will go wrong and that the payload will be successfully transferred. As an example, if the drone has the ability to carry 6 lbs payload and the wine you need to carry weighs 5.5 lbs, this could be a problem. Therefore, it is always necessary to keep this in mind.
When it comes to flight time, it is one of the most important factors along with payload when it comes to heavy lift drones. We need to know that the more payload the drone is carrying, the shorter the flight time will be. Batteries are much more consumed by strain. Therefore, if the drone has the ability to add some extra batteries  it would be advisable. This factor cannot be much influenced, as it depends on the manufacturer, but it is worth considering when buying.
When it comes to safety, heavy lifting drones need to be specifically regulated in this regard. These drones are heavy enough, and they also carry a payload, so if they lose stability in the air during flight, they can seriously injure someone. It is therefore important to consider how safe a drone model is in order not to lose power during flight. Some drones even have small parachutes built in to reduce potential damage if they fall. Pay attention to safety.
As it is with cars, motorcyicles and other things, drones also need regular maintenance. Especially when it comes to heavy lifting drones. Some parts can be quite expensive, but if you are in this business, this is the price you have to pay. And if you stick to regular maintenance, you are more likely to have fewer breakdowns. Any manufacturer of such drones will provide you with instructions after how much use it takes to maintain regular maintenance.
Heavy lift drones have a price that is much much higher than ordinary commercial drones, so a warranty is a MUST when it comes to these class. Buying this type of professional drones requires regular maintenance, because if any major breakdowns occur, it can hit you in the pocket. Therefore, the warranty is a very desirable thing to pay attention to when you are buying heavy lifting drones. To avoid losing a lot of money from missed jobs because your drone is unable to work would be a shame.
What is Payload?
In the world of drones, the maximum weight that a drone can carry is expressed under the name of "payload". This payload includes all on-board equipment for carrying out missions: sensors, cameras, packages and armament for military drones. The elements relating to avionics (such as GPS) are excluded from this calculation. Weather conditions such as the wind should also be observed, as it can drastically affect carrying ability.
So if you find yourself in bad weather, you need to know that the maximum payload that a drone can carry will be less than under normal conditions. Flight times also decrease when the drone carry payload. The characteristics and functions of drones can vary enormously from one model to another and directly impact the maximum weight that they are able to lift and transport. 
What Is Important In Heavy Lift Drones?
When you decide to buy a heavy lifting drone, there are two main things to keep in mind: how much weight can that drone carry and at what distance? If you know roughly what weight you have, it already makes things a lot easier when we talk about choosing a heavy lift drone. You must consider that the type of cargo you intend to carry, as you need to know how to attach that load to the drone. Stability is also an important factor, so it is necessary to choose a drone that has very good stability during flight. Lastly, it's important to consider how long your drone can stay in the air with that weight.
Where Heavy Lift Drones Are Used?
Drones used in a professional, industrial or military context are particularly concerned by the weight they are able to transport while flying.  These drones are able to transport impressive loads, while maintaining sufficient autonomy to carry out their missions, thanks to the capacity of the lipo battery, as well as the power of their motorization and the number of these motors, or rotors.
For example, the DJI Matrice 600 Pro drone can take off and fly with a payload of 6 kg, while its own weight is only 10 kg, for a flight time of up to 38 minutes.  Nowadays, heavy lifting drones are most often used to transport things to places that are inaccessible or difficult to reach, to transport medical equipment in countries where infrastructure is not developed, to auto accidents, injured people and the like.