Griff 300 Review: Drone That Can Lift 500 Pounds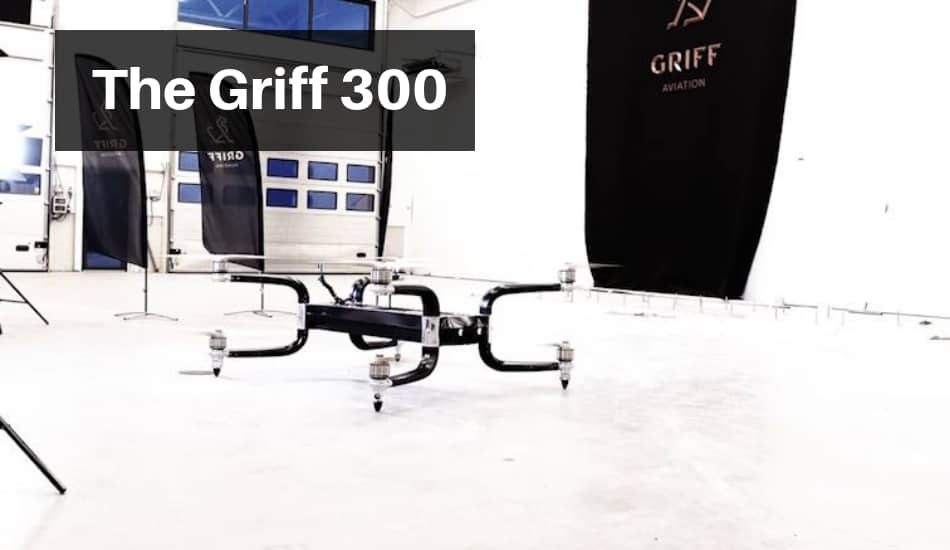 So what is the maximum weight a drone can carry? The drone company Griff Aviation has launched the Griff 300 model that can carry around 500 lbs (226kg) of payload weight. Griff 300 is an 8-propeller UAV with a very high power. Another interesting thing about this drone is that can sustain 45 minutes of airtime. When we consider the weight that some drones need to carry, a typical professional camera weighs about 2 kg, and these are the minimum requirements that professional drones must satisfy. Griff Aviation's UAVs will be priced from around $250,000, but this price is not final, it depend upon the customer's requirements.
The Griff 300 is far more likely to see use in industrial, military, law enforcement, and search and rescue applications. One of the important features of the GRIFF 300 drone is easy to transport, assemble and operate. Also, one great feature is also great emphasis on the ease of interaction between the person piloting the drone and its control systems. For example, if the customer wishes, he can use a helicopter cockpit or a captain's chair, with full view of the map, telemetry and video feed.
If you are interested in buying a new drone, we recommend this model: DJI Phantom 4 Pro Plus V2.0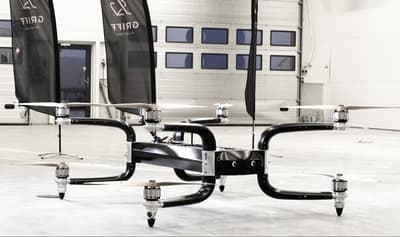 Specifications of Griff 300:

| Griff 300 | |
| --- | --- |
| Length: | 3,4 m |
| Width: | 1,2 m |
| Height: | 0,6 m |
| Flight time: | 45 min |
| Maximum takeoff weight: | 235 kg |
| Cruising flight speed: | 50 km\h |
| Maximum flight speed: | 60 km\h |
| Maximum flight distance: | 15 km |
| Maximum flight height: | 1000 m |
| Engine type: | Electric |
| Power: | Batteries |
​
GRIFF 300 FEATURES: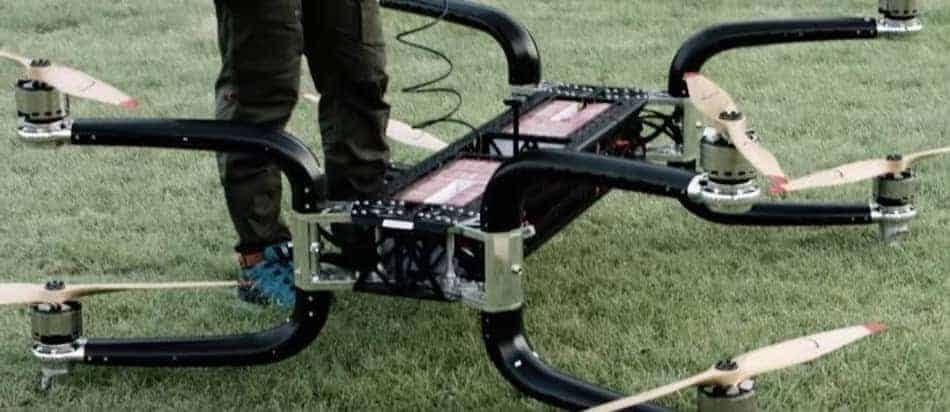 ULTRA UNIQUE CONSTRUCTION
What this drone was able to do was to imitate a refrigerator with its imitating structures, and this was done through a CNC machine.
FLEXIBLE DESIGN
This extra feature offers your GRIFF drone the ability to use 4 spokes where there are two engines each or all 8 single engine arms.
SILENT PROPELLERS
Unlike other professional drones on the market, this drone is very quiet, and has the ability to assemble horizontally which makes it easier to transport.
EXTRA POWER 
Griff uses special lithium polymer batteries with a very high energy density, which allows flying in high and cold conditions with a long flight time.
Griff 300: Rescue missions
Griff Aviation company created and direct the rescue mission with GRIFF 300 drone. They used a full size doll with the weight of a regular adult and simulated the rescue mission in the air. This has been aired on several world-class science televisions. Griff Aviation company claims they must do many more tests for this to be completed and to make any sense of a search and rescue roll.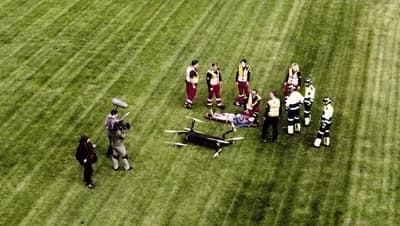 On the other hand, people who have been in Combat Search and Rescue missions for 16 years, claims that this is not a solution as it is rigged. They think that experiments like that can't be a benchmark for rescue missions. Also some say that they skipped the actual transportation portion of the video and went right to the landing. It would be interesting to see how that worked out.
https://www.youtube.com/watch?v=0c1_xpjNw2c
Griff 300: Optimum Functionality
The Griff 300, it is easy to transport, easy to dismantle and easy to manage. In addition, this is the first drone with European certification EASA (European Aviation Safety Agency) and the US FAA (Federal Aviation Administration). By the way – these are the highest bodies responsible for the certification of aircraft in Europe and the USA. The multi-gripper Griff 300 is a drone with eight beams, each of which is equipped with a powerful electric motor.
The drone's own weight is 75 kilograms, but it can take on its shoulders equipment (or even a person) three times its own weight. The radio control system is a remote control that can be replaced with a first-person vision and control system. If we analyze the capacity of the Griff 300, then it is not the only one in the world. Before him were the development of the German company E-Volo and the Chinese EHang. However, only Griff 300 received the necessary certificates of European and American level.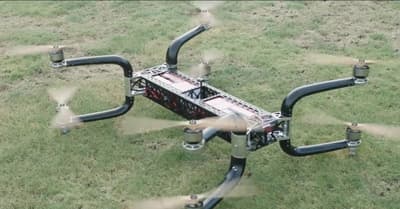 Oktakopter Griff 300 has great opportunities and great prospects. It is planned to be used in civil aviation for the transport of goods, in disaster medicine for the delivery of medicines and donor agencies, in the law enforcement system and in search and rescue operations. The creators declare its quiet course, which means that it will be used to work in national parks and reserves. At the moment there is no information about the price of the device, but we already know that GRIFF Aviation does not plan to stop and in the near future the world will see a new miracle – Griff 800 – a radio-controlled drone with a gross weight of 800 kg!
Also, if you are more interested in this topic, I wrote an article about 15 Best Heavy Lift Drones In The World.
Griff 300: Name Origin
Griffin is a mythological creature, a legendary creature with the keen eye of an eagle and the power of a lion, which has always served as a symbol of vigilance and security. As planned by the creators, the Griff 300 will be a true friend in the air with vigilant eyes and a powerful body.
About CEO of GRIFF Aviation:
GRIFF Aviation's CEO, Leif Johan Holland, has more than 20 years' experience in professional aerial filming techniques. He said: 'We knew from early on that safety is absolutely paramount for both the aviation industry and our potential, professional customers. As a result, I am proud to say that we are the first company in the world to be selling certified drones to the professional market. This will open up new opportunities globally in a very demanding sector.'