How to Get the Longest FPV Range on A Drone?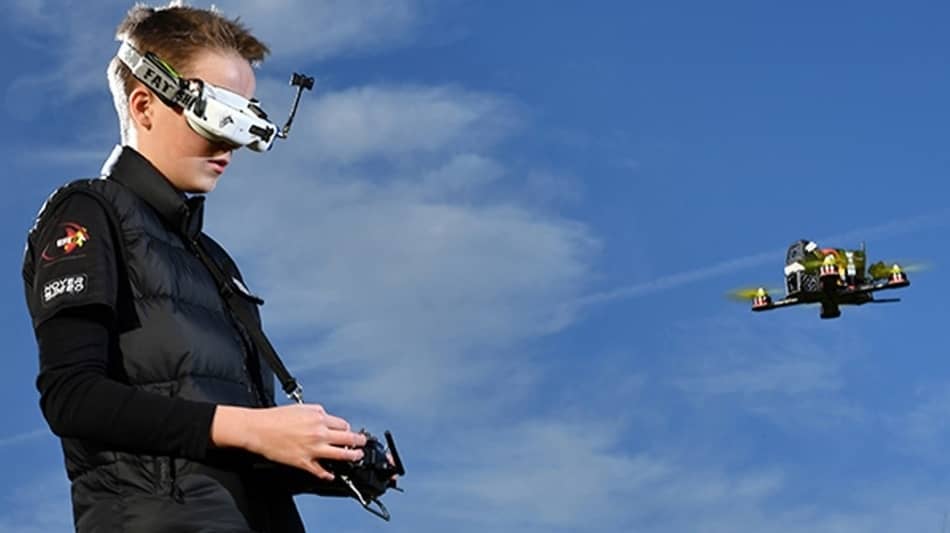 If you own a drone and like to fly long distances, FPV (First Person View) is the thing you need. However, most drones have a limited FPV range and can only fly up to a certain limit, which is sometimes insufficient.
Yet, even for those pilots who've been in the drone world for a while, the technology side of long-range FPV drones becomes a complex challenge. So, is there a way you can increase the FPV range on the drone? In this article, we'll talk about that. So, let's start!
How to Get the Longest FPV Range on A Drone? To achieve the longest FPV range on a drone, ensure you use high-quality antennas with optimal gain for both the transmitter and receiver. Keep a clear line of sight between the drone and the controller, avoiding obstacles or interference sources. Lastly, get a reliable and powerful transmitter.
Navigating mini-drones (racing drones) often involves using the 5.8 GHz frequency, and under perfect circumstances, you can fly up to 500 meters with your drone. However, this is under the perfect conditions between your drone and you. So, this is not always possible.
For example, if your drone fly behind an obstacle like a tree, hill, or building, the reach can dramatically decrease, potentially causing a total loss of signal. For those looking to enjoy long-distance FPV flying, relying on the 5.8 GHz frequency might not be the best choice. However, what do you need to do if you want to fly distances surpassing 500 meters? There are a few things you need to consider.
Related Article: What Is FPV Camera Technology In Drones & Best Uses
Select Desired Frequency For Long FPV Range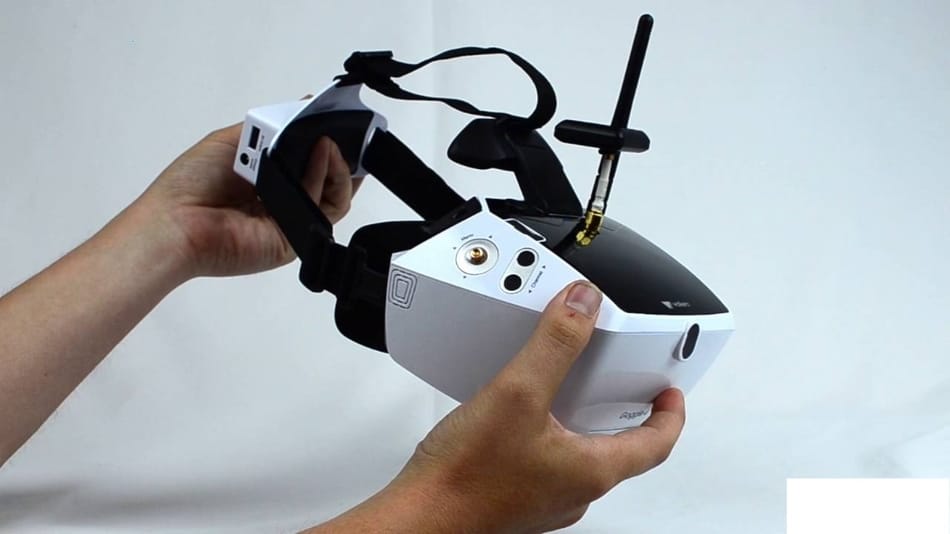 When going on a long-distance FPV flying with your drone, you must bring a couple of things along with your drone, such as a ground station that operates on a different frequency. The 1.2 and 2.4 GHz frequencies are typically the most popular for longer flights. From my personal perspective, I like to use 1.2 GHz because it gives you an impressive 10km range capability.
It's crucial to mention that using 1.2 GHz does come with drawbacks. There's a potential risk of losing your drone should it descend without a beacon due to the extensive range. Its capability to fly over abandoned buildings is tricky because drones can easily lose the signal. Nonetheless, owing to legal considerations and the challenge of locating compatible transmitters and receivers, choosing the 2.4 GHz can sometimes be much easier.
Get TBS Ground Station For Drone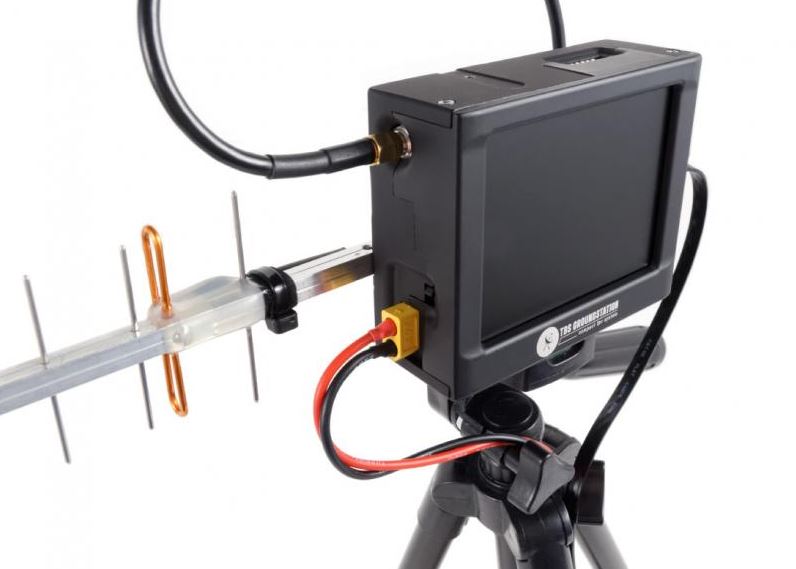 For those who want long-distance FPV flights, get the antenna array. You'll need a high-quality directional antenna setup, meaning you'll need to modify the existing antenna arrangement. When flying an FPV drone at a frequency of 2.4 GHz, be sure to get a TBS ground station, and pairing it with a Yagi antenna (operating at 2.4 GHz – 11 dB) is recommended.
While it might be too costly to someone, this device is truly top-notch, built in a sturdy metal enclosure, equipped with a video feed screen, an inbuilt receiver (2.4 GHz), tripod mounting holes, antenna mounting spaces, all essential connectors for the FPV goggles, and lastly, a USB port to charge your batteries.
This unit proves its quality and ensures you can concentrate on your FPV flying, providing your spotter with engagement – they can switch to watching your flight on the screen if they need a break from looking through binoculars. FPV flying is good if you use the 1.2 GHz frequency intended for the video signal, which is also possible. Yet, it demands a transmitter, separate receiver, filter, and antenna to stealthily embed the video in the 5.8 GHz frequency.
We recommend using it at 1.2 GHz omnidirectional types of antennas or employing a cloverleaf on the drone and a helical on the ground. Although this frequency excels in terms of long-range and penetrating obstacles like walls and trees, its reliability doesn't quite match up to 2.4 GHz, and it isn't legally permissible in numerous regions due to its common use in aviation communication.
How To Maximize FPV Range – Use RC Transmitter
Using the 2.4 GHz frequency for your drone's video signal means you can't use the same frequency for its control. The simultaneous use of this frequency for both video and control will lead to interference, jeopardizing the drone's stability and potentially causing a crash.
But you don't have to worry since other frequencies work well for controlling drones. A considerably larger control range is provided by vintage transmitters that work at 433 MHz or even lower, at 72 MHz. The greatest option for long-range FPV flights is these, which are referred to as long-range radio systems.
My suggestion would be to use openLRSng equipment, which enables you to obtain a readily configurable open-source system via a Chrome program that is similar to Baseflight.  It will also serve as a beacon in the event of a crash, assisting you in finding your drone.
I advise anyone using the Frsky Taranis transmitter to try the DTF UHF Hawkeye XJT module. With it, your transmitter becomes a 433 MHz, 1W radio with telemetry capabilities. It slides into your transmitter's back with ease. However, if you're more of a fan of the Turnigy 9x, I suggest the Deluxe variant from the same company.
Related Article: FPV Equipment: Goggles, Monitors, Transmitters & Cameras
What If I Have DJI FPV?
For those who have the DJI FPV drone, you're already at an advantage. This drone comes with O3, which is the third version of DJI's unique technology. This ocuSync is a transmission system primarily created to increase distance while also enabling the low-delay transmission of 4K video at a smooth 60 frames per second. This technology affords you a transmission distance of 10km, auto-switching dual-frequencies, and maintains a high bitrate of 50 Mbps.
If you want to learn more about this topic of Long Range FPV drones, check this YouTube video:
The Essential Guide to Achieving Longest FPV Range
Achieving good control of your drone and FPV system configuration doesn't guarantee the longest range because it can fluctuate due to numerous factors. Problems like radio surroundings, difficult weather conditions, the positioning of the antennas, and various other aspects will always be present.
If maximizing FPV range is a concern and you're not utilizing the DJI FPV drone, you can take steps to upgrade your flying experiences. Beyond the previously mentioned systems and equipment, ensure you always pack the following additional spare parts and tools when you go flying:
Batteries for the ground station and goggles (Ensure you have a battery tester)
Antennas
SD cards (Bring all available)
Extra cameras if within budget (consider inexpensive alternatives to GoPro that still offer excellent video quality)
Video transmitters
Props (A full box is ideal)
A radio for beacon tracking
Tool Kit For Your Drone:
Wire strippers
Silicone tape
Multifunctional screwdriver
A whole bunch of zip ties
FTDI board
Use Super-glue
Scissors and a knife
Laptop with as many USB cables as you can get
Vice grips
Packing tape
FAQ: People Also Ask
What is the maximum range of the FPV drone?
The maximum range of an FPV (First Person View) drone varies based on its make, model, and the technology used. Generally, consumer-grade FPV drones have a range between 1 to 7 kilometers. However, with advanced setups and modifications, some enthusiasts achieve ranges beyond this, though doing so may raise legal and safety concerns.
How can I make my FPV drone fly longer?
Li-Ion batteries have more power packed into them compared to LiPo batteries. This means they can help your drone fly for extended periods. If your drone, whether a fixed wing or a quadcopter, uses energy efficiently and doesn't consume too much power, it's smart to think about switching to Li-Ion batteries.
Final Thoughts
Getting the most out of your drone's FPV range is essential for an immersive flying experience. Always prioritize quality antennas and maintain a clear path between drones and controllers. Remember the importance of a robust transmitter and staying within legal frequency limits. You can optimize your FPV distance and enjoy longer, uninterrupted flights with the right approach. Safe flying! I hope this article has helped you, and if you have any other questions, feel free to comment below.