15 Best Drones Under 250 Grams (0.55 Pounds) in 2023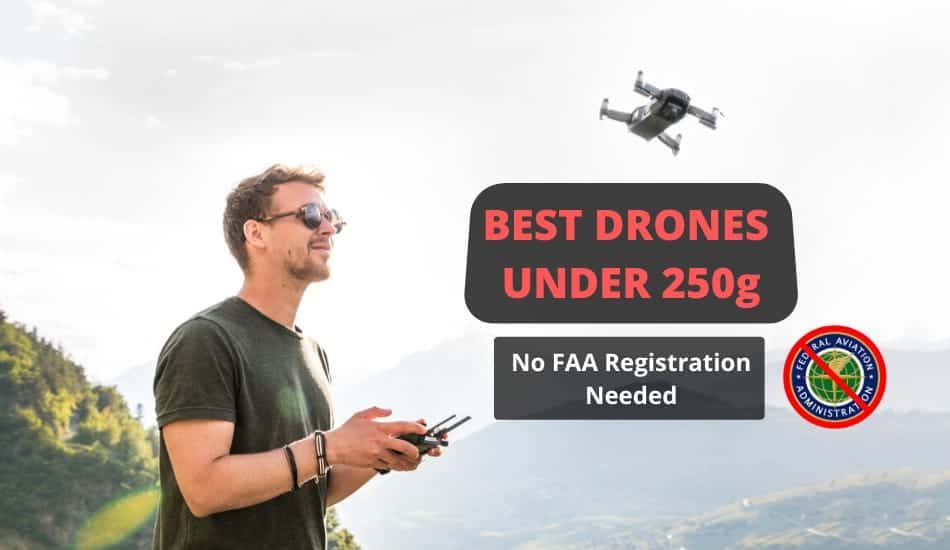 Have you always been tempted to photograph and film from the sky? From now on you can do it easier than ever if you use a drone that weighs less than 250g (0.55lbs), because you don't need no registration for that class of drones. Today, we can find a ton of drones that weighs less than 250g (0.55lbs) and are not subject to FAA Regulations. You can have a quality model able to meet your expectations, if you take into account several criteria before buying one. At the same time, we will explain how to control drone and how to select one for you. Also, we will explain the definition of small drones, the questions that you may have, and the tips for purchasing them. We tried to combine models that are cheap and have certain qualities that are mostly needed in flight. So let's start with introducing the drones below 250g (0.55lbs) that don't fall into the category of FAA Regulations (law of unmanned aerial vehicles).
TOP 15 Best Drones That Doesn't Need FAA Registration:

Definition of a Small Drone
There is no clear definition for small drones. Small drones might just be called these types of drones that weighs less than 250 grams (0.55 Pounds) and are not subject to FAA registration. Even though small drones are not subject to the revised Civil Aviation Law, the application for flight application is unnecessary and " only applies a part of the regulations of the Civil Aviation Law", area where small drones should not fly.  Therefore, all drones weighing less than 250 g do not require a license, but must be used with caution.
About Drone Regulations
There are various regulations and laws regarding to the use of drones. The "aviation law" by FAA is particularly relevant. The Civil Aviation Law was revised in 2015, and rules for flight areas and flight methods are set for drones with a body weight of 250g (0.55lbs) or more. In principle, the prohibited areas are "Airport and other surrounding areas", "150m or more above the ground and water", and "Over the populated area". The flight method stipulates "flight during the day", "keep a distance of 30m or more between people and property", "do not fly over events such as festivals", and "do not transport explosives". These are very clear rules that every drone pilot should follow.
Are Drones Weighing Less Than 250g Free of Regulations?
Under the Aviation Law, drones weighing less than 250g are not subject to regulation (FAA), but because of various other laws and regulations, you cannot fly in restricted areas. Under the "Flight Prohibition Law for Small UAVs", drones are prohibited from flying over the important facilities of the country, such as: the Parliament Building, the Imperial Palace, the Supreme Court, the Nuclear Power Plant, and crisis management agencies, regardless of the weight of the drone. In addition, regulations for the 2020 Tokyo Olympics and Paralympics have been added also in this list. Fly your drone with extreme caution, as it can lead to accidents even in unregulated areas.
How to Choose a Drone Weighing Less Than 250g
• Check Wireless LAN Frequency
Common drones sold for hobby purpose can be connected to smartphones via Wi-Fi. 2.4 GHz and 5.8 GHz are two of the most common frequencies when you are dealing with FPV Quadcopter drones. But the most common frequencie used by drones (quadcopters) for connecting in the World is 2.4 GHz bands. Since imported products may use different frequencies, check in advance.
• Check Camera Performance
If you want to try a full-fledged aerial photography with a drone, a drone equipped with a high-performance camera is recommended. If you want to focus on image quality, a model equipped with a high-quality camera of 720p or higher is best. The image quality of the camera installed varies depending on the model, so be sure to check before purchasing. For those who want to enjoy aerial photography even further, we recommend models equipped with a wide-angle lens with a wide viewing angle and types that can adjust the angle.
• The Driving Mode and the Different Options
You must pay your attention to the piloting mode of your future drone and the different options it may contain. You have, among other things, the choice between radio control, piloting via your Smartphone or tablet via a Wifi connection, flight by programming and "Follow me", which must be taken in the literal sense of term, i.e. it will be programmed to follow or precede you during video recording. The question of where to buy a new mini drone is essential. Getting advice from an expert in the field is definitely to your advantage.
Top 15 BEST Drones Under 250g
1. Holy Stone HS200D
The HolyStone drone together with the battery weighs 145g, meaning that this drone is exempt from FAA Regulations. Approximately 8 to 10 minutes of flight is possible with approximately 120 minutes of charging. In addition to convenient functions such as automatic hovering, one-key landing, headless mode, speed switching, etc., it also has an altitude maintenance function. Outstanding stability is realized by the barometric pressure sensor.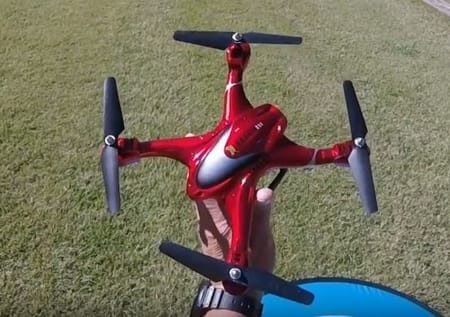 In addition, it is equipped with a 120° FOV camera, which enables live broadcasting by real-time Wi-Fi transmission. It also has a FRV function that allows you to check real-time video while maneuvering from the first person perspective, so it is a recommended model for those who are challenging for aerial photography for the first time. This drone is also extremely cheap and because of this it is on our list. If you are also a beginner, you will certainly not go wrong by choosing this drone.
> Check Price, reviews and pics <
2. DROCON Drone X708W
This drone weighs about 112g including the battery, which also falls below the 250g (0.55lbs) limit. Equipped with a propeller guard that realizes excellent durability and a one-key return that automatically returns the aircraft by simple operation. With the latest 6-axis gyro, it has excellent safety and is recommended for those who purchase a drone for the first time or as gifts for children.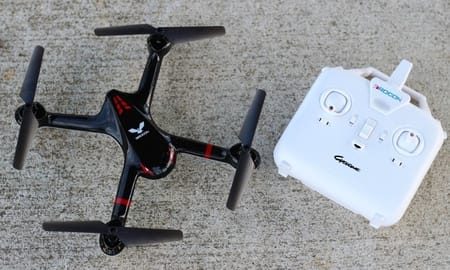 Also an important point is that this drone is extremely cheap (the cheapest on our list). Equipped with a high-resolution 720p camera, you can transmit captured videos and still images in real time by connecting to a smartphone via Wi-Fi. By connecting an optional VR headset, you can enjoy realistic 3D images. Also, you do not need to have prior knowledge to learn to fly this drone.
> Check Price, reviews and pics <
3. Parrot Mambo FLY
An easy-to-use drone developed for the purpose of mastering the operation of drones. Equipped with functions such as "free fall take-off" that allows you to fly just by gently throwing it from your hand, and "auto hovering" that automatically waits in the air. Recommended for beginners unfamiliar with steering. The vertical camera mounted on the bottom of the aircraft can also shoot directly below the aircraft.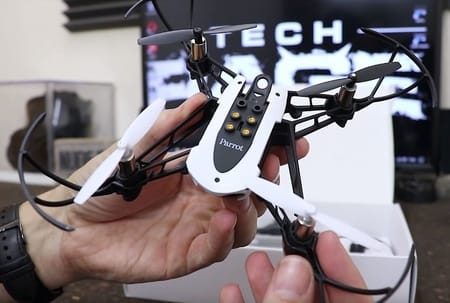 An optional FRV camera can be mounted on the upper part, and you can enjoy realistic images while operating from the first person viewpoint. The weight is only about 63g, which greatly clears the standard 200g defined by the Civil Aeronautics Law, and is a recommended model that can be enjoyed in various places. This drone is also extremely inexpensive, and has many interesting features unlike previous models.
> Check Price, reviews and pics <
4. Holy Stone HS120D
With a weight of about 198g including the battery, this drone can be enjoyed flying as a model not subject to the regulations of the Civil Aviation Law (FAA). The operation distance of this drone is about 300m and the operation altitude is about 120m. It has a flight time of about 32 minutes with two batteries, and is recommended for those looking for a higher-grade model. A big feature is that it has a built-in GPS.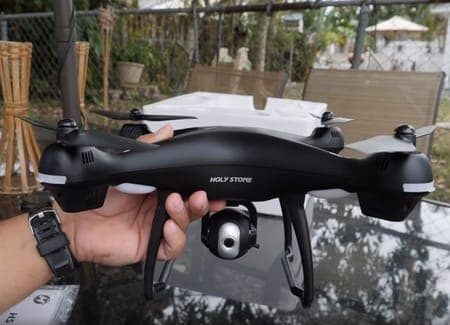 "Follow me mode", which follows the pilot according to the GPS of the smartphone, and "waypoint mode", which allows you to set the flight route on the app and automatically fly, are installed. In addition, since the position of the aircraft can be confirmed on the map, it is convenient if you lose your drone. The point is that it has a wide-angle lens that can shoot still images of about 2 million pixels and full HD movies. Angle can be adjusted up and down 75°.
> Check Price, reviews and pics <
5. Hubsan X4 STORM H122D
It is a palm-sized drone with a size of 15.7 x 15.7 x 6.2cm, including propellers, weighing about 116.5g. Recommended as an introduction to racing drones. Switching between the normal mode with a speed of 10 m/s and the expert mode with a speed of 3 m/s is possible. In addition to being able to move at a high speed of 6m/s, it can perform acrobatic flights such as left and right rolls and front and rear flips.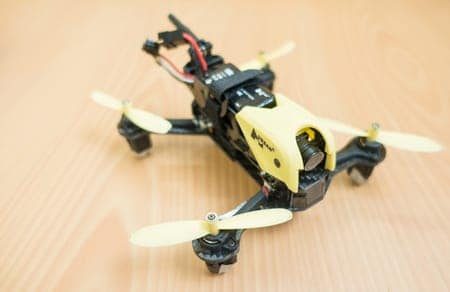 Charging time is about 130 minutes and flight time is about 6 minutes. The flight control distance is 100m. The point is that it is equipped with "Motor Stall Protection" that stops the motor in the event of a trouble, minimizing damage to the aircraft if the rotor stops due to impact. This drone is quite inexpensive, and is intended for both children and adults. The Hubsan X4 is certainly different from the previous models on this list because it belongs to the racing drones group.
> Check Price, reviews and pics <
6. Ryze Tech Tello
It is a compact drone weighing only about 80g. It is a feature that even beginners can easily control. There are many functions to enjoy flying, such as "Throw & Go" hovering on the spot when released gently from the hand, and "8-way flip" that flips back in response to the swipe of a smartphone connected to Wi-Fi. The biggest recommendation of this model is that you can learn the basics of programming.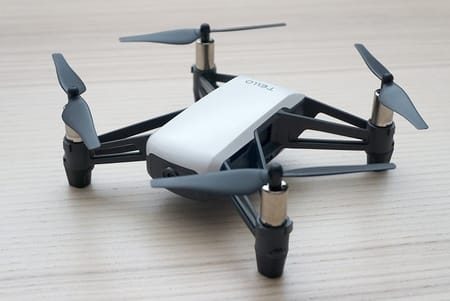 The drone behavior can be customized using the MIT-developed coating system "Scratch". It is also convenient to alert you when the battery level is low. In addition, it has the ability to land safely if the connection is lost. This small drone "Tello" that even beginners can easily control is popular. Equipped with a DIJ flight control system and Intel processor, even beginners can easily control the drone. As we said in the previous model, this one is also cheap.
> Check Price, reviews and pics <
7. DJI Mavic Mini (My Recommendation)
In recent years, DJI has been full of tricks. After launching new action cameras and shooting stabilizers this year, it recently announced the new lightweight aerial camera drone Mavic Mini. This Mavic Mini weighs only 249g, which is just below the 250g (0.55lbs) registration standard for aerial cameras in many regions. In terms of shooting, the Mavic Mini is equipped with a 1/2.3 inch sensor, an f/2.8 lens and a three-axis gimbal.
It can take 12MP resolution photos or 2.7K@30fps or 1080p @60fps videos. In terms of batteries, according to DJI officials, the Mavic Mini's aerial shooting time is about 30 minutes and the flight range is about 4 kilometers. It can transmit HD images through Wi-Fi. The Mavic Mini has a built-in GPS and downward vision sensor, which can improve the accuracy of stopping, flying and landing in the air, thus increasing safety. This is the most expensive model on our list but definitely with the highest quality.
> Check Price, reviews and pics <
8. Hubsan X4 H107C
An amateur quadrocopter of medium size and weighing a little less than 40g. It is controlled by radio remote control and can fly to a range of up to 300m from the operator. But some users are faced with an unpleasant oddity – when climbing, the quadcopter it can suddenly start moving away from the person controlling it. As a result, the device can fly away without responding to a command to return to the launch site, although the Hubsan X4 has a built-in GPS.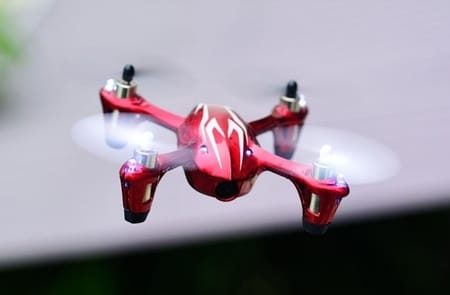 However, this drawback is rare. And the rest is a high-quality quadrocopter, able to quickly move in space for 20 minutes. This is a fairly popular model and it's easy to find accessories for it both offline and on the Internet. For instance, custom antennas can several times increase the radius of flight of the copter. There is also a camera, but the quality of shooting is poor. FullHD video suffers from a lack of stabilization and a rolling shutter effect when the picture becomes jelly.
> Check Price, reviews and pics <
9. CXHOBBY CX-10W
A budget device that looks like a toy, and yet it is a quadrocopter. A tiny 17 g drone can fly in a radius of 30 m. But keep in mind that the material of the propellers is very fragile and is unlikely to withstand collisions even with a branch. Also when you buy you will get an extra pair of propellers, which you will need sooner or later.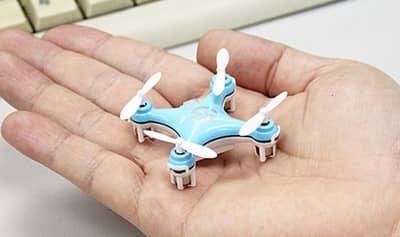 You can control the microdron using devices on Android and iOS via Wi-Fi. But fly on a single charge CXHOBBY CX-10W will be able to no more than 4 minutes. It takes about 25 minutes to fully charge the drone.This drone has the camera, but you should not expect much from the 0.3-megapixel module. This drone is extremely cheap so you won't feel budget when you buy it.
> Check Price, reviews and pics <
10. Hubsan H107D FPV X4
This is a very popular Hubsan FPV X4 drone. This drone has a camera on it, so you can use FPV goggles. The transmitter has really nice big screen, so you can see everything from the drone point of veiw as you fly. This is the first RTF FPV quadcopter on the market. This drone is easy to use, have less than 250g (0.55lbs), and you don't need to know anything. Just buy this drone and you can be up and flying this drone in 5 minutes.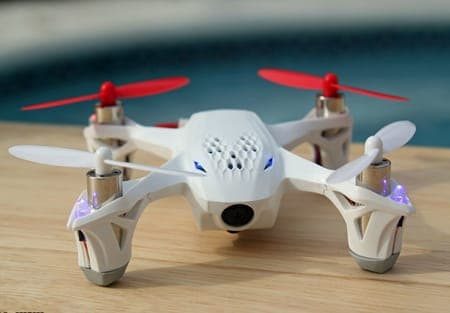 This drone comes with protective frame, which is really nice for flying indoors. You can bounce into walls and it'll keep flying. This drone comes with a 380 mAH battery, USB charger and it take about an hour to charge the full battery. Flight time of Hubsan H107D is about 6 minutes. Its price is also quite affordable, so feel free to study the other specifications of this drone to see if it works for you.
> Check Price, reviews and pics <
11. GoolRC T36 Drone
Having a mini drone that is both reliable and inexpensive would be the dream of lovers of this little gadget capable of capturing fascinating images from the sky. This drone weighs only 21g. Easy to handle and very small, the GooIRC can fit perfectly in the palm of your hands. The exterior is coated with an aerodynamic body.  This nano drone is symmetrical and has no particular texture or molding, so it can be difficult to distinguish the front from the rear when in flight. But to notice the front, just keep an eye on the blue and red LEDs.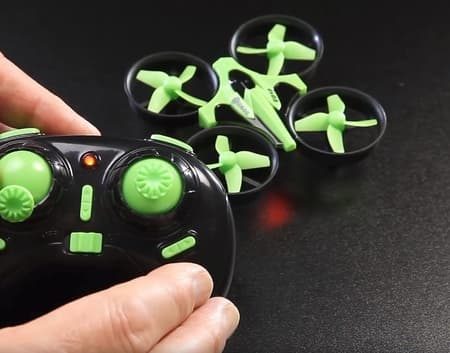 The blue ones are those on the front and the red ones on the back. It must be admitted that its assembly is somewhat complicated, which is completely normal given its size. But once developed, it is immediately operational. Particularly stable, it can carry out 5 minutes of flight. If you wish to acquire the least expensive mini-drone, but which can ensure a fairly long flight time, you can consider the purchase of this model. Its technical characteristics will in particular convince you.
> Check Price, reviews and pics <
12. JJRC H72 Drone
This small folding drone comes with an HD camera that has FPV capability. Also, this model belongs to the class under 250g (0.55lbs) and no registration is required. The quality of this camera is quite great and the flight time is about 10 minutes. As for the dimensions of this drone, they are 22 * 23.5 * 3.5 cm.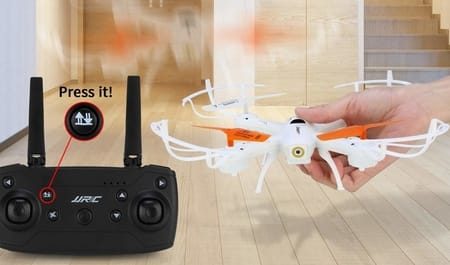 This drone looks quite stylish and has a bright LED front and back. It takes a couple of hours to fully charge the battery, so it's better to buy a few more spare batteries so you don't have to wait until the battery is full. The battery used in this drone is a 3.7v 1000mAh lipo battery. You can fly with this battery for about 10 minutes. It is very stable while flying, and you do not need to have any previous experience.
> Check Price, reviews and pics <
13. VISUO XS816
If you are looking for a cheap and quality drone, then you have come across the right one! This drone will not collapse in a light breeze, but will remain stable in the air. The weight of this drone is 160g. The VISUO XS816 can fly up to 20 minutes in the air, which is quite impressive for such a cheaper model and provides good stability in the air.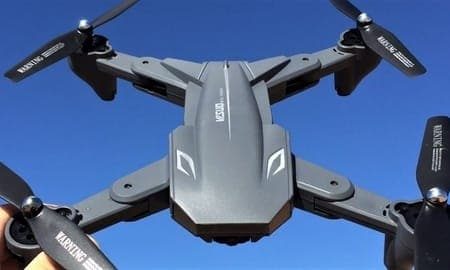 This drone has a big battery which is 1,800mAh. Because of the price, you will find it very difficult to find a drone in this range that delivers the quality that VISUO provides. Although this quadcopter is at the toy level, and does not fall under the "Serious" drones, it does have a fairly high quality 720p camera, and can capture fairly good quality videos. The controller is also good and simple, so you should have no problems managing it.
> Check Price, reviews and pics <
14. Supkiir
This drone is very flexible and suitable for travel. It can be folded up very slightly, so you can slip it into your backpack before traveling. The dimensions of the Supkiir are 7.9 x 7.9 x 1.8 inches. The total weight of this drone is 226g, so you do not have to register this drone under FAA law. Also, this drone has brushless motors, which means the motors do not heat up and thus do not make much noise.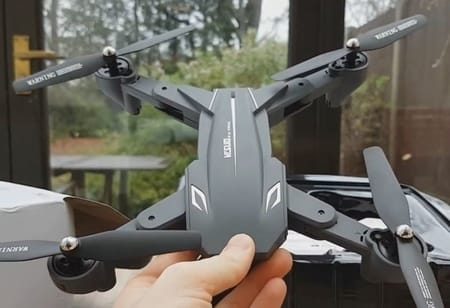 Supkiir is a very durable drone, and has a strong casing that will mitigate collisions. It has LED lights, so you can easily navigate and see it in the air. The kit also comes with blade guards, which protect the blades from impact. The flying time of this drone is 10 minutes and has a 1800mAh 3.7V battery. Battery charging time is about 60 minutes.
> Check Price, reviews and pics <
15. ScharkSpark SS41
This drone is medium in size, but its performance is still of good quality. Its design is modern and of high quality. When it comes to the size of this drone, it is 11.4 x 10.8 x 2.4 inches. This drone cannot fit in the palm of your hand, but it can be easily stored in a backpack. Weight of this drone is 117g. The front camera of this drone has the ability to record 1080P video, while the lower camera can record 720P.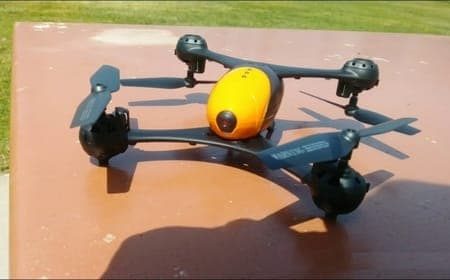 Two cameras can be of great use if you like to shoot. When it comes to the battery, the ScharkSpark SS41 has a Li-po battery of 1000mAh 3.7V. This means that this drone can fly for about 15 minutes. Charging time is just over 2 hours, which means you might want to get another extra battery so you don't have to wait until your main battery is empty. One great feature about this drone is that when the SS41 loses its signal, it returns home and lands.
> Check Price, reviews and pics <
Conclusion
There are various laws and regulations on drones, and drones that weighs more than 250g (0.55lbs) need special FAA regulation that is required. Here we listed top 15 best drones that do not require registration. This types of drones are fun (hobby) drones and you can fly them easily, with no previous training required, but it is necessary to pay attention to regulations and rules and also to avoid accidents. If I have forgotten or omitted something, feel free to leave a comment below and I will do my best to answer it.