10 Best FPV Drone Goggles in 2023: Full Review
We all love flying drones. First-person view (FPV) technology takes this process to a whole new level. Almost all drones with cameras are capable of transmitting images directly to the screen of your phone or remote control with a built-in display. 
But to have the best flying experience, you need to choose the best FPV goggles that suit you. There are also other parameters that are important to look for when you are choosing the right drone goggles such as field of view, glass optics, IPD, resolution, and digital head tracking.
A large number of drone manufacturers are now producing their own drone goggles, including DJI, Walker, Parrot, Yuneec, etc. So you have a lot of choices when choosing an FPV headset for your drone. If you choose incorrect fitting FPV goggles, you won't have the best experience. Newer models on the market have adjustable settings with their goggles and are very comfortable.
Therefore, in this article, we will teach you and show you how to choose the best FPV headsets on the market. Some of the most popular FPV goggles are from Skyzone, Oculus, Zeiss, Orqa, Fat Shark, Yuneec, DJI, and Walkera. All these FPV goggles can be used not only for flying drones but also for watching movies and playing video games. If you are interested in drone racing, I wrote an article What is Drone Racing?
Things To Consider Before Buying an FPV Goggle?
If you have recently encountered drones and you are new to FPV goggles, here we'll explain the technical terms about them, and which ones will suit you the best. So, let's start!
• FOV (Field Of View)
FOV (Field of View) is telling you how much you can see at any given moment. When it comes to FPV goggles, the FOV viewing range varies between 25% to 45%. This depends on the quality and the price. The more expensive FPV goggles are, the higher FOV is in most cases.
Keep in mind that some goggles that have too large FOV may have some blur on the edges or have difficulty reading the info from your OSD on the corners. The reverse is also true, if it's too small you'll feel like you're looking through a loophole.
• FPV Optics (Glass or Plastic)
In the case of FPV goggles, the optical elements can be made of both plastic and glass. FPV helmets, unlike goggles, are equipped with one large plastic lens, since the weight of the glass lens will further aggravate the already overweight helmet. When choosing FPV goggles, glass optics are undoubtedly the best option for image clarity and quality.
• Adjustable IPD FPV Goggles
Interpupillary Distance (IPD) is considered the distance that is measured in millimeters between the center of the pupils of the eyes. IPD technology is very important in terms of binoculars when we talk about FPV goggles. Every person is unique and has different-shaped faces, and that's why it is important to have adjustable IPD FPV goggles.
If you want to have the best FPV flying view during the flight, it is important that drone goggles allow you to adjust both eye pupils within the exit pupils of FPV goggles. Most fixed IPD goggles may not fit your eyes and the flying experience with your drone will not be pleasant. Always look for an adjustable IPD option.

• Pixel Resolution On FPV Goggles
Pixel resolution is important when we talk about goggles. There are many options when it comes to FPV goggles such as VGA, SVGA, and QVGA. Here are the most common:
QVGA: 320 x 240 pixels
VGA: 640 x 480 pixels
SVGA: 800 x 600 pixels
FWVGA: 854 x 480 pixels
HD 720: 1280 × 720 pixels
HD 1080: 1920 × 1080 pixels
UHD: 3,840 x 1,080 pixels
Of the above, SVGA and FWGA are definitely the best choices when we talk about FPV resolution.
• Digital Head Tracking
Head Tracking FPV Goggles is a technology that can monitor your head movement and send signals to your drone. In other words, the camera on your drone follows the movement of your head. Every time you look up the camera looks up and the camera follows. With this feature, you get a whole new flying experience with your drone.
• DVR (Digital Video Recorder)
The DVR (Digital Video Recorder) is a small accessory that can be included in the FPV glasses and allows you to record the video stream that is received in your goggles. If your drone does not have or cannot record in HD, you can still record the FPV stream. This can come in handy if you have lost your drone and you want to find it. The DVR is also widely used to record your flights. 
• FPV Receiver Modules
Every FPV headsets need to have a Receiver Module. You don't always get these modules included on FPV goggles, so you need to purchase them separately. Receiver Modules are available in 3 options; 1.3 GHz, 2.4 GHz, and 5.8 GHz.
It is recommended to read instructions regarding their compatibility between FPV headsets and receiver modules. These modules are easy to install. This can be done by removing a door panel on one side of the FPV headset, then you need to insert the module and snap the panel back.

• Soft Face Pad
A soft, high-quality pad is located in the place where the face fits, a guarantee of a comfortable use of FPV goggles/helmet without glare. When choosing a soft face pad, it is recommended to pay attention to what material and what thickness the pad is used from.
The best material is polypropylene foam covered with soft cloth/leather, or silicone sealant. The pad should cover the entire area of contact with the face, including the nose, otherwise light can be expected, and the pressure of the plastic in the nose will inevitably cause discomfort during piloting.
• Battery
All goggles and helmets have rechargeable batteries and the more capacity the better. If the battery has a small capacity, then you will charge the goggles after each flight, or you will have to connect another battery to your FPV Goggles. The most commonly used battery is Li-ion.
Best FPV Drones Goggles Brands in 2021
There are some big names when we talk about FPV goggles such as Fat Shark, Orqa, Epson, SkyZone, Oculus, DJI, and Zeiss. These companies invest a large amount of money in FPV technology and there is an incredible innovation with these goggles. Here you will see the 10 best FPV goggle models that are available on the market.
1) Epson Moverio BT-300 FPV Goggles
Epson Moverio BT-300 FPV Goggles are the ultra-light augmented reality goggles that are the perfect complement for any drone. These goggles are one of the best on the market. Moverio BT-300FPV video glasses are designed for drone pilots and allow you to see the full panorama where you can control the flight from the first person. 
The goggles have a transparent display that makes it easy to view your drone's video feed and key flight statistics while keeping the aircraft in sight. The high-tech display is capable of transmitting images and footage in full scale and in real-time without blocking your view.
The extremely light weight of the Moverio headset (only 69 grams) has virtually no effect on user fatigue, and the battery can last up to 6 hours. The headset has two screens providing the reproduced picture with a resolution of 1280 x 720 pix.
They are great for single-pilot operators because the line of sight can be maintained on DJI drones when viewing flight data. They also work great in daylight conditions when there is glare on the tablet.
It should be noted that the Epson Moverio BT-300 augmented reality glasses are a mature product with excellent performance. A user armed with this gadget can be in the virtual and real-world at the same time.
Advantages of Moverio BT-300 FPV Goggles:
DJI compatible accessory;
Practical absence of time delays;
Excellent color rendering;
Can easily record drone in flight;
Good visibility in bright sunlight;
Low weight;
Have a built-in card slot;
Lightweight and comfortable fit;
Separate control module;
Portable;
Replaceable nosepiece and optical filters;
Wi-Fi Miracast allows you to connect the device to Smart TV;
There is an application that allows you to reproduce the image on the smartphone screen.
1.1) Epson Moverio BT-300 Specifications
Here are the full specifications and characteristics for Moverio BT-300 FPV goggles.
Specifications
Battery working time: Up to 6 hours;
Camera: 5 million pixels;
Microprocessor: Intel Atom X5, 4 cores;
Microprocessor operating frequency: 1.44 GHz;
Memory: 2 GB, built-in – 16 GB;
Removable memory limit: 32 GB;
Sound: DD +;
Communication channels: Bluetooth, Wi-Fi, Wi-Fi Miracast;
Headset weight: 69 g;
Controller weight: about 130 g;
Headset dimensions: 7.52 x 7.01 x 0.98 inch;
Controller Dimensions: 2.20 x 4.57 x 0.91 inch.
Optical characteristics of the device
Optical Display Technology: Si-OLED;
Optics resolution level: HD (1280×720 pix);
The resolution of the camera built into the glasses: 5 Mpix;
Extreme contrast level: 100 thousand to 1;
Display size: 0.43 inch (wide panel 16:9);
Image aspect ratio: 16 to 9;
Frame rate: 30;
Angle of view (diagonal): 23 degrees.
2) Fat Shark FPV Drone Goggles
The Fat Shark FPV Goggles have been on the market since 2014, and are the most popular brand among all FPV manufacturers. The best contestants in Drone Racing League are using this brand, which speaks enough about their quality. They have more than 10 FPV models in their collection and we have listed their 2 best models.
Dominator HD3 Core: this model is compatible with almost any quadcopter to provide an amazingly realistic experience. The resolution is 800 x 600. To achieve maximum immersion, their ergonomic shape allows them to fit snugly to the head, completely eliminating glare from the sides. Wearing these glasses, you are immersed in one large display – the feeling is comparable to watching a movie on a widescreen in a dark room.
FSV1048 Attitude V4: this model allows the pilot to enjoy high-quality video online. It has a 640 x 480 resolution screen, with adjustable IPD 59 to 69 mm and 32° FOV. Photos are displayed in 16: 9 WVGA format. V4 have a great receiver which gives a better and 'cleaner' video feed. Comes with a 1000 mAh battery and a zipper carry case.
You can also visit their main website Fat Shark to see other models of FPV goggles that they have. Their products can also be seen on Amazon. Here you can see the good video of various Fat Shark FPV headset models and their comparison.
3) Skyzone SKY03 3D FPV Drone Goggle
The Skyzone SKY03 FPV Goggles have a very smooth and specific design. It comes in 2 versions, black and white. Most drone enthusiasts prefer white. Skyzone allows you to use diopters the same as the FatShark (for people who wear glasses).
With SKY03 you can take 2S to 6S LiPo battery as input. The good thing is that it has a barrel to XT60 adapter where you can use an existing 4S or 6S pack to recharge your headset.
This model have a power button, whereby holding down the button for a few seconds you can turn it on, and the same thing goes if you want to turn it off. One of the biggest advantages of the SKY03 is built-in diversity video receiver (VRX). For people who have 'smaller faces' it is possible to use plastic inserts.
These goggles have a built-in front camera that has a 43 degrees field of view. There is the possibility to switch for more display options and 800 x 600 SVGA resolution mode.
The SKY03 3D FPV Goggles features;
IPD: 57.5 to 69.5 mm
Weight: 231 g
Head tracking
Built-in: 5.8 GHz 48 channel diversity receiver
Support HDMI, DVR, AV in/out
It has a built-in front camera
FOV: Up to 43°
Input voltage: 7V – 26V, 5.8W
Resolution: SVGA 800 x 600 (excellent experience)
Ratio: 4:3 Only
Comes with Multiple LED mode support
What you will get in the package is the following:
1x Skyzone SKY03 Goggle
1x Goggle Carry case
1x Power cable
1x Data cable
1x AV cable
1x JR data cable
2x 5.8G 2dBi antenna
4) Walkera Goggle 4 FPV Drone
The Walkera Goggle 4 is packed in an elegant cardboard box, which is the first indication of the quality of the product. The glasses are equipped with a battery, a Micro-USB cable, two 5.8 GHz antennas and a user manual.
To distribute the weight evenly, the battery pack is not built into the glasses themselves, but is located on the strap at the neck level. The connection between the power supply and the glasses is via a short USB cable. A very useful design solution.
The design and build quality are superb. The glasses are equipped with adjustable straps so you don't have to worry about the size. Even though Walkera Goggle 4 does not have a built-in DVR in the standard version, you always have the option to connect an external DVR via the AV-out, which is located near the Micro-USB connector.
Although the FPV goggles have been designed for Walkera racing drones, we believe they are compatible with almost all 5.8 GHz systems. It should also be noted that the Walkera Goggles 4 is much more comfortable than any other FPV goggle we've tested.
Key features of Walkera Goggle 4
Ergonomic design for comfortable use;
AV-out for external DVR;
Access to settings for brightness, contrast and saturation of the image;
Automatic video format recognition (PAL / NTSC);
Possibility of manual and automatic channel search;
5-inch LCD (3 x 800 x 480 pixels);
Built-in 5.8 GHz 40-channel FPV receiver;
The presence of two antennas to ensure the most stable signal reception;
Lithium polymer battery 7.4V 1200 mAh;
Average run time is about 2 hours.
5) Eachine EV800D FPV Drone Goggles
The Eachine EV800D FPV Goggles are one of the best first-person flight solutions in the up to $100 price range. The EV800D have a card that has a 40-channel 5.8GHz diversity receiver working in tandem with two antennas: a clover 6 Leaf RCHP with a gain of 5 dBi and a panel 16 dBi, which provides the ability to automatically switch between them based on the quality of the received video signal.
The capabilities of this helmet are impressive, especially considering its price tag. The EV800D has one screen, the image from which is enlarged by the lenses. Therefore, the field of view is larger than that of glasses.
The exponential quality of these goggles, repeatedly confirmed by users in practice and the affordable price, allowed this model to become very popular in the hobby among entry-level pilots. These FPV goggles are very cheap, so they are considered popular when we talk about value for money.
Features of the Eachine EV800D Googles;
5" HD LCD display specially tuned for dynamic flight
Resolution: 800×480
Ultra-wide viewing angle up to 82º
40ch 5.8GHz Diversity Receiver with Auto Seek
Built-in video recorder (super HD DVR) with resolution up to 720 × 576 pixels.
Two systems that ensure no display lag and no frame loss when recording
Advanced auto search function and display of working frequency on the screen
92% clear lens, no distortion, no blur at the edges of the screen
6) Yuneec SkyView FPV Goggles
The Yuneec SkyView FPV goggles are compatible with other drone models such as the Typhoon H series, Typhoon Q500 4k, and Tornado H920. By controlling the camera on your drone, you will see exactly what the drone sees during the flight. The Yuneec FPV goggles have a solid construction and an ergonomic design, with an adjustable headband, and also allow you to use an FPV helmet for users who wear glasses.
The design of SKYVIEW glasses is comparatively lightweight and equipped with a soft seal. This significantly improves the comfort of using the device. A special elastic strap will allow you to comfortably fix the headset on your head.
The SkyView headset has a USB port, which allows fast charging and the ability to connect any HDMI device, so you can use these glasses for playing video games, watching movies, and more. Most FPV goggles have a field of view of 35%, and the Skyview goggles come with a field of view of 75%.
This gives you an amazing experience during the flight. What you get with SkyView goggles is a built-in 5 inch HD screen that provides a 16:9 ratio where you get a rich viewing experience.
Yuneec SkyView FPV headset Features;
5-inch screen
FPV Resolution: 720p HD
FOV: 75º
display resolution: 720 × 1280
Aspect ratio: 16: 9
Adapted for use in vision-correcting glasses
Compatible with Tornado H920, Yuneec H520, etc.
Compatible with other devices with HDMI output
In this video you can see all the features of Yuneec Skyview FPV goggles.
7) Cinemizer OLED FPV Glasses
The Cinemizer OLED FPV Goggles have two high-resolution OLED displays with a record pixel density of a 40-inch screen, working in tandem with ultra-clear lenses. Cinemizer OLEDs are capable of providing the user with an amazing flight experience, making them the ideal drone control solution.
Well, when you are not piloting, video glasses can provide you a fantastic high-definition cinema with incredible color reproduction. The Cinemizer OLED is powered by 6 hours of battery life, making it ideal for everything from drone racing to watching movies, TV shows and console gaming. It also has a warning indicator if a battery gets low which can come in handy.
These goggles can display 1080p video, while the screen has adjustable diopters of -5 to +2, and it supports IPD range (59 – 69 mm). The Cinemizer OLED comes with a non-removable cable, that has a built-in battery on the other side. That hub has a 450 mAh LiPo battery.
Cinemizer OLED FPV Goggle features;
Glasses weight (with/without controller) 120/70 g
2 × OLED displays with 4 subpixels per pixel,
Resolution: 870 × 500 pixels each screen
2500 ppi pixel density (nearly seven times that of Apple's Retina displays)
Simulated 40-inch screen at a distance of 2 meters
Widescreen 16:9
24-bit RGB color depth
FOV: 30°
Diopter adjustment for each eye from -5 to +2
IPD range 59 to 69 mm
2 × replaceable silicone nose pads included
Adjustable ear clips
Removable sun protection
Built-in stereo headset
Compatible with a variety of GPS / FPV drones
7.1) CinemizerOLED FPV Goggles Drone Compatibility
These goggles are compatible with the following drone models;
DJI models: Mavic Air, Mavic 2, Phantoms 3 & 4, DJI Inspire 1 & 2
Parrot models: Disco and Bebop
Yuneec models: TORNADO H920 PLUS, Typhoon H, H520
3DR Solo
If you want to know more about Cinemizer OLED FPV Goggles, read a full article and learn how to connect your FPV goggles to other drone models. You can also find helpful youtube videos where it is explained how to properly do this.
8) BOSCAM GS922 FPV Drone Goggles
The BOSCAM GS922 FPV Goggles are very popular when it comes to speed, navigation, effectiveness, and popularity. These goggles are providing a crisp and clear image with a 30° degree field view and the best precise picture in this price range. Boscam GS922 has one unique feature where it can automatically tune to the channels upon the strength and requirement.
These are very affordable FPV goggles that you will surely enjoy during the flight. They do not provide the best quality like some on this list but we still put them in our Top 10 list.
It has an 854 x 480 resolution display screen that is ensuring a high-quality image and the ability to record video with an installed SD card. The pros of these goggles are the long-lasting battery, head strap, and slot for diopter lenses.
Here you can see the BOSCAM GS922 FPV Goggles features;
FOV: 30°
Built-in: 5.8 GHz frequency diversity input
Resolution: 854 x 480
Video Resolution: 640 x 320 (30 fps)
Contrast and Brightness: adjustable
Antenna port: RP-SMA
Memory: SD Card
32 channels available
Ability to search for the best signal channel
Here you can see a great introduction to the BOSCAM GS922 FPV Goggles.
9) Samsung Gear VR Goggle
Samsung attacked the virtual reality market in 2014. These new Samsung Gear VR Goggles have a super AMOLED display. It comes with a wide field of view, low latency, and a head-tracking option. To fly your drone with Gear VR goggles you need to have a Samsung phone.
We can say that this VR headsets are one of the most easy-to-use headsets for beginners. Although this model requires you to strap a smartphone in front of your eyes to see, the Gear VR delivers a great experience whether you are a beginner or a professional.
We must note that VR visual quality depends on what phone you use, because it uses the display of that model. If you're using Samsung Galaxy S11, you'll have HD technology and great resolution, together with an AMOLED display.
If we compare other VR headset leaders on the market, the Samsung Gear VR is limited, because you need a smartphone that needs to be strapped into a VR headset.
Samsung Gear VR Goggle features;
Weight: 345 g
19% lighter than the previous model
Ergonomic design
Large touch panel (easy and precise control)
FOV: 101º
Glass optics
IPD: 62mm (not adjustable)
Phone connection: via USB Type-C and Micro USB
Compatible with Samsung smartphones
Relevant for working with DJI drones through a paid mob. 
The Samsung GEAR VR Goggles are a great choice and comes for an excellent value. You can check the Samsung GEAR VR price here on Amazon. Also, check the instructional videos for this model on Youtube for more information.
10) Homido V2 VR Headset
The Homido V2 headset is an excellent quality alternative replacement for the Samsung Gear VR. Unlike its predecessor, this VR headset is not tied to one manufacturer of compatible smartphones and works with both iOS and Android devices. V2 offers different settings, such as focal length adjustment and interpupillary distance.
From the first glance at the HOMiDO V2, it becomes clear that this is an accessory for picky VR lovers. The sleek, matte body attracts attention with its sophisticated stepped design. The large silver button on the right side of the VR glasses is used to touch the capacitive stylus to the center of the screen.
Provides an exponential comfortable fit, has adjustable interpupillary distance, focus adjustment, and boasts a wider viewing angle and lighter weight than GEAR VR. It comes with high-quality lenses that have an exceptional 100º field of view. The only thing that the headset does not support is the head tracking function.
Homido V2 VR features;
Ergonomic design
High-quality comfort pad
Quality glass optics
FOV: 105º
Focus adjustment
Adjustment of the intergap distance (from 55 to 70 mm)
Action button (to start the smartphone without having to remove it from the headset)
Natural ventilation system for the inner area of the headset
Compatibility: iOS / Android 4.2 – 6 ″
Various FPV Glasses For Drones
Here's a list of the most popular suppliers and manufacturers of FPV goggles.
Fat Shark Dominator HD3
Fat Shark Attitude V4
Epson Moverio FPV
Walkera Goggle 4
DJI FPV Goggles Standard & Racing Edition
Eachine EV800D
SkyZone SKY03 3D
Yuneec SkyView
Best Advice Before Buying Drone Goggles
Things you need to consider before buying an FPV Goggles is that you have a FOV of at least 35%, VGA or SVGA resolution, adjustable IPD, digital head tracking, and glass optics.
If your drone has its own manufacture of FPV goggles it is recommended to buy them. Therefore, go to the website of your drone and see if there are some recommended FPV goggles for it. Buying the best FPV goggles will give you the best experience and it will be worth it.
DJI FPV Drone Goggles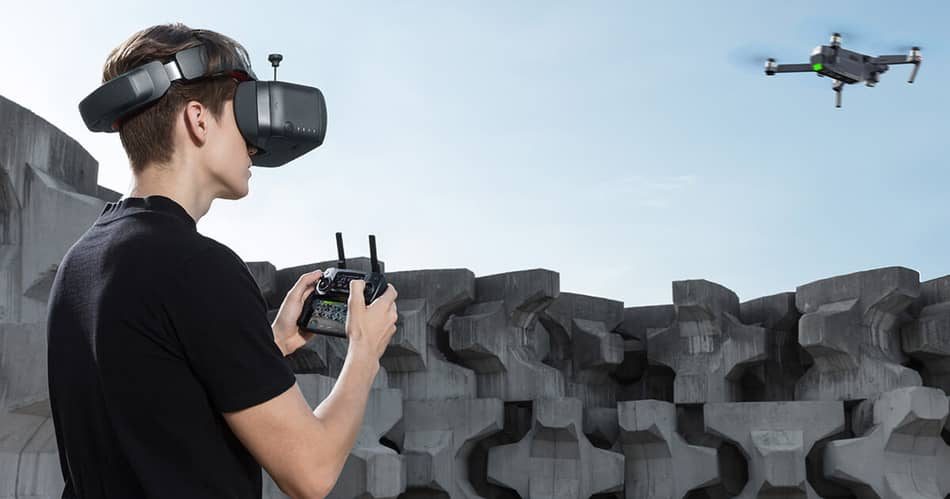 Even though the DJI is dominating with approximately 72% of the drone market, the DJI only recently released its own FPV goggle. DJI is now having only 2 drone goggles on the market, a racing edition and a standard edition. The racing edition is adjustable with other drone models, and not only DJI.
1) DJI FPV Drone Goggles – Standard Edition
The standard edition of DJI FPV Goggles is designed for DJI models such as Phantom 3, Phantom 4, Mavic Pro, DJI Inspire 1, and DJI Inspire 2. These goggles have also the ability to connect to other 3rd party devices. Here are the main features of these DJI Goggles;
Ultra-high screens
Long range & 360° coverage
85° single-screen field
Gyroscope, Proximity sensor and Accelerometer
Operating frequency of 2.4 GHz
Battery life: Up to 6 hours
Resolution: 3840 x 1080
Control of photo & video capture
The DJI Standard edition goggles have the following flight modes included;
Reset Motion control
Motion-controlled flight
Motion-controlled gimbal
Full-screen mode
Switch portrait
2) DJI FPV Drone Goggles – Racing Edition
The DJI Racing Edition Goggles come with a black visor and headband. The main purpose and design of these RE goggles is racing, so they produce high-performance camera modules. They can also transmit digital video signals with low latency.
These racing edition goggles operate with Roku and Chrome Cast. Goggles are very light and comfy and provide excellent video quality. This is very important for drone racers who need instant feedback since they're flying with drones at very high speeds.
On these goggles, you have the climbing system where it starts at 1280 x 960 in 50 fps. You can find 12 stations on the goggles. The WiFi link on this model can be found on 2.4 and 5.8 GHz.
DJI Goggles RE Features;
Comes with 12 Transmission Channels
You can connect a 2nd Pair of DJI Goggles
Analog Transmission via SMA port
Head tracking and Gimbal Control
Comes with Multiple Antenna
Comes with Live View Modes And Latency
DJI Digital FPV System
DJI has a definition FPV system that has low latency and it is used on non-DJI drones such as racing drones, DIY kits, and robots. It consists of the following parts;
FPV Camera
FPV Goggles
Air Unit
Remote Controller
FAQs
1. Are drone FPV goggles worth the price?
Yes, drone FPV goggles are certainly worth the price and they provide you with an unforgettable flight experience. Many drone pilots say the difference between flying with FPV goggles and without them is huge.
2. Can you operate an FPV drone without goggles?
No, you can't fly an FPV drone without a tack. To have a complete emersion of FPV goggles a requires unique experience.
Conclusion
Before you decide to buy FPV drone goggles, make sure to check if they have a Field of View of 35% IPD, glass optics, SVGA resolution, and electronic head tracking. Note, Walkera models have their own assortment of FPV headsets.
It is recommended to also go to the website of the brand you want to purchase before buying the drone. There you will find a lot of information on the specific FPV drone that you're planning to get. Buying the best FPV goggles in your price range will give you an experience worth every cent. I hope that this article helped you to choose the best FPV goggles for your model.