Top 10 Best Surveillance Drones in 2023: Review
There are now surveillance drones on the market where almost any person can buy it, while a few years ago this was only available to the military. However, you need to be very careful about how you use these drones as the privacy of others can be easily violated by these devices and legal action can be taken if this happens.
Commonly known as UAV (Unmanned Arial Vehicle), drones perform tasks such as radio jamming, radar detection, heat detection, and surveillance. The popularity of drones in people's hearts has grown rapidly and nowadays various drones are widely sold in the market with features such as camera and GPS. The different models have advantages and disadvantages depending on how you want to use them.
Summary of best surveillance drones in 2021:
What is Drone Surveillance?
Drone surveillance is the use of unmanned aerial vehicles (UAV) to capture of still images and video to gather information about specific targets, which might be individuals, groups or environments. During surveillance, the drone should be inconspicuous and at the same time gather information about the target that is being monitored. Characteristics that surveillance drone should have are small dimensions, imperceptibility and quality camera. There are also advanced surveillance drones that have the ability to recognize faces, identify objects, and other materials using artificial intelligence (AI). These are mostly drones used by the military in special surveillance missions and are not available for commercial use.
What Kind of Surveillance Can be Done With Drones?
Surveillance for festivals, concerts, and sports
Traffic surveillance
Surveillance of illegal activities
Countering illegal drug operations
Criminal prosecutions in cities
Monitoring of flooding
Monitoring of buildings and critical infrastructure
Border surveillance
Surveillance of illegal immigrants
Police activities
Search for missing persons
Features to Consider When Buying Surveillance Drones
When we talk about best surveillance drones that are available, most of them are quadcopters because quads offer more stability than other types of drones and can lift more loads. However, if you're looking to buy a surveillance drone, here are a few things to consider:
• CAMERA
Be sure to check the quality of the camera. This is the first thing to consider when buying surveillance drones. If the camera is not of high quality, the surveillance video will also be of poor quality and we all know that it is essential to have good equipment for surveillance.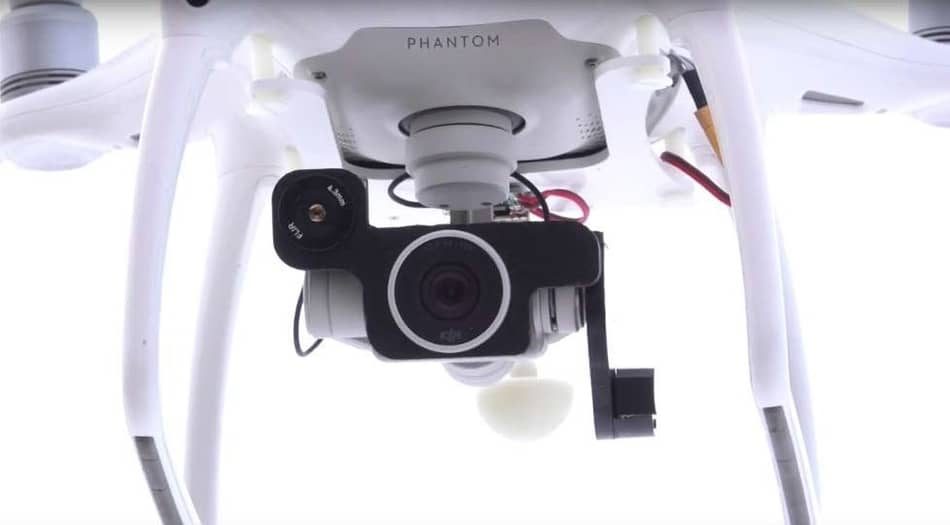 HD cameras are recommended with at least 720p recording for a clear overview (preferably Full HD or 4K recording). Most of the cameras you will come across are specially designed to be mounted on drones and some have other features to enhance video capture and photos.
Some cameras are detachable and some drones don't have a built-in camera. In case there is no built-in camera, be sure to check the maximum load limit. Usually, these types of drones, especially octocopters, have the ability to mount DSLR cameras due to their high load limit and their higher thrust force.
• SCOPE
In the area of surveillance, you do not want to stay with your drone forever: the longer the control range, the better the surveillance drone.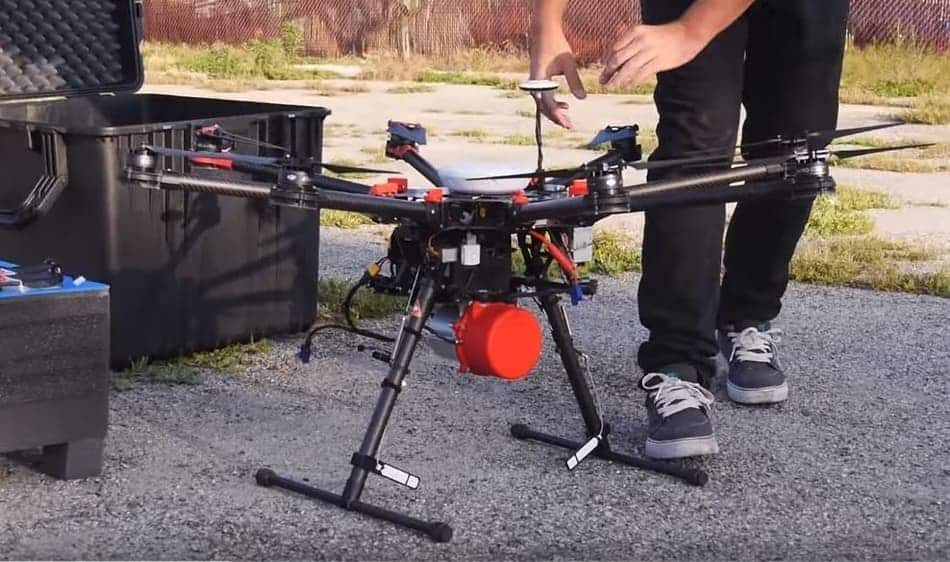 Most drones have enough range to cover your surveillance area. But if, by chance, your drone leaves your control zone, it will simply go into standby mode while waiting for your instructions. There are accessories available that can lengthen the signal transmission from your controller, make it fly further and capture large-scale videos. But before you commit to a longer signal transmission, you must also take into account other factors such as flight time.
• FLIGHT TIME
Your flight time should be considered as one of the top priorities. You have to plan in advance what you are going to capture to maximize the performance of the drone. Without a precise plan, it will simply fly aimlessly, capture everything on sight without monitoring what it is supposed to target.
When planning the overall flight scenario, be sure to allow at least 5 minutes more battery life in case the battery drains faster than expected so that you can safely return it to your location. Certain battery upgrades are used by different brands to overcome the short flight time. Military-grade surveillance drones can fly for an hour or two, but consumer drones can only fly on average 30 minutes with improved battery life. However, this is enough time to direct your drone to your surveillance point and make it return safely.
• STABILITY
The flight stability of the drone is essential in delivering high quality videos and photos. Drones without enough stability will capture distorted videos and photos, even if they have an HD camera.
Most surveillance drones have built-in sensors and weather functions, which make them stationary straight and capture videos without any distortion. However, these features can only work for an acceptable wind speed. If the wind speed exceeds what the drone can support, it is more likely to move unintentionally. If you plan to fly in a windy environment, choose one with high stability and more wind sensors. It is most effective if you do not want to compromise image quality.
• EASY SETUP
Depending on the type of drone, the initial configuration may be necessary. Some models provide RTF (ready to fly) drones, but some may require other settings before flying.
The user manual usually tells you how to install the drone before flying, and the necessary screws and bolts are also included in the package. Some examples of parts that need to be assembled first are the detachable camera, propeller guards, landing gear and, in some cases, propellers. On large drones, the battery is not attached to the body and is usually not charged.
• OBSTACLE DETECTION
Always useful in the event of a problem, an obstacle detection device allows your drone to regain control automatically if it thinks you are sending it into a wall (a much more common phenomenon than don't think so, especially when you're just starting out). Camera helps it to operate, by a 3D visual analysis of what surrounds it, and by that it maps the environment using ultrasound.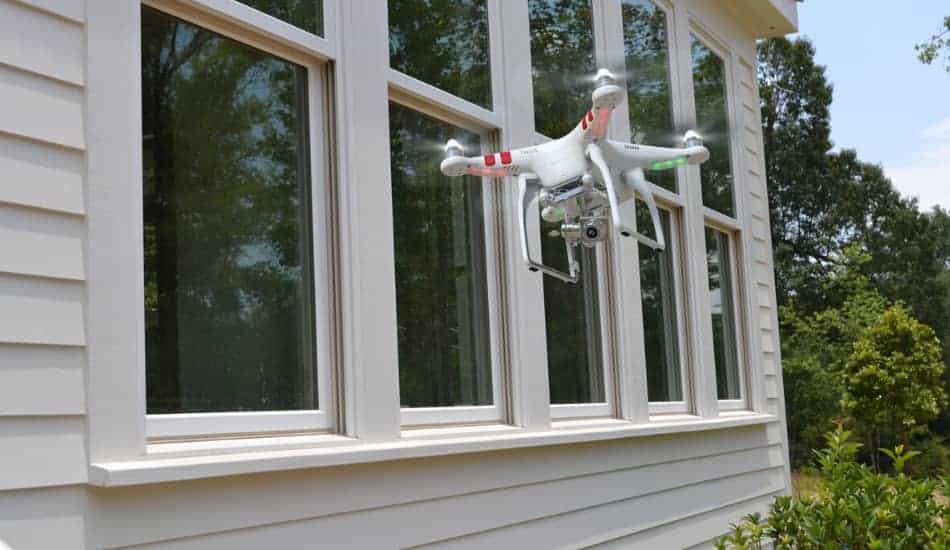 Top 10 Best Surveillance Drones You Can Buy
Using a drone for civilian surveillance is a great way to keep an eye on things. While they can't fly for hours, if you're curious about what's going on outside and want to keep a low profile, these drones are the perfect way to do it.
1. DJI PHANTOM 3
Product Specs:
Weight: 3.9 kg
Size: 45 x 33 x 20 cm
Camera: 2.7K HD
Battery: 4480mAh
Flight time: 23 minutes
Controller type: DJI P3-074
Special features:
GPS-assisted overflight, vision positioning system, automatic flight
registers, return home, follow me, ground station, point of interest
Best use: great for those who want live HD quality with wide range and a good camera
The DJI Phantom 3 has everything you need in a quadcopter drone for surveillance purposes. You can feel the power in the engines but you don't hear that much noise, which is great for spying. The camera is quite powerful, reaching 2.7K at 30fps for videos. You can reach a transmission range of up to 5 km using the DJI Lightbridge video downlink. The drone connects to your smartphone via the DJI Go app, where you can see a live HD stream of what your drone sees. It uses both GPS and GLONASS for the best possible positioning. You will be able to use the 16 GB Micro SD card, unless you want to save your images and videos directly to the DJI Go app, which you can do too.
2. PARROT AR.DRONE 2.0
Product Specs:
Weight: 1.8 kg
Size: 58 x 13 x 58 centimeters
Camera: HD 720p
Battery: 1000mAh lithium-polymer battery
Flight time: 12 minutes
Controller type: smartphone/tablet
Special features: self-generated Wi-Fi network, Director Mode function, amazing stability
Best use: great for the first person flight experience
Another model from the quadcopter family, the Parrot AR.Drone 2.0 can fly easily using your phone or tablet. By downloading the FreeFlight AR Application (available on the App Store and Google Play), control of the drone is now in your hands, which makes it easier to use thanks to its self-produced Wi-Fi network. Don't like using an app as a controller? Don't worry, because this app has a user-friendly control interface over live streaming video return from the drone without lag and slowdowns.
In addition to this style, 2 of the propellers are also colored according to your choice while the other two are black. It also has a smart mode function which can be purchased in the app. Upon activation, you can pre-determine the drone's movements to your liking, while shooting your HD videos like a pro. You can also change various settings such as color saturation, white balance and exposure to deliver high quality video during transmission.
3. DJI INSPIRE 1
Product Specs:
Weight:9 kg
Size: 58 x 53 x 30 cm
Camera: 4K videos and 12MP photos
Battery: Included 1 TB47 smart flight battery
Flight time: 25 minutes
Controller type: smartphone / tablet
Special features: 360 ° panoramic gimbal, radio range up to 2000 meters, HD 720p HD surveillance with Lightbridge, vision positioning for domestic flights
Best use: professional imaging
Coming from the same family as the Phantom 3, it is obvious that the DJI Inspire 1 is not just about its price but above all its functionality. First of all, the design of the structure will pique not only your interest but also your science fiction imagination. With an advanced mechanical system, the design of this drone is up to new generation drones. All the features of the Phantom 3 are included in this model but it comes with other improvements. If you have taken a look at the Phantom 3, you will have on the Inspire 1 a 360 ° panoramic gimbal which allows you to control the camera regardless of the direction of flight of the drone.
This version is delivered with a 4k camera with 3-axis stabilizer. However, there is also a PRO version, equipped with Zenmuse X5, the first in the world to integrate the Micro Four Thirds camera with 13 sets of dynamics and a lens eight times larger than normal. This camera is specially designed for aerial shots and surveillance and allows you to access any other level of aerial photography.
4. 3DR SOLO
Product Specs:
Weight: 5 kg
Size: 22 x 40 x 41 centimeters
Camera: Sony UMC-R10C
Battery: 5200mAh
Flight time: 25 minutes
Controller type: BB11A
Special Features: Orbit, Follow Me, Wired Camera Mode, Selfie Mode, GPS Mode, GoPro Hero Capabilities, Wireless Video Broadcast to Smart Device, Unique Features, Computer Aided Smart Shots
Best Use: Aerial photography and basic surveillance
The 3DR Solo comes with a camera which is pretty good but you can fix your own camera if you want. Whether for better quality or for whatever reason, you can use any of the GoPro line Hero cameras. You can also use the high-quality HDMI port through the controller to connect a smart device, such as a phone or mini-tablet, so you can see your flight live.
With the touch of a button, you can take off, land, suspend your flight, and take pictures and videos in the air. The controller looks a lot like the one you use for a video game console, so it's very easy to use and get used to. The 3DR Solo app offers full functionality that pairs with the drone itself for Android and iOS to give you total usability and perfect control.
5. DJI PHANTOM 4 PRO
Product Specs:
Weight:1 kg
Size: 45 x 33 x 21 cm
Camera: 3k 4k UHD video camera
Battery: 5350 mAh
Flight time: 30 minutes
Controller type: smartphone/tablet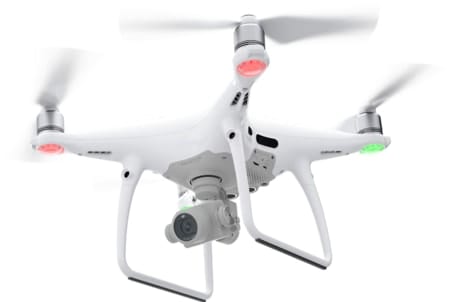 Special features: vision positioning function, GPS navigation, rigid carbon fiber shell
Best use: professional video and photography
From the DJI Phantom series, this is the fourth version of the Phantom model which improves not only the surveillance capabilities but also the overall performance of the drone. The DJI Phantom 4 Pro is equipped with a 3-axis UHD 4k video camera for smooth capture of videos and still images. This drone also allows HD 720p digital live broadcasting directly to your mobile phone thanks to the DJI Pilot application and the new generation of Lightbridge technology. The app also allows you to control the camera view in real time which makes monitoring easier and expands the view range.
This drone have a built-in sensors which helps you to fly your drone indoors, even if you don't have turn on GPS. On the other hand, GPS navigation is also possible, which can facilitate automatic takeoffs and automatic landings. The drone comes with a smart high-powered flight battery that gives you 25 minutes of flight time. It is made to work in all kinds of weather conditions thanks to its rigid carbon fiber shell which gives it more protection against the external elements.
6. DJI SPREADING WINGS S1000
Product Specs:
Weight: 3 kg
Size: 46 x 30 x 51 centimeters
Camera: DSLR compatible, no on-board camera
Battery: 1500mAh suggested
Flight time: 15 minutes with the suggested battery type
Controller type: delivered with the flight controller installation software
Special features: Retractable undercarriage, low gimbal mounting with cushioning, able to support up to 11 kg of take-off weight, fully foldable
Best use: basic photography and monitoring
The DJI Spreading Wings S1000 is a dream for users who like to tweak their drone. It can carry up to 11 pounds of take-off weight, which means you can use your own camera even the heaviest models. It's the same for the controller. You can use an A2 or WooKong-M flight control system, which allows you to modify your radio control as you wish. You can also choose your battery, but the 1500mAh is highly recommended for the best possible flight time.
This drone is designed to carry heavy digital SLR cameras, it is fully foldable and is primarily intended to serve as a platform for the camera of your choice. You can customize this high quality drone as you wish. There are numerous options with this drone, as it has the ability to carry up to 11kg.
7. DJI MAVIC 2 ZOOM
Product Specs:
Weight: 905 g
Size (folded): 214 × 91 × 84 mm
Camera Resolution: 12MP (Pro 20MP)
Battery Life: 31 minutes (3850 mAh)
Maximum range: 8 km/ 5 miles
Maximum speed: 72 km/h.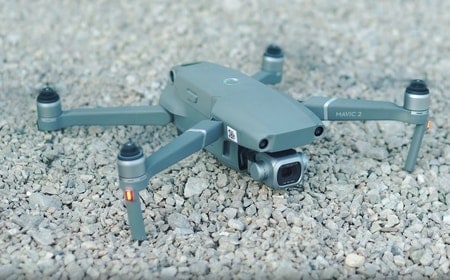 Special features: quality zoom, follow me, Hyperlapse feature, GPS Mode
Best use: basic photography and monitoring
DJI Mavic 2 Zoom, released in 2018, changed the idea of what could be done using the best serial quadrocopters with cameras, allowing users to fold and wear a lens of very decent quality, without increasing the dimensions and weight of the device too much. One of the most amazing features (both on the Mavic 2 Pro model and on the Zoom model) is Hyperlapse – aerial slow motion, including while driving. Video processing takes place in seconds and right on board the drone.
The drone's frame seems quite muscular, but it has powerful engines, speed control systems, and surprisingly quiet propellers. This makes it as capable as heavier drones in the wind – with high maximum speed and very responsive controls (which can be softened for cinematic work). Omni-directional sensors make it difficult for the aircraft to fall. And at normal speed, they even play an important role in excellent tracking of objects.
Zoom retains the still very decent 12 megapixels of its predecessor, but has a zoom lens (effective focal length 24-48 mm), which is more useful for cinematic effects. Now the main thing for you is to know what kind of photography or video you want to do.
8. DJI SPARK
Product Specs:
Weight: 300 g
Size (folded): 143 × 143 × 55 mm 
Video Resolution: 1080p 30fps
Camera Resolution: 12MP
Flight duration: 16 minutes
Max distance: 100 m
Maximum speed: 50 km/h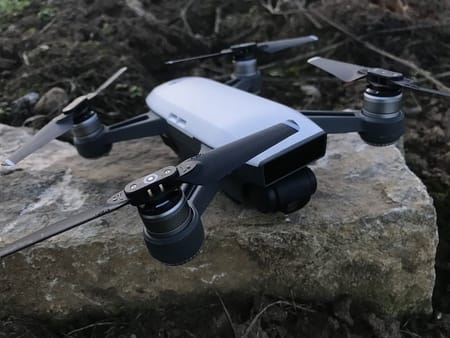 Special features: 12MP camera, return home, follow me, ground station, GPS Mode, launching drone from the palm
Best use: Aerial photography and basic surveillance
In terms of value for money, DJI Spark is one of the best quadrocopters with a camera of all. In fact, it does not add up, but this means that it has a very reliable and durable case. And the propellers still have the ability to fold, so in fact it is not so big in terms of transportation. Videographers have to settle for 1080p Full HD video. But this is certainly more than enough to share your exploits on YouTube. The ability to track items also works well.
Where Spark really does great is gesture recognition. You can launch the drone from the palm of your hand and take some simple shots using gestures. This time, the desire of DJI to make the initial proposal an empty model does not look so disappointing. You obviously get a lot of technology here for your investment. And it's nice to know that you can add a controller later if the current operating range is not enough for you. However, for those to whom this does not suit, perhaps the only option is to find an drone with a built-in controller.
9. YUNEEC Typhoon H
Product Specs:
Weight: 1950 g
Size (folded): 520 x 457 x 310 mm
Camera Resolution: 12.4 MP
Maximum range: 6 km
Flight duration: 25 min
Maximum speed: 70km/h
Special features: Huge flight radius, 25 minutes of battery life, Intel RealSense technology, follow me mode
Best use: Surveillance and professional photography
Amateur hexacopter (there are six screws) with very advanced features and a serious price. With its own weight of 1.9 kg, it is capable of lifting a load of up to 2 kg into the air. The maximum flight speed is impressive – 19.4 m/s. The YUNEEC Typhoon H is controlled using a control panel with a large display over the air. The maximum control distance over the drone is as much as 1600 m. By the way, the hexacopter supports Intel RealSense technology, which works together with the Follow me mode. Thanks to a special camera mounted on the front of the drone with a separate power supply module, the drone receives an accurate 3D model of the world around it. 
The copter not only sees an obstacle, but also paves the optimal flight routes for it during the flight. The drone also has a quite traditional 12.4 megapixel camera, which is capable of shooting video in 4K. If you have just entered this world of drones, you may want to go with some smaller surveillance model.
10. DJI MAVIC PRO
Product Specs:
Weight: 734 g
Size (folded): 198 x 83 x 83 mm
Camera Resolution: 12 MP
Video Resolution: 4K @ 24fps
Maximum range: 4 km
Flight duration: 27 minutes
Maximum speed: 65 km/h
Special features: GPS mode, amazing stability, Wi-Fi mode, 4K camera, Sport mode
Best use: basic photography and monitoring
The DJI Mavic Pro is also a very well-equipped drone from the market leader DJI. This drone can stay in the air for up to 27 minutes which is great for that class of drones. DJI Mavic Pro can cover up to 13 km, and has a range of up to 7 km away from you and the remote control. In Sport mode, it flies up to 65 km/h and can fly back to you on its own. This drone have a bunch of sensors such as GPS. It has a 4K camera that have a 12 megapixels installed under the drone. A three-axis gimbal is also part of the equipment, as is 1080P / 720P Live Feed for your smartphone, which you can clip into the remote control in the usual manner.
This drone is suitable for surveillance because of its quality camera and the stability it provides in the air. It is very small in size and not noisy, which is also one of the important factors when it comes to this category of drones.
Applications For Surveillance In The Real World
• PHOTOGRAPHY AND CINEMATOGRAPHY
This includes not only still photographs but also moving videos. By using high-end cameras that are attached to the drone, you can take a sequence from a point of view that was once impossible. Different film companies are taking part in the drone revolution to offer breathtaking visuals to all moviegoers.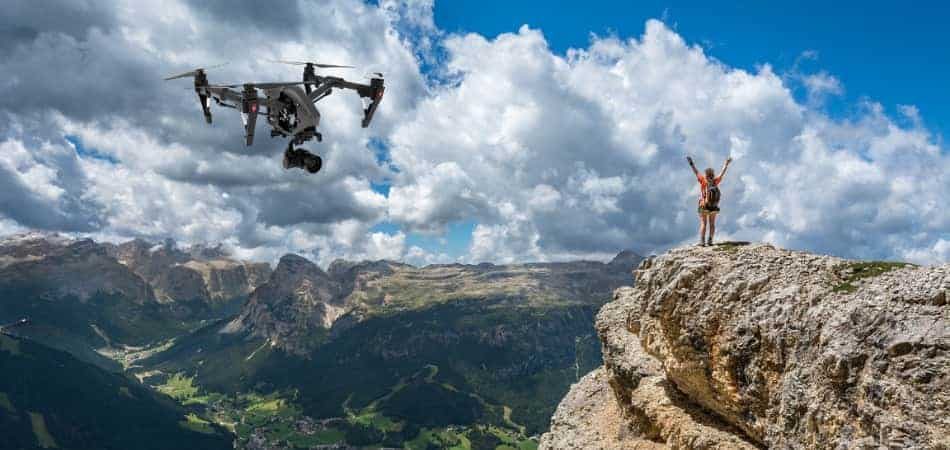 • HUNT
Using drones for hunting may be a bit new, but for some it's a good way to find prey without them noticing. It can also give you a broad view of the environment beyond your sight, which makes tracking more precise. It can also be used to observe your environment before hunting to see if there are any potential predators that can attack you. This not only helps prevent disasters but also guarantees your safety when hunting.
• MONITORING
This is a subject of debate, but drones have the potential to be the new CCTV cameras. Not only do they offer a wider field of vision, but they can also move from one place to another. Their versatility and mobility are a huge advantage over fixed surveillance cameras. With drones, you have the ability to monitor people or objects without attracting much attention.
• NATURAL DISASTERS
In the event of a disaster scenario, drones can be used to locate the area and detect if an additional threat is still imminent and to search for possible survivors. In the future, other innovations could make it an effective safety asset for rescuers. Drones have the ability to get a better view and can respond faster in situations where urgent intervention is required.
• OBSERVATION OF WILD LIFE
Wild life involves dangerous animals, so it is sometimes better not to be directly on the spot. The use of drones to monitor and observe such animals allows for the secure collection of data and research. Even fast moving animals can be easily monitored with the right speed and angle of the drone. However, the arrival of drones in the ecosystem and the way of life of animals can have an impact on them who are not used to such devices.
• PERSONAL LEISURE
Most people buy drones for their own entertainment. Taking aerial videos of yourself while cycling or surfing is so cool! For adventurers, a good way to film all their prowess, from climbing to horse riding, is to use these surveillance drones. You have loads of options for how you can use drones for your own enjoyment.
Conclusion
Drones are available today to anyone who wants to be a part of this world. Surveillance drones have become increasingly used, to make people's lives easier. In this article, we went through the 10 most popular surveillance drones available in the market today. As the media, large companies, lifeguards and others increasingly use drones to make their day-to-day operations easier, so is their application increasingly on the rise. Surveillance drones are increasingly used in agro-culture, making it much easier to do business and save time. The popularity of these surveillance drones will grow more and more as technology advances. What do you think about surveillance drones? Leave a comment below.