Phantom 4 vs Phantom 4 PRO: Full Review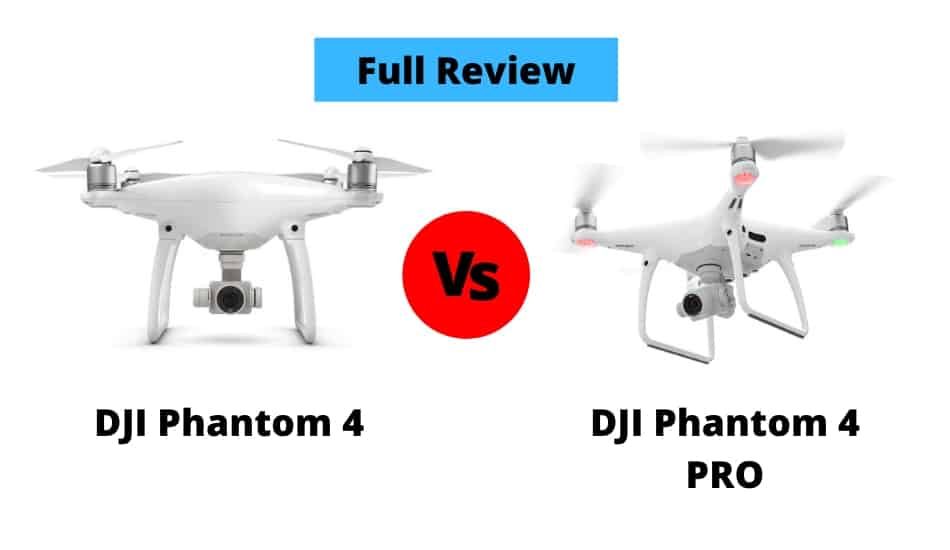 DJI's new generation of flagship machine, the Phantom 4 Pro is launched with amazing specifications, which makes many Phantom 4 players feel itchy and calculate whether it is cost-effective. However, at the speed of DJI's launch of drone products, the pursuit of new models will undoubtedly step into the bottomless abyss. That's why we at DroneTechPlanet compared this two amazing drones that have great aerial cameras and flying capabilities, so that everyone can refer and see all the differences between them.
So what are the main differences between Phantom 4 vs Phantom 4 PRO? Is it worth buying a newer model? We will go through all details and segments about this two models, from design, camera, battery, specifications, price and much more and give you our opinion. We'll go through 10 major comparisons between these two models in 10 rounds. Let's start!
DJI Phantom 4 vs DJI Phantom 4 PRO:

| Model: | Phantom 4 | Phantom 4 PRO |
| --- | --- | --- |
| Flight Time: | 28 min | 30 min |
| Max Flight Speed: | 72 km/h | 72 km/h |
| Camera: | 12.4 Mpx | 20 Mpx |
| Weight: | 1380 g | 1388 g |
| Max Flight Altitude: | 6000 m | 6000 m |
| Battery: | 5350 mAH | 5870 mAH |
| Max fps at 4K: | 30 | 60 |
| Range: | 3.1 miles | 4.3 miles |
| Price: | Not Available (Discontinued 2017) | Check Price on Amazon |
Round #1: Shape: Almost the Same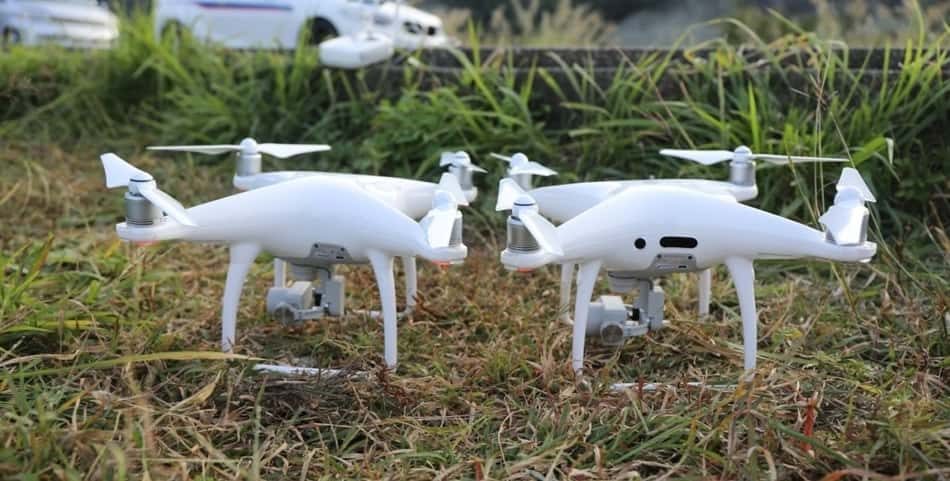 The Phantom 4 Pro has two major improvements over the Phantom 4, both of which are common concerns for users: aerial camera specifications and intelligent obstacle avoidance. At first glance, the two generations of aerial cameras are exactly the same, and if you take a closer look, you will find that a pair of binocular stereo vision systems have been added to the rear of the Phantom 4 Pro, which has the same obstacle avoidance capabilities as the front, and infrared sensors on the left and right. If you like the Phantom 4 by design then you will also like the PRO version. DJI didn't want to make any major changes to the design as they really hit the right thing.
Winner: Both
Round #2: Flight Time
Both models have good flying time that is very similar, but the Phantom 4 PRO is the winner here. The Phantom 4 has a flight time of approximately 28 minutes, while the Phatnom 4 PRO has a flight time of about 30 minutes, which is not drastically higher. But we have to keep in mind that this time of flight depends on a lot of factors, such as; temperature, wind and the weight that drone carries. My advice is to get a spare battery, so you can replace it immediately when your main battery runs out. Spare batteries are not expensive and you can easily find them on Amazon. You can check them HERE.
Winner: Phantom 4 PRO
Round #3: Flight Speed
Both of these models have a maximum flight speed of 45mp/h (72km/h). As for that, we don't have a winner here, as both drones can achieve the same speed, which is important for some drone fans, while for others is less important. Of course, this also depends on what kind of wind you fly, because the wind can drastically slow down the speed of your drone, so you have to pay attention to that as well. I wrote a special article about "Can a Drone Fly in Strong Winds?" and how to know to what limits they can fly. So if you are interested in that check it out.
Winner: Phantom 4 PRO​
Round #4: Image Detail
At first glance, the performance of the two cameras is similar, but when zoomed in, the Phantom 4 Pro's imaging is obviously sharper and more careful than the Phantom 4, especially for fine objects such as grass and stone piles. As for the analysis of the dark position, the Phantom 4 Pro performs significantly better than the Phantom 4 and the high light position is comparable. The difference is not very big, but it is noticeable. So if this item is really important to you, then Phantom 4 PRO is definitely a better option for you. However, PRO is a newer model, so they have improved the zoom part better.
Winner: Phantom 4 PRO​​
Round #5: Obstacle Avoidance: Reassure Newbies
The five-party perception obstacle is a unique feature of the Phantom 4 Pro. There are sensors on the front, back, left, bottom, and bottom, but note that only the front and rear can understand obstacle avoidance automatically. When the drone approaches an obstacle, it will stop the aircraft forcibly. 30-meter obstacle; left and right sensors can detect obstacles up to 7 meters away, but only issue a warning, do not stop, and can only be used when the novice mode is turned on.
The front and rear sensors have the same function, and will automatically stop when approaching the object, even if the object is as small as a branch, it can be detected, and the performance is as expected. The reporter feels that in addition to adding selling points to the product, the five-party perception barrier also adds peace of mind to novices who are new to aerial photography; but for experienced players, whether before or after, the obstacle avoidance function has little effect, let alone for novice And set a warning of left and right perception obstacles.
Winner: Phantom 4 PRO​​​
Round #6: Remote control: All-in-one is Convenient
Another difference between Phantom 4 and Phantom 4 Pro is the remote control. The Phantom 4 Pro + model tested this time comes with a high-definition screen, which is more convenient than Phantom 4. You do not need to bring your own mobile phone or tablet computer, and then download the software. Remote control screen. In addition, the screen brightness of Phantom 4 Pro + is much higher than that of ordinary mobile devices. The advantage of the former is quite obvious in sunny scenes. There is not much doubt here, and we can say that the PRO model is much better and better in terms of remote control.
Winner: Phantom 4 PRO​​​​
Round #7: Aerial Strength Comparison
Regardless of the player's level and flying experience, the most important thing is the aerial performance. Phantom 4 uses 1 / 2.3-inch CMOS with 12.4 million effective pixels. The maximum resolution of photos that can be taken is 4000 x 3000 (4:3). The Phantom 4 Pro upgrade uses a larger 1-inch Sony CMOS sensor with 2,000 effective pixels. The maximum supported resolution is 5472 x 3648 (3:2). The white balance of both aerial cameras is selected to be automatic. Phantom 4 has higher color saturation, reddish hue, and lower contrast; Phantom 4 Pro's photos are more natural and realistic, but the hue is bluer and the contrast is higher. Certainly the Phantom 4 PRO has a much higher quality camera, and is also winning the round.
Winner: Phantom 4 PRO
Round #8: Vision Positioning And Modes

Both drones have the following modes: TapFly, Gesture, Course Lock, Point of Interest and Waypoints. All of these modes are useful and are used in daily flight. Both Phantoms also have GPS and GLONASS, which means they can connect to US or Russian satellites at any time. When it comes to Vision Positioning, both models also have this feature. This means the drone can accurately hover from up to 10 meters above the ground, without needing a GPS signal at all.
Winner: Both
Round #9: Video Quality
https://www.youtube.com/watch?v=jL3IFXJiyno&feature=emb_title
The two aerial cameras can also shoot 4K videos with a resolution of 4096 x 2160. The Phantom 4 has a frame rate of 30 fps, while the Phantom 4 Pro doubles to 60 fps, which makes the video significantly higher-definition and smooth. When shooting a video, when the ambient light and dark transition is large, the Phantom 4 Pro metering speed is faster than the Phantom 4, and the light and dark transition of the subject at 0:34 in the movie is the most obvious. Although both are 4K videos, the Phantom 4 Pro has better imaging results, and its sharpness and color saturation are higher than those of the Phantom 4.
The Phantom 4 Pro's picture is significantly smoother, and the colors are brighter and more natural than the Phantom 4's. The contrast between light and dark is higher. Starting from 0:37, both aircraft flew straight to the sea at high speed in sport mode, and the same situation with blades entering the mirror:
Winner: Phantom 4 PRO​
Round #10: Cost
The Phantom 4 Pro sells for around $1,700 on Amazon, and the Phantom 4 price is around $900. But Phantom 4 is hard to find on Amazon, as it is an older model and is no longer manufactured. Phantom 4 was discontinued on April 30, 2017 by DJI. On the recording performance, of course, the Phantom 4 Pro is one step higher. However, the Phantom 4's shooting performance is outstanding, it has not been far compared to the last, and the flight stability is also high. It is still one of the best choices for entry-level aerial cameras. So it's up to you to choose whether or not you can take a better model or whether Phantom 4 is enough for you.
Winner: Phantom 4
Conclusion
In this article we have gone over all the important differences between these 2 models which are almost identical. Which of these 2 drones to choose is you wondering? Phantom 4 PRO convincingly claimed victory, but it was expected because it is a newer and more sophisticated model than its predecessor. Phantom 4 is no longer available to order and is no longer manufactured! The Phantom 4 PRO is definitely the winner in this test, however its price is also up some 30% ($500). The main disadvantages I would point out are that the Phantom 4 PRO has additional sensors. If you don't have a big budget and want to take a safe brand, then be sure to choose the Phantom 4PRO, which is more than a good drone. If I left something out or you want to ask, feel free to leave a comment below.