Drone Vs Helicopter: What is The Difference?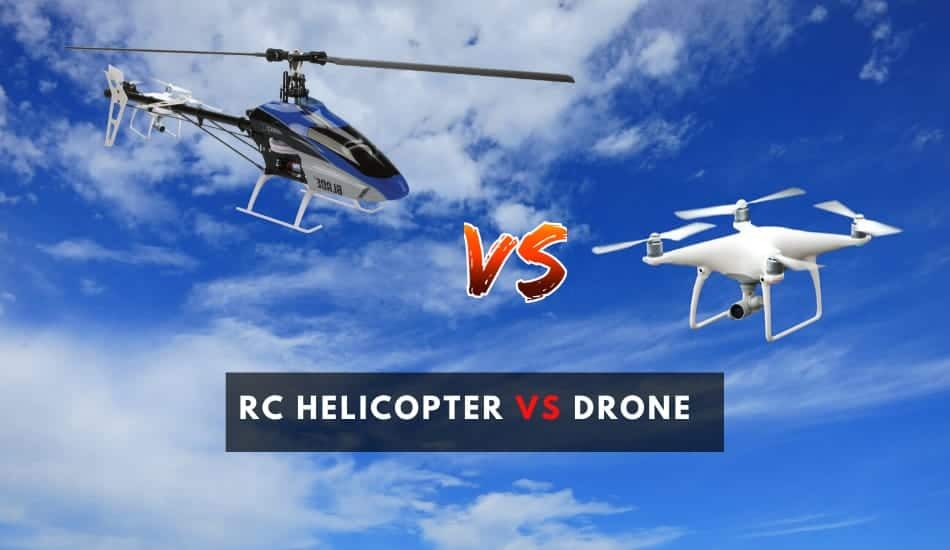 In recent years, drones have been used for a variety of purposes. There are those who entered this world from drones and those who originally flew RC helicopters. Meanwhile, radio controlled airplanes are far from drones, but radio controlled helicopters can be said to be close to multi-copter type drones, but there are quite a few differences between the two. So this time I would like to explain the difference between Drones and RC helicopters, and what are the advantages and disadvantages between these two flying devices. However, there is a solid difference between drones and radio controlled helicopters. Here are the main differences between a drone and a helicopter.
| Difference | RC Helicopter | Drone |
| --- | --- | --- |
| Main uses: | Hobby | Hobby, industry, military, etc. |
| Autonomy: | No | Yes |
| Navigation: | Controller | Controller, smartphone, tablet |
| Frequency: | 40MHz band, 72MHz band 2.4GHz band | 2.4GHz, 5Ghz band |
| Programing: | Impossible | Possible |
The Difference Between Drones and RC Helicopters
1. Differences in Control Method of The Aircraft
As the name suggests, the single rotor helicopter has only one main rotor, and the large main rotor is turned to gain lift and ascend. On the other hand, multi-copter drone are designed to float by rotating 4 to 8 propellers, and each propeller is not that big, depending on the size of the drone. The big difference between the two is the control method of the aircraft. The single rotor helicopter moves forward, backward, left and right by tilting the swash plate attached to the main mast with a servo and changing the angle of the main rotor. Also, when changing the direction in which the nose is facing, the angle of the tail rotor is controlled by a servo. Multi-copter drone, on the other hand, controls the direction of the aircraft by moving back, forth ,left and right by changing the rotation speed of each propeller.
2. Difficulty of Flight
General hobby single rotor helicopters are very difficult to fly. As of recently RC helicopters have gyroscope installed, so it may be easier than before, but it still requires a lot of practice to control. The RC helicopter is the most difficult to hover at a single point, and you must be hitting the rudder so that the aircraft does not always flow in a certain direction. In that sense, you won't have time to take a stickwork break during the flight. On the other hand, a drone is equipped with an excellent flight controller, making it very easy to maneuver. There are many drones that will hover when you release your hands, which is very different from a single-rotor helicopter that always hits the rudder. Because it flies so stably, it may feel unsatisfactory for those who enjoy hobby applications. However, it is important to stay alert and practice well until you get used to it.
3. Variable Pitch and Fixed Pitch
Most of the full-fledged single rotor helicopters employ a variable pitch mechanism. This is because the angle of the main rotor can be changed freely during the flight, so that you can descend without lowering the rotation speed, or you can fly backwards by setting a negative pitch. The range of flight is very wide, but there is a demerit that makes setting difficult. On the other hand, multi-copter drone often adopt a fixed pitch. This controls the number of revolutions of the motor, so it moves up and down, moves back and forth, and moves in the direction of the nose. The pitch angle of the propeller cannot be changed. The structure is very simple, but there are also disadvantages, such as having to reduce the motor speed when lowering the aircraft. Recently, however, the sensors mounted on the aircraft have made it possible to take off and land automatically, covering the disadvantages.
4. Evolving Single Rotor Helicopter
Although it is a single rotor helicopter that has been released for a long time in hobby applications, recently the single rotor helicopter has been attracting attention in the world of industrial drones. By rotating a large main rotor, there is a surplus in the payload, and since it flies with one main rotor, fuel efficiency is also good. In addition, the speed can be increased, which is advantageous when rushing to the spot. Recently, using these characteristics, applications are being sought in areas such as disaster relief and transportation of goods. In that sense, the scene where single rotor helicopters will continue to play an active role is expected to increase in the future.
Flight Rules For Drones and RC Helicopters
According to the Ministry of Land, Infrastructure, Transport and Tourism, unmanned aerial vehicles are defined as "airplanes and airships that cannot be carried by humans, and can be operated by remote control or autopilot". From this standard, it seems that radio controlled helicopters also apply to unmanned aerial vehicles. For aircraft weighing less than 200g, they are treated as "model airplanes" rather than unmanned aerial vehicles. Therefore, it is not subject to the aviation law regulations. Radio control helicopters weighing 200g or more are handled as UAVs and are subject to the Aviation Law.
 In addition to restricting the flight area, there are rules for flying:
Fly in the day
Fly within the range directly visible to the eye
Create a space of 30m or more between people and things
Do not fly in the sky where many people gather, such as festivals
Explosions; do not transport dangerous objects such as objects.
Do not drop objects from unmanned aerial vehicles.
The Pros of Drones
A drone is an aircraft that is piloted with a remote control or a smartphone. They can be used as part of the leisure, in the professional framework in the scientific field, military, construction or security or rescue. Nowadays drones have an arsenal of technologies (GPS, GLONASS, IMU sensors, infrared or ultrasonic sensor, obstacle detection) to assist you in the piloting and even automatic flight programs that allow it to stay in the air or fly back to its starting point even if you lose the signal with the remote. They are reactive, nervous and some are able to fly at a speed of over 70 Km/h.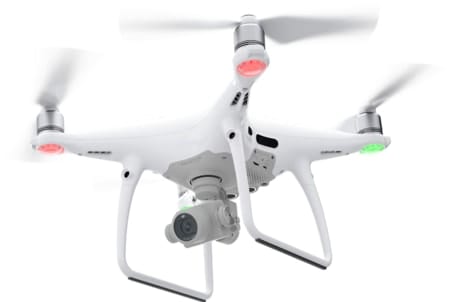 The Pros of RC Helicopters
A helicopter is a model of a real aircraft. To take off, fly and land, the models must be flown continuously and you must always have it in your field of vision. All maneuvers must be done by the pilot. It has technologies that help stabilize it in flight. If before, model helicopters could do nothing but fly, and only inside or in windless weather, nowadays, helicopters are much more sophisticated. Like drones, they can fly even with wind thanks to sensors that promote their stability, they can carry accessories and even cameras that transmit video feedback in real time.
The 3 Best Drones For Beginners
1. Parrot Mambo
The Mambo is a small square-shaped quadrocopter, from Parrot. The module with electronic components is surrounded by 4 arms with motors and propellers at the end. The drone is made of plastic that is strong enough to withstand minor accidents during games. The drone is powered by a 550mAh Lipo battery. It has a range of 9 minutes if it flies "bare" and 7 to 8 minutes with accessories. If you are interested in buying this device on Amazon or you want to know more info about this model, you can check it HERE.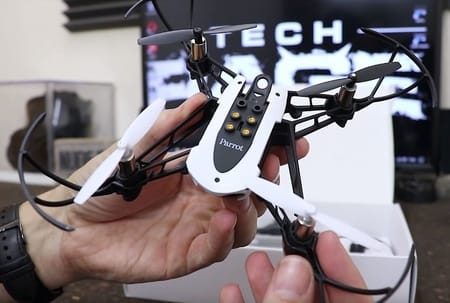 2. DJI Spark
DJI Spark is a top-notch selfie drone, in terms of photo and video shooting quality. Four brushless motors of the device allow it to develop a maximum speed of up to 50 km/h. To do this, however, you will need to buy a transmitter that unlocks all the capabilities of the drone. DJI Spark can record FullHD video with UltraSmooth technology. With the help of the camera, the drone also tracks moving objects, faces and gestures. To control the device, just a few waved hands.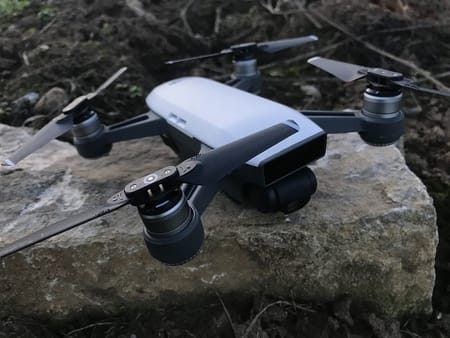 There are modes of following an object, flying around a target and following to a specified point on the screen. If you are interested in buying this device on Amazon or you want to know more info about this model, you can check it HERE.
3. JXD 523 Tracker
The JXD 523 Mini Tracker is a great toy for children. The affordable price of the aircraft in combination with a 0.3 megapixel camera allows novice pilots to master the basics of selfie with the help of a drone. The device is controlled via a Wi-Fi transmitter, which will allow you to connect it with smartphones that have the Android or iOS operating system installed. The signal range is 40 m. 
Although the camera is built into the case is quite primitive, but it allows you to see the first-person picture (FPV) on the monitor. The model is driven by a battery with a capacity of 500 mAh, one charge is enough for 7 minutes of flight. If you are interested in buying this device on Amazon or you want to know more info about this model, you can check it HERE.
The 3 Best RC Helicopters For Beginners
1. GH-720 from Simulus
This GH-720 small radio controlled helicopter is a product of Simulus. The design is quite realistic although quite simple with few details. At the front, we see the cockpit, the rear is not covered and we can see the mechanism that operates the helicopter. The total length of the helicopter is 70 cm and the fuselage width is 7.2 cm. The rotors are 53 cm in diameter and 55 cm in length. The GH-720 is piloted with a 2.4 GHz radio control with 4 channels. The radio control has an LCD screen. 
It also has the numerical adjustment of the balancing on all axes. It is powered by 4 AA batteries not included in the original package. The range of the radio signal is 50m. The maximum battery life of this device is 7 to 8 minutes thanks to its 1500mAh Lipo battery. Then the refill lasts about 90 minutes. If you are interested in buying this device on Amazon or you want to know more info about this model, you can check it HERE.
2. GH-362 H20
This GH-362 helicopter is also a product of Simulus. The design is almost similar to that of the GH 720. The dimensions of the GH-362 helicopter are 18.3 cm in length, 2.8 cm in width and 1.6 cm in height. The total length is 21.3 cm and the diameter of the rotor is 19.8 cm. The weight is 52g. The control is done by a infrared remote control with 3.5 channels. The signal range is 10m. Power is supplied by 6 AA batteries not included in the original package. 
The power supply of the drone is made by Lipo battery 3.7V with a capacity of 240mAh for a 6 minutes autonomy with the tanks of full water. If you are interested in buying this device on Amazon or you want to know more info about this model, you can check it HERE.
3. The Sky Eye Silverlit
The design is quite realistic with details. The dimensions are 61 cm in length, 8.9 cm in width and 29.2 cm in height. The weight is 1.1 Kg. It is piloted with a 2.4GHz radio control with channels. The remote control has a small LCD screen on which you can watch the video feedback from the camera in real time. It works with 8 AA batteries not supplied with the purchase. The signal range is 30m. The photo and video resolution is 640 x 480 px.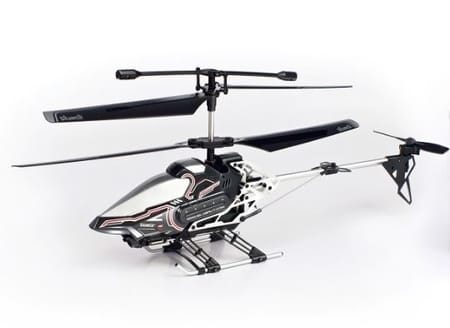 Videos can be stored on a Micro SD card not included in the original package. It is powered by a LR06 rechargeable battery for a battery life of 5 minutes. It takes about 60 minutes for a full charge. If you are interested in buying this device on Amazon or you want to know more info about this model, you can check it HERE.
Conclusion
As you can see, each device has its own specificity and its own strengths. In our opinion, it makes no-sense to start with an RC quadrocopter today. The big difference between drones and RC helicopters is that UAVs can do certain maneuvers such as take-off or landing as well as acrobatics automatically. If you don't have autonomy, be aware that you can't call it a drone in any shape. The drone has a variety of functions, and at first glance it seems that maneuvering is easier than the radio control helicopter. However, it is the same as the radio control helicopter that it cannot be operated as expected without training. Use your drone or practice in your room to improve your drone handling skills. If I left out something out or you want to add, feel free to leave a comment below.