DJI Mavic Pro Review – Features, Specs, Price & FAQs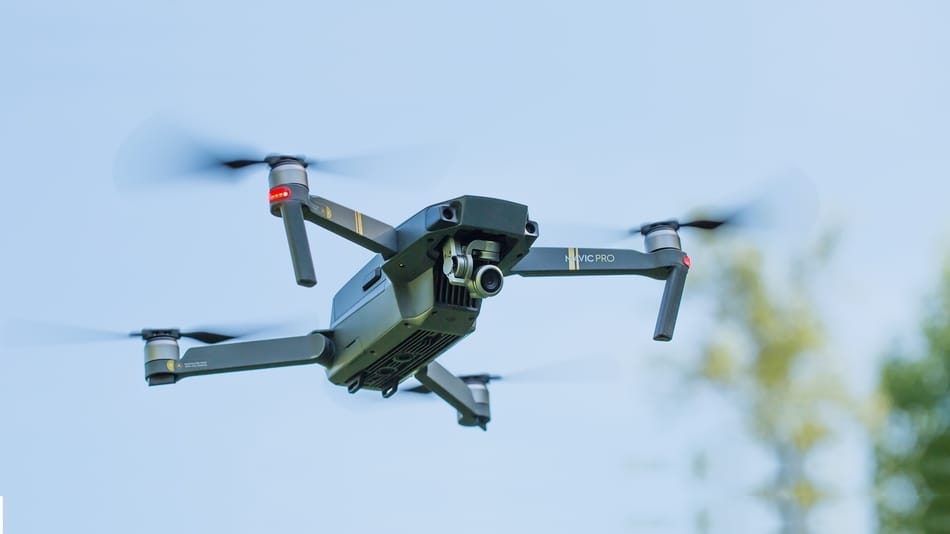 The Mavic Pro is one unique drone with a lot of advantages. This is the first DJI foldable quadcopter in line with market demands. The Mavic Pro is the most portable drone in the developer's lineup. 2016 showed a trend towards compact solutions that fold up and are easy to transport. 
The Mavic Pro is a radically new and unique product offered at a reasonable price tag. Compared to the Phantom series, the Mavic Pro is half the size and lighter. When it is folded (83 × 83 × 198 mm), it fits into any bag, backpack, or even pocket.
This model comes with unique features such as advanced 3D collision avoidance technology, 3 active tracking modes, gesture guidance, and with few intelligent flight modes. We will start this article with the complete overview and FAQs that this quadcopter offers, along with its specifications.
Here we will cover every question that is related to the DJI Mavic Pro such as Mavic Pro range, max height, distance, sensors, altitude, WiFi, transmission, camera, gimbal, and much more. At the end, we will show you a great video to get a better picture of what it all looks like.
DJI Mavic Pro Review, Specifications, Features & FAQs
We tested the standard DJI Mavic Pro package, which includes one battery, a charger, a protective cap for the camera, two replaceable screws, remote control, and several wires for it, a 16 GB memory card, instructions, and a warranty card. All this fits in a box with a minimalistic design.
There is also an extended configuration with an additional charger, a bag, two additional batteries, and a charger for the car. We went by the way of retrofitting the standard version with the accessories we needed.
Although DJI has newer models than the Mavic Pro on the market, this drone is still an excellent choice for drone enthusiasts. It's super stable during the flight, can capture great footage, and it has super flight time. Here are all the Mavic series from DJI.
DJI Mavic Models
DJI Mavic Air – this is quite a small drone that is meant for selfies and fun. Consistent with the very affordable price, it can be used for a variety of purposes.
DJI Mavic Air 2 – This is the upgraded version of Mavic Air and offers slightly better features than its predecessor. It has a flight time of over 30 minutes, high quality camera, obstacle avoidance system and much more.
DJI Mavic Mini – As the name suggests this is a very small but powerful drone with a great price. Regardless of its size, this drone has a super camera, it's very portable and you can even carry it for a walk.
DJI Mavic 2 Pro & Zoom – These are already more advanced and higher quality models from DJI so is their price. These two models have everything you need, from HQ camera, collision avoidance system, obstacle detection systems, follow me mode, etc.
Mavic Pro Review & Specifications
This review will start with the DJI Mavic Pro specifications, features, and then we'll grab the most frequently asked questions about this drone.
DJI Mavic Pro Specification
Drone folded size: 83 x 83 x 198 mm
Camera: 12MP 4K camera
Weight: 743 g
Maximum lifting speed: 11 mph (18 km/h)
sink rate: 6.8 mph (11 km/h)
flight speed: 40 mph (65 km/h)
Video: 1080p @ 30 fps
flight altitude above sea level: 16,404 feet (5000 m)
Flight Modes: ActiveTrack / TapFly / Tripod / Terrain Follow
flight altitude: 1604 feet (500 m)
range of flight: 13 km
flight time: 27 min
Average flight time: 21 min
hang time: 24 min
Working temperature range: from 0º – 40ºС
Satellite Positioning: GPS/GLONASS
DJI Mavic Pro – OcuSync System (Live HD Transmission)
The new DJI OcuSync technology (2.4 Ghz) was developed especially for the Mavic Pro. This technology provides a better return video signal at 1080p (HD) and reduces latency. Mavic Pro range can reach up to 4.3 miles (7 km) with this system, which puts Mavic Pro ahead of the competition.
Here DJI decided to put aside the transmission via WIFI and develop a new OcuSync system. This system uses better digital signal transmission and compression technology for HD quality video transmission even in high interference environments. Another advantage of this is it allows signal transmission in 720p or 1080p and virtually without latency.
I find the signal really better on the Mavic Pro, compared to my Phantom 4 Pro which sometimes loses the signal (especially the video return in 4K at 60fps). You can see this great youtube video that shows the Mavic Pro range test.
What Is The DJI Mavic Pro Flight Time?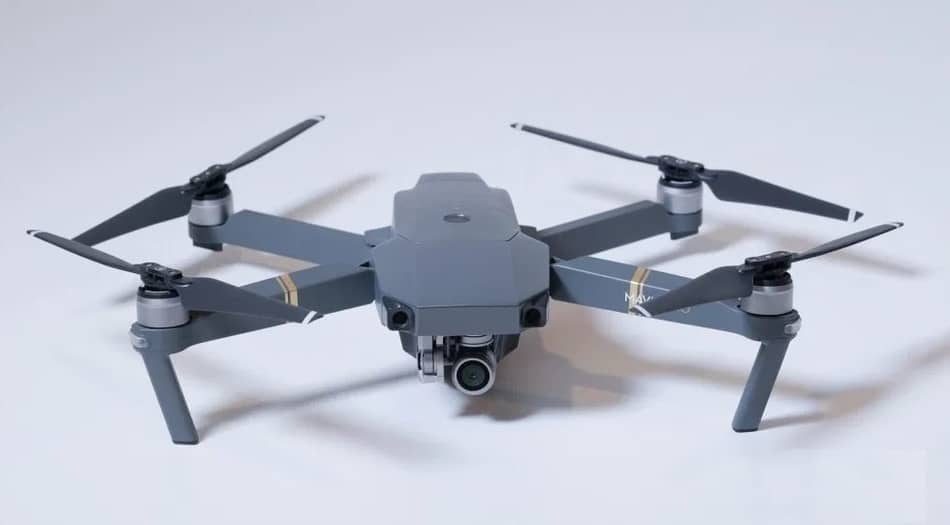 The max flight time of DJI Mavic Pro is around 27 minutes (no wind at a consistent 15.5 mph), while the average flight time of Mavic Pro is around 21 minutes. This model has a longer flight time than most other consumer drones on the market.
Note! DJI Mavic Pro Platinum has a flight time of 30 minutes.
DJI Mavic Pro – Max Speed & Max Height
Although we have already listed the DJI Mavic Pro specifications above, we will explain them in a little more detail here. The DJI Mavic Pro demonstrates good flight characteristics and can reach the maximum speed of 40 mph (65 kph).
The Mavic Pro max altitude (max service ceiling) above the sea level is 16,404 feet (5000 meters). This is the max altitude that Mavic Pro can reach. Keep in mind that much shorter distances are required for aerial photography. The higher the drone is in the air, the greater the chance that the wind will affect its stability.
We have put a video link that shows the Mavic Pro that reaches the height of 8200 feet over the sea in the island of Milos.
DJI Mavic Pro – Obstacle Detection & Collision Avoidance System
The Mavic Pro features an in-flight obstacle detection and avoidance system similar to what the standard Phantom 4 offers. That system is called "FlightAutonomy" and can detect objects up to 49 feet (15 m) in front. The Mavic Pro takes advantage here of two stereo cameras on the front of the drone which will allow your quadcopter to better locate itself in its environment by carrying out a 3D mapping of it allowing it to avoid the various obstacles in its path.
The difference here with the Phantom 4 is the presence of two sensors and cameras on the underside of the drone allowing it to better manage takeoffs and landings and also improving the positioning of the drone during indoor flights (Vision positioning system and sonar).
The Vision Positioning system (which also has the Phantom 4 Pro) allows a better analysis of the altitude in flight thanks to its cameras and sonar. Be careful to deactivate it when you fly over water or any other reflective surface.
Personally, I only use it for indoor flight or when my GPS signal is weak because I find that it tends to create rather unpredictable parasitic movements sometimes during the flight, especially at low altitudes. However, it offers a landing of great precision using the two cameras positioned under the frame of the device.
DJI Mavic Pro Flight Stability
The Mavic Pro is an overall super stable drone in flight, especially if you have the ability to lock multiple satellites (over 15). Coupled with the Vision Positioning System (VPS), the rendering is rather stunning with a drone that maintains its position perfectly even with a light breeze. 
I have tested the Mavic Pro in winds of around 25 mph (40 km/h), and I must say that it has nothing to envy to the biggest models in the DJI range! Be careful, however, if you do not have a lot of satellites available, the drone will automatically switch to Atti mode (manual with windward drift) if you descend below the bar of 10 locked satellites. 
DJI Mavic Pro Sensors – Visual Positioning System (VPS)
The Mavic Pro Visual Positioning System (VPS) improves the landing (Precision Landing) of the drone by combining its GPS sensors and its 2 cameras that are located on the underside of the drone. As on the Phantom 4 Pro, the drone takes a photo of its home point on takeoff and then compares the data at the time of landing to land to an identical place. In my tests, it works well when you take off from a place with enough contrast, to be recognized by the sensors.
Be careful when you put the drone down! The DJI Mavic does not have a great range on the ground and it could happen to you bad luck if you do not lay it perfectly flat during a manual landing in strong winds! Consider using a landing pad here or extensions to increase the range of the drone on the ground. 
I do not recommend attempting a hand catch on this model, because the propellers are really super close to the drone frame! The camera is also fragile, so try to be as gentle as possible with your sticks to gently pose your drone.
DJI Mavic Models – Pro, Platinum & Alpine
There are 3 versions of the DJI Mavic models. The DJI Mavic Pro, Mavic Platinum Pro, and Mavic Pro Alpine. In this article, we will cover also the DJI Mavic Platinum Pro version, so let's continue.
DJI Mavic Pro Price
DJI Mavic Pro is sold through the network of official DJI resources, as well as through all well-known Internet trading platforms such as Amazon. Depending on the configuration, and packages that include extra batteries, carry cases, chargers, spare propellers, and more, the price varies.
DJI Mavic Pro – $ 799
DJI Mavic Pro Fly More Combo – $ 979
DJI Mavic Pro – Firmware Update
To update the latest firmware version on your Mavic Pro drone you use your PC or tablet. We connect with a DJI Mavic Pro cable, the program checks the relevance of the firmware version and the remote control. The update process takes 3-5 minutes on average. From here you can view the flight map, make the calibration and simulate flights.
DJI Mavic Pro – 4K UHD Video On A Gimbal
The Mavic Pro comes with a great precise 3 axis gimbal camera that has the ability to capture HD videos. While the drone is in the air, it can capture 4k video at 30 fps. However, for general public use, the average user will be very happy with the qualities of this camera, especially as UHD / 4K files provide a very sharp and flattering rendering of landscapes. 
DJI Mavic Pro – Camera Specifications
The camera uses the same sensor (1/2.3″) as the Phantom 4. It shoots video in resolution from 4k@ 30fps to 1080p@ 96fps and shoots 12MP in DNG format. The angle of view compared to the Phantom 4 camera is now 16 degrees less (94° to 78°). But the lens aperture has increased, Phantom 4 – f/2.8, Mavic Pro – f/2.2, which is good news for those who like to shoot in the dark.
There is also a transparent protective cover for the camera, but it has a bad effect on the quality of shooting.
The Matrix: 1 / 2.3 ″ (CMOS), Effective Pixels: 12.35M / Total Pixels: 12.71M
The Lens: FOV 78.8 ° 28mm (35mm format equivalent) f / 2.2 distortion <1.5%
ISO range:  Video: 100 – 3200
                     Audio: 100 – 1600
Max. image size: 4000 × 3000
Shutter speed: 8sec – 1 / 8000sec
Photo modes: Single shot / Burst: 3-5-7 frames / Auto Exposure Bracketing (AEB)
Video recording modes:
C4K:4096 × 2160 @ 24fps
4K:3840 × 2160 @ 24/25/30 fps
7K:2704 × 1520 @ 24/25/30 fps
FHD:1920 × 1080 @ 24/25/30/48/50/60/96 fps
HD:1280 × 720 @ 24/25/30/48/50/60/120 fps
Max. video bit rate: 60Mbps
Supported file system formats: FAT32 (≤32GB); exFAT (> 32GB)
A photo: JPEG, DNG
Video: MP4, MOV (MPEG-4 AVC / H.264)
Supported SD Card Types: Micro SD Maximum capacity: 128GB. Class 10 or UHS-1
Working temperature range: from 0º – 40ºС
DJI Mavic Pro – Suspension System
The Mavic Pro has a 3-axis stabilization system, like all top models. The only difference is in size, and the Mavic Pro has the smallest DJI gimbal.
Controlled range: Pitch: -90 ° to + 30 °
                                 Roll: 0 ° to 90 ° (horizontal and vertical)
Stabilization: 3-axis (Height / Roll / Yaw)
DJI Mavic Pro – Orientation System
Sensing range by sensors:
Minimum target detection range: 0.7 m to 15 m
Max. object detection range: 15 m to 30 m
Speed ​​range: ≤ 36 km/h at 2 meters above the ground
Height range: 0.3 – 13 meters
Working range: 0.3 – 13 meters
DJI Mavic Pro Intelligent Flight Modes
The DJI Mavic Pro comes with 3 intelligent flight modes. The Tripod mode reduces the maximum speed of your drone in P mode, which has the effect of limiting the speed on your drone. Excellent for flying with increased stability and smooth planes!
Since the v01.03.0200 update of 12/26/2016, DJI has added a Kinematic mode for all users who sometimes complained about the hypersensitivity of the sticks in flight. A rather nice mode that attenuates the sudden movements of your drone and its nacelle (especially on the Yaw) in the manner of an Osmo and will offer a much more "cinematic" rendering to your shots.
DJI Mavic Pro Terrain Follow Mode
The DJI Mavic Pro can activate the terrain follow mode which follows a person while maintaining a constant altitude. For example, if you are running, cycling, or walking, the Mavic can follow and record you and stay at the same level all the time.
DJI Mavic Pro Design & Portability
One of the main advantages of the DJI Mavic Pro is its size. When the drone is folded the dimensions are 83 x 83 x 198 mm, which means that the drone can fit everywhere. You can easily carry this model every day in your bag or backpack. There are even belt mounts. A drone that is always with you.
These dimensions are obtained thanks to the foldable design. All four wings are folded. Instead of removing screws, it is now just enough to position them along the body. The take-off mechanism is also retained and carried over from the Phantom.
DJI Mavic Pro Operating Frequency
The Mavic Pro has a WiFi operating frequency of 2.4 G / 5G, while the operating frequency on his remote controller is 2.4 GHz. It has a fairly strong and stable frequency.
DJI Mavic Pro Remoter Controller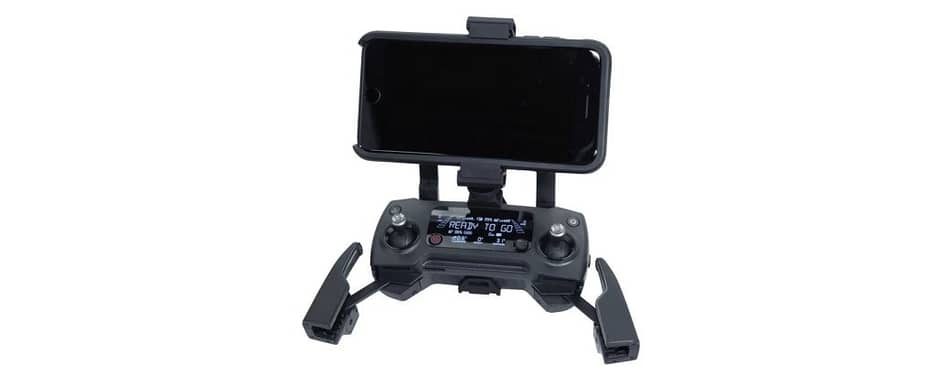 The DJI Mavic Pro controller comes with some qualitative changes. When Mavic is assembled, it is comparable to a 5-inch smartphone. Before you start using it, you will need to install a cable with a connector, that is located under your phone (the kit includes micro USB, USB Type-C, and Lightning). The controller can be useful for transferring FPV images to the smartphone screen and additional control options.
Most modern smartphones support this RC, including oversized phones. Don't try to put a tablet in it – it won't work. An exception is the mini iPad tablet. 
The inner part of the controller is rubberized to avoid scratches. On the front side, there are a pair of sticks, a monochrome display, and several buttons. There are triggers and buttons on the back. Management in the future can be adapted for yourself. The display is not designed for FPV, instead, use your smartphone or DJI Goggles for the first-person view.
Note! You can also charge your mobile phone through the USB socket that is located on the bottom.
Mavic Pro Remote Controller Frequency Range:
FCC:4GHz – 2.483GHz; 5.150-5.250GHz; 5.725-5.850GHz
CE:4-2.4835GHz; 5.725-5.850GHz
SRRC:4-2.4835GHz; 5.725-5.850GHz
Max. transmission distance: FCC 7 km/CE 4 km
Working temperature range: from 0º – 40ºС
Battery: 2970 mAh
Transmit Power (EIRP): FCC ≤ 26 dBm / CE ≤ 20 dBm
Working voltage: 950mA 3.7V
Supported mobile devices size: Thickness: 6.5 – 8.5; Max. length: 160mm; Supported via USB
DJI Mavic Pro Remote Controller via Smartphone
You can control the Mavic Pro drone with the smartphone, but in this case, communication is carried out via WiFi, and this reduces the flight range and the quality of the FPV picture.
DJI Mavic Pro Compatible Devices
IOS devices: (Requires iOS 10.0.0 or later):
iPhone 12, iPhone 11, iPhone X, iPhone 8 Plus, iPhone 8, iPhone 7 Plus, iPhone 7, iPhone 6s Plus, iPhone 6s, iPhone 6 Plus, iPhone 6, iPhone SE, iPad Pro, iPad, iPad Air 2, iPad mini 4.
Android devices: (Requires Android 5.0 or later)
Samsung S9 +, Samsung S9, Samsung S8 +, Samsung S7, Samsung S7 Edge, Samsung S6, Samsung S6 Edge, Samsung Note 8, Huawei P20 Pro, Huawei P20, Huawei P10 Plus, Huawei P10, Huawei Mate 10 Pro.
DJI Mavic Pro – DJI GO 4 App
To operate with your Mavic Pro drone you need to download the DJI GO 4 app. This app is used for all current models of this manufacturer. When you connect the remote control and the drone, the app will automatically activate. On your start screen, general information on the data from the sensors and operating parameters will be displayed.
Subsequently, the streaming image from the camera is displayed on the screen. The picture resolution will change depending on the reception quality. In our experience, the picture is lost after your drone flies more than 4.5-5 kilometers, after which the function of returning to the take-off point is activated.
The DJI GO 4 app offers detailed settings for the drone. Here you can set the maximum altitude, offset, flight behavior, stabilizer operation. A separate panel for shooting control, automatic settings, or carry out detailed settings (resolution, exposure, brightness, color balance) will appear.
Several flight modes are available. From the interesting: following the object, selfies, flying around obstacles, moving along the route, flying around the object of shooting and sports mode. The app has also a video editor with effects, a preset set of transitions, and music.
DJI Mavic Pro Battery
The Mavic Pro has a 3830mAh LiPo battery. One battery lasts on average 23-25 minutes. When the battery reaches 10%, the drone automatically starts to land, by default, at 25-30%, a warning is issued about the need to replace the battery.
The supplied adapter that comes with the package charges one battery at a time, and the process takes about 70 minutes. To preserve capacity and extend service life, a smooth discharge function is implemented for long-term storage.
Battery Specifications:
Capacity: 3830 mAh
Voltage: 4V
Battery Type: LiPo 3S
Power: 6 Wh
Net weight: 240 g
Working temperature: from 5º
DJI Mavic Pro Charger
The charger has two additional USB sockets for charging the remote controller or phone.
Voltage: 13.05V
Rated power: 50W
DJI Mavic Pro – Advantages & Disadvantages
PROS:
Compactness when folded
Portable remote control panel
OcuSync
Range of flight
Camera / Gimbal (image quality)
Autonomous qualities
Gesture control
Follow object mode
Compatible with DJI Goggles
Ready to fly out of the box
CONS:
When flying with a protective cap, glare appears on the recorded video/photo
Narrow camera angle
There is no mechanism or system warning about not removed suspension latch
The obstacle detection system is not perfect. Caution is required when piloting.
Difference Between DJI Mavic Pro & DJI Platinum Pro
These 2 models differ only in some features, which we will now list.
Longer flight time. Platinum can fly for 30 minutes, while Mavic Pro can fly for 27 min.
A small change around the design. Platinum has a new sleek finish.
Platinum has quieter propellers by 4 decibels.
DJI Mavic Pro – 3D Mapping, Surveying And Modelling
The Mavic Pro can be used for commercial photography because of its super stable gimbal camera and excellent settings. It has great flight stability which makes him a great surveying drone for filming, search and rescue, golf courses, etc.
This model has also one great advantage, and that is that can be used for 3D mapping and models. Once the shots are captured, top 3D mapping software is used to generate great 3D models.
DJI Mavic Pro – What's In The Box?
The Mavic Pro include the following items that come in the box:
Quadcopter Mavic Pro
Battery
Charger
Gimbal and camera protection hood
Mount for fixing the gimbal (at the time of transporting the drone)
Remote Controller
3× pairs of propellers
Micro SD card 16GB
Micro USB Remote Cable
Lightning Remote Cable
MicroUSB remote cable
2x RC cable holders
Manual
https://www.youtube.com/watch?v=0YJ8WhQzaSM
Mavic Pro Review – Frequently Asked Questions
The Main Differences Between the Mavic Pro and Phantom 4?
If you already own a Phantom 4, you won't notice a big difference in photo/video and in-flight quality. The main advantage of the Mavic is its portability and compactness. Another great advantage of Mavic Pro is its new OcuSync transmission system which provides a longer range and better resolution.
The Phantom 4 is a bigger drone and better withstands stronger winds than the Mavic Pro. DJI Mavic Pro is perfect for travelers and other nomads who are constantly on the move.
Main Difference Between the Mavic Pro And Phantom 4 Camera?
The Mavic Pro's image quality is very similar to that of the DJI Phantom 4, except that the latter's camera angle of view is wider (20mm versus 28mm on the Mavic). Nevertheless, the behavior of the camera is very close. In photography, the image is very clear in the center, with a very sufficient rendering of details in the lowest sensitivities of 100 to 400 ISO. 
The only camera difference when it comes to Phantom 4 is that it has a larger Field of view which makes this drone better for aerial photography or filming. Depending on your level of requirement, the image will be usable for publication on the networks like Facebook, but be careful when printing.
DJI Mavic Pro Questions: Remote Controller & WiFi
Difference Between DJI Mavic Pro RC WiFi vs RC Smartphone
The Mavic Pro's remote controller uses OcuSync technology which increases the range of drone up to 4.3 miles (7km) without interference. Not only is it very compact, but it is also the first time that a controller from the Chinese manufacturer has integrated a telemetry information screen on which we can check the height, the flight modes, the GPS connection, the speed, the transmission signal strength or battery level. 
When we are using a smartphone via WiFi, it has a flight range of 262 feet (80 meters), which is much less than when we use the controller. The normal USB cable can be used for Mavic Pro remote controller.
DJI Mavic Pro WiFi Password & SSID Security
Each Mavic Pro has a unique SSID and password that is located on the sticker on one of the forearms of the drone. This is for security reasons. If you are using the drone for the first time, you can scan the QR code by using the DJI GO 4 app and you will connect to your Mavic Pro automatically.
Advantages of Dual-Band WiFi on DJI Mavic Pro
The advantage of dual-band WiFi on Mavic Pro is that you can choose between two frequencies, 2.4G and 5G WiFi. The 2.4G WiFi is older, and the vast majority of drones use this frequency, unlike the 5G that is newer and fewer drones have the ability to connect on it. Therefore on Mavic Pro, you can choose between these two bands in the DJI GO 4 app menu.
Smartphone Size For Mavic Pro Remote Controller
The size of smartphones that the Mavic Pro remote controller can accept varies between 6.5 to 8.5 mm thick up to 160 mm long. If your phone is larger it won't fit into the remote controller holder of Mavic Pro.
DJI Mavic Pro Video Transmission
The Advantages of DJI Mavic Pro OcuSync Video Transmission System
The new OcuSync transmission system gives a Mavic Pro a range of up to 4.3 miles, which few drones can. The DJI Mavic Pro can shoot 4K video at 30 frames per second. The 3-axis gimbal provides a smooth picture even at high ranges thanks to OcuSync. 
Resolution of Mavic Pro Live View Using OcuSync
The resolution that DJI Mavic Pro can transmit using OcuSync is 1080p/30 fps. Snapshots and videos can be activated from the smartphone screen or using the buttons on the remote control. During the flight, frames and videos with a lower resolution are immediately transferred to the smartphone's memory.
DJI Mavic Pro System Features
Difference Between Quick & Advanced Calibration On Mavic Pro
There is no difference between quick and advanced calibration. When you find yourself in a situation where the Vision System fails and your drone is not functioning normally, then you can do a quick calibration by using DJI GO 4 app or you can do an advanced calibration by connecting Mavic Pro to a tablet or computer.
Difference Between Vision Positioning System & Optical Flow VPS
What Mavic Pro uses to maintain precise hovering is the dual forward vision sensors. To do that, Mavic needs only a patterned surface and light to position it self very stable above the ground.
If Mavic is unable to identify reference points on the ground, it then uses forward vision sensors. When it comes to the Optical Flow system, then the drone uses the information from ultrasonic sensors to position it self in the air.
DJI Mavic Pro Flight Speed & Obstacle Avoiding System
The Mavic Pro has built-in sensors that can detect obstacles in front of it. The detection range at which Mavic Pro can avoid these obstacles depends of the speed at which the drone is moving. The max speed that Mavic Pro can fly and to be able to avoid obstacles is 22 mph (30 kmh), while the sensors can detect obstacles 50 feet (15 m) in front of it.
Required Conditions For Mavic Pro Precision Landing
Mavic Pro precision landing needs a GPS signal that is strong enough to allow the drone to land at the identical location from which it took off. This is a much better version of GPS RTH.
What the drone has to do is scan and recognize exactly the pattern of the ground from which it took off. If you are taking off from the sand, it's very hard for the drone to scan the precise take-off spot.
The reason this is so is that the Mavic Pro needs to capture footage from the take-off position. That's why when your Mavic Pro takes off, you need to wait for a little to scan the spot and then fly.
DJI Mavic Pro Charging Questions
DJI Mavic Pro Quick Charging Battery System
The Mavic Pro drone comes with an intelligent  battery system that supports a quick charge and has a charging power of 100 W. If you want to know more about battery life, you can read What Happens When Your Drone Runs Out of Battery. The charging time is relatively fast with 60% of capacity is recovered in 40 minutes and to have a full battery it takes only 1h and 15 min.
DJI Mavic Pro Battery Charging Hub
As part of the Mavic Pro package you get 2 charging hubs that can charge 4 batteries at once. What the battery charging hub can do is to fully charge the first battery according to their power level, where it starts from high to low. This means that you will get batteries charged as quickly as possible with this intelligent flight system.
The standard charging hub supports only Mavic Pro 50 W charger and the car charger, while the advanced battery charger supports the 100 W charger and car charger.
Example: If you have 3 batteries that are charged at 10%, with advanced battery charger all 3 batteries can get charged in 120 minutes.
DJI Mavic Pro Most Asked Questions
Max Distance That Mavic Pro Can Fly Per Single Charge
Things that depend on how much distance can Mavic Pro fly per single charge is the weather conditions. If there is no wind, Mavic Pro can fly up to 13 km (8 miles) per single charge. Althrough, it is a very rare situation that you will find yourself in a ideal weather conditions.
Do Mavic Pro Propellers Need to be Removed During Travelling?
No. There is no need to remove the propellers on your Mavic Pro. Simple solution is to fold them. This way you will not damage your drone and it will be easier to transport.
What Is the Max Wind Resistance That DJI Mavic Pro Can Withstand?
The maximum wind resistance that DJI Mavic Pro can withstand is level 5 wind. The speed of level 5 wind is between 19 to 24 mph (29 to 38 kmh).
How High Can DJI Mavic Pro Fly (Max Altitude)?
The max altitude of DJI Mavic Pro is 16,404 feet (5000 m). This is also called the absolute ceiling, which means the highest altitude that some drone (aircraft) can reach. At this height the Mavic Pro can use the max power to climb up and the drone will just stay in place.
DJI Mavic Pro Review Video
Here we will put a Mavic Pro video which shows a great and complete review of this model. DJI Mavic Pro is definitely one great drone that comes with a beautiful design.
https://www.youtube.com/watch?v=MGEre9wJgVk
Conclusion
The Mavic Pro is one of our 2016 favorite drones. Not only does its autonomous flight modes and overall performance make it versatile and relatively durable, but the kinetics of its folding arms also allow it to be carried anywhere, all the time. This drone is a safe bet for all fans of images and model aircrafts, although it is now surpassed by the Mavic 2 Zoom and Mavic 2 Pro , the former being video oriented while the latter is better at photography.
Make sure you installed the latest Mavic Pro firmware before calibrating the vision sensors.
The propellers should be removed before starting the calibration.
You should calibrate the Vision Sensors in well-lit spaces and avoid reflective surfaces.
As mentioned before, it is better to have your laptop and Mavic Pro batteries charged fully or as close to the maximum before you start the process. It will be useful if the calibration takes longer.
You shouldn't calibrate the Mavic Pro vision sensors in small spaces.
The calibration is fairly simple requiring only little wrist movement to swivel, tilt and spin the drone following blue squares on the screen.
Make sure your fingers aren't covering the vision sensors while calibrating the Mavic Pro.
Do not turn the Mavic Pro off during calibration.