Best Drones Under $2000: Top 10 Best Drones In 2023
The drone market has experienced explosive growth in recent years, and has now far more advanced and incredible drones available in the market. These days, there are some drones suitable for enthusiasts and professionals who indulge in entertainment, drone competitions, landscape video and image capture, and even work for purposes such as capturing footage for events.
When choosing the most suitable type of drone (UAV), the main thing is to determine what tasks you are going to solve with the help of a drone, for example: speed and large radius of action or maneuverability and accuracy. 
When a decision is made about which type of UAV suits you, the other selection criteria depend on the type of work for which you purchase a drone. Special attention is paid here to the quality of the photo and video recordings as well as the image stabilization (the gimbal) and the quality and resolution of the cameras that can be used.
We spent 40 hours researching drones under $2,000  and let the ten top-rated models fly obstacle courses. Let's look at a few basic characteristics that you should pay attention to if you plan to buy an drone.
Parameters on How to choose a Drone (UAV):
Flight duration
Payload
Reliability and portability
Usability and safety
Terms of Use
Ground control station
Data processing software
Drone cost
TOP 10 Best Drones Under $2000 in 2020:

Drones Under $2000 Recommended By Drone Bloggers
1. DJI Phantom 4 PRO
This drone is among the best in the world, and is undeniably on our list. In addition to amateur and industrial devices, DJI creates models for professional aerial photography. This drone is the best suited for recording videos from a height at which birds fly. Features of this models are: The drone is equipped with a decent 20 megapixel camera that captures 4K video at 60fps.
Phantom 4 PRO easily avoids obstacles by detecting them in five directions, so nothing can take this drone by surprise. The drone's battery allows you to take photos and videos for the owner within 30 minutes. Phantom 4 PRO weighs 1375 grams.
Fly with a simple touch in TapFly mode, tap the screen of your iPhone or iPad to move Phantom 4 in a particular direction. I can say that PROS of this drone are: quality, design, low noise, flight characteristics, autonomus qualities, Video transmission system, removal distance up to 7km.
> Check Price, reviews and pics <
2. DJI Mavic 2 Pro
Mavic 2 is the best that developers of household UAVs can offer to a modern user who is looking for affordable, high-tech, portable solution for implementing high-quality photo/video shooting from the air. Each of the two M2 models will allow both a beginner on vacation and a professional at work to get maximum results coupled with a sea of positive emotions. The Pro camera is the joint result of two years of painstaking work by the DJI and Hasselblad development team.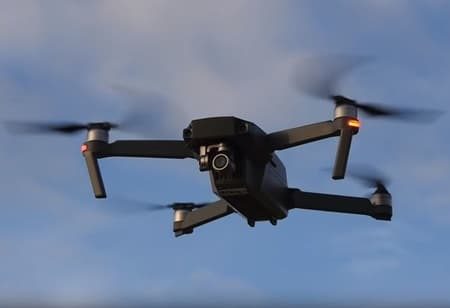 The Mavic 2 Pro is equipped with an intelligent four-can (15.4V) lithium-polymer rechargeable battery with a capacity of 3850mAH, 59.29Wh. It provides max. flight duration on one charge – 31 minutes. Charging time is about 1.5 hours.
Through Hyperlapse, both UAV models are capable of realizing stabilized, professional-quality time lapses. The user can only share the results through various social networks. The potential of the presented model will be fully appreciated by both amateurs and professionals with the prospect of high-quality aerial photography.
> Check Price, reviews and pics <
3. PowerVision PowerEye
PowerVision, with its egg-shaped drone , has attracted much attention in the market. What DronesPlayer refers to is the PowerEye aerial camera with dual-lens design. In addition to a set of aerial camera lenses at the bottom of the machine, another FPV video lens is installed at the nose of the machine to provide dual observation pictures and dual remote operating.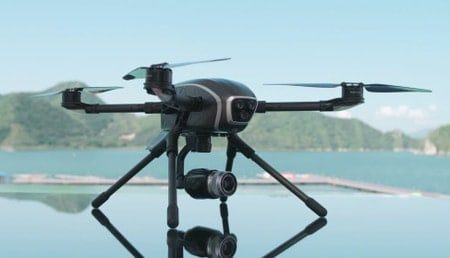 Drone players know that when aerial photography is used for bird's-eye shots, the scenery in front cannot be clearly seen; for example, while aerial photography of the ground landscape, avoiding obstacles in front, the difficulty is very high. As a professional drone, PowerEye has built-in obstacle avoidance sensors. The second is a sensing camera capable of capturing thermal response or natural light. 
Thermal energy shooting can record the color (such as red, orange, yellow, etc.) released by people or objects at different temperatures; as for natural light shooting, it means capturing the spectrum that cannot be seen by the human eye.
From this point of view, PowerEye's dual remote operation is even better than the Inspire 1. The continuous flight time of the PowerEye aerial camera can reach 29.5 minutes, and the battery life is better than the DJI Phantom 4 (about 28 minutes).
> Check Price, reviews and pics <
4. Parrot Anafi
Parrot Anafi is a compact drone whose highlight is 4K shooting, 3-axis stabilization, a camera with 2.8x zoom without loss of image quality and the ability to rotate in the range of 180 degrees in the vertical plane. It provides 25 minutes of flight time, its body folds easily to palm size in a few seconds. Anafi impresses with its price. But in terms of control and obstacle avoidance systems, it can be slightly inferior to competitors.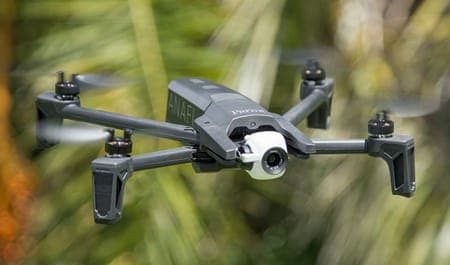 But with the new Parrot Anafi folding drone (named after the Greek island), he might be the first to compete on equal footing with the most popular DJI models. We had the opportunity to try out the recently introduced drone at a private event. More expensive than our current Parrot Bebop 2 , Anafi justifies its price with a powerful and versatile 4K camera for shooting HDR video and a 21-megapixel camera for taking photos.
Parrot CEO Henri Seydoux spoke in detail about how the company studied insects such as bees to find the best place to mount the camera in order to provide maximum visibility. In the end, Parrot decided to place a 4K camera where the head of the insect would be, as a result of which it was located quite far from the motors (or wings). Thus, they will never fall into the field of view of the camera, no matter what angle you point it at.
> Check Price, reviews and pics <
5. Uvify Draco HD
The Uvify Draco four-axis drone is made of impact-resistant carbon fiber and weighs only 453 grams. After removing the rotor, the specifications are about 7.9 × 16.6 cm. The modular design is lightweight, easy to use and repair. The maximum power of this drone is 580 watts. Draco has two versions of digital and analog signal transmission.
The current version is the digital image transmission UVify Draco HD with a wheelbase of 23 cm and a maximum speed of 160 kilometers per hour. The UVify Draco HD, which is specially used for racing, can be flipped 360 ° for extreme aerial shooting. The modular design can be assembled and repaired even if it hits an obstacle. This drone is of exceptional quality and you will certainly not go wrong with its selection.
> Check Price, reviews and pics <
6. DJI Mavic 2 Zoom
The Mavic 2 Zoom's gimbal camera uses a 1/2.3-inch 12-megapixel sensor, which can perform up to 4x non-destructive zoom, including the 2x optical zoom equivalent to 24mm-48mm. And compared with the previous generation, the hybrid focusing method has improved the focusing speed by about 40%. With a wide-angle equivalent of 24mm (angle of view is about 83 °), it can automatically capture 
and synthesize 9 telephoto photos, resulting in super-resolution photos with 4x resolution and up to 48 megapixels. When the resolution is set to 1,080p, it can be used with the double digital zoom function to achieve non-destructive zoom. Parrot ANAFI's proud "slide zoom" mode can also be found in the Mavic 2 Zoom's one-click shooting function.
Mavic 2 has omnidirectional environmental awareness. It has 10 sensors in six directions: up, down, left, right, front, and back. It provides the strongest obstacle avoidance system for aerial cameras. This drone is definitely for you if you want the best aerial images from different perspectives.
> Check Price, reviews and pics <
7. DJI Phantom 4
One step is revolutionary, the second is evolutionary. So does Intel, so does Apple, so does DJI. The previous generation, Phantom 3, was notable primarily for its great increase in reliability  and the ability to shoot 4K video. Phantom 4 brought autonomy with it: with the help of additional sonars, he learned to determine not only  height, but also the distance to objects in front or side of himself.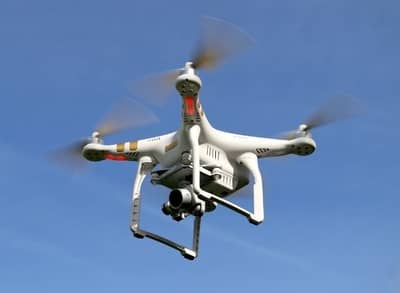 The most important fourth generation chips are built on this – the tracking mode for the object and the ability to independently go to the specified point, bypassing obstacles. Phantom 4, despite its solidly expanded functionality, has become visually more subtle and elegant than the third "phantom". In fact, the dimensions have not changed, the effect is created due to the camera suspension hidden in the platform housing. 
In addition, the camera itself is now located closer to the center of the device, which affects its visual perception. Phantom 4 weighs 100 grams more than its predecessor. And this is a very good result, given the markedly increased set of built-in hardware. The battery remained the same, as did the camera.
> Check Price, reviews and pics <
8. GoPRO Karma
Quadrocopter GoPro Karma has not lost user recognition even after the developer recalled all devices almost immediately after the start of sales due to power problems. GoPro Karma meets all modern trends, such as compactness, autonomy (excpet for flying arount obstacles) and high quality photo and video shooting. The drone comes with control equipment that does not 
require the use of mobile devices, a 3-axis brushless suspension, a charger, 6 rotors, a Karma Grip (steadicam for shooting from the ground) and a compact case for transporting the entire kit. The gimbal is compatible only with GoPRO action cameras. The drone is powered by a 4-can (4S 14.8V) lithium-polymer battery with a capacity of 5100mAH 75.4Wh.
GoPro Karma provides a maximum flight time of 20 minutes. The maximum distance of FPV removal is 3km. Unlike most products released by the most famous brands, the GoPRO drone has compact dimensions, floding beams and non-standard camera layout. At the quad, it is not located under it, but in front, thus the presence of the drone rotors in the frame was excluded in any flight modes.
> Check Price, reviews and pics <
9. Yuneec Typhoon H PRO
The one and only Typhoon H PRO is designed from scratch hexacopter, the potential of which since 2016 easily competes with the best of the best in an unmanned hobby. The arsenal of a six-engine drone has a high-perfromance 4K camera installed in a time-tested 3-axis Yuneec CGO3 + motorized suspension, the quality of work of which will be appreciated by both advanced amateurs and professionals.
The developer positions it as a simple and affordable tool, built to implement high-quality photo/video shooting from the air in both manual and automatic modes. This drone is ready for FPV fight out of the box. Typhoon H PRO is equipped with 850kV brushless motors, developed by Yuneec. The kit comes with an impressive 4-can lithium-polymer battery with a capacity of 5400mAh 8C 80Wh battery. This drone is for age limit 16+.
> Check Price, reviews and pics <
10. SKYDIO 2
This drone is the best flying robot today built on powerful artificial intelligence. Able to fly without human intervention to realize intelligent, stabilized 4K aerial photography in selfie mode, in almost any environmental conditions (forest, premises, etc.) at speeds up to 58km/h. The drone's filming arsenal has a high-performance electronic filling, working in tandem with a no less producite 12MP 4K HDR camera installed in a 3-axis motorized suspension.
Despite such powerful potential and functionality, drone management can be mastered by and user without reference to the experience of ownership. Depending on the perfences of the user, it can be controlled both through one smartphone. It will best prove itself in any manifestation of an active lifestyle, as well as everywhere, where you need the best angle and high quality shooting. This drone was released in october 2019.
> Check Price, reviews and pics <
Related Article: 10 Best Drones Under $50
3 Important Parameters When Choosing a Drone
There are various types of drones, from models like introductory aircraft to models capable of full-scale aerial photography. I myself like drones, and have more than 10 drones, from toys to professional aerial drones. First of all, if you are considering purchasing a slightly upgraded aircraft from your first drone, here are three points to focus on.
Safety
Function type
Camera performance
Safety
Major objects include an obstacle avoidance function that avoids birds approaching the aircraft and an autonomous flight function that tracks an object. When purchasing a drone with a certain size and high performance, it is recommended that you check before purchasing because the operability of the drone changes depending on what kind of safety performance is installed depending on the model.
Function Type
Drones have various functions depending on the model. The purpose of purchasing a drone with high specs may be various, but many people think that they want to take photos and videos that can only be taken with a drone. The performance of the aircraft is important for taking higher quality work because the pictures can be taken vary depending on the function.
Camera Performance
The drone's camera performance in recent years is very high, and it has high-spec performance that is not different from a normal single-lens reflex camera. If you shoot with 4K image quality, you can use it as it is for television broadcasting, and you can watch it while maintaining good image quality. Because you can shoot very fine and clear, you can achieve a beautiful finish with good image quality even when shooting nature.
Conclusion
Here we could see a list of 10 drones under $2000, which belong to the class of professional drones. These are not recreational drones, as their price is not below $1000, so when buying these drones, pay attention to what you will use this drone for, what specifications you need. As far as the quality of these drones is concerned, you are certainly not mistaken, as each has specific specifications. If I forgot something, feel free to leave a comment below.