10 Best Wind Resistant Drones For High Winds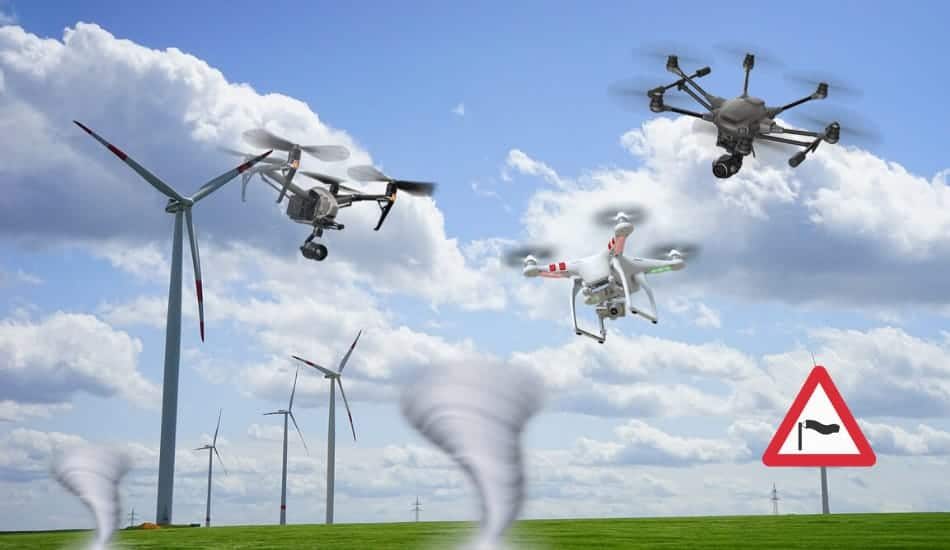 Wind is an important factor for drones that are floating in the air. If you make a flight in a strong wind, you may not be able to return and your drone will crash. Pilots always need to know how strong the wind is blowing and whether they can control their drone or not. With the help of this article, build up your knowledge of the wind and become more familiar with it. Wind is an important factor for drones. The wind speed that a drone can withstand depends on the model, and the heavier the drone, the easier it is to overcome the wind. What is troublesome is the change of wind on the ground and in the sky. Pilots must be sensitive to changes in wind, as it is common to have strong winds blowing over the sky, even if they are weak on the ground. Becoming familiar with the wind is one of the drones' driving skills. Therefore, I will present to you the 10 most popular wind resistant drones on the market:
Estimated Wind Speed For Flying Drone
The wind speed at which a drone can fly is generally said to be 5m/s. This is a moving speed of 5m per second, which is 18km/h when converted to hourly speed. It's fast enough to ride hard on a bicycle. Therefore, let's first experience the wind speed of 5m/s. To measure the strength of the wind, start by observing the surroundings.
When the wind speed exceeds 10m/s, it becomes difficult to walk in the wind. This strength is just before the drone can fly, so you should consider emergency landing. If you look at the trees and the twigs start to buzz, you may think that the wind speed is over 5m/s. In these situations, wait for the wind to stop, rather than fly your drone, avoids extra risks. It is important to have an anemometer and a windsock, but first you should be able to look around and determine the strength of the wind.
Wind Speed Table:

| Wind Speed | Indication |
| --- | --- |
| 0 ~ 0.2 m/s | Quiet. The smoke rises straight. |
| 0.3 ~ 1.5 m/s | You can tell the wind direction because the smoke flutters, but you don't feel it in the weather vane. |
| 1.6 ~ 3.3 m/s | Feel the wind on your face. The leaves move. The weather vane starts moving. |
| 3.4 ~ 5.4 m/s | Leaves and small twigs constantly move. The flag opens lightly. |
| 5.5 ~ 7.9 m/s | Sand dust rises and a piece of paper soars. Twigs move. |
| 8.0-10.7 m/s | Shrubs with leaves begin to shake. A crest is formed on the water surface of a pond or swamp. |
| 10.8-13.8 m/s | The branch moves. Electric wire sounds. Umbrellas are hard to touch. |
10 BEST WIND RESISTANT DRONES ON THE MARKET
1. DJI MAVIC PRO
Prior to the release of DJI Spark, the Mavic Pro was the smallest drone in the DJI lineup. It also has folding shoulders so that you can safely put this drone in your bag. Don't let its miniature size confuse you: very small size of this drone can boast of the performance that the big DJI drones are famous for. The camera is mounted on a suspension, which is not typical for drones of this size. 
This provides fantastic results in both photo and video shooting under good lighting conditions, although the small size of the matrix means that shooting in low light can sometimes be difficult. This drone, no matter how small it is, can withstand wind and handle it well. The Mavic Pro delivers a maximum flight speed of about 64 km/h and a battery life of approximately 20-25 minutes. Mavic Pro comes with its own remote control, which uses the display of your smartphone to transmit video. The valid range of the remote control is more than 6.5 km, which gives you the opportunity to shoot amazing shots and videos without worrying about losing communication with the drone.
> Check Price, reviews and pics <
2. PHANTOM 4 PRO
Phantom4 Pro has a 1-inch sensor.  Basically, the bigger the sensor size, the more beautiful images you can take, so if you want to shoot more beautiful images, you should choose Phantom4 Pro. Drone cameras are no different from digital cameras. The large body makes it harder to move when compared to other compact drones, but it is a big advantage that it is resistant to the wind thanks to this size. 
Also, the ease of handling of the transmitter is different from other compact drones. Support for 4K video and the presence of a gimbal in the design means that you get stable and smooth shooting, even when the drone moves at high speed and changes direction. The biggest drawback – note that this is a standard complaint about many commercial drones – is the battery life, which is only 15 to 20 minutes, depending on your flight style. The Phantom 4 Pro transmitter is large, stable and easy to handle, so you can adjust the amount of subtle force applied, making it easy to shoot smoothly and naturally. 
> Check Price, reviews and pics <
3. DJI INSPIRE 2
DJI Inspire 2, is an advanced aerial photography drone for professionals. A drone specializing in aerial photography with interchangeable cameras and lenses. Above all, this design of Inspire 2 is cool!  This drone is used for commercial images such as movies, commercials, and PVs.  Confidently knocking down his predecessor from a leading position, a very impressive Inspire 2 bursts into our list.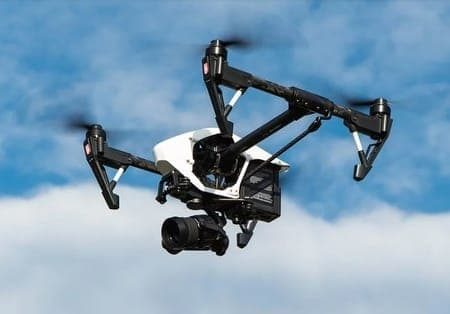 With an updated smooth metal composite body, it looks much more attractive. Moreover, with advanced obstacle avoidance technology, you no longer have to worry about scratching its impeccable case by accidentally crashing into a tree. You get more than 25 minutes of flight time thanks to a dual battery, and the ability to replace camera lenses means that professional photographers and videographers have full control over their images and video in 5K format. A full-featured smartphone app and dedicated remote control make this drone incredibly easy to operate, but keep in mind that this is a professional kit.
> Check Price, reviews and pics <
4. TAROT X8
The Tarot X8 drone has eight axles and propellers. The Tarots TL8X000 drone is an octocopter.  This should ensure that the flight is particularly safe and that the octocopter can also be used for professional purposes. We took a closer look and summarized all the important things that interested parties should know about it. If one propeller breaks down, the others keep the drone in the air. 
The colors red and black should make this drone very attractive. To facilitate transport, it can be folded like an umbrella. The arm length is 416 mm and the drone weighs a total of 2.7 kg. The product description promises a flight time of up to 16 minutes. Tarot's X8 drone has a very stable frame and is therefore also protected against falls. In part, the assembled parts are described as somewhat wobbly. This is what customers say in their comments. Basically, the quality of work is praised and described as high quality. Only the arm openings are too narrow for the propellers. The flight of the drone is very stable and safe. Even during high winds, this drone shows stability. The octocopter is a very good aircraft, which has minor manufacturing defects. Customers find the price acceptable.
> Check Price, reviews and pics <
5. YUNEEC TYPHOON
From a styling perspective, this drone is very well designed. Typhoon H has prop arms and the landing gear that are made at of carbon-fiber rose which is definitely going to make things as strong and durable as possible. This drone have number of safety features built into, like; ultrasonic obstacle avoidance system which is using sound waves to detect objects that are coming into the drones pathway.
Typhoon H is almost wind-resistant, so you don't have to fear anything will happen to it as it flies. This drone can actually operate with just 5 rotors, so if 1 of the props stop working for some reason, you can still fly it back to safety and retrieve the unit. The Typhoon H delivers a solid battery performance, and can fly for around 20 minutes of a real dynamic flight which is definitely good. Con is that about under two hours to fully charge the battery. Typhoon H comes with the SC 16 controller which is a large Android tablet that has the radio controls that are integrated all in one unit.
> Check Price, reviews and pics <
6. UVIFY DRACO HD
The main advantages of Uvify Draco HD racing drone is: this quadrocopter is modular and customizable. This means that you can upgrade or replace any of the components (e.g. camera, engine, video transmitter, etc.). This quadcopter is fast and agile even in its simplest configuration, but the ability to upgrade will be crucial when choosing if you don't want your racing setup to be out of date in a year or two.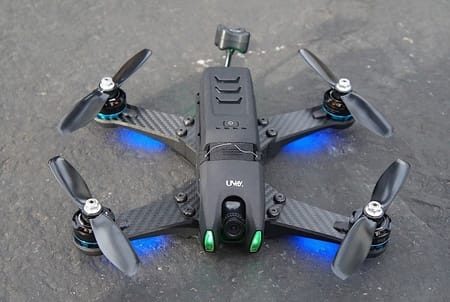 This drone is not difficult to manage and maintain, so it is an excellent choice for both beginners and professionals. Even if you've never run a quadrocopter in your life, with Draco you can master this skill in just a few hours of practice. Also, this drone can withstand windy conditions, because it is a racing drone. It's much cheaper than most drones on this list, so if you can't make a lot of money, consider this model.
> Check Price, reviews and pics <
7. PARROT BEPO 2
Parrot Bebop 2 is a mid-range drone that doesn't hit the wallet but offers an amazing amount of features for its price. The camera uses a fisheye lens, and stabilization software eliminates the need for a suspension; in combination with an intelligent chassis design that uses rubber dampers to reduce vibration in flight, this results in virtually no jitter when shooting movies.
This drone has a lot of sensors, which can stabilize in the air during strong winds. You can also take Bebop 2 to the next level with an optional flight controller and FPV headset. The first one connects to your smartphone and offers complete flight controls, while the second uses the screen of your phone to provide a first-person view from Bebop 2. Initially, it will be rather inconvenient to control the device, but after a while you will want all the drones to have such accessories. Battery life is a little disappointing, so maybe you should immediately invest in an extra set of batteries.
> Check Price, reviews and pics <
8. 3DR Solo
3D Robotics is a leading US drone maker. Therefore, 3D Robotics has created Solo as an aerial drone for consumers, equipped with a surveying camera, infrared camera, sensors, etc., positioning it as a tool in the fields such as surveying, inspection, precision agriculture, and a drone hardware as a company Turned from development to a company that develops software and solutions centered on drones.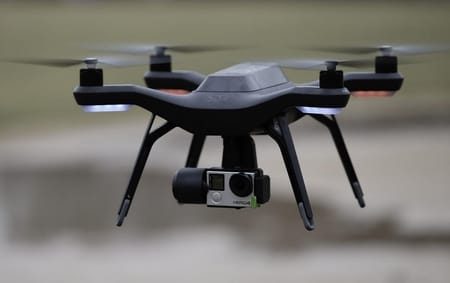 This drone is equipped with Sony RPSC APS-C camera via 3-axis gimbal. The aircraft is connected via Wi-Fi. A tablet such as an iPad mini is attached to the holder and used as a controller. This drone is very stable in windy conditions and has sensors that will ground it if strong winds blow. The connection with the tablet is also through Wi-Fi. To fly, simply press the button on the app or the"FLY" button on the controller. If you are interested more in this drone and you want to see other specifications, check below.
> Check Price, reviews and pics <
9. DJI MAVIC 2 ZOOM
DJI Mavic 2 Zoom; the basic specifications are the same as the Mavic 2 Pro, but the camera is equipped with a 2x optical zoom lens and can be zoomed up to 4x when combined with the digital zoom. Aerial photography with depth is possible, and flexible selection is possible according to the object to be photographed, such as wide angle to medium telephoto.
DJI models are otherwise renowned for their quality, so this drone does not lag behind its predecessors. Using a telephoto lens reduces the sense of distance between distant subjects, enabling more impressive compression effects. This drone is also very good and has stabilization in windy conditions. It is also equipped with functions that can be used only in the air, such as the dolly zoom shooting function, and is a recommended aircraft for those who want to stick to the zoom effect. I personally used this drone, and I have to say that I quite liked it.
> Check Price, reviews and pics <
10. PARROT ANAFI
On paper, the Parrot Anafi is usually inferior to the DJI Mavic Pro camera drone or at least on par. The flight time is 25 minutes thanks to the 2,700 mAh strong battery (LiPo battery / 7.6V) . Like the DJI Mavic Pro, the Parrot Anafi is equipped with a folding mechanism. When folded, the Parrot Anafi measures just  24 x 6.7 x 6.5 centimeters and therefore has dimensions comparable to those of a water bottle.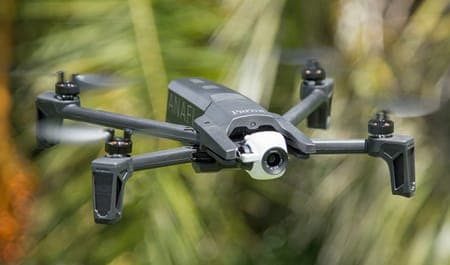 In terms of weight, the Parrot Anafi is clearly superior to the DJI Mavic Pro thanks to various carbon components – only around 320 gramsbrings the latest model from Parrot on the scales. Nevertheless, the dark gray Parrot Anafi is heavy enough to fall under the legally required labeling requirement from 250 grams. A drone sticker or a drone license plate is therefore also mandatory when used with the Anafi drone. Also, this drone can handle the wind. You don't need a drone license.  The maximum speed of the Parrot Anafi is 54 kilometers per hour . The quick charging mode is supported and ensures that the battery of the camera drone can be fully charged in less than an hour. 
> Check Price, reviews and pics <
About Wind and GPS
Some people may have the image that a drone with a built-in GPS is not swept away by the wind. However, GPS only tries to stay in that position and cannot withstand strong winds. Specifically, after the wind speed exceeds 5m/s, the drone cannot keep its GPS position and starts to be swept away by the wind. If you move it downwind, it will move at a stretch. Conversely, if you try to move upwind, you will not get much speed.
In such a case, there are two options:
If your drone has a sports mode, set it to sports mode. For example, DJI's Mavic has a speed of 70km/h in sport mode, so it can withstand strong winds.
Reduce drone altitude to avoid high wind layers. The wind slows down at the obstacles on the ground, so the closer it is to the ground, the weaker the wind.
When the wind gets stronger, the speed of moving upwind decreases. You may not be able to return to where you can land, and may fall due to a dead battery. Instead of relying on GPS, consider a safe way to land.
Smart System For Detecting Strong Winds
Even when the wind is weak on the ground, there is often a layer of strong wind over the sky. If the drone enters such a strong wind zone, the app will send a strong wind alert (for DJI). It is possible to ignore it and fly, but it is better to land as soon as possible. This is because when the wind gets stronger, the drone will automatically try to land. If there is no place to land there, you will lose your drone. If there are people or objects at the landing site, it will cause damage. Do not underestimate the effects of the wind, as it can result in considerable damages.
Laws and Regulations on Drone Wind Speed
Flying a drone in strong winds is not illegal. However, when applying for permission, there is a clause that says, "If a wind of 5 m/s or more is blowing, do not fly." If the drone crashed due to strong winds, the next application for permission would be more stringent. A wind of 5 m/s blowing on the ground means that a stronger wind is blowing over the clear sky. The power of the wind easily turns the drone over and out of control. Just because there are no restrictions on wind speed by law, forcibly flying can cause you to lose your drone.
Conclusion
The wind is blowing outside and you really want to capture or record some precious moment? Don't worry, if you just read this article, you've learned a lot. In this article we discussed how much the individual wind speeds are and what are the limits at which you can fly your drone. Many of these drones have excellent camera but also wind resistance. Not only that these drones are resistant to the wind, they are long lasting, which is also important. I have put together a list of the 10 most popular drones on the market that have the best features and specifications to handle wind. In this list, we took both expensive and cheap models, matching your wishes and needs, so you can find something for everyone. If you want to add something, feel free to leave a comment.