10 Best Underwater Drones in 2023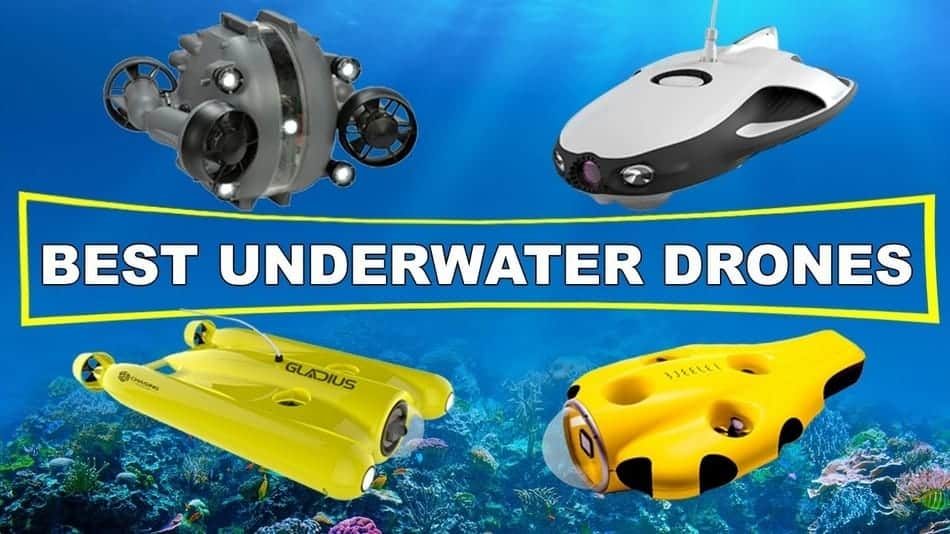 Underwater drones are part of a very fast growing niche category of drones. These drones are also called ROV (Remotely Operated Vehicles) or aquatic drones . ROV drones are mainly intended for professional users, but these fun devices are always welcome for diving enthusiasts also. Underwater ROVs are used for a wide variety of professional purposes, including underwater exploration, filmmaking, ship inspection, scientific research, fishing and more. Their main function of these drones,  is to make unique, high-quality shots in the seas and oceans. According to scientists from the National Oceanic Service, more than 95 percent of the Earth's oceans have not yet been studied. So it is not surprising that underwater drones take over the world of technology. So here I will introduce you the best 10 underwater drones that are available on the market today.
Here our TOP 10 of underwater drones 2021
What Is An Underwater Drone?
Underwater drones (or ROVs) are submersible and waterproof drones that allow users to explore the marine environment from a distance. These aquatic drones are capable of navigating underwater currents thanks to one or more thrusters. They are often equipped with cameras, obstacle detectors and powerful lights to record good quality images, even in the darkest underwater environments. Also a lot of people have been using them lately for fishing, so their options are really great.
Things to Know Before Buying An Underwater Drone
Wireless or Cable Underwater Drone: There are underwater drones that are for the most part connected by a cable to a beacon floating on the surface. Cable connection is required to get a live video stream from the drone and, more importantly, to make sure the drone doesn't get lost in the abyss. However, there are also wireless underwater drones. However, wireless underwater drones offer greater exploration capability, but their price is therefore higher.
Specs: Most underwater drones are equipped with powerful light projectors that provide visibility in dark underwater environments. Many of them are also equipped with 4K cameras to take high-quality shots. Other common equipment and accessories include FPV goggles (head- mounted displays ), robotic arms and weights. So before you decide to buy, think about the main features you need.
Price: The price, perhaps the most important factor when buying an underwater drone, largely depends on the specifications and quality that the drone provides. Of course quality drones, are more expensive in most cases and have more options. As we said the price also depends on whether the drone is wireless or connected via cable.
Why Are Underwater Drones So Popular?
Underwater drones are becoming a must for those who enjoy marine sports and fishing. Just like drones that shoot from the sky, underwater drones are attracting new attention.  It is said that the domestic market for underwater drones, which are attracting attention mainly for marine business, such as surveys of dams and growth of seaweeds, will reach $45 milion in 2021. The market size is expected to expand soon.  Underwater drones are popular because they offer a variety of underwater shooting functions. Some types of underwater drones are equipped with a fish finder, so you can enjoy fishing while monitoring the details of the seabed fish, water temperature and other details. With such a function, you may be able to meet unexpected big fish and rare fish! Some drones are equipped with hooks , so if you have an underwater drone, you can enjoy a new fishing style with this one.
TOP 10 Best Underwater Drones of 2021
1. ROBOSEA BIKI
ROBOSEA BIKI, a fish-type underwater drone that is equipped with AI (artificial intelligence), released by a manufacturer called ROBOSEA in China. This drone is equipped with AI technology developed over 10 years by a research team at Peking University. It supports a depth of 60m and it is equipped with a 4K camera. This is a very cute underwater drone with a deformed fish shape. Thanks to the design of a real fish swimming, you can observe the natural figure at a closer distance without scaring the fish that is swimming in the sea. There are 3 colors, that are available for this drone; white, red and yellow. You can choose your favorite color to your liking. Because it is a feeling of size that easily fits in the backpack, it can be carried without problems even in leisure places where there is a lot of luggage. It is recommended for casual underwater exploration with family and friends, and for taking commemorative photos in the pool. Also, if you want to try fishing with this drone, you can.

> Check Price, reviews and pics <
2. PowerVision PowerRay
There are many ways to enjoy underwater drones, but for those who want to use "fishing" as the primary purpose, the recommended drone is PowerRay developed by PowerVision in China. You can sail up to 4 hours on a single charge, so you can enjoy underwater exploration with confidence. PowerRay is equipped with a 132 ° wide-angle lens and 4K UHD camera, which allows you to shoot beautiful and colorful pictures with the best lens for underwater photography. This drone is equipped with two horizontal thrusters and one vertical thruster enabling navigation at a maximum speed of 4.5 m/s. Captures objects accurately with quick movements. PowerRay can dive to a depth of 30m. If you use the controller, you can freely move up and down in the water. Equipped with a fish finder "PowerSeeker" that can operate independently, it comes with a function that allows you to grasp underwater terrain, detect fish schools, and drop baited hooks at the most optimal position. If you do not use the radio, you will operate with the virtual controller displayed in the app. It is also possible to control the orientation of the aircraft by VR mode. This is an underwater drone that I definitely recommend.

> Check Price, reviews and pics <
3. GLADIUS MINI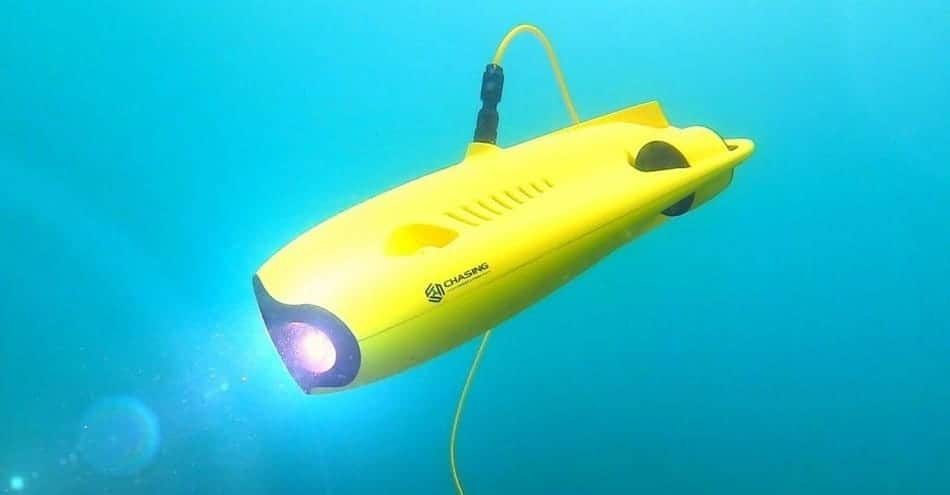 GLADIUS MINI is one of the product design drones that won the award in 2019 for one of the finest underwater drone designs. The GLOADIUS MINI is an underwater drone that has not only a beautiful appearance design but also high functionality. It is equipped with five thrusters for high mobility underwater and 4K Ultra HD camera for high-definition underwater video shooting. Real-time distribution is also possible on smartphones. It is possible to dive to a depth of 100m. You may encounter rare underwater creatures with this drone. This drone is also suitable for fishing. A lot of people in the world use this drone as part of their fishing equipment. The included backpack makes it easy to carry.  GLADIUS MINI won the "Best of Japan Drone Award 2019" announced at Japan's largest drone exhibition "JapanDrone2019". This is an underwater drone that has been evaluated not only for its design but also for its excellent quality and functions. Therefore, this drone should definitely be considered if you have already decided to buy an underwater drone for yourself.

> Check Price, reviews and pics <
4. Youcan Robot BW Space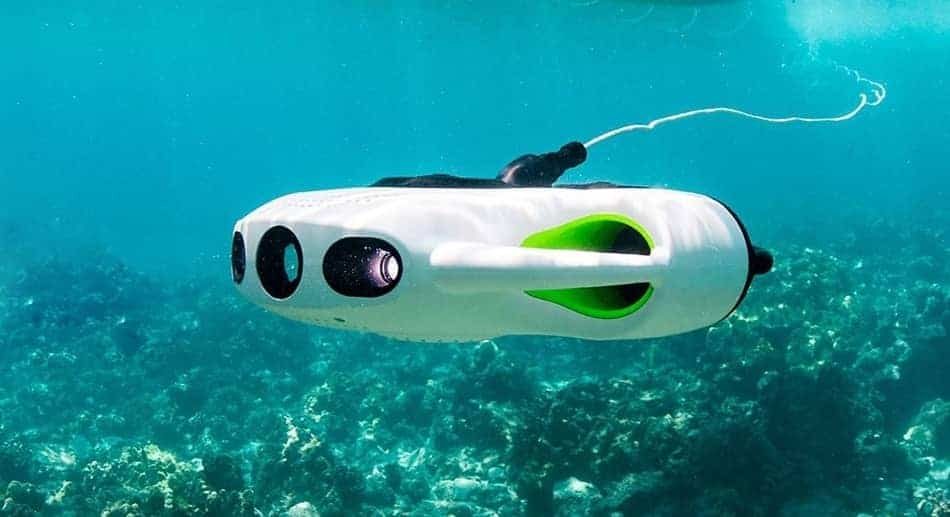 BW Space, sold by Youcan Robot, which has an office in Edogawa-ku, Tokyo, is an underwater drone equipped with image recognition and automatic tracking technology. By computer algorithm, image recognition and information processing technology, it identifies underwater subjects within 5m. You can also shoot while tracking automatically, and it has an automatic light adjustment function and live distribution function. Because it can shoot high-definition video at 4K, it can be used not only for industrial purposes but also for underwater entertainment such as underwater exploration. Youcan Robot BW Space maximum dive depth is 100 meters! With a large capacity battery, it can be used for up to 7 hours of underwater exploring. Smooth live distribution is possible at 1080p resolution, which can be really useful. The storage capacity is 128GB of built-in memory, so you can record 4K video for 4 hours. There are even opportunities to fish with this drone and place hooks on it. This underwater drone is also talking about smart and stylish designs that resemble spaceships. this drone is very simple and easy to carry, so you won't have a problem with it. Be sure to consider this drone as well as your choice.

> Check Price, reviews and pics <
5. Epoch World TITAN
The underwater drone "TITAN" released by Epoch World is an underwater drone that can shoot 4K underwater images. The biggest feature of TITAN is that you can dive to a depth of 150m. This drone has phenomenal lighting which is quite important. Light is essential as the depth of the water becomes deeper, making it difficult for the sun's rays to reach even in the daytime. TITAN is equipped with 3,000 lumen LED light. This figure is the same as the ceiling light required to illuminate a 6 tatami room. The camera can shoot 4K and the lens has a wide angle of 160 °. You can observe a wide range of underwater with this feature. TITAN has the ability to move at a speed of 2 meters per second (7.2 km/h). You can also check the water depth, water temperature, battery level, with this drone. An excellent thing that you can also experience diving if you use VR goggles . The price is a little expensive, but that all depends again on whether or not you really need a drone of this quality.

> Check Price, reviews and pics <
6. NEMO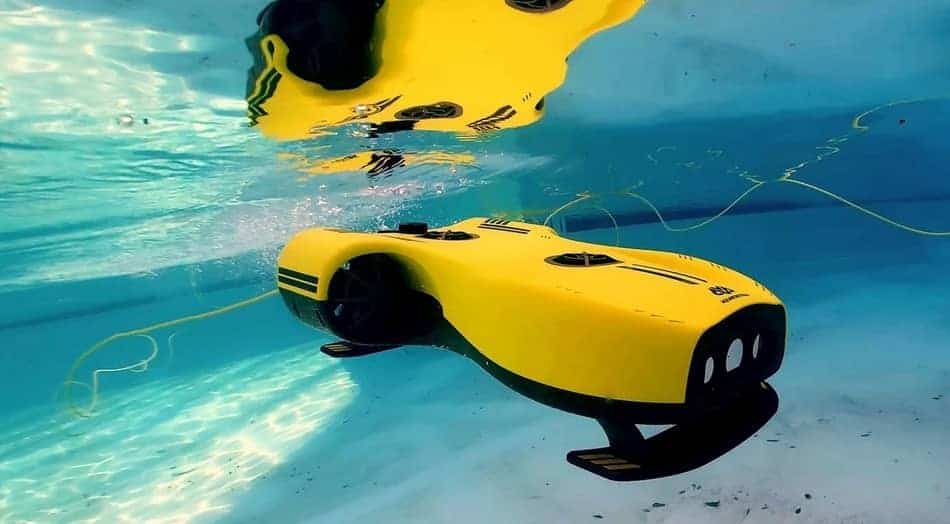 NEMO is a drone that is specialized in underwater photography. Nemo looks like a full-fledged seafloor survey instrument. Its performance may no longer be beyond ordinary household use. The maximum dive depth is 100m. The video camera supports 4K shooting. You can enjoy the underwater scene with more beautiful images than the current mainstream wearable camera with 1080P. Nemo can sail for 3 hours in a row. Operations can be performed with a smartphone. If you prepare a VR headset, you can enjoy powerful live images from the first person viewpoint.  Nemo is also equipped with LED lights, so it can be illuminated brightly even at depths where the sun's rays cannot reach. This is so enriching that professionals can use it for seafloor surveys. Nemo Underwater Drone enjoy kit with 4K UHD Camera is a customizable, ultra-compact, secure and easy-to-use kit. With the modular design and GoPro mount on MagicJet, your dive will be easier, longer and faster. A modular style that is easy to use and focuses on efficiency and fun, and can be used according to your diving style. It weighs 2.5 kilograms, is easy to carry, and has excellent functionality under the surface.

> Check Price, reviews and pics <
7. PowerVision PowerDolphin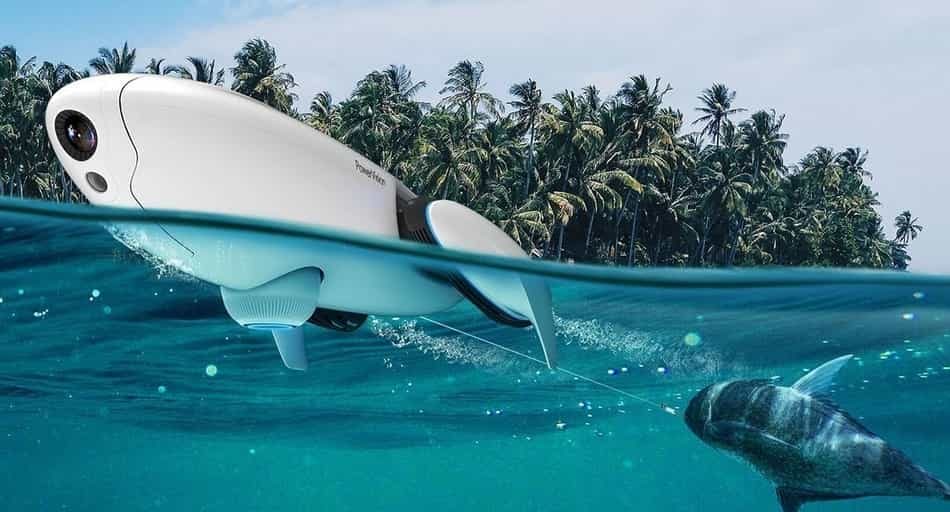 POWERDOLPHIN is a high-function drone that has both surface and underwater functions. Equipped with a lens ideal for underwater photography, you can freely create high-quality 4K video and still images. In addition, a single charge allows up to four hours of navigation and the battery is superb!  I am convinced that this is the top monopoly as a popular type of fishing drone. The great thing about PowerDolphin is that not only this drone provides the beautiful video shots, but also the range of motion of the camera is wonderful. It can be operated 220 degrees with a double joint type . You can shoot videos of water surfing from the best angles for surfing. PowerDolphin includes PowerSeeker, a powerful fish finder. Finding the school of fish with a simple operation and analyzing it, helps you find the best fishing spot. It is also possible to throw hooks and bait into the target area by remote control. The maximum forward speed of PowerDolphin is 4.5m/s, which makes it very efficient not only for video recording of water sports and fishing, but also for drawing seabed topographic maps.

> Check Price, reviews and pics <
8. Shenzhen Vxfly CCROV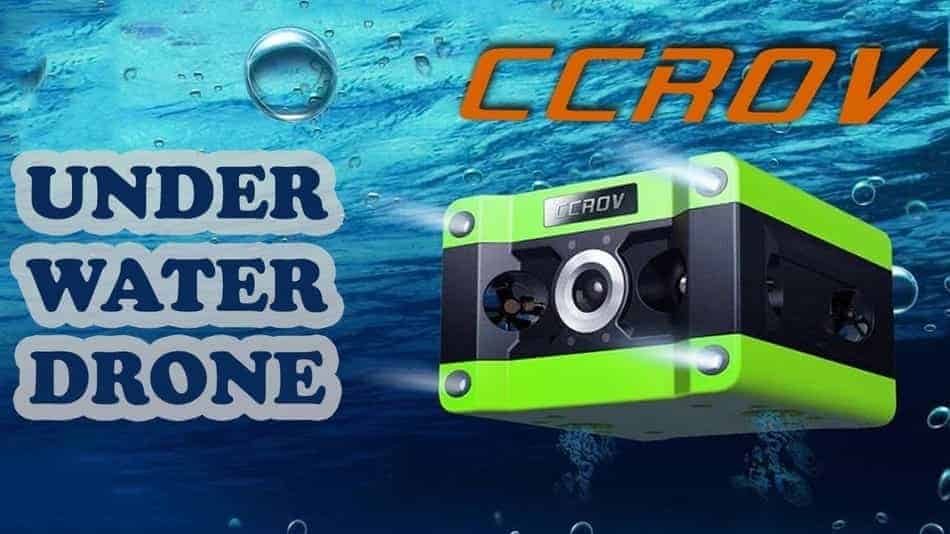 CCROV is an ROV (Remotely Operated Vehicle) specialized for corporations, and is the smallest and most compact underwater drone among ROVs.  Equipped with six thrusters, it can move vertically and horizontally in the water, meeting the needs of underwater inspection. CCROV is the smallest underwater drone, measuring approximately 208 x 204 x 158 mm. It can be carried in a backpack or suitcase. The operation system is very user friendly and can be easily operated with a transmitter or a smartphone app. CCROV is equipped with six thrusters, which can be freely moved in different directions. This underwater drone allows you to shoot 4K videos, and check the videos with 720P real-time transmission using a built-in camera and cable. CCROV has a high level of waterproofness of IP68 and can dive at a depth of 100 meters. Information can be collected even in small spaces underwater. CCROV can capture 4K high-resolution images and videos, so it can be used for underwater inspection without resorting to special divers. This is certainly one of the better quality drones on this list. So also consider whether you need a drone of this quality.

> Check Price, reviews and pics <
9. Navitics MITO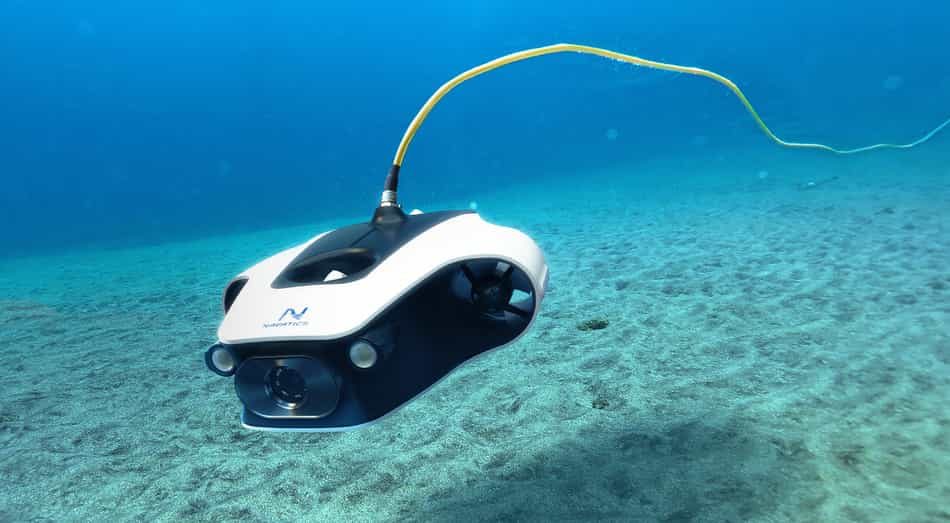 Navatics MITO is an underwater drone that can shoot 4K 30fps video and 12 megapixel stills. This is a Kickstarter campaign that was successfully funded in 2019. The company was able to raise money and finish developing underwater drones. This underwater drone has the image sensor, lens, resolution, frame rate, bit rate, codec, etc. This drone is connected by a cable because normal radio signals cannot reach it, and it can dive to about 40 meters. Navatics has developed an advanced algorithm that states that underwater drones can "hover" and stay in a complex underwater stream for 4 hours. MITO is equipped with four thrusters (propulsion units) to keep it stable during shooting. It is sized to meet airline specifications so that it can be carried in carry-on baggage. Two 1000 lumen LED lights are mounted on both sides of the lens, making it possible to shoot in dark environments. However, there is no detailed information on LED lights such as color temperature and CRI. MITO can carry additional luggage up to 500g. For example, you could mount a GoPro and a light. Navatics MITO can be controlled with a smartphone, and grips for smartphones are also available. The included mobile app for both iOS and Android can stream 1080p video from up to 500 meters away. In addition, the app has built-in color correction tools that allow you to share photos and videos on social media.

> Check Price, reviews and pics <
10. QYSEA FIFISH V6
The FIFISH V6 is a compact omnidirectional underwater drone with a 4K UHD camera that captures magnificent and beautiful moments underwater. In addition, the original technology development allows the posture to be freely maintained in any direction, allowing intuitive operation. You can control the direction of the underwater drone simply by moving your head to any angle, such as left, right, up, down, diagonal. With a 1 / 2.3 "SONY CMOS sensor, 166 ° FOV wide angle lens, and powerful 4000 lumen light, the FIFISH V6 can capture amazing 4K UHD video and photos even in difficult underwater environments. It also supports DNG (RAW) data.  Designed to eliminate the dangers and difficulties of underwater exploration and provide tools that are easily accessible to anyone, remotely explore the sea world at a depth of 100 meters and discover the magnificent moments of the unknown can be caught. Innovative technology enables head tracking linked to the drone. Since VR goggles are included, you can enjoy immediately after purchasing the product. The FIFISH V6 can capture amazing images and photos even in difficult underwater environments. FIFISH V6 has a large capacity battery and runs for up to 4 hours. It can be used in various underwater situations without concern for operating time.

> Check Price, reviews and pics <
Conclusion
In this article, we describe what underwater drones are and what their role is. We have seen that there are 2 types of underwater drones, and these are the ones that have cable and wirless drones. We currently list the TOP 10 most popular underwater drones on the market, see their features, advantages and disadvantages and what they can all be used for. Also, their price varies by their characteristics and whether they are wirless or not. We said at the beginning that over 95% of the ocean is unexplored, and for this reason these drones are gaining so much popularity in use and use in today's market. If I left out something or want to add, feel free to comment below.