10 Best Nano Drones – 2023 Buyer's Guide & Reviews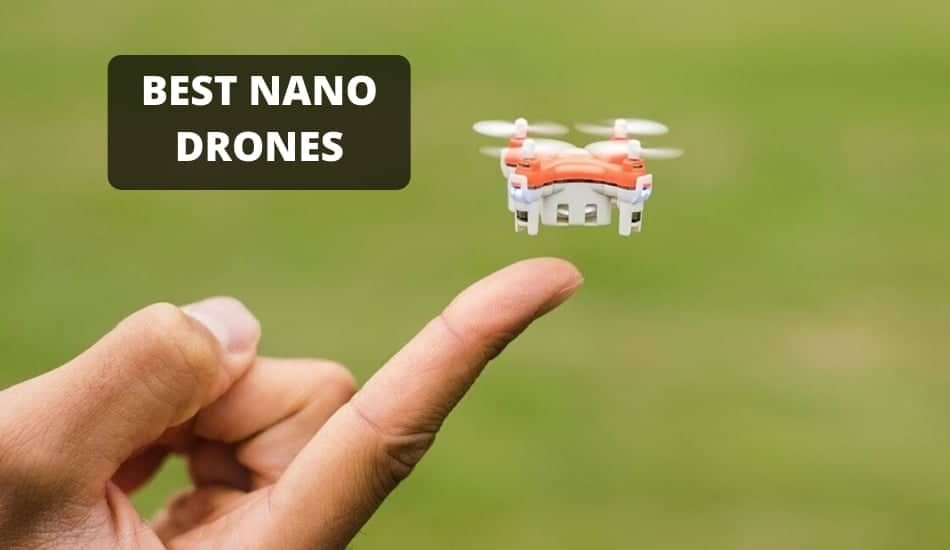 Nano drones are becoming more popular by the day. They are most commonly used for an indoor flight, as well for recording and entertainment. Kids simply adore these little flying machines that have the ability to perform stunts, and come in many shapes and sizes. Nano drones have improved significantly over the last few years, and most of them now come with HD cameras.
These drones are intended for beginners and children who find them quite attractive. They first appeared in the military, where they were used for various tasks such as spying, and today you can buy them anywhere. Nano drones weigh up to 250 grams, therefore, all drones that are below that weight fall into this category. Here we present you the 10 best nano drones on the market and give you their pros and cons, reviews and main specifications.
Here are the 10 best nano drones that you can buy today:

(Below is a detailed list and reviews of all these drones)
Why Choose a Nano Drone?
Nano drones are extremely popular today for their low price and features they have to offer. One of their advantages is the small size, so they can easily fit in your palm and your pocket. This makes them very simple and easy to pack, giving you the freedom to carry them anywhere. These drones use Headless and Hover modes, and they are standard on most models. Nano drones are designed for indoor and outdoor flight. They are much smaller when compared to professional drones such as the DJI Phantom 4 and others, but they are a great example of actually seeing what drones are capable to do.
These little drones let you learn how to fly, have fun doing acrobatics and shoot some interesting scenes. Most nano drones have LEDs with which you can control your drone even in the dark. You can also control some nano drones via Apps on your mobile, so you don't even need remote control to carry around. Because these drones are quite cheap, they make a great gift for kids. However, if you are buying a drone for children, we recommend that you take one that has prop protection for safety.
Buying Guide: How To Choose The Best Nano Drone
With many nano drones on the market today, choosing the Best Nano Drone is no easy task. The things you should first consider when buying your drone is a budget and the performances you want. To help you make that choice, we've compiled a list of the 10 best nano drones that are currently available on the market, together with their pros and cons for each one, and with a brief review. So when you go through and look at what each of these drones has to offer, you get a much better insight into what you want. Some of the main features to consider when buying a nano drone are these:
​This is the most important feature, especially when it comes to nano drones. These drones do not have long flight time and every extra minute is a bonus. Also one important thing that you need to focus on is the amount of time it takes to charge the drone. The average flight time for nano drones is about 5 minutes and the battery charge time is about 40 to 60 minutes. You should also check if your nano drone can replace the batteries so you do not have to wait for recharging batteries after your flight.
When it comes to this class of drones, just a few nano drones have a built in camera. Some nano drones even have the option of incorporating cameras but do not come with the drone. Of course it would be quite desirable to have a camera even on such a drone, so be able to capture some nice moments. If the drone already has a camera, the next thing you should pay attention to is megapixels and video resolution of the camera.
​Control range is also one very important parameter to check when buying a nano drone. It is of the utmost importance that you have a good range with which you can control your drone. The average range for these drones is from 30 to 70 meters. Range is important thing when it comes to outdoor flying, as you can easily lose your drone while flying. Mostly nano drones are designed for indoor use.
​And finally, height and speed are also the parameters you should consider when buying a nano drone. Depending on where you will use your drone, whether inside or outside the home, the height at which the drone can fly and its speed can be important factors in choosing. Otherwise, nano drones are also used for acrobatics, which is why you want to choose a faster drone. The speed of nano drones is usually 2 to 5 m/s, while the height they can reach is about 30 meters.
10 Best Nano Drones in 2021:
1. Hubsan Q4 H111
Dimensions: 45 x 45 x 12 mm
Flight time: 5-6 min
Max Speed: 1.2 m/s
Control Range: 50 m
Camera: NO
Weight: 12 g
The quadcopter HUBSAN Q4 H111 is designed for indoor and outdoor flights in normal weather conditions. This nano drone works with a lithium-polymer battery, which capacity is 100 mAh. Power is charged via a USB cable from a computer or from the network using an adapter. Thanks to its compact dimensions, you can carry this drone everywhere.  A full charge takes around 30 minutes while the duration of the flight is 5 to 6 minutes. The HUBSAN Q4 H111 is equipped with 4 collector motors and with bright LED lighting that allows you to perform the most incredible stunts in the dark.
All control electronics are located on the HUBSAN support frame, which makes this nano drone lightweight (12 grams). This drone have a solid construction – all parts are made of high-quality wear-resistant materials. The aerodynamic housing protects electronic components from damage when it is dropped.  HUBSAN Q4 have 3 flight modes: The "Standard" mode suggests the easiest way to pilot – in the horizontal plane. "Medium" and "Expert" – designed for experienced pilots who are able to maneuver in the air and perform a variety of aerobatic figures.
      PROS:
Price
You can perform acrobatics and stunts
LEDs lights
Stable flight with 6-axis gyro
      CONS:
Propellers don't have a prop guard
No camera
Sensitive to wind
2. Cheerson CX-10 Mini
Dimensions: 70 x 70 x 27 mm
Flight time: 5 min
Max Speed: 2 m/s
Control Range: 36 m
Camera: NO
Weight: 13g
The small, light and stylish quadcopter Cheerson CX-10 Mini will no doubt appeal to every customer. This pocket drone is equipped with a special security system, so it can be used even in crowded places. It is ideal for both experienced users and beginners. Cheerson CX-10 Mini is considered one of the smallest nano drones in the market. It fits easily on the user's hand.  These nano drones can be used on the street, even at night. It is impossible to lose the device due to the built-in LED backlight.
Flight time of this drone is around 5 minutes. It is very easy to control this drone using the remote control. Charging time is about 30 to 40 minutes, and this makes you think about buying immediately a couple of such drones to extend the fun. The transmitter provides a control range of approximately 36 meters, although you will need the eyes of an eagle to see the CX-10 at least half this range. It is not desirable to play with these drone in windy weather, because these drones are light in weight and may not be able to cope with the flow of wind.
      PROS:
Price
LED backlight
Easy to use
Fast charging (30-40 min)
Can perform stunts and flips
      CONS:
Small control range (36 m)
No camera
No other colors available
3. Eachine E10WD Nano
Dimensions: 32 x 32 x 22 mm
Flight time: 4 min
Max Speed: 2 m/s
Control Range: 15-30 m
Camera: 2 MP
Weight: 15 g
The Eachine E10WD Nano: A lot of people consider this model one of the top nano drones by far. The camera is one of the great advantages when it comes to nano drones, because there are just a few models that have a built in camera. It's incredible to believe that such a small and tiny drone can have such features. When it comes to camera, this drone has a decent picture quality which you can record and store pictures on your mobile. The Eachine E10WD has FPV (First Person View) feature.
This is the only nano drone that have FPV, which means you have the ability to see everything that's happening from a drone perspective in real time. Eachine E10WD measures 32 x 32 x 22 mm, has a flight time of about 4 minutes, and weighs only 15 g. All this fits into this tiny drone that is smaller than the palm of your hand. With Eachine E10WD it is very easy to operate and it is possible to do stunts as well. One of the drawbacks is that if you decide to fly outside, the wind could be a problem for you, because this drone weighs only 15 grams.
      PROS:
Price
LED lights
Camera
Can perform stunts and flips
      CONS:
Short flight time (4 min)
Small control range
Sensitive to wind
4. GoolRC CX-10C Nano Drone
Dimensions: 40 x 40 mm
Flight time: 7 min
Max Speed: 2 m/s
Control Range: 50 m
Camera: 0.3 MP
Weight: 15 g
When GoolRC CX-10C make its appearance on the market, a lot of drone fans fell in love at first what have made even more sensation in the world. The dimensions of the Cheerson CX-10C are only 4×4 centimeters, which is slightly larger than the size of the matchbox, while it can carry out photos and videos within a radius of 50 meters from the pilot. The received information is recorded on an SD card and can be transferred to a personal computer disk. The camera is turned on remotely by pressing a button on the remote control.
The GoolRC CX-10C quadrocopter has the excellent flight characteristics: obediently and quickly flies, deftly maneuvers, makes coups and performs acrobatic aerobatic figures without losing altitude and traction. LED backlight allows you to not run a microscopic drone even against the background of the night sky. If you still don't know which nano drone to choose, and your craving for a small, lightweight and flexible drone, we recommend buying a GoolRC CX-10C. The smallest nano drone with a camera will certainly delight all your friends and relatives, and you will receive invaluable flight experience on the fastest, most humble and safe nano drone ever.
      PROS:
Built in camera
Decent flight time
Price
Can perform stunts and flips

      CONS:
Short flight range
Sensitive to wind
Too small drone for adults

5. JJRC H20
Dimensions: 105 x 100 x 25 mm
Flight time: 5 min
Max Speed: 2 m/s
Control Range: 50 m
Camera: NO
Weight: 21 g
The JJRC H20 hexacopter is a compact drone that fits easily in the palm of your hand. Also this JJRC H20 is a small nano drone capable of forgiving pilot mistakes. Able to give its owner a lot of positive emotions from use and at the same time act as a simulator to the primary skills of UAV piloting. JJRC H20 is equipped with a lithium-polymer battery 3.7V 150mAh LiPo 30C. The test showed a flight duration of not more than 5 minutes for this nano drone.
To fully charge a battery it takes around 45 minutes. Complete with a JJRC H20 hexacopter is a 4-channel control panel operating at a frequency of 2.4 GHz. This drone have a flight range of 50 meters in the field. Still, the JJRC H20 Hexacopter is really fun and feels more precise in terms of steering accuracy.  This nano drone is the best choice for beginners who want to safely learn the primary UAV piloting skills for themselves and the world around them. This model is great and can help  you pass the time and when it's sunny outside to give yourself quality and good fun.
      PROS:
Ready to fly (out of the box)
3 activity modes
Stable in flight
LED Night Lights
Price
      CONS:
Short flight time
Flight range of 50 m
Inconvenient remote
6. JJRC H36
Dimensions: 135 x 65 x 25 mm
Flight time: 5 min
Max Speed: 3 m/s
Control Range: 30-60 m
Camera: NO
Weight: 22 g
The JJRC H36 is a compact quadcopter, which, thanks to its small size and rugged body, is great for beginners and children. This drone is very easy to operate. This nano drone is maneuverable and equipped with automatic return and headless flight modes. JJRC H36 have two speed modes. Experienced pilots can easily install a small camera without much difficulty and thus significantly expand the functionality of this nano drone. Flights with this model are best for indoors or if it is calm weather outside.
The approximate flight range of JJRC H36 is 30 to 60 meters. Night flights are also possible – the drone is equipped with bright red and blue LEDs. The JJRC H36 copter has standard equipment, which includes a charging cable, spare blades, a control panel, a battery and instructions in several languages. To fully charge the battery it takes around 20 minutes. The screws are made of durable plastic and you may need it only in an emergency. Since the body of the drone is designed in such a way as to reliably protect the blades from damage.
      PROS:
Key return button
Good feel of the remote control
Agile, nimble drone
Lot of stability for a small drone
Fast charging time
      CONS:
Sensitive to wind
Short flight time (5 min)
Too small drone for adults
7. Eachine E010
Dimensions: 85 x 85 x 30 mm
Flight time: 5 min
Max Speed: 3 m/s
Control Range: 30 m
Camera: NO
Weight: 22g
What was said about the JJRC H36 applies to the Eachine E010 drone also: Nice, smooth flight, little twitching when you accelerate, this nano quadcopter is really fun. There is no difference on the Eachine E010 compared to the JJRC H36. In short: a typical clone except for the battery power cable. There are two modes of flights: Low and High. Low-cost mode is perfect for beginner pilots, the drone is more obedient and flies slowly. High mode is designed for more advanced users, while the flight of the drone, although dynamic, is stable enough. Headless mode will be appreciated by beginners.
Eachine E010 drone is equipped with an ergonomic 4-channel remote control. Eachine E010 is suitable for indoor flights. This nano drone can be a great gift for a new pilots. If you make a small upgrade and add a camera for FPV and other necessary electronics, then more experienced pilots will appreciate this drone even more. FPV flights are rapidly gaining momentum in popularity, equipment for them is not so expensive, so almost any model can be adapted for broadcasting a video signal. The body design is designed to protect the blades from damage during falls and collisions with various surfaces.
      PROS:
Price
Stable in flight
Ready to fly (out of the box)
Suitable for beginners
      CONS:
No built in Camera
Short flight time
Short flight range
8. Syma X11C
Dimensions: 152 x 152 x 37 mm
Flight time: 8 min
Max Speed: 5 m/s
Control Range: 50 m
Camera: 0.3 MP
Weight: 35 g
The Syma X11C: Target audience for this toy drone is newcomers who want to join the world of light unmanned aerial vehicles. This is the ideal nano drone on which you can master your flight skills, and move on to larger models. Syma X11C is easy to manage, and therefore both adults and children over 10 years of age will cope with it with equal success. The technical characteristics of this device are not amazing, but they are offset by a low price: dimensions are: 150 x 150 x 36 mm, battery capacity is 200 mAh and the flight time is around 6 minutes.
To recharge the battery it takes around 40 minutes. Together with the aircraft, a battery, spare propellers, charger and a simple joystick are put in a box. It has an easily removable battery, and include propeller protection with a 4GB SD card.  When we put all this together, this is an excellent drone for this price range. Also, this drone has a camera, which makes it perfect so that, with good fun, you can take photos and store them on your mobile or PC.
      PROS:
Incredibly low price. 
LED lights
Built-in camera (0.3 megapixels)
Stabilization on six axes. 
      CONS:
Lack of "Auto Return" function. 
Light weight
Weights 35g; Sensitive to the slightest wind
9. Hubsan X4 H107C
Dimensions: 101 x 101 x 50 mm
Flight time: 8 min
Max Speed: 5 m/s
Control Range: 100 m
Camera: 0.3 MP
Weight: 40 g
The legendary Hubsan X4 H107C , perhaps, does not need to be introduced, but if you are new to this world of drones, then you should know that this is a quadrocopter, which again and again appears in the ratings as the best drone for developing piloting skills. It may not be the best in every way, but it is a truly universal, reliable product, friendly to beginners, which allows you to move forward as your skill level grows. The X4 is also known for its above-average power levels, with its tiny engines delivering amazing acceleration and high speed.
This nano drone comes with a camera, but you need to purchase an SD card. Here you can evaluate the quality of shooting with a 0.3 megapixel camera. Indeed, for such a cheap little thing, this is just a fun addition. It allows you to record flights and may keep you busy while the battery is charging. The design of the X4 is immediately recognizable because of his popularity. The price of X4 is slightly higher than the others in this category, but we think it's worth it, given how well it works.
      PROS:
Control Range of 100m
Can fly indoors
Good design and looks
Price

      CONS:
Sensitive to high wind
Short flight range
Does not come with FPV
10. Syma X20 Mini
Dimensions: 105 x 105 x 250 mm
Flight time: 7 min
Max Speed: 6 m/s
Control Range: 70 m
Camera: NO
Weight: 70 g
The Syma X20 Mini has an interesting design and a unique shape. In the production for this drone, an exceptionally strong and sturdy plastic was used, which perfectly withstands shock. After the crash, the material does not crack or bend. It is also worth noting that blades for this nano drone are protected, so the kids can use it too. This model is equipped with a conventional 4-channel remote control and signal transmission is ensured by a frequency with a range of 2.4 GHz. X20 Mini weights only 70 g.  But, on the other hand, the drone cannot resist the wind, and therefore it is recommended to use it indoors or in calm weather.
The flight time of Syma X20 is up to 7 minutes. The maximum remote control effect is 70 meters. To fully charge the battery it takes around 60 minutes. The quadcopter is equipped with two modes. X20 Mini can easily make flips in the air 360 degrees. Also worth noting is the 3D acrobatics feature. In the process of using this drone, the pilot may not keep track of time, and it is for such case a special function built into this model that warns of a low battery charge.
      PROS:
Price
Ready to fly (out of the box)
Ideal for indoor flying
Can perform stunts and flips
      CONS:
No camera
Short flight time (7 min)
Charging up to 1 hour
Tips For Flying Nano Drones
If you are encountering nano drones for the first time, our advice is to start with indoor flight and basics first. Flight basics like hover and landing are needed to get you moving. Here are three tips that any beginner needs to know.
Start easy: Some of the most common mistakes beginners make are flying too high right after turning on the drone. The controls on the steering wheel are quite sensitive and any movement can be unpredictable.
Be patient: When you have mastered the basics, and you start with basic flips and tricks with your drone, try to find some place where you will have enough space to train it and thus avoid accidents.
Crashes and Repairs: Anyone who has operated and used a drone has experienced at least one crash, because that's part of this hobby. Therefore, it is advisable to have extra parts on hand.
The Future of Nano Drones
The most advanced Nano drones that are used today are those in the military. Military is significantly investing resources in their development and technology. They have been using them in their missions for years. These little drones come with HD cameras, different recognition sensors to recognize faces, and avoiding obstacles. But when it comes to nano drones that are used today for hobby purposes, they are the same dimensions and shapes as those in military.
One of the great advantages of these drones is that they are very cheap, not subject to FAA regulation (no registration required), and they are easy to use. We are that these little drones will be here for a long time, and it is only a matter of time before they will be equipped with better equipment than the one currently available on the market. In this video below, you can see the incredible artificial intelligence that these nano drones use and technology that they have.
"If you are purchasing a nano drone, you are likely looking at no more than ten minutes of maximum flight time on the best models."
Is It Worth Repairing a Nano Drone?
Buy a new one or repair an old nano drone? These drones are incredibly cheap so any repair is not worth, and it is also a waste of time. When looking for a nano drone online, always make sure that replacement parts come in the package. The propellers are ones that are most commonly break. Also, since they are quite cheap, it would be advisable to buy more of them.
Nano Drones Don't Need Registration
Nano drones are small and lightweight, and rarely some of them weights more than 100 grams. By the law: Drones weighing less than 250 grams (0.55 lbs) do not need to be registered by the FAA in the United States of America. You can also use this type of drones anywhere, as they are not subject to any law. However, it is not advisable to use them in open and crowded areas because they are very sensitive to wind.
Conclusion
In conclusion, the drone is a very innovative and very appreciable product. The variety of brands and models that are available allows everyone to find a drone that suits them and their needs. We could see in this article that these little nano drones come in many different shapes and sizes. They are very easy to operate, so they do not require previous flying skills and are suitable for all ages. If you've had any doubts about these nano-drones, now you know exactly of what they are capable of.
In this article, we have gone through the top 10 nano drones that are currently available in the market and have described them in detail with all the advantages and disadvantages they have. These drones are cheap so money shouldn't be a problem at all. The nano drones are therefore a very interesting investment to have fun, discover new things, and share these moments.