10 Best Drones For Fishing 2023: Buying Guide & Reviews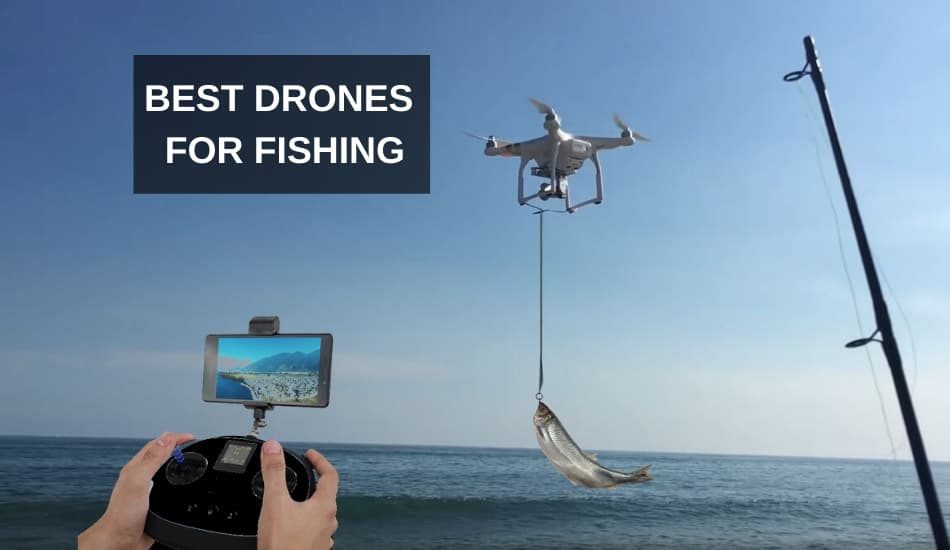 The use of drones when it comes to fishing makes sense in many ways and makes fishing a lot easier. Sometimes you can only reach certain corners with a drone and without them, you have no chance to fish at all. If you want to use a drone for fishing, there are a few things to consider.
The more expensive drone models you have the more advantages you have over low-cost drones. For example; expensive drones are connected via satellites, while cheaper models work with WiFi. Another point that determines the price are automatic modes and obstacle sensors. Drones under $1000 are equipped with only the most necessary things.
Especially if you are traveling alone and you want to set an automatic mode, where the drone  follows you. On the one hand, the drone must have a good camera and be strong enough to carry the load of the hook and the bait. So let's see the best drones for fishing that are available on the market.
Summary of 10 Best Drones For Fishing in 2021
What is Drone Fishing?
If you are passionate about fishing and looking for a way to improve your catch, a drone could be the ideal solution for you. You can not only use the drone to search for nearby schools of fish, but you can also use the drone to throw your line far into the water.
This could be extremely handy if you are on the shore and need to cast your line into deeper waters. Gone are the days of kayaking in the ocean, sit on the beach, treat yourself to a beer and send out your drone to catch the fish for you (unless you like kayaking, of course).
How Does Drone Fishing Work?
You can use a drone to catch fish in two different ways. One solution is to attach a hook, bait and fishing line to your drone and send them over the body of water you wish to fish. The downside is that if you catch a big fish, it can drag your drone into the water. Not good! So fishing would cost you a lot more than you first thought. In this article we will go through in more detail how this can be avoided.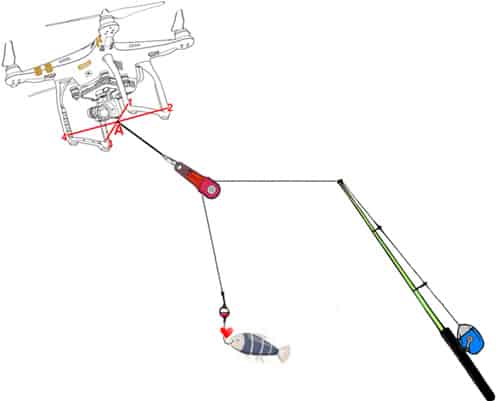 The second, more effective – although slightly more technical way is to use an accessory called a downrigger release clip. As seen in the picture, your drone is simply used to launch your line, and once you have a bite, the pressure exerted by the fish will cause the release of the clip by the downrigger.  You can bring your drone back or leave it to film your take.
10 BEST DRONES FOR FISHING IN 2021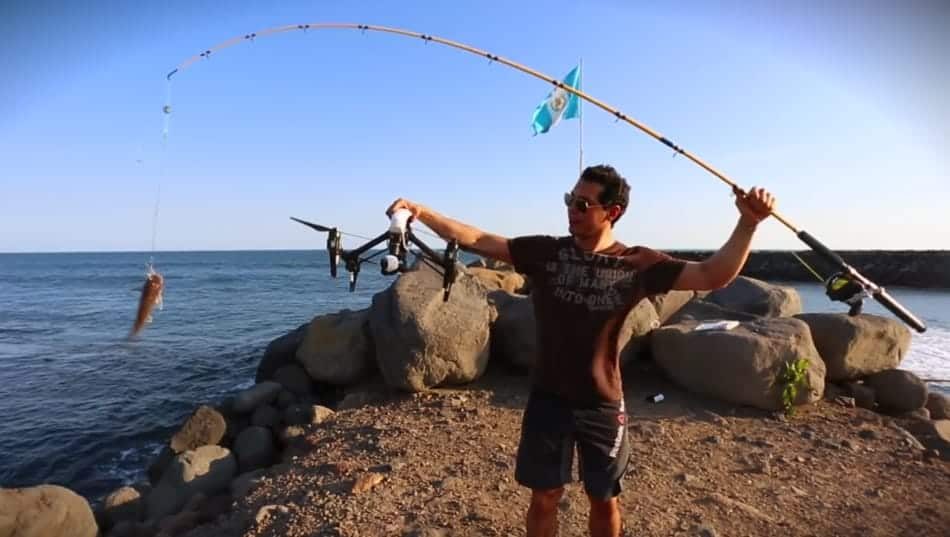 The main advantages that drones have when it comes to fishing is that drones allow you to come and fish in inaccessible places, from which you would not be able to fish from your boat or from land. Drones are therefore the perfect accessory for those who do not want to enter the water and hunt from their comfortable space.
The drone also has the advantage of being able to look up from a height and with its good quality cameras determine where a lot of fish might be caught. Therefore I'll give you a list of the top 10 fishing drones currently.
1. Phantom 4 PRO
It would seem that the drones from DJI , especially new models such as Phantom 4 PRO, can be a perfect fishing material. This drone has a very super flying time of 30 minutes, has a very high quality camera with HD/4K resolution, and a strong drive on all 4 propellers, making it stable to carry fishing gear. Also an important factor is the range that this drone can achieve and that is up to 6km, which is more than enough for fishing.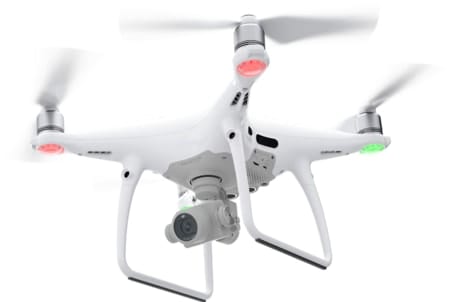 > Check Price, reviews and pics <
The DJI Phantom 4 PRO also comes with obstacle avoidance sensors and a Return Home option that is desirable in many situations. The disadvantages of this model are several. Firstly, the noise of the propellers will surely scare away all the fish if the drone gets very close to the water (but you should not fly so low). Secondly, the fishing process itself is changing so significantly that it is unlikely that real fishermen will like it. Nonetheless, this drone offers very good fishing skills and I certainly recommend it.
2. Yuneec H920
The Yuneec H920 is one of the best drones from Yuneec. The price is particularly attractive also (but the quality justifies it all). The Yuneec H920 is not a Quadro, but a Hexacopter for a comparatively low price. The flight stability of the Yuneec H920 is really very good. The built-in GPS and sensors ensure that the hexacopter is always safe and calm in the air, which is important for fishing.
> Check Price, reviews and pics <
Another advantage of this hexacopter is that if one or even two propellers fail in flight, it is still possible to land safely.
In terms of range, the Yuneec H920 can achieve a range of up to 1.8 km, but the connection is still very good at that range. This powerful hexacopter has the ability to carry quite a lot of weight unlike other drones on the list, so it won't be a problem to carry fish.
3. DJI Inspire 2
The DJI Inspire 2 is a professional drone which undoubtedly reinforces DJI's supremacy in the flying camera market. Based on a new structure composed of an alloy of magnesium and aluminum, it is able to reach the top speed of 94 km/h and accelerate from 0 to 80 km/h in just 4 seconds. With so much technology, you'd think starting the Inspire 2 is complex. It is not! In his suitcase, he is in "travel" mode and his arms are almost horizontal.
> Check Price, reviews and pics <
This drone is very easy to adjust to takeoff position, and you can immediately prepare it for fishing. It can fly up to 22 minutes in the air, which is quite sufficient for fishing (if you buy it for that exactly reason). I won't lie to you, this is the most expensive drone on the list, but also the drone with the highest quality. If you want to see more specifications it offers, click below.
4. Eachine E58
With foldable arms, this drone is very light, easy to carry and you can take excellent photos very lightly. The small fuselage contains excellent performance, clever folding design, and let you travel easily. The drone arm is interchangeable. 
If the engine or drone arm is broken, you no longer have to worry about the drone not working. Simply replace the drone arm and it can fly again. This drone will let you fly stably, and you can take clearer pictures.
> Check Price, reviews and pics <
In the hold mode, you can lock the height and position,  and take photos of every angle, making the experience very easy and convenient, so that even a beginner can easily use this drone. The drone takes off automatically and lands with one click, which is very practical. Eachine E58 is also suitable for fishing. Although I would say this drone is more practical for monitoring than for direct fishing.
The WI-FI real-time transmission FPV system can connect with your phone to the drone and the view will be displayed directly on your cell phone. With the headless mode option, the front of the drone can be made identical to the remote control, making it easier for you to fly to your destination. So I would recommend this drone to anyone who would use some extra help to monitor the fish rather than directly fish with the drone.
5. Snaptain SP500
This drone has 110° wide-angle 1080P HD camera with adjustable angle, can have many advantages when it comes to fishing and locating fish. GPS positioning helps the SP500 drone to hover steadily to get clearer images and "Return Home" option just when the battery is low, the signal is lost or you lose it want to have back.
You can fly as you wish by using the "Follow Me" or "Drawing a Route" mode on the control page of the SNAPTAIN app.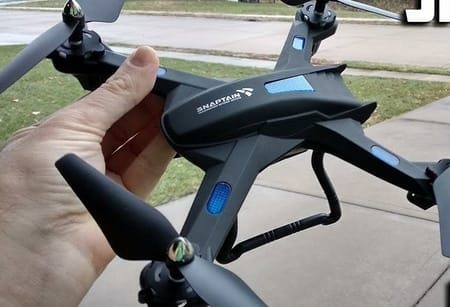 > Check Price, reviews and pics <
 You can also use this app to circle around an object and plan a desired route for focusing on taking photos and videos. Whether you are a beginner or not, this drone is very easy to operate. It is equipped with functions such as GPS satellite positioning, holding the flight altitude, headless mode, a key for takeoff / landing, emergency stop and 2 modular batteries that have a flight time of 30 minutes support for you, which makes your flight more exciting and interesting. Check here Snaptain SP500.
6. MJX X600
The MJX X600 is a semi-professional hexacopter with extremely powerful motors and great attitude! The remote control can be switched from mode 1 to mode 4. This drone can flies up to wind force 3 outdoors without any problems! The 6-axis gyro always stabilizes the model itself! Release the stick and it stands. MJX X600 has a range of 300 meters in the open!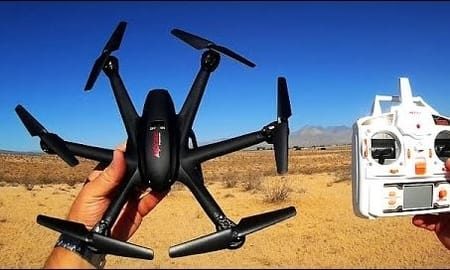 > Check Price, reviews and pics <
With headless mode and one-key return. This drone is great if you want to see where there are fish in the lake, but it is not recommended for direct fishing. This drone doesn't have much of a load carrying capability. Very easily this drone can be sent to the starting point by clicking on "Home Return". This is a very affordable drone and very cheap. So if you need an extra eye to check the territory in detail, this drone is for you.
7. DJI MAVIC Mini
This lightweight drone weighs only 199g which complies with domestic laws and regulations, and it is a product that can stably fly in the air. The biggest advantage of this drone is that permission is not required for flights in certain densely populated areas. The Mavic Mini is a compact drone with a body size of 245 x 290 x 55 mm when flying, and 140 x 82 x 57 mm with the arms folded.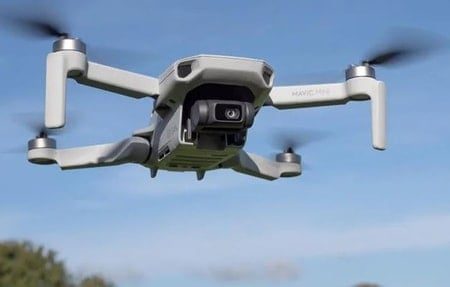 > Check Price, reviews and pics <
DJI Mavic Mini is also one of the cheaper ones from this list and it is very fast, flexible, stable, and would be a good fishing accessory. The maximum flight speed is 13m/s in sport mode, 8m/s in normal mode, the maximum flight time is 18 minutes, and the operation limit altitude is 3000m above sea level.
Due to the 150m limit, you will rarely need to go as high as you can. You can operate while watching the live view displayed on the smartphone, and the video quality is 720p/30fps. This drone does not have the ability to carry heavy weights, so this drone would be great for monitoring fish.
8. 3DR Solo
3DR Solo is a quadcopter, one appearance of which gives the impression of a high-tech and truly high-quality product. The copter's readiness for operation out of the box + the utmost simplicity of its development are key elements that favorably complement the unique design of this techno bird. Currently, the developer has introduced several intelligent flight control modes of the drone.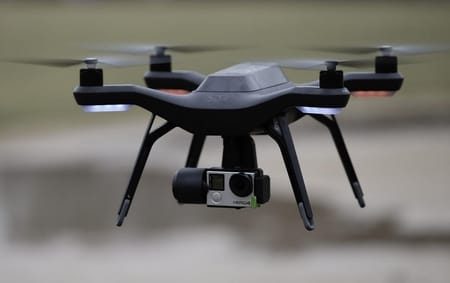 > Check Price, reviews and pics <
Moreover, according to 3DRobotics, they intend to gradually complement and expand the functionality of the copter. This drone is very easy to operate and you do not need any special training. 3DR Solo has a lot of features, and is very inexpensive as far as pricing is concerned. It has the ability to fly for 22 minutes which is quite enough for fishing.
PROS of this drone are: tech design, modular design, superior flight performance, constantly updated and improved software. The device is equipped with four powerful 880kV brushless type electric motors, which means you could even catch small fish.
9. QLPP 150M
QLPP 150M is the ultimate underwater drone that can dive up to 150m. It is a professional underwater drone with high pressure resistance. Innovation technology with 4K UHD camera: Integrated with a professional 4K camera with deep-sea starlight level and a 1 / 2.5-inch CMOS image sensor, you can take high-quality pictures and videos with 32/64G memory. One of the possibility is that you can record the moment and share it in real-time.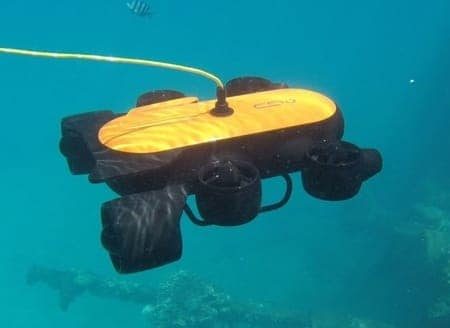 > Check Price, reviews and pics <
Integrated 160° wide-angle lens and professional DSP image processor supports 1080P live image intelligently reduce natural light and ensure high quality of the scene. With that informations you can easily see where are the lot of fishes. Motion and Still: 6 engines (4 vertical + 2 horizontal), interchangeable propellers, powerful and reliable.
This drone can dive very deep, giving it the ability to catch a lot of fish and explore the territory where they are. QLPP can hover with an accuracy of 2-3 cm. Always focus on the goals, so you will not chase away the fish. This drone is born to explore: As the most powerful underwater device with its numerous expansion interfaces, it can be kept for up to 4 hours. 
10. PowerVision PowerRay
PowerVision PowerRay is one of the most famous fishing drones, suitable for both beginners and advanced users. Interestingly, the device was originally created for underwater shooting and transmitting FPV video, but as the project developed, it received a sonar and was successfully used to search for fish. The cost of Power Vision PowerRay is under $2000, and this is an affordable price for such device.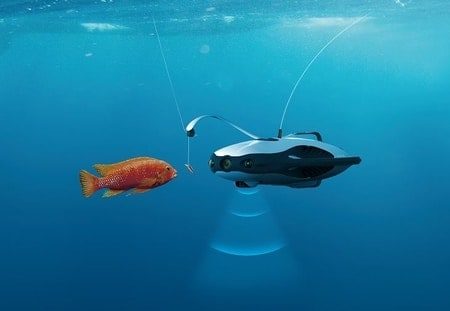 > Check Price, reviews and pics <
The device is capable of diving to a depth of 30 meters, operating at a temperature of -10 to +50 degrees Celsius. The total weight with the battery is 3.8 kg. The duration of scuba diving reaches 4 hours, provided that the Low Speed ​​mode is activated.
The device is equipped with a Wi-Fi transmitter, with which you can get video from the camera and sonar data. Communication range reaches 80 meters, while sonar operates at a frequency of 125 kHz. If you are committed to fishing, this is a drone you should definitely take.
Tips And Tricks For Drone Fishing
How Long Does it Take To Safely Control a Drone?
It mostly depends on the person, of course, but anyone who has operated a Playstation shouldn't have any major problems with flying a drone. Drones usually take off and land on their own. You move a control from left to right, confirm the order and the drone executes the instruction. Always keep an eye on the drone, especially when you are using a drone for fishing!
Even if you have ever lost track of your drone, the drone comes home independently at the push of a button. The same applies if the battery is slowly running out. As long as you don't fly close over the water and there are obstacles in your way, not much can go wrong with your first flight attempts. After the after the first 10 flights, the whole thing is much more routine.
Fishing From the Boat With a Drone
Especially when you are fishing from a boat, a drone can turn out to be a miracle weapon. As a boat angler you are usually in larger waters or even in the sea to fish for the target fish there. Since the water stretches over a very large area, the biggest challenge is usually finding the fish, because otherwise you can't do anything with the best bait.
To do this, the drone is launched from the boat and flown over the lake. Ideally, you move your drone at a height of about 15-30 meters. From this height you have a good overview on the one hand and at the same time you are close enough to the water to be able to discover the fish or schools of fish.
Depending on the water and weather, you can experiment to find the ideal height. Now you should approach the boat carefully to get within reach of the fishing rod. However, you shouldn't get very close with your drone to the fish. Otherwise they startle and disappear.
Be careful when flying over the lake. If you are not careful and are inattentive for a moment, you can quickly crash with the drone. A fall into the water is usually an expensive pleasure, since the electronics also suffer and must be repaired afterwards.
Bait Selection For Drone Fishing
There are several factors to consider when choosing the right bait for fishing with your drone. On the one hand, it is of course important to find a bait that interests the fish and attracts them. However, when fishing with a drone, there are other factors to consider.
The bait must not be too heavy so that the drone's flight characteristics are not impaired too much. Using a bait that is too heavy can cause the drone to drift, suddenly tip over when you shift your weight, or even crash completely.
In addition to the weight of the bait, it is also important to ensure that the bait does not fluctuate too much. Should this wiggle back and forth, this will also have a negative impact on the drone's behavior. The bait should therefore be attached in such a way that it cannot move too much back and forth.
On the other hand, it must not be fastened too tightly, otherwise there may be errors when casting the bait. If the bait does not release properly, this can also endanger the drone's flight stability and lead to a crash.
The fishing rod serves as the angler's extended arm and enables the angler to pull the bait through the water. Different baits can be selected depending on the target fish. The method works best when using predatory baits such as spinners because they need high speed. To prevent the drone from being lost, the bait can be attached to the fishing line with a rubber or other system on the fishing line.
Release System For Drone Fishing
The drone offers the possibility to transport the bait over the water to the fish. Once there, it is just as important that the bait is safely loosened and dropped. There are several different options for this. The simplest assembly is to attach a rod to the drone and use it to transport the bait.
The bar can also consist of a wire that is attached between the legs and holds the cord. However, it is important that the drone can safely detach from the cord. If there are problems here and the cord gets stuck on the drone, it can quickly fall.
Another option is a more complex system for casting the bait, which can be controlled by a radio remote control. With skill and technical understanding, it is possible to build a launching device yourself. The components for this are available from electronics retailers and can be assembled at home using a suitably equipped workshop.
If you don't have the equipment or just don't want to lock yourself up in the basement in the craft workshop for days, you can also buy the technology and save yourself a lot of work. Regardless of which system you ultimately choose, it is important to make sure that the system is in perfect condition and works well.
Related Article: How to Catch Fish With Drones? Drone Fishing
Other Risks and Precautions For Drone Fishing
The biggest risk for the drone is certainly that the bait does not release properly and the drone is brought to a crash. However, there are other points to consider if you want to successfully fish with the drone.
When flying over the water, you should not fly too close to the surface of the water. Thanks to the line and the bait, the wind can better grasp the drone and make it skid. If you fly too close to the surface of the water, it quickly leads to a crash.
Another reason why you should keep your distance from the water surface is under water. Many fish watch the water surface and wait for insects to plunge into the water to eat them. They will also see the bait when it flies just above the water surface and can jump out of the water to catch it.
This would brake the drone abruptly and presumably tip it forward, causing it to hit the water. The additional weight of a fish, if it bites, is a great challenge for the drone. Most drones will crash and land in the water. It is therefore strongly advised not to fly the drone just above the water surface.