10 Best Drones For Education To Build, Code & Configure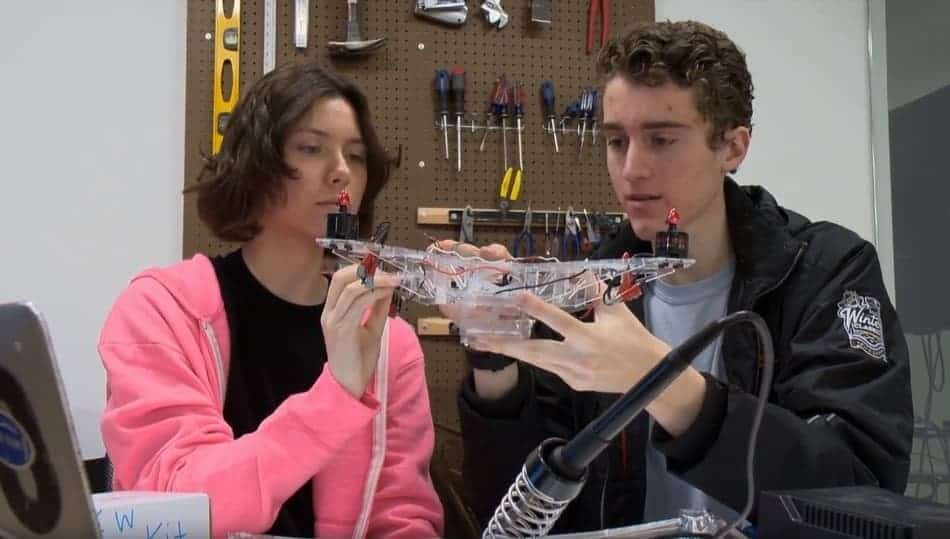 For those who want to learn more about drones and how they work, educational drones are the best choice, and they don't cost you a fortune! You can build and code them and at the same time have fun. A large selection of educational drones is available today, whether you want to learn at the classroom, at University, or at home.
Most commercial drones on the market come with high-quality cameras, flight stability, a bunch of sensors and are very easy to operate. However, these drones are relatively expensive, and on most of them, you do not have the ability to code on them and configure them. So they are not the best and ideal choice for educational purposes.
In this article, we will highlight the best models for education, which you can code and build from scratch. Along the way, we tried to include a few interesting education drone videos, so you can get a clearer picture of what it all looks like. I have also written an interesting article about Education Drones TECH PLANET, which you can look at. Let's start!
Best Drones For Education
The best thing about educational drones is that they are cheap and have a bunch of programs where you can learn how to code and build them from scratch. These are the most popular educational drones on the market:
These models are designed around STEAM educational principles. With these STEAM models, you can easily learn a lot of things about drones and how they operate.
What Exactly Is STEAM Education?
STEAM Education is the field that combines Science, Technology, Engineering, Mathematics, and the Arts where students inquiry, use critical thinking, and mostly work in a team to solve problems.
In this way, students are engaged in experiential learning, make thoughtful risks, persist in problem-solving, and work through the creative process. Below we will see the best educational drones on the market, drone kits and their features.
10 Best Drones For Education, Code And Configure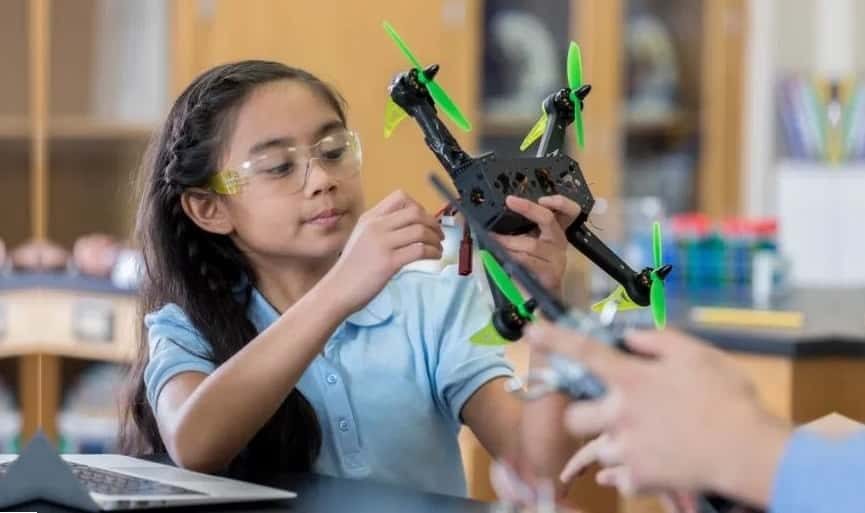 1. Robolink CoDrone Lite & Pro – STEAM Educational Drones
Robolink was established in 2012 and its main task was to encourage students all around the world to learn about STEM (Science, Technology, Engineering, Math) way of education. By this way of learning, students will gain a lot of new experience which they will be able to apply for the real tasks they will have.
Robolink except that produces educational drones, they also include the curriculum learning platform that comes with a big community forum. They are currently located in San Diego and have two learning centers. If you want to order your CoDrone Lite or Pro educational drone, you can do it, because they have delivery all across the world.
CoDrone Lite Educational Drone
With the CoDrone Lite drone and the use of your computer, you can establish communication with the CoDrone true the Bluetooth (BLE) technology.
By using CoDrone educational kit, you will learn how to program drones by using text-based coding in Python and block coding in Snap. Once you gather more programming knowledge, you will be able to code your drone using Blockly.
CoDrone Pro Educational Drone
Keep in mind that the CoDrone Pro is completely the same as the Lite model. With this Pro model you can use Arduino, which means you use text based coding in the Arduino coding environment, but it can also be used in Python with the CoDrone Lite setup.
CoDrone Price
The current price of these educational models at the time of writing this article is the following;
CoDrone Lite: $119.99
CoDrone Pro: $179.99
CoDrone Specifications
Flight Range: 160 feet (48 m)
Flight time: 8 min
Weight:3 ounces (37 g)
Bluetooth:0
Gyro: 3 axis gyroscope, 3 axis accelerometer
Sensors: Infrared, Optical Flow sensor, Barometer sensor
CoDrone Kits For The Educational Purposes
If you are interested in Robolink drone kits that are suitable for classroom, you can get them for:
CoDrone Lite Kit – Classroom Set: $1369.99
CoDrone Pro Kit – Classroom Set: $1699.99
In these packages you will get 12 CoDrones that also come with 12 remote controllers. Robolink has suggested that 2 students are recommended for one drone. In the following video, you will see CES 2018, where the CoDrone Lite and Pro were introduced with the programming languages.
https://www.youtube.com/watch?v=6ghD3s1tKXI
2. Eachine E58 – Education Drone Kit
The Eachine E58 quadrocopter is equipped with collector-type motors, laid horizontally, and the torque is transmitted through the gearbox. This drone can be used for educational purposes among students, because it's very simple to use, even for beginners.
There are two options for the kit to choose from: 480P (optional) and 720P, which in general determines the quality of the drone's on-board camera.

Eachine E58 Camera & FPV
As mentioned above, depending on the configuration, the E58 quadcopter can be equipped with two types of cameras: 0.3MP / 2MP. The top-of-the-line camera boasts an exponentially wide FOV of 120 °, which is optimal for FPV flying.
To ensure FPV flight, the camera works in conjunction with a Wi-Fi video transmitter that transmits a picture from the camera at a frequency of 2.4GHz. The only disadvantage of this drone is that the frequency of the video link coincides with the frequency of radio control. 
Eachine E58 Charging
The battery is charged from the included USB cable, which is connected to the battery at one end (microUSB), the other to the USB port. When connected, a red LED lights up on the battery, indicating that the charging process has begun, it will remain on steadily until the battery is charged. The charging time generally corresponds to the stated figures in the specification, each practical cycle was within 1h 10min.
Eachine E58 Box Components
Eachine E58 Quadcopter
Control equipment
Battery 3.7v 500mAh LiPo
2 × spare rotor (CW / CCW)
4 × rotor guards
USB cable for charging the drone battery
Screwdriver
User's Manual
Eachine E58 Specifications
Working frequency range:4GHz
Number of channels: four
Headless mode: Yes
Return to hardware: Yes
Stabilization: 6-axis gyroscope
Altitude hold: barometer
FPV flight: via Wi-Fi at 2.4GHz
Auto take-off / landing: Yes
Drone Power:7v 500mAh LiPo
Power supply: 3 × 1.5 AA (purchased separately)
Flight time: 7-9 minutes
Charging time: 60-70 minutes
3. DJI Spark – UAVs For STEAM Education
The DJI Spark is a mini aerial drone that has the latest technologies and intelligent flight modes. This hobbyist quadcopter is equipped with a 2-axis mechanical gimbal and a camera capable of capturing great photos.
This drone can also be used in STEAM education, where it can provide students with a lot of knowledge that they can later use in making their own quadcopter. The selfie drone will automatically return to the take-off point in case of signal loss, low battery level, or pressing the RTH button.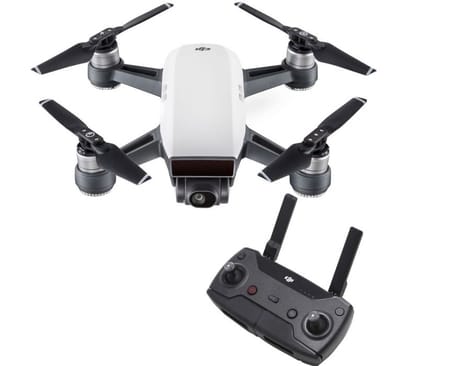 Spark's Cinematic Capabilities
The Spark is equipped with a 12 MP FHD matrix, 1/2.3 inch CMOS sensor. The drone's camera configuration includes a wide-angle lens (25mm focal length). You can capture very high quality images with this model. Many students use this drone at universities as part of STEAM education.
The aperture of the latter is f/2.6. High quality optics paired with improved UltraSmooth technology and a two-axis mechanical gimbal guarantee brightness and stability of shooting, without distortion and noise. 720p video is transmitted without delay at a distance of up to 1.2 miles (2 km) via a wireless HD Wi-Fi system.
DJI Spark Battery System
This mini drone is powered by a 1480mAh lithium polymer battery (weighs only 95 grams), which supports 12 intelligent protection methods. The battery system is capable of autonomously monitoring the charge level and keeping the operator informed about the time of return to the take-off point. 
The flight duration is 16 minutes. The battery is charged via a USB cable (in 80 minutes), a charging hub. Very soon it will be possible to use another method – the Charging box docking station.
DJI Spark Intelligent Control
The developer of this popular mini-drone has provided a QuickShot mode for quickly recording a video clip. The drone shoots for 1 minute, then cuts the video from the selected frames.
In this mode, you can select one of four automatic presets:
The aircraft takes off vertically upward, with the camera pointing down. The frame, moving from a close-up to a wider one, shows the surroundings of the main shooting target.
The quadcopter gains altitude, circling the target in a spiral.
The drone flies upward, keeping the subject in the center of the frame.
The target is flown around in a circular trajectory and a panorama is taken, while maintaining the height.
DJI Spark Specifications
Weight: 66 lbs (300 g)
Flight Time: 16 min
Battery Life: 1480 mAh
Max Speed: 31 mph (50 kph)
Operating Freq: 4 GHz & 5.8 GHz
Senzor Size: 1/2.3″ CMOS
Video Transmission: 720p 30 fps
4. Sky Viper e1700 – Best Affordable Educational Drone
The Sky Viper e1700 drone is an excellent choice if you want to learn all about drone components and how to build your own quadcopter from scratch. This drone comes with a reasonable price and it's great for beginners.
In this kit, you will get everything that is needed to build a drone from the scratch. The control board of the Sky Viper e1700 is based on drone racing platforms and with that, the drone can reach speeds up to 25 mph (40 km/h), which is more than enough for educational drones.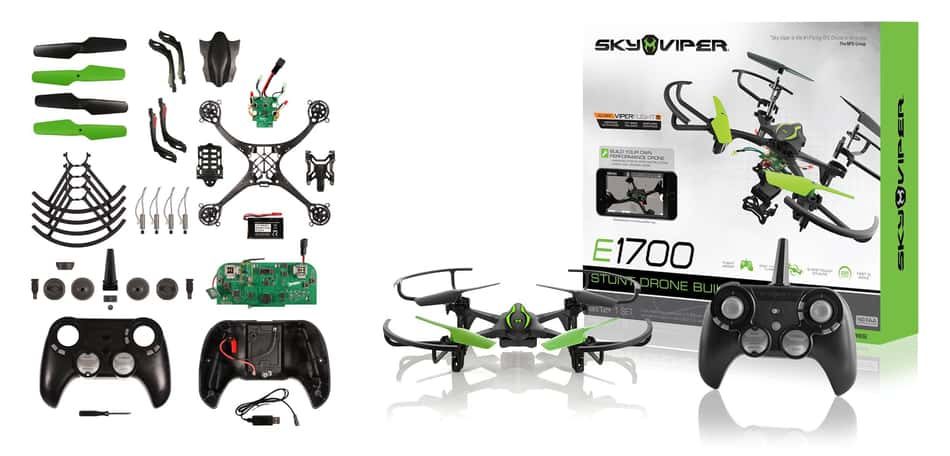 Sky Viper e1700 Educational Features
This drone model comes with the following features that can be used in STEAM education.
Dual Flight Modes: Viper e1700 has auto and manual mode. With the auto mode, your drone altitude is maintained hands free, which indicates that you can control your drone by flying forward, backward or sideways while you are at the same height.
Auto Launch & Land: By pressing a single button, you can launch your drone into the air. By pressing the button again, you will automatically land your drone. This is a very easy and useful feature.
One Touch Stunts: Just by pressing and holding the left controller you are enabling your drone to perform flips. This is for those who are a little more experienced in piloting the drone, but it will certainly serve well for the purpose of education.
Sky Viper e1700 Drone Kit
4 motors with 4 green propellers
USB LiPo battery charger
Antenna housing
4 blade guards with 2 pro style sticks
Manual
Screwdriver & screws
Power & stunt buttons
Bottom & top covers
Flight controller board
Drone Frame
Transmitter circuit board
Sensitivity switch
Battery tray, cover and compartment insert
2 red & green arm covers
2 joystick thumb covers & pads
Front & rear controller housing
The price of Sky Viper e1700 is extremely low, which is a great opportunity to get this educational drone with a lot of components where you will learn everything about quadcopters. It comes with a drone kit.
Sky Viper e1700 Specifications
Weight: 75 g
Flight Time: 7-10 min
Max Speed: 25 mph
Battery: 650 mAh , 3.7V
5. DJI Tello EDU – Best Camera Drone For Coding & STEAM Education
The DJI Tello EDU is a unique programmable drone designed specifically for the education (STEAM) system. With it, you can easily and effectively learn programming languages such as Swift, Scratch, and Python. 
With this model you can also include guidance for educators, a suite of different learning apps, and learning materials, making it an innovative learning tool for schools and other educational organizations. Best programmable drone for beginners.
In order to offer the education system the most efficient and complete solution, DJI works with partners around the world to develop high-quality educational materials. Users also have access to the Swift Playgrounds app, which is downloaded to the iPad and provides free access to the Tello Space Traveler training course. 

Developing Programming Skills With Tello EDU Drone
A new set of development tools (SDK 2.0) will allow students to become real developers, more and more immersed in the depths of artificial intelligence, and study such areas as object recognition, object following, 3D reconstruction through programming, computer vision and other innovative technologies.
You can program multiple Tello EDUs to fly by using only one device with DJI STEAM program. Write the code so that a flock of several drones will fly over flight cards, as well as make flips and other acrobatic figures.
Additional benefits of Tello EDU for school use:
DJI Tello EDU's safety is ensured by the use of commutator motors (low rotation speed), system shutdown when a foreign object enters, reliable protection and stable positioning.
The small size and weight of the quadrocopter allows it to be used in classrooms.
The programming languages ​​Swift, Scratch and Python allow teaching students to program in both elementary and high school.
The educational kit is designed for teaching a group of 10-15 students.
Tello EDU Box Components
5 DJI Tello EDU quadcopters;
10 spare sets of propellers (4 pcs.);
15 rechargeable batteries;
5 hubs for battery charging;
5 additional propeller guards;
20 flight cards for programming;
1 case;
10 lessons on programming a quadrocopter in Python.
Tello EDU Drone Specifications
Flight Time: 13 min
Flight Distance: 300 m
Camera: 5 Mpx
Auto take off & landing
Multiple flight modes
Video: 720p HD transmission
Low battery protection
Vision Positioning System
Multiple flight modes
Special development kit
6. DJI Tello Iron Man – Educational STEAM Drone
The DJI Tello Iron Man – feel like a part of the Avengers with Ryze's Tello Iron Man edition quadcopter. It features a red and gold color scheme inspired by Tony Stark's iconic Iron Man armor which makes him the perfect drone for education when it comes to teenagers.
This drone model is identical to the previous one and has all the features as an Tello EDU.
Tello Iron Man – New Mobile App
Combined with the Tello Hero app, you can control a drone from the world of Marvel in a series of training missions. The program provides a specially designed set of missions that gives you a glimpse into the world of Iron Man. 
Tello is an impressive quadcopter in an extremely compact size. It is a product of the painstaking work of Ryze Technology, DJI Innovations and Intel. The drone is designed for both adults and children, allowing users to learn more about flying devices with coding capabilities, as well as for educational purposes. For novice pilots, the Tello quadcopter is a good combination of price and functionality.
DJI Tello Iron Man Designed For Beginners
The Tello Iron Man Edition quadcopter is very easy to fly, which is perfect for novice pilots. Intuitive controls and the need for only a smartphone creates extremely easy conditions for exploring the world of drones. A special mobile application is provided for this device, which can be installed on almost any smartphone. DJI drone electronics ensure maximum control stability. 
The compatibility with a VR headset on DJI Tello gives you the opportunity to see the world from a bird's eye view. There are only two joysticks, one of which is responsible for turning to the sides, and the other makes the drone take off, land and turn around. The device has only one power button, the connection with a mobile device via a Wi-Fi network occurs automatically. The image from the camera is again displayed on the smartphone screen. 
Note! The features and specifications of this drone are the same as on DJI Tello EDU model.
https://www.youtube.com/watch?v=HIcdEhTkxVo
7. Parrot Mambo Fly – Best Educational Drone For Coding
The Parrot's Mambo Fly drone stands out for its modularity. This model is very easy to fly, it has an intelligent autopilot system, powerful sensors, and an advanced flight controller. Because of these features, this drone is very suitable for STEAM educational purposes. This is very good programmable drone.
Addition to the possibility of capturing photos and videos, the camera gives the device immersion flight capabilities when combined with the Parrot Cockpitglasses 2 mask – or other virtual reality masks for a smartphone.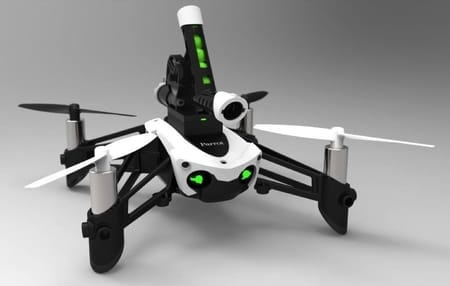 Parrot Mambo Additional Equipment
With its two small diodes on the front arranged like a pair of eyes, Parrot's Mambo differs from other drones by its nice little face – it is however more reassuring with its eyes lit in green (sufficient battery level) than 'in red (low battery or error). 
This educational drone comes with a patented Smart Block system, with which you can connect accessories to the drone. Things that can be added are an FPV camera, cannon, or a grabber. It's perfect for students to experiment and learn to program with the Parrot Mambo drone.
Parrot's drone weight is 2.22 oz / 63 g, battery and propeller guards included (65.1g without fairing), although it is necessary to add the 10 g of its optional camera so that the comparison is really relevant. 
Flight and Gyroscope Technology
The Mambo takes off with the push of a button and stabilizes about 1m from the ground. You can also make it take off from the hand by activating an option and throwing it upwards. Every drone is stabilized horizontally and vertically.
However, the stability of drone reaches its limits outdoors if there is a little wind and it is better to keep the smartphone or the controller in hand to be ready to correct any drifts. This drone also comes with an Inertial Measurement Unit, an 3 axis gyroscope, and 3 axis accelerometer for perfect flight stability.
Camera Quality and Specs
The Mambo Fly drone does not come with a front camera by default, but you can add it as an option in the FPV pack. The drone is however well equipped with a small camera on its stomach, but it is mainly used to stabilize it by filming the ground at 60 fps. Its very low definition sensor nevertheless allows you to take some 640 x 480 px photos.
This model is supplied with a 550 mAh LiPo battery. Without a camera, after 8 minutes of hovering indoors, the drone triggers an alert, and its diodes start to flash red and drone start to land automatically when its battery runs out of energy.
It then takes about 30 minutes to fully charge the battery with a 2.4 A charger. The model comes with a 660 mAh battery.
Parrot Education For Drone Programming
The Parrot has introduced Parrot Education to support and expand the education-related community for drones across the globe.
This will help children from primary schools all the way to PhD's to get a new aerial perspective and to understand how drones operate. DJI has partnered with the best coding platforms to help drone enthusiasts to program their drones in home, classroom, University, or college.
Parrot Mambo Fly Specifications
Flight Time: 8 min
Battery: 550 mAh / 2.4Wh
Weight: 22 oz / 63 g
Range: 200' / 60m
Charge Time: 2 hours
Connection: USB
8. Makeblock Airblock – Best Modular Educational Drone
The Makeblock Airblock is a specially designed and built drone for educational purposes, and is classified in STEAM education. This programmable drone is very easy to operate, even for beginners.
The Makeblock Airblock educational quadcopter is made up of 1 module and 6 power modules. Airblock is indeed reserved for students and makers of new technology. This drone provides an intuitive interface for those new to computer programming, so that students of any skill level can program and code Airblock creations on their own.
By connecting the Airblock application, you can program certain specific actions, such as looping, high speed drift, backtracking, etc. In programming mode, one can even control the force of each propeller by applying aerodynamics and physics.

Makeblock Working Principle
Airblock has 6 hexagonal-shaped modules and a central piece on which the six modules are attached. These modules are equipped with propellers, it is possible to place the blades vertically or horizontally.
Place vertically, you can transform the kit into a flying drone; while horizontally, this makes it possible to make a hovercraft since this position moves the device forward.
Thanks to a magnetic system, the modules are attached very easily. Since Airblock is designed to operate in the air or on the ground, the parts are super tough. In the event of a crash, they come off without damaging them, they can be reassembled with ease.
Makeblock Airblock – DIY Kit
This drone model allows the user to participate in the construction and coding of the drone, along with the piloting, via smartphone thanks to the Bluetooth connection.
This model of Airblock is designed to be a drone, but it also offers the possibility of transforming this drone into a hovercraft by the simple assembly in a few minutes. This remote-controlled hovercraft can go on the water!
Developing Programming Skills With Makeblock
The Makeblock drone is modular, but also programmable drone thanks to a visual programming language present in the app. The language is presented in the form of "bricks" of commands and buttons. Move and start buttons are already provided but it is possible to add others by a simple drag / drop.
With STEAM educational system, students will gain so much skills by working with this drone and will develop creativity, innovation, problem solving and collaboration.
Makeblock Airblock Box
1 control heart 
6 magnetized modules
6 propellers
10 propeller guards
1 hovercraft base
1 charger
1 Li-battery
1 USB cable
Makeblock Airblock Specifications
Flight time: 8 min
Weight: 5 oz (141 grams)
Flight Range: 33 feet (10 meters)
Connectivity: Bluetooth
Electronic Sensors: Barometer, 6 Axis Gyroscope, RGB LEDs.
9. Hubsan H111D – Educational Drone
The Hubsan H111D quadcopter comes in a stylish, black box with a transparent window through which the quadcopter is visible. In addition to a miniature quadcopter and a huge control panel, the box contains: USB charger, one set of spare screws, and instructions. Unfortunately, the kit does not include a memory card, so you will have to buy it separately. This drone also deserves to be on this list and it is used for educational purposes.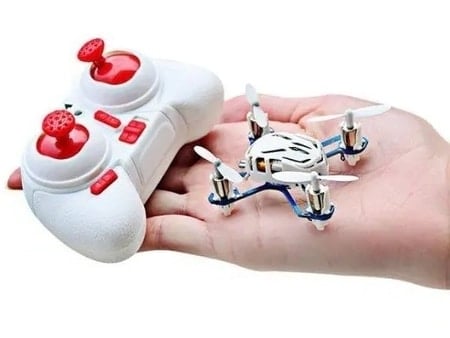 Hubsan H111D Appearance
All drone parts, including motors, are fixed to the mainboard. We will attribute this fact as a minus because, in case of any serious accident, the entire board is replaced as a whole. Internal components (camera, battery, receiver, and transmitter) are hidden under a protective frame. The material is durable and lightweight ABS. The motors are easily removable, but soldering is indispensable.
The battery is built into the body like most drones in this niche (without the possibility of quick replacement). On the back of the drone, under the charging connector, is a tiny power switch. For the better orientation of the pilot (front/rear), the developer has equipped the quadric with multi-colored propellers and LED backlighting.
Camera
The Hubsan H111D FPV camera is integrated into the body and has a very small viewing angle, which in turn complicates control in FPV mode.
This is also indicated by the fact that the video is recorded on a memory card (microSD is purchased separately), which is installed not in the drone's slot (it is not there), but in the control equipment slot. Recorded video resolution is 1280 × 720p (HD). Video recording format AVI.
Remote Control

The Hubsan H111D quadcopter is equipped with the most common control equipment, which is used for all HUBSAN drones with FPV flight capability. The first thing that catches your eye is the impressive size of the remote control and the built-in 10cm FPV display, which displays a picture from the drone's camera in real-time.
Hubsan H111D Specifications
Broadcasting a video stream at an analog frequency of 5.8 GHz without delays
HD FPV camera (720P)
Headless mode
6-axis gyroscope
For outdoor and indoor flights
LED backlight
4GHz control panel with built-in 4.3-inchmonitor
Flight time: up to 6 minutes
Flight Range: up to 50 meters
10. Dronea PlutoX – Educational Drone Kit
This educational drone model (PlutoX) is designed for people who want to build, experiment, design, and fly a quadcopter. The PlutoX is a product Kit that can also be programmed very easily, which provides additional features.
PlutoX Drone Kit Box
PlutoX drone
Complete manual
Code software
Modular hardware
WiFi Camera, DC geared motors, and range sensor
10 DIY projects
PlutoX Drone Kit Hardware Components
The components that you will receive in the Kit are the following;
PlutoX Drone
Battery of 600 mAh (LiPo)
Video camera
2x geared DC motors
2x wheels for the geared DC motors
2x spare quadcopters motors
1x spare propellers
BasicX Expansion Cards
Stickers & Aviation badge
PlutoX Programming
Behind the PlutoX software development is Cygnus IDE. Cygnus IDE allows users to create real-world apps for drones. It has an API-based Arduino interface. By using the open-source Cygnus IDE, this quadcopter can make easy modifications with just a few clicks where you need pre-write the code with the phone app Pluto. The knowledge you need to program something with Cygnus IDE is the syntax of the C ++ language.
PlutoX Specifications
The PlutoX drone specifications and features are the following;
Flight Time: 9 min
Flight Range: 196feet (60 m)
Weight: 15 g
Sensors: API Based Interface
Bluetooth: 4.0
Drone Frame: Open Source & modifiable
PlutoX Project on Indiegogo
The PlutoX educational drone is ready to use a model that can be shipped immediately. This drone is listed on Indiegogo and you can order it on PlutoX here. We have put here an excellent video of PlutoX where you will be introduced to all components and programming modes that it has.
https://www.youtube.com/watch?v=e8feMM1Cjco
Drone Education – Building 3D Printed Quadcopter
It's probably no secret to anyone that 3D printing has been used in modeling, including drone engineering, for a long time. Many parts for a quadcopter can be 3D printed. A fully 3D printed drone is nothing new either. Almost all parts that are not motors or electronics can be 3D printed. Besides the visual and aesthetic differences, the printed version has the advantage of being easy to update and modular. 
If we print the parts on a 3D printer, we have an almost endless supply of spare parts, making it easier to survive regular drone crashes. In addition to the fact that the drone will be easier to repair, a homemade drone will give you a better feel for its interior and mechanics.
What You Need to Get Started?
Aside from the 3D printer, you need some non-printable parts like a motor, batteries or accumulators, some electronics, sensors, a remote control, and some knack for putting it all together. Sometimes propellers can be printed.
How Much Will Cost to Build a 3D Printed Drone?
If you have your own 3D printer, then only the price of plastic is the cost. If you don't, then you can find someone that has a 3D printer in your city and negotiate a printout, the price depends on how you negotiate. Usually ask for $0.1 per gram of printed design. At this price point, the cost of the frame would be around $11. The assembly is very simple and does not require any special tools.
Building a 3D frame drone will help you in your drone education and give you an excellent understanding of how drone components and hardware works. Besides that, you will learn how to configure and calibrate your drone.
Keep in mind that building a 3D printed drone requires some solid experience. If you don't have it, you can learn how to solder by clicking here.
https://www.youtube.com/watch?v=gpKcrYcMFKM
Conclusion
We have gone through all the popular educational drones that are currently available in the market. By using these drone models, you can learn a lot about quadcopters, how they operate, what parts they have and how to program them. STEAM education is becoming more and more popular in the world, and it should be followed in order to stay in step with the new technologies that are coming to us.