What Drones Does Hollywood Use?
When we talk about Hollywood, they use only the best and most suitable drones, especially when it comes to cameras. Amateur drones can capture great footage, but their payload is low, so they are not suitable for professional use. 
Drones for filming are often inferior to their light counterparts in flight duration, but the developers create models for Hollywood that can hold out in the air for up to half an hour. Anyone can buy professional drones, but for large film projects, quadcopters are not bought or rented separately – there are special companies that provide shooting services. So, let's see what these drones look like.
So What Drones Does Hollywood Use? The drone that is most commonly used in Hollywood for filming is the XM2 Sierra. This drone can carry the best cameras in the world up to 30 kg (65 lbs). The XM2 Sierra was used to shoot some of the most popular movies of today, such as: Pirates of the Caribbean, Thor, Aquaman and Star Wars Episode 9.
While some famous models like DJI Inspire 2 are awesome for aerial photography , directors request much better cameras for their movies. Every director in Hollywood has a favorite camera. The cameras used to shoot movies are generally large and most drones cannot carry them up.
Although the DJI brand dominates the world market when it comes to drones, they need much bigger and more powerful models that can carry up the weight of the cameras. There are various companies that specialize in making drones just for filming, and one of them is XM2 Cine.
Hollywood most often hires special companies that deal exclusively with designing drones for making movies. One of the most famous models used in Hollywood today to make movies is the XM2 Sierra. With the use of this drone, some of the best movies of today were made, such as: Avengers and Star Wars.
Hollywood And Rules About Filming
In Hollywood, it is not allowed to share information and to discuss what equipment is used for current movie and which drones are used. You need professional drones to carry heavy cameras, and these drones are some of the biggest in this industry.
Each film is mostly shot with a different drone model, but the most common models used in today's film industry are: DJI Inspire 2, XM2 Sierra, Aerigon MK II, Freefly ALTA 8, etc.
How the Process of Using Drones in Hollywood Works?
The use of drones has taken the film industry to the next level. In fact, Hollywood itself can order the development and manufacture of new models of devices that they need for operator work, but this is not necessary: ​​there are already many companies providing services without unnecessary problems. 
The cost of one day of renting a professional quadrocopter with a team of operators is about $15,000, and taking into account the fact that shooting services from the air are usually not needed for the entire duration of filming, the amount does not greatly affect the overall budget of the film.  Most companies use ready-made drones for the film industry, and only a few are developing their own professional drones.
More About XM2 Cine
The XM2 Cine is a private company that designs drones and shoots scenes in movies. It is an Australian company that is specialized to make the best possible drones for the movies. The professional cameras they have in Hollywood weigh a lot, so drones need to be designed to be able to carry them. One of their biggest model is the "Sierra". That drone has a maximum payload of 65 lbs (30 kg).
That's more than enough for any camera to hook up to drone and record. The price of this drone is more than $ 60,000. Some of the most popular movies in Hollywood were shot with their drones like Star Wars Episode 9, Pirates of the Caribbean, Fast and the Furious 5, etc.
The Cameras That Are Used in Hollywood
When shooting Hollywood movies, directors want the best possible camera in the air. So you should not be surprised that they want a drone that is capable of lifting the same cameras as they use on the ground. The XM2 is using various cameras for the shooting such as:
RED Monstro 8K – This great camera, the RED Monstro 8K is able to record 8192 x 4320 video at 60 fps. The price of this camera is around $70,000.
Arri Alexa 65 – The unique XM2 Sierra is the specially designed drone that can carry the 6K digital video camera. Therefore, Alexa 65 is a great camera for shooting movies.
Logmar Magellan 65 – This is the best air camera that is compatible with XM2 Sierra.
XM2 Stingray – By this you can attach an array of three Alexa Mini cameras.
Films and Drone Scenes in Them
• Skyfall (2012)
A drone-filmed motorcycle race scene became so popular in Hollywood that the European Aviation Safety Agency, FAA, granted six film companies permission to use drones commercially.
Drone model: QNX Flying-Cam 3.0 SARAH
• The Wolf of Wall Street (2013)
The American company Freefly Cinema helped the film crew to create a bird's eye view of the film "The Wolf of Wall Street". The aerial footage of the pool party was shot by a drone using a 4K quality Canon C500 camera attached to a Freefly drone.
Drone model: Freefly Cinema drone
• Spectrum (2015)
One of the film's most dynamic scenes was James Bond running on the rooftop, mostly filmed with drones on a rooftop near Trafalgar Square in London. The company needed a special permit from the Civil Aviation Authority to shoot because the scene was filmed at night and the use of UAVs in central London is restricted for security reasons.
Drone model: Aerigon MK II
• Avengers: Age of Ultron (2015)
Helicopter Film Services filmed aerial scenes in Hendon, UK. A team of three people serviced the quadcopter, which was equipped with a RED Dragon camera. The team filmed background scenes and action, following the instructions from director Joss Whedon and co-director Ben Davis. 
The camera filmed individual sections of the city, and from the set of these frames, the special effects specialists made a general 3D model. 
Drone model: Aerigon MK II Robot Called
• Chappy (2015)
In the movie, one of the robots flies through a glass window at full speed. This scene was shot using a drone, and while the shot could not have been shot with a helicopter, it could have been shot with a cable camera. However, the choice fell on the quadcopter, which made the scene more dynamic. 
Drone model: DJI Matrice 600
Can You Fly a Drone in Hollywood?
Drones are banned from flying in Hollywood at night. You can only fly with drones if you have an authorized licensed by the FAA. Drones that are below 0.55 lbs (250 g) can fly above Hollywood without permission without any problems.
Best 7 Drones For Making Movies
1. Aerigon MK II
         Drone Features:
Maximum takeoff weight: 23 kg
Overall diameter: 1510 mm
Weight without batteries: 5.5 kg
The minimum load is 6 kg, the maximum is 13.4 kg.
Price: $42,000
This model is the 6-frame UAV that is designed for professional cinema use. Designed to work with heavy industrial cameras and lenses. He participated in the filming of many Hollywood films , including "Specter", "Avengers: Age of Ultron", "Into the Woods", "Mission Impossible: Outcast Tribe", "The Hunter".
2. Flying-Cam 3.0 SARAH
        Drone Features:
Max Speed ​: up to 140 km/h
Flight time: up to 60 minutes
Maximum takeoff weight: 10 kg
Maximum flight altitude: 5 km
Temp range from: -20 ° to + 45 °.
Price: $18,000
This drone received the 2014 Science and Technology Award from the Academy of Motion Picture Arts and Sciences following the filming of Skyfall. He also took part in the filming of the films "Harry Potter and the Chamber of Secrets", "Transformers", "Mission Impossible" and other high-budget Hollywood films.
3. Freefly ALTA 8
        Drone Features:
Flight range: 1.5 km
Quickly set up, ready to fly drone
Folding carbon fiber frame
The camera can be mounted from above and below
Weight: 19 kg.
Price: $17,500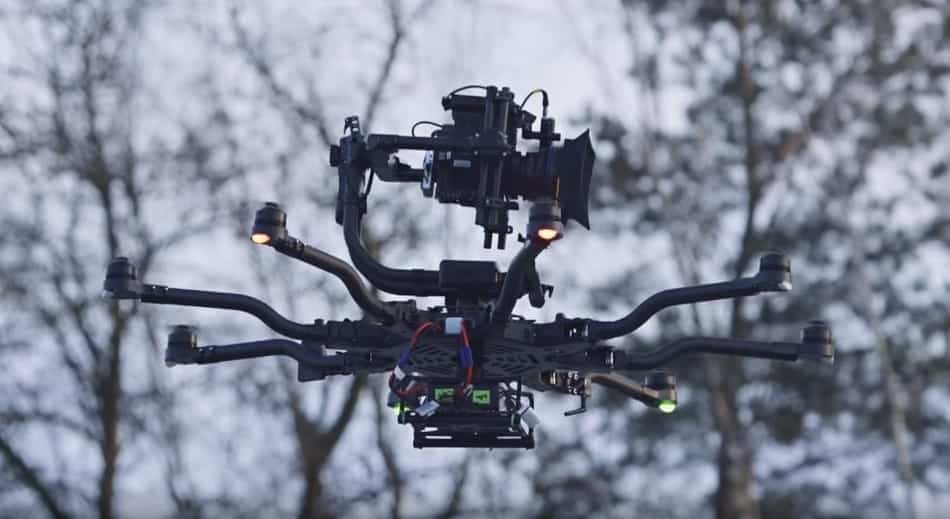 Convenient and reliable Freefly ALTA 8 is able to freely lift the camera weighing 8 kg. The drone can be controlled using the SYNAPSE flight controller, the drone is compatible with ARRI and RED cameras. Used in the films "Sphere", "Lucy", "Mad Max: Fury Road" and others.
4. AZ 4K UHD Camera Drone Green Bee 1200
        Drone Features:
Maximum takeoff weight: 20 kg
The maximum flight time is 20 minutes
Stability improved by 30% over the previous model
It has folding duralumin beams for camera stability and compactness during assembly.
Price: $8,900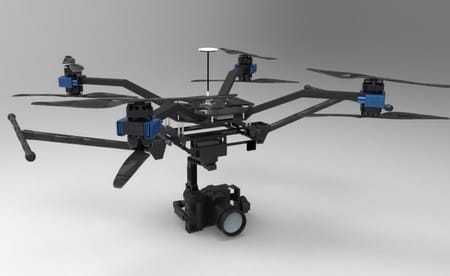 There is little information about the AZ 4K UHD Camera Drone Green Bee 1200, but it is known that this heavy drone is capable of lifting even the most weighty camera.
5. DJI Matrice 600
    Drone Features:
Equipped with 6 motors;
Maximum flight altitude: 2500 meters;
Weight: around 9 kg;
Maximum takeoff weight: 15 kg.
Price: $6,740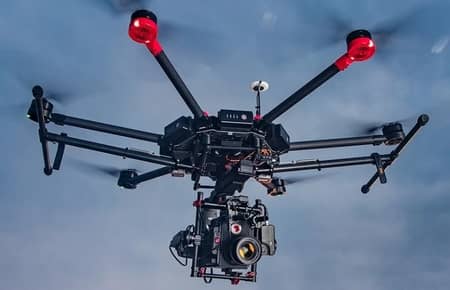 This hexacopter premiered at the National Association of Broadcasters, the annual meeting of filmmakers. The novelty was presented along with the DJI Ronin-MX stabilization gimbal compatible with it.
6. Vulcan UAV Black Widow Black Widow
Drone Features:
Frame diameter: 0.9 m
Anti-vibration system made of silicone
It has 8 motors
250A power distribution board.
Price: $3,600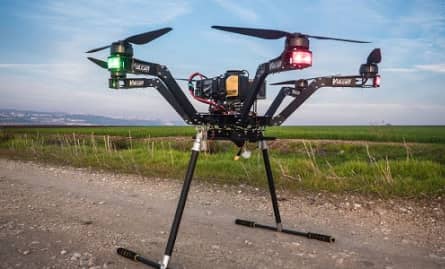 Powerful, durable drone, its middle name is "Black Widow". The drone's curved arms resemble the legs of a praying mantis, and the landing gear can be moved apart so that they do not interfere with the camera gimbal. A professional drone is used not only for filming, but also for inspecting infrastructure facilities.
Related Article: 10 Best Drones For Filmmaking 2023
7. DJI Inspire 2
Drone Features:
360 ° camera;
Video quality 6K in CinemaDNG / RAW and 5.2K (with Zenmuse X7)
Maximum speed: 94 km/h
The drone accelerates to 80 km/h in 5 seconds
You can control the drone using an FPV camera.
Price: $2,990
Despite its relatively low price and compact size, the DJI Inspire 2 is used in the global film industry, including for filming Hollywood films. In particular, the drone is used by Aerial Mob, which participated in the creation of the films "La La Land", "Kong: Skull Island", "Sphere".
Important Factors For Filming With a Drone
• Maximum altitude
Being able to fly a radio-controlled drone, okay, but up to what altitude? How high can a drone go? Difficult to find an answer since drones are subject to restrictions, especially concerning the maximum altitude not to be exceeded. In fact, drone pilots are required to respect a maximum altitude. Beyond that, the drones would enter the airspace and this could represent a danger.
• Top speed
While drones have the limits in the performance in terms of altitude, they can on the other hand break the limits when it comes to speed! The speed of a drone depends on its model. Indeed, a drone whose main function is aerial photography will not go as fast as a racing drone. On average, civilian drones display between 20 and 80 km/h on the clock, but it can go well beyond! But for most Hollywood movies, speed is not as crucial a factor to consider when choosing a drone.
• Carrying capacity
In order for a drone to be able to capture quality footage and meet all the conditions that Hollywood requires, it must be able to carry large cameras. This is called the payload capacity. How much weight can a drone carry? If today the majority of civilian drones have a carrying capacity of a few kilos maximum, there are some very powerful drones that can carry up to 10 kg of extra payload.
• Weather conditions
The only real enemy of the drone remains the weather and more particularly the wind. The wind problem for drones  can lead to loss of control. Therefore, a lot of care should be taken as to whether there will be wind, and how much your drone can withstand under that wind.
Conclusion
Now that you've got a better insight into what drones do Hollywood use for shooting movies, you see that these are specially designed models that cannot be found in the local store. Blockbusters require high image quality, so drones must be able to carry large cameras in flight, and commercial drones cannot do that job.
There are a lot of private companies in the world today that do this type of business, so the demand is certainly high. I hope we have answered all the questions about the use of drones in Hollywood.