What Are The Disadvantages of Drones?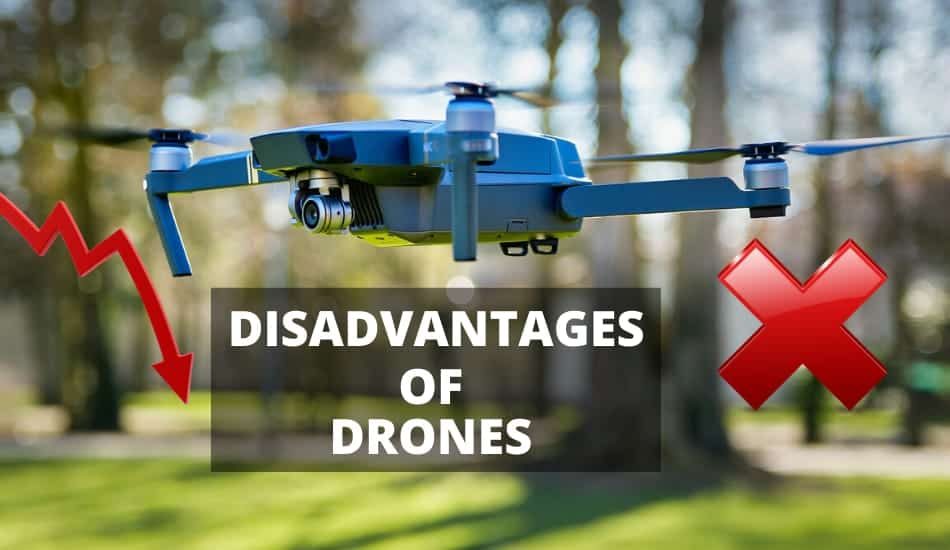 Like all things in the world, drones also have disadvantages. First of all, the use of a drones harms the privacy of individuals, because the monitoring of people is made much more convenient with use of drones. In addition to monitoring, it is possible with a drone to collect personal information about each person. 
The drones come in different shapes and sizes, so they have the ability to sneak up without being noticed in areas that must remain secret. The anonymity of any individual is endangered with the use of drone. This is undoubtedly a very renovated device that does not necessarily generate benefits for everyone. In this article we will go over with all the disadvantages and bad sides that drone have.
The Disadvantages That Are Associated With Drones
After several years of practice using drones, a list of typical hazards accompanying their use can be formed:
Short flight time
Statistics of the dangerous or criminal use of drones
They are easily affected by the weather
Drone collisions with people. Risk of injury
Flights over areas where flights are prohibited or inappropriate
Dangerous proximity to aircraft, including helicopters, etc.
Collisions with buildings, structures, monuments
The use of drones for the transport of criminal goods, primarily drugs
Voyeurism
Hooliganism, terrorist acts
The use of commercial drones for military purposes
The dangers of using data collected by commercial UAVs
Note! If you are looking to buy a drone, then this model we recommend: DJI Mavic 2 Pro.
Main Disadvantages of Drones For Useful Purposes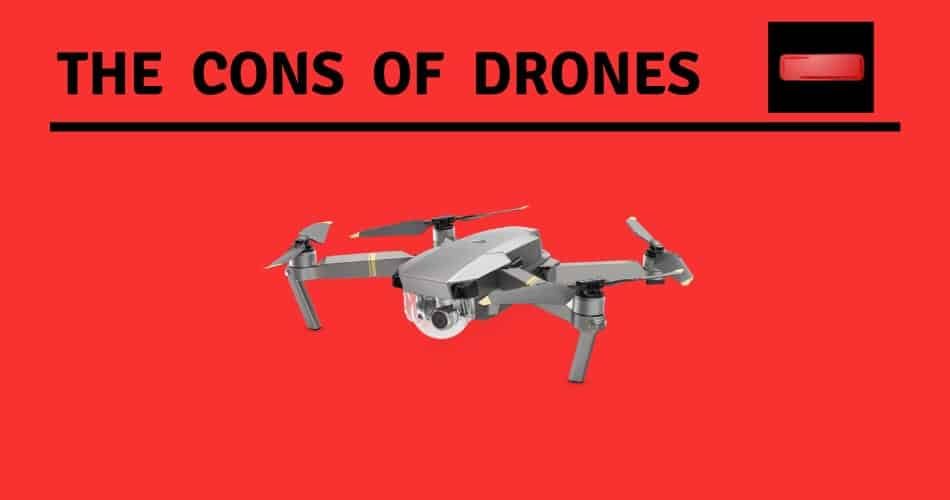 In recent years, drone surveying has attracted attention because it is possible to easily create maps and 3D models of construction sites using point cloud data obtained from aerial photographs of drones. Since a wide range of surveys can be conducted at once, labor cost savings can be expected, and if the time taken to create a product using digital data can be shortened, there are only benefits, but are there any problems?
The disadvantages of drones are that flight times is limited, weather is sensitive, and precise operation is difficult. Also, if you are interested you have The Pros and Cons of Drones (UAVs). In the following examples we will explain main disadvantages that drones encounter in everyday life:
1. Drones Have Short Flight Time
The drone is powered by high-performance lithium polymer batteries. In recent years, although the operation time has increased, frequent battery replacement is required for use in a wide range of sites. Taking DJI's Phantom4 series, which is also used for surveying, as an example, it is possible to fly for 30 minutes on a full charge, but in reality it is about 20 minutes considering safety. 
Power consumption is further increased in headwinds and strong winds, and flight times are shortened. This can be considered as one major drawback that drones currently have. Other drones have even less flight time, while batteries lose full capacity after a certain amount of time, reducing the time even more drastically.
This drone model can fly in the air for around 46 minutes, so be sure to check it out: DJI Mavic 3.
2. Drones Are Easily Affected by The Weather
Lithium polymer batteries used in drones are very sensitive to moisture, so flying on rainy days is strictly prohibited. In dense fog, the field of view is not good, and in addition to the visual flight, the non-visual flight by the camera image remains. 
In addition, the fog may hit the drone and cause water droplets, which may cause a malfunction. In addition, strong winds are the enemy of stable flight, as the Ministry of Land, Infrastructure, Transport and Tourism stipulates that the wind speed is 5 m/s or less in the "Safety Manual".
3. Drone Wireless Problems
The drone has a wireless connection between the main unit and the controller. The frequency used in wireless communication is actually a problem. First of all, frequency is simply explained as "the number of waves generated per second". It's not easy at all. Speaking of radio frequency, is it a "radio address"?
For example, it is basically impossible for another person (other wireless communication) to live at the same address (frequency) at the same time. On the other hand, what many people use, such as mobile phones, have multiple people living at the same address. It is like building a condominium at the same address and handing the keys of each room to the residents.
Now, what I want to say in this explanation is that the frequency used for drone maneuvering is an industrial scientific medical frequency called the ISM band. Specific examples include Wi-Fi, Bluetooth, microwave ovens, parent/child phones, and factory radios. This "interference" cannot be avoided by wireless communication.
Therefore, in order to reduce interference, a mechanism that does not communicate while other systems are communicating, or a mechanism that does not stay at a certain address called hopping is adopted. However, interference still occurs, so a radio engineer like us conducts a field survey, confirms the communication of each radio system, and considers the optimal mitigation measures.
4. Precise Operation is Difficult
In surveys that require accuracy, drones that collect data also require stable flight capabilities. Manual remote control of the drone accurately is difficult even for an excellent pilot with considerable training. 
Very rarely will you be able to fly outside with a drone without encountering wind, which will automatically cause problems when performing such tasks. However, in recent years, it has become possible to automatically acquire data by setting a surveying range and method in advance and using automatic navigation. There is still a lot of room for improvement in this segment.
How Dangerous Are Drones?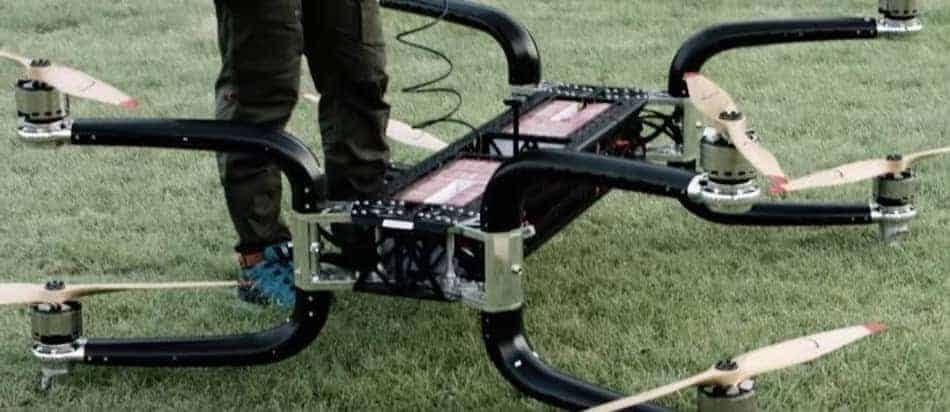 Drones operated irresponsibly continue to pose a threat to public safety. In March of 2018, two men were arrested for using a drone to hand cell phones to prisoners inside Rivière-des-Prairies prison in Montreal. In a similar incident last year, the guards intercepted a drone carrying tobacco and drugs at Matsqui Institution in Abbotsford, just outside Greater Vancouver.
In March of 2018, another interception was made: $86,000 in contraband, including a knife, was seized on the grounds of Kent Institution, the only maximum security prison in British Columbia, located in Agassiz, Fraser Valley, BC.
These latest incidents prompted the Correctional Service of Canada to issue a call for proposals for equipment that can be used as an intrusion detection for drone system in six federal prisons across Canada. The pilot project will last four years in Mission British Columbia's federal prisons, Stony Mountain in Manitoba, Collins Bay in Ontario, Cowansville and Donnacona in Quebec, and Dorchester in New Brunswick.
And in Sudbury, Ontario, Ornge air ambulance service provider is urging drone pilots to respect a no-fly zone near the roof heliport at the North Shore Health Horizon Hospital. city. In a press release, Ornge said: "UAVs can endanger the staff of air ambulances and aircraft if they are flown in dangerous ways. They are difficult to spot from a distance and become visible only if they are near an Ornge aircraft, especially a helicopter. "
Note! Not all drones are dangerous, for example this DJI Phantom 4 Pro V2.0 is very safe and good. 
Very Strict And Dangerous Laws For The Use of Drones
Here we have another disadvantage. In 2014, a tourist from France was arrested in Italy for trying to launch a drone at the Coliseum in order to get beautiful shots. According to Italian law, a tourist can expect a fine of $127.000 (€113.000). The tourist violated several laws at once – he raised the drone too high, controlled it from too far a distance, the UAV flew over crowds. 
The first two violations are violations of the rules for controlling remote-controlled drones, and flying over a street filled with people did require special permission from Enac, the Italian civil aviation regulator. The tourist was arrested immediately after the UAV landing, the drone was confiscated. It is still unknown whether such a significant fine will be applied, but legislation allows it to be demanded.
Disadvantages That Can Cause Serious Harm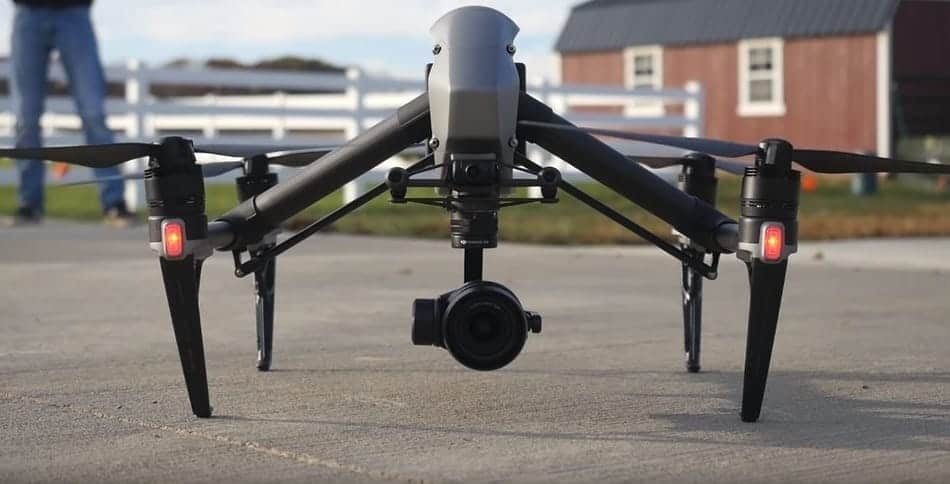 A drone is no less dangerous than a bird. It can also be drawn into a jet engine turbine, which sometimes causes various problems, including engine failure.  In the United States, from 01/01 2015 to 28/10 2015, 920 cases were recorded when aircraft pilots reported unmanned flying devices near airlines. 
This is much more than a year earlier. In the first 8 months of 2015, there were 650 such incidents. There were 40 cases in the UK in 2015. In addition to objective factors, the novelty factor also acts – for drones they often take a variety of objects or phenomena that have nothing to do with them.
• Problems That Emerge One After Another
Although drone development began before the war, it has only been 2 of the 30 years since it began to be used in a way that is related to our lives. Moreover, it is only recently that the number of people who have purchased and enjoyed personally, even though they do not use it for work, such as aerial photography, is increasing. However, it has become apparent that there are various problems in utilizing dangerous drones depending on usage.
• The Lack of Privacy
The first concern is privacy issues. Many of today's drones are equipped with cameras, so you can easily shoot the surrounding scenery while flying. Since drones have cameras on themselves, it will be difficult to know if they are recording you or not.
Moreover, many of the cameras installed in recent drones are small but high-spec, so you can take amazingly clear images while flying. Even if it's not a voyeur flight, I'm sure there are people who feel it is a threat. The person who flies the drone is also required to enjoy the flight with sufficient attention to human privacy.
• Risk of Military Use
Since drones were originally developed for military purposes, there is no such thing as "not being diverted to military purposes". The multicopter we are currently using is based on a drone made for military purposes, but the drone that is actually used for personnel is like a larger airplane.
It is now used for reconnaissance and bombing in various countries. Although it is a military drone that can be attacked without risking human lives, there are problems in terms of accuracy, and it is often criticized.
• Balance With the Law
Although many people enjoy using drones with the remote control, they do not feel like they are controling them. In order not to hinder the safe flight of aircraft, advanced regulations are carried out by the Aviation Law, etc., and other places that conflict with the land traffic regulations of the Road Traffic Law and Civil Code can not fly.
Actually, the places where you can fly freely in the world are quite limited. In the future, the law may change with the times, but it is difficult to determine what regulations should be considered in consideration of the possible use of drones.
Related Article: What Are The Advantages of Drones
Running a Drone in Agriculture Costs $10,000
Apart from the fact that the prices of quality drones are very expensive, it is one of the investments that farmers have to make.  Also, in order to operate a drone, some initial investment is required. Since it is necessary to acquire qualifications for operation, the cost of the school etc. will be around $1,800 – $3,000.
After that, it is a flow of drone purchases, but many drone aircraft cost more than $10,000, and annual maintenance costs are also required to continue operation. Although the disadvantage that the cost of running drone is higher than that of manual spraying, the durability of the aircraft itself is also high, and the price of maintenance costs is not so high in the drone.
If you want to practice with a drone, then we recommend to get this model: DJI Mini 3 Pro.
Conclusion
Although drones really have many advantages, this time we talked about their disadvantages. Drones are still expected to play an active role, and I think that the Ministry of Internal Affairs and Communications will be studying to secure frequencies for drones.
Some of the major cons we have listed in this article about drones are their flight time, the attachment they can disrupt, the danger they can create, and their misuse. However, these disadvantages could be eliminated in the near future, and the drones could then fully carry out all the tasks that were put to them. If I left out something or would like to add, feel free to leave a comment below.