Top 10 Fastest Drones For Sale – Buyer's Guide & Reviews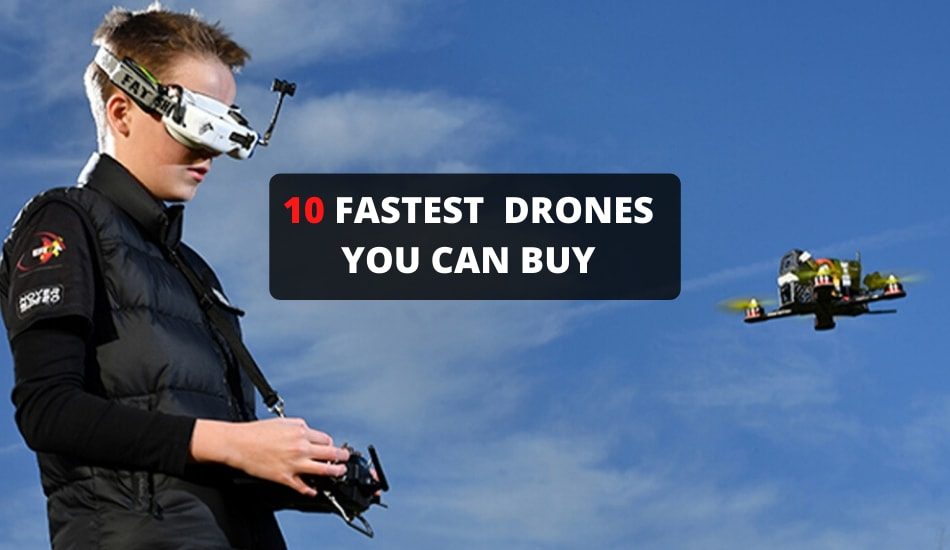 Although there are many factors when we talk about choosing the right drone, the speed is certainly the one that intrigue us the most. Who does not want fast-flying drone? Anyone who has ever seen a drone must have wondered how fast they can fly. Drones are useful in many areas like; aerial photography, surveillance, filming etc., but drones are also used for fun and racing, and the speed is key component to look for. So today we will look at what drones give us the most speed, what makes a drone fast and at what price range. We have compiled a list of the top 10 fastest drones currently available on the market and sorted them by price range. We hope this article will help you choose the fastest drone for your needs.
Here are the 10 fastest drones that you can buy today:
| Model: | Max Speed: | Flight Time: | Camera: | Available: |
| --- | --- | --- | --- | --- |
| 1. Uvify Draco HD | 100 mph | 10 min | 720 p | Check Price |
| 2. Eachine Falcon 250 | 93.2 mph | 8 min | 700 TVL | Check Price |
| 3. Teal Drone | 80 mph | 10 min | 13 MP | Check Price |
| 4. Blade Mach 25 FPV | 70 mph | 6 min | 800 TVL | Check Price |
| 5. ImmersionRC Vortex 250 Pro | 60 mph | 8 min | 700 TVL | Check Price |
| 6. Eachine Wizard X220S | 60 mph | 12 min | 800 TVL | Check Price |
| 7. DJI Inspire 2 | 58 mph | 27 min | Zenmasu X7 | Check Price |
| 8. Odyssey Starfall X | 55 mph | 8-10 min | 1080 p HD | Check Price |
| 9. Walkera F210 FPV | 50 mph | 9 min | 700 TVL | Check Price |
| 10. DJI Phantom 4 Pro V2.0 | 45 mph | 30 min | 20 MP | Check Price |
(Below is a detailed list and reviews of all these drones)
Buyer's Guide: How To Choose The Fastest Drone For Your Needs?
The main components that make a drone capable of flying fast are: the motor, the battery, the frame and the propellers. The motor allows drones to have powerful thrust, but what is strongly related to thrust is the large propellers that drones need to have. The battery is giving the power to the motor, because the stronger the battery the more powerful the drone's motor will be. The frame together with the weight of the drone determines the speed of the drone – lighter drones always moves faster.
The main components that make the drone fly faster:
Motors – The motors are the ones that allow the drone to get the strong thrust through the rotors that is needed to lift the drone up. But if you have powerful motors and the light-frame drone, you may get more unconditional thrust and not a good results, and because of that you may not be able to control a drone.
Frame – The frame of which the drone is built of is mostly important when it comes to material and weight, because it can determinate the drone's speed. So choosing a good frame that is made of a combination of lightness and durability greatly helps the drone to be faster. Some frames are designed to have add-ons that can impact the weight of the frame.
Propellers – The propellers can minimize vibrations and come in different sizes. When choosing propellers, the drone's weight and the frame are taken into account. Also, the propellers are definitely the most fragile parts on the drone. So to get the most speed and  performance you must choose the right propellers on your drone.
Battery – The battery determines how fast the drone will fly, but they also adds extra weight on the drone. Batteries power the motors; the more powerful the battery, the motors will gain more energy and will be able to give extra speed to the drone.
Fastest Drone in the World Flies 179.5 mph (289 kmh)
The RacerX of the Drone Racing League is the fastest drone in the World – it is noted in the Guinness Book of Records at 263 km/h, but the actual top speed is above that. With a top speed of 179.5 mph (289 km/h), the RacerX is the fastest drone in the world. The quadcopter was built by the Drone Racing League, a league for competitive drone pilots. In the presence of a judge from the Guinness Book of World Records, the RacerX achieved the average top speed of 163.4 mph (263 kmh) on several 100 meter flights over a field in New York. This amazing drone weights only 800 grams. The quadcopter flies at 46,000 revolutions per minute. Earlier prototypes of the RacerX went up in flames during an attempt to break the world record. You can see the record breaking in this video below:
https://www.youtube.com/watch?v=1P75GAje3bE
Racing Drones vs Aerial Photography Drones
Standard drones are much different than racing types of drones in may ways. When we talk about racing drones, they are much lighter, smaller and more flexible which allows them to move faster through the air. On the other hand, standard drones used for aerial photography are larger, heavier and are equipped with professional cameras so that they can capture the best shots.
Racing drones are made of durable and resistant material that is also lightweight. Racing drones most commonly use FPV googles so that the pilot can see drones moving through space in real time. Racing drones reach speeds of over 100 mph which is incredibly fast for drones. Classic aerial photography drones have a speed of about 50-60 mph. Here are the main differences between racing drones and standard aerial photography drones:
     RACING:
Focus on speed and flexibility
It should be Lightweight
Flight range
Made of resistant material
    AERIAL PHOTOGRAPHY:
Focus on stability and camera quality
It has various sensors to avoid obstacles
Long flight time
Smart modes and features included
Top 10 Fastest Drones
1. Uvify Draco HD
       DRONE SPECS:
Dimensions: 210 x 180 x 120 mm

Flight Speed: 100 mph (161 kmh)
Flight Time: 10 min
Flight Range: 0.62 miles (1 km)
Camera: 720p
Weight: 1.09 lbs /498 g
The Uvify Draco HD – is a drone that is optimized for drone racing, freestyle and aerial photography, that is ready to fly out of the box. This drone have a flight time of up to 10 min, flight range of 1 km and weighs 498 grams. The basis of Draco is a lightweight and durable carbon fiber. The modularity of the design allows you to quickly change damaged elements in the crash directly on the spot. This drone is ready to fly in the most inclement weather thanks to a waterproof body, now even a downpour is not able to interfere with the desire to fly.
The Uvify Draco is powered by an intelligent quick-change lithium-polymer battery with a capacity of 1400 mAh 100C. The battery is equipped with a battery charge indicator, automatic balancing, protection against overdischarge and overcharge sensor. Draco have quality motors that are the result of intensive research and development, as well as many years of experience in the field of brushless motors that give maximum power with the least weight. The built-in Draco flight controller delivers best-in-class performance. With the help of anti-vibration functionality, demonstrative stability was realized in any flight modes, which the most popular drones among professionals will envy.
https://www.youtube.com/watch?v=0zgQYYqx8Yw
      PROS:
Design
Video stream quality
Quality equipment
Reliabilty
     CONS:
Video stream is lower latency
Short flight range (1km)
2. Eachine Falcon 250
      DRONE SPECS:
Dimensions: 230 x 245 x 90 mm

Flight Speed: 93.2 mph (150 kmh)
Flight Time: 8 minutes
Flight Range: 0.24 miles (400 m)
Camera: 700 TVL
Weight: 1.21 lbs /553 g
The Eachine Falcon 250 is the racing drone that is really built for speed. This drone has four powerful MT 2204 2300 kW brushless motors that give this drone a speed up to 93.2 mph (150 kmh). On this drone you have an FPV system with an HD course camcorder in which you can change the angle of inclination up and down. The Falcon 250 has a built-in function of automatic blocking (shutdown) of motors if something prevents their rotation. The motors are well protected on this model: a plastic protection is installed at the bottom, which protects the motors from mechanical damage. 
The model is equipped with 6-channel Flysky i6 control equipment. The drone is completely ready for flight; all that remains is to charge the battery and install the batteries in the remote control and enjoy the flight. The installed LEDs on the drone's rays allows you to pilot a quadcopter in the dark. An interesting feature of the drone's backlight is that it can be turned on and off arbitrarily. The Falcon has 600mW 5.8G video transmitter on 32 channels – designed to transmit video signal over the air from the camera to the monitor / glasses / helmet.
      PROS:
700 TVL camera
Incredible speed up to 93.2 mph
FPV system included
     CONS:
3. Teal Drone
       DRONE SPECS:
Dimensions: 261 mm (diagonal)

Flight Speed: 80 mph (128 kmh)
Flight Time: 10 minutes
Flight Range: 0.94 miles (1524 m)
Camera: 13 MP
Weight: 1.29 lbs/588 g

The Teal Drone is meant to appeal for hobbyists, consumers and drone racers and that is all packed in this single model. In package, you get: 2 set of propellers, extra batteries and charger. This drone can reach speed of 80 mph (128 kmh), and it's one of the fastest production drones available on the market. Tela have an unique design with upgradeable frame that was built with durable carbon-infused plastic. Also, one of the advantages that this drone has is it's weatherproof, and the possibility to be controlled with iOS/Android or with just a regular radio controller.
It is equipped with a 13-megapixel camera that can record at 4K resolution with a flight range of 1,524 meters. This drone can transmit FPV footage from your headset at 720p. It has a powerful 1800 mAh 15.2 V Li-Po battery that can provide you a flight time of 10 minutes. Teal is also capable of performing flips rolls and dives and can resist winds up to 40 mph. We can say that the only drawback of this drone is the same as with most of them: battery life and price. You can replace not only the battery but each arm also and the drone's top section.
https://www.youtube.com/watch?v=JvGinqTABbQ
      PROS:
13 MP camera
Portable design
Weatherproof
Can reach high speeds (80 mph)
     CONS:
Price
Short flight time 10 minutes
4. Blade Mach 25 FPV
       DRONE SPECS:
Dimensions: 210 x 250 x 80 mm
Flight Speed: 70 mph (112 kmh)
Flight Time: 6 minutes
Flight Range: 0.18 miles (300 m)
Camera: 800 TVL
Weight: 1.11 lbs/ 505 g
The Blade Mach 25 is a 250-class quadcopter designed for racing. Carbon fiber body with rigid aluminum inserts provides lightweight model and incredible strength. In the event of an accident, you need to replace only self-tightening propellers. No tools are needed to replace broken propellers. Bright LED indicators help you to navigate your drone in open space. This drone have 1350 mAh 3S Li-Po battery that provide the flight time of 6 minutes. Blade Mach 25 is equipped with powerful 2300 Kv brushless motors for unrivaled performance.
This drone will give you the extra edge in drone racing by ultra-FPV micro camera that offers the best visibility and the 300-meter flight range. For faster acceleration and flight, 4 brushless motors are installed with a forward inclination. An ultra FPV micro camera (25 mV) is mounted on a carbon fiber shock absorber platform that provides excellent FPV visibility. You only need to buy Fat Shark video glasses or a 5.8 GHz monitor. The streamlined body combines improved aerodynamics and an additional level of protection, which significantly distinguishes the Mach 25 from a number of similar models. This is one of the best looking racing drones on the market.
      PROS:
Carbon fiber body
Great design
RTF drone
     CONS:
Only one color available
FPV headset not included
5. ImmersionRC Vortex 250 Pro
       DRONE SPECS:
Dimensions: 250 x 250 x 150 mm
Flight Speed: 60 mph (96 kmh)
Flight Time: 8 minutes
Flight Range: 0.24 miles (400 m)
Camera: 700 TVL CMOS
Weight: 415 g (without battery)
The Vortex 250 Pro is a racer drone that is easy to use and that can also WIN races for you. This drone has lots of cool high-tech features. Vortex 250 Pro has 400 meters flight range, and the 60 mph (96 kmh) top speed. The high-quality F3 processor has twice the best performance than its predecessor, and shows better stability. The 3A pulse stabilizer allows you to connect any HD camera (including GoPro) from the model's battery. A set of eight 24-bit RGB LEDs is mounted at the tail of the model, between the top and bottom panels. 
With a 32-bit ARM processor, this drone can program color as you wish, brake lights and much more – everything your imagination is capable of. The flight camera is protected from external influences, vibrations are softened thanks to the support of a carbon fiber plate. This model isn't Ready-to-Fly (RTF) drone, but it is an Almost-Ready-to-Fly (ARF) drone. The Vortex 250 model comes without battery and hardware. Just install a compatible receiver R/C Rx (CPPM, Spektrum, S-Bus, XBus, EzUHF), the battery and you are ready to race. Everything else is included: from the SpiroNET antenna to the propellers. You get the user manual how to install all these.
https://www.youtube.com/watch?v=XH-w-xcLYmI
      PROS:
Has a powerful F3 processor
It achieves high speeds
Lightweight carbon fibre frame
     CONS:
Requires technical knowledge
6. Eachine Wizard X220S
       DRONE SPECS:
Dimensions: 220 x 150 x 102 mm
Flight Speed: 60 mph (96 kmh)
Flight Time: 12 minutes
Flight Range: 0.24 miles (400 m)

Camera: 800 TVL
Weight: 0.78 lbs /356 g
The Eachine Wizard X220 is a great quadcopter with an incredible feature list with which you can reach flight speeds of 60 mph (96 kmh). Powerful MN2206 2300KV motors are installed on this drone! This racing drone model will give you more than enough speed to beat your friends and competitors. The flight controller Omnibus F4 V2 supports modern firmware and Drone Racing-specific flight modes. Eachine also allows you to install a 5S battery so you can increase the flight speed even more! The Wizard X220S is equipped with a sound indicator that is reporting when the battery is at low level.
Design of this FPV drone is by far one of the best when it comes to durability. The backlight of the frame is also equipped with LED lights, which is useful when you participating in Drone Racing races. The FPV-camera got the best resolution of 800 TVL CCD, which is extremely well. With that camera you will easily see everything, and the camera weighs only 11 grams. The video transmitter is also now much more solid, it has a variable power of 25/200/600 mW and 72 channels. The battery – 4S 1500 mAh 75C have a huge increase in power!
      PROS:
30 minutes quick charge at 4 amps
Built-in LEDs
Protective side plates
Comes with spare props
     CONS:
7. DJI Inspire 2
      DRONE SPECS:
Dimensions: 427 x 317 x 425 mm
Flight Speed: 58 mph (80 kmh)
Flight Time: 27 minutes
Flight Range: 4.3 mls (7 km)
Camera: Zenmuse x7
Weight: 7.58 lbs (3,440 g)
The DJI Inspire 2 is a drone that is primarily designed for professional shooting and not for racing although it can achieve a significant speed of 58 mph (80 kmh). This is the first film drone in the world to integrate an HD video transmission system, 360° rotatable ball joint and 4K camera, as well as simple application control. The introduction of the Zenmuse X5 and X7 cameras has solidified the Inspire as an indispensable tool for filmmakers around the world. The DJI Inspire 2 has a new CineCore 2.0 image processor directly in the front and an integrated CINESSD system and is therefore able to record high-quality 5.2k material (30fps) in CinemaDNG format or Apple ProRes material.
The DJI Inspire 2 has numerous safety sensors that work together as an anti-collision system and not only ensure safe flight conditions, but also appropriate evasive action. The infrared sensors above the quadcopter can detect obstacles up to 5 meters away and thus ensure appropriate safety, especially within buildings. The dual battery system gives Inspire 2 the flight time of 27 minutes, while stand-alone heating technology allows you to fly even at low temperatures.
https://www.youtube.com/watch?v=m5WvcXp2dqU&t
      PROS:
Flight time up to 27 min
Super video quality
Fast speed
Intelligent flight modes
     CONS:
Expensive
Need experience to operate
8. Odyssey Starfall X
       DRONE SPECS:
Dimensions: 228 x 228 x 76 mm
Flight Speed: 55 mph (88 kmh)
Flight Time: 8-10 minutes
Flight Range: 0.18 miles (300 m)
Camera: 1080p HD
Weight: 1.2 lbs (544 g)
The Odyssey Starfall X is the next beginner of racing drones, that can reach speed up to 55 mph (88 kmh). This drone comes in a nice black/yellow color combination, which makes it easily noticeable in the air even at great distances. Starfall X FPV racing drone has a flight range up to 300 meters and don't lag, which is quite important if you bought a racing drone. It has a flight time of 8 to 10 minutes, which is a solid flight time for racing drones. This model has a 1300 mAh battery and the charging time is between 1.5 to 2 hours.
The Odyssey Starfall X is powered by four powerful brushless motors that allow this drone to reach 55 mph. We can say that this drone is very capable of winning races! In the box you get: drone unit, remote control, battery charger, spare propellers and lithium-Ion battery. This drone has low wind coefficient so you can fly freely through the air. It is equipped with next Gen 6-axis Ggyro and the 1080P HD lenses camera that gives you a clear picture. This drone is easy to use and you don't need to be an expert to get started.
      PROS:
Powerful brushless motors
Fast charging time
Low wind coefficient
1080 HD lenses camera
32-bit high speed processor
     CONS:
Short flight time
Flight range of 300 m
9. Walkera F210 FPV
       DRONE SPECS:
Dimensions: 182 x 182 x 103 mm
Flight Speed: 50 mph (80 kmh)
Flight Time: 9 minutes
Flight Range: 0.12 miles ( 200 m)
Camera: 700TVL
Weight: 0.81 lbs/ 370 g
The Walkera F210 FPV is a drone designed especially for racing. With its agility and speed of 50 mph (80 kmh), the F210 offers you unique flight pleasure. The receiver has been optimized to improve the response speed even faster than before, so the response time is now 5 ms. Flight Control technology adopts the latest F3D flight control system, developed to provide a high performance flight experience to the pilot, whether doing FPV competitions, aerobatics or aerial photography. This F210 racing drone reacts with impressive speed as much during sudden acceleration as during emergency braking.
Its design is thought to be air resistant with intelligent aerodynamics so as to greatly reduce the possibility of loss of control. The F210 has a 4S 1300mAh Li-Po battery with a flight time of 9 minutes. Its revolutionary carbon fiber design greatly improves the performance of the F210. With the adjustable angle, high-definition night vision camera and real-time image transmission (FPV), the F210 drone guarantees a sharp and detailed image, even in cloudy or night weather. The DEVO 7 remote control has a joystick and sensitive buttons for a better piloting experience and an ergonomic design which facilitates its use.
https://www.youtube.com/watch?v=X8vWM6gdaDY
      PROS:
High-speed flight
3D flips
Spare parts available
Carbon fiber construction
5.8G real-time image transmission
     CONS:
Short flight time
Low power battery
10. DJI Phantom 4 Pro V2.0
      DRONE SPECS:
Dimensions: 350 mm
Flight Speed: 45 mph (72 kmh)
Flight Time: 30 minutes
Flight Range: 4.3 miles (7 km)
Camera: 20 MP
Weight: 3 lbs/ 1375 g 
The DJI Phantom 4 PRO V2.0 is an advanced model that is primarily designed for aerial photography and not for racing, but we have included it in this list because of a flight speed of 72 km/h. Keeping in mind one of its additional modes such as the one connected to DJI Goggles for use with wireless features. Like its famous predecessors, this drone can also count on a 20 "1" sensor capable of making 4K videos at 60fps. This drone is equipped with a brand new obstacle detection system managed by a series of sensors present in the lower part of the body, and a 4k camera capable of guaranteeing an exceptional photographic performance in any weather and light conditions.
An important step forward compared to its previous models has been in terms of battery life with 5870 mAh and efficiency. It also offers the possibility to connect wirelessly to the DJI Goggles with the aim of letting you experience the thrill of an FPV flight. Thanks to the new 20MP lens sensor, the DJI Phantom 4 Pro is able to record videos with a resolution of UHD 4K (4096×2160) at 60fps, also thanks to the new technology of intelligence and artificial vision.
      PROS:
Very quiet drone
Excelent camera quality
Easy to fly
Superb flight modes
Flight time of 30 min
     CONS:
Price
Dimensions (not foldable)
Can I Build My Own Drone For Racing?
Yes! If you understand the basics about the components of which the drone is made, you can buy them separately and build your own drone to your liking. Today, most of the fastest drones that exist are built by individuals, using the spare parts. Therefore, if you love drones, and this becomes your hobby, my recommendation is to try and build at least one drone for your own purposes. Although we did not focus on this topic in this article, but on how to choose the fastest drone for your needs, this is certainly an equally important topic. If you are a beginner and you would like to learn this new skill, my advice is to first study in detail of what components each drone is made of.
Pros vs Cons: Buying Vs Building a Racing Drone
One of the questions you will ask yourself after deciding to start with the drone racing as a hobbys is: Should I buy an RTF (ready-to-fly) racing drone or should I built my own drone? The answer to this question may lie in whether you have the time and knowledge to dedicate yourself to building a drone or not. Building a racing drone requires a lot of time, especially if you are a beginner. Although there are already racing kits, it will take a lot of time. The advantage of building your own drone is that you can customize it by your needs and add extra features to your liking.
When you buy a RTF racing drone, you can't choose and experiment a lot because there aren't a lot of models in this class on the market for sale. The price of ready-to-fly models is about 20-30% more expensive in contrast when you DIY. Each drone is different and will give you a different experience. In the end it is up to you to decide if you want to dedicate yourself to a DIY routine or you just want to buy an RTF drone and race.
Drone Racing Tournaments
Drone racing tournaments are becoming more popular all over the world, therefore special leagues were created for it. Drone racing also have their own World championship that is held every year, where the best drone pilots from all continents use their DIY drones to participate in this competition. If you search on google, you will see that there are a lot of leagues in each country, and this sport is spreading rapidly. Although the cash prizes are not so big right now, this sport will take on a very big impact in the near future.
Tips To Make Your Drone Even Faster
To speed up your drone even more, the right propellers are needed. Optimizing the propeller is not easy, since the hover (zero speed) to maximum speed should give the propeller good efficiency. A fast RC model only has this problem at the start. Otherwise, the model always moves at a high airspeed and the propeller can be optimized for this case. A variable pitch propeller would be ideal for the drone. However, this has an additional weight and increases the susceptibility to errors. That is why a rigid propellers are used. The propellers are tested for suitability on a test stand and loaded far beyond the recommended limits. 
Fastest Drone in The World With World Climbing Record
The world's fastest drone takes 3.871 seconds to climb to 100 m from hover. This is confirmed by "Guinness World Records" and thus an official world record. However, conventional drones or quadrocopters are rather slow to ascend. A DJI Phantom 3 rises at about 4 m/s. It takes 25 seconds to get to 100 m altitude. Furthermore, most models have big problems with fast descent. Most drones start rocking back and forth wildly, which can lead to a crash. A fast and controlled descent is essential for a powerful drone quadcopter, which is also able to set up a "Guinness World Records". If you misjudge the battery energy and receive the first low voltage warning immediately after the climb, a quick descent is the last resort. 
FPV And Racing Drones
First of all, what is FPV anyway? First Person View or FPV means that you sit virtually in the cockpit of your drone and you are right in the middle of it instead of just being there. The live image transmission of the FPV camera on glasses or monitor puts you right in the middle of the action.
FPV Racing Drones are becoming increasingly popular and the appeal is obvious. With FPV racing drones you experience breathtaking speeds and perform spectacular flight maneuvers that are not possible with normal drones. Basically there are three different types of FPV drones: racing drones, freestyle drones and FPV drones for photo and video recordings. There are special drones, kits and components for each of the three areas, each of which is precisely tailored to the relevant requirements. 
However, FPV drones can be helpful in many ways for taking photos and videos, since you always have the live image of the camera in mind when filming. In the meantime, almost all current consumer drones have an FPV live image transmission, so that today almost all drones can also be referred to as FPV drones.
Conclusion
Now that you have read this article, you have gained a much better insight about the fastest drones on the market. Here we have described what are the main factors that most affect its speed and how to choose a drone for your needs. With our list of top 10 fastest drones, we hope you have found your favorite. Note: There are faster drones, but we did not include them on this list because they cannot be bought, but they are specially designed for drone racing league.
When you are buying a drone, performance is the main thing you need to consider, and not the look. Remember that faster is not always better, so you must consider other characteristics also. You don't need to be engineer to become a pilot in drone racing league, you just need to practice and enjoy. I hope this article helped you.