How Much Do Drones Weigh?
When we ask how much do drones weigh, we must first determine the drone class. There are different types of drones that are ranked by class and features. What we can say is that one of the parameters in determining a class is the drone weight, the flight time, and the abilities that the drone has. These are the main classes of drones that currently exist in the world:
So How Much Do Drones Weigh? Drones can be divided into 4 categories, and each of these categories is defined by weight. So the lightweight drones are in the category up to 5 kg, middle weight drones in category between 5 to 200 kg, heavy weight drones in category between 200 up to 2000 kg and super heavy drone category above 2000 kg.
1. Lightweight Drones
When it comes to these types of drones, these are usually the drones that weight less than 5kg and are available on the market. Some of the most popular drones that fall into this category are DJI Mavic Air, DJI Spark, Phantom 4, Inspire 2, ZeroTech Dobby and more. Because of their extremely low weight, these drones do not have many features like carrying some extra weight. These drones are mainly used for recreation, racing or hobby flying. The advantage of these drones is that they have very high agility and speed while flying, which is because of their low weight. An example of a Lightweight drone is the DJI Phantom 4 that we will review.
Example: DJI PHANTOM 4
The Phantom 4 from DJI is by a longshot the best flying vehicle a lot of people had the pleasure of using it.  The reason why is because this drone its small, light and powerful. This drone have a reinforced gimbal for greater stability, and the motors are refined for increased flight efficiency. Most demanding shots with this drone becomes simple, and it has intelligent technology which means you have "Return to Home" feature. It has flight time up to 28 minutes.
2. Middle Weight Drones
This class includes drones that weigh from 5 kg up to 200 kg. Yes, it's a large range and there are drones that can reach up to 200kg. These drones are most commonly used for professional purposes such as shooting blockbuster movies, agro-culture, object monitoring or for some kind of drone mapping business. These drones also have high speed and agility. Their price is drastically higher than the previous class used more for hobby purposes.
Example: AIRBORNE DRONES VANGUARD
This drone provides superior surveillance, security and is very easy to operate, but it's also one of the most expensive consumer drones in the world. this drone has the ability to detect small cracks and a very sharp camera. In addition to shooting 4K footage, the Vanguard can stay up for an impressive 94 minutes, and has capabilities to pass 800 meters per minute, have max altitude (asl) of 4500m.
The weight of Vanguard is 9.5 kg. With the dual camera that Vanguard has, it's possible to see identical things that the drone itself sees from a flying perspective. It also comes with a thermal camera capable of detecting special objects and high quality zoom.
3. Heavy Weight Drones
This is already a serious class of drones, and they are much harder to buy than unlike previous drones, which can be much easier to reach. This class includes drones that weigh from 200 kg up to 2000 kg. These drones are most commonly used to transport goods, passengers or perform some demanding work. Known models of drones that fall under this class are: Ehang 184, Scorpion 3, Griff 300 etc. In addition to being extremely heavy, these drones have the ability to carry loads of almost the approximate weight they carry, and are made of high-quality materials that are reliable and have a strong motor drive along with battery packs. These drones are not as fast or agile as we have said for previous models.
Example: Griff 300
The drone company Griff Aviation has launched the Griff 300 model UAV that can carry around 500 lbs (226kg) of payload weight. Griff 300 is an 8-propeller UAV with a very high power. Another interesting thing about this drone is that can sustain 45 minutes of airtime.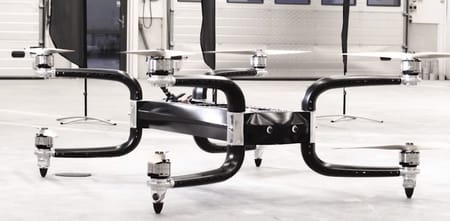 When we consider the weight that some drones need to carry, a typical professional camera weighs about 2 kg, and these are the minimum requirements that professional drones must satisfy. Griff Aviation's UAVs will be priced from around $250,000 but this price is not final, it depend upon the customer's requirements. One of the important features of the GRIFF 300 drone is easy to transport, assemble and operate.
TOP 5 Heavy Weight Drones
1. Griff 300
2. Ehang 184
3. Scorpion 3 Hoverbike
4. Skyf Drone
5. DIY Drone
4. Super Heavy Weight Drones
And last class is the largest category in the world of drones, which is the super heavy class. Drones that can weigh above 2000 kg fall into this category. These are drones like Predators, Global Hawk RQ-4, Darkstar RQ-3 etc. These drones are a military class of drones and are used for spying, surveillance and missions and flying in the upper atmosphere. In addition to being used for military purposes, they can also track the movements of people, various experiments, and are sometimes used for weather. Otherwise, information about such drones is confidential, especially when it comes to new models that have modern technology.
Example: MQ-1 Predator
This ultimate Atomics MQ-1 Predator is unique American remotely aircraft. On January 3th , 1994 the Pentagon signed the contract with General Atomics. They make a deal to make it bigger, sturdier, quieter more dynamic drones. At a cost of about $ 40 milion per system.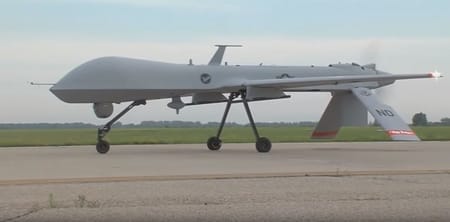 The MQ-1 Predator is a price yet integreal part of U.S. air force operations in Irqa and Afghanistan. pilot and 2 sensor operators, though a full team complement consists of 55 personnel. The predator is controlled by a top-mounted camera, giving pilots a complete view of what is in front and below them and getting real-time information. In terms of performance the MQ-1 can reach ceilings of up to 25,000 feet with a range of 454 miles at speeds of 135 mph. You can also find out what are the 15 Best Heavy Lift Drones In The World.
TOP 5 Super Heavy Weight Drones
1. Predator MQ-1
2. Global Hawk RQ-4
3. Darkstar RQ-3
4. RQ2 Pioneer
5. NASA Global Hawk
Conclusion
We split the drones into these 4 main classes, and we could see by what criteria we share them. We started with Lightweight Drones, and said that these are drones that weigh up to 5kg, and are most commonly used for hobby purposes. After that we came to the Middle Weight class, and they weigh for 5 kg to 200 kg and are used for professional and business purposes. Next, we came to Heavy Weight class of drones, which range from 200 kg up to 2000 kg, and their purpose is for the most part intended for transportation. Last but not least, the Super Heavy Weight drones are actually a military drone class, and it applies to all drones weighing over 2000 kg onwards. If I left out something, or want to comment, add, feel free to leave a comment below.