Best Drones For Cold Weather: Flying a Drone in Winter
Flying a drone in cold, winter weather is as interesting as in summer. But many have doubts whether it is dangerous to launch a drone into the air at subzero temperatures? Experienced drone pilots are well aware that when the temperature decreases, the performance of the batteries (lithium-polymer) that the drones are equipped with, deteriorates.
Most likely, you will encounter this type of problem every time you reach weather conditions close to or below 0 °C. In this article, we will give you a list of drones best suited for cold weather and tips on what to look out when you are flying your drone at low temperatures.
These are the main parameters and limits you need to know for your drone to fly safely in cold weather, in terms of:
Maximum wind speed;
Range of operating temperatures;
Maximum flight altitude.
10 Best Drones For Cold Weather
These are the best drones for cold weather:

How Cold is Too Cold to Fly a Drone?
Before you start a flight with your drone, check the weather conditions. What you need to know is to avoid rain, strong wind, moisture and snow. You should not fly below 0 °C (32 °F) and should avoid snow contact.
How Does Low Temperature Affect Drones?
It would be wrong to assume that the advice for flying a drone on low temperature relates only to snowy weather. Problems occur as soon as the temperature approaches 0 °C. The presence of precipitation, although it plays an important role, but it is temperature that is the main catch.
We personally flew at temperatures far below 0 °C on the DJI Mavic Pro, Mavic Air and DJI Phantom 4 quadrocopters. However, most civilian drones are designed for conditions from 32°F to 104°F (0°C to 40°C).
Battery's temperature is below 59ºF (15ºC). Warm battery to above 77ºF (25ºC) before flying (Battery temperature is below 15 degrees. Warm the battery to 25 ºC before takeoff)
This means that the drone does not even take off until the battery is warm. Therefore, it is much easier to avoid such warnings and heat your battery. I also wrote one article that is related to this topic that you might like: Can Drones Fly In Cold Weather? 10 Tips For Flying
Tips For Flying a Drone Cold Weather
1. Check the Weather
One of the most important points when flying a drone in winter is the weather. Be sure to check the weather forecast beforehand, because if there is snowfall during the flight, or even a small winter storm, the dream of the "Winter Wonderland shot" is over faster than you would like.
If there are any signs that snow is falling or the weather could change, leave your drone on the ground for safety reasons. Also check out for the wind. A strong wind can knock down a drone very easily, especially in cold conditions.
Related Article: Can Drones Fly in Snow? [Tips & Tricks]
2. Pre-Flight Preparation
Under no circumstances should you switch on the drone and take off immediately. A cold start is death for the longevity of the batteries. Before taking off high – it is necessary to make a "warm-up" launch for at least one minute. 
You can let the drone run for 2-3 minutes while standing and without lifting off, which will pull the battery level down a bit, or you can choose a battery warmer, which we will introduce to you below in the article. Firstly, you will find out if the drone is able to fly in such conditions, or is it too cold for it. Secondly, you need to make sure that all drone systems are operational.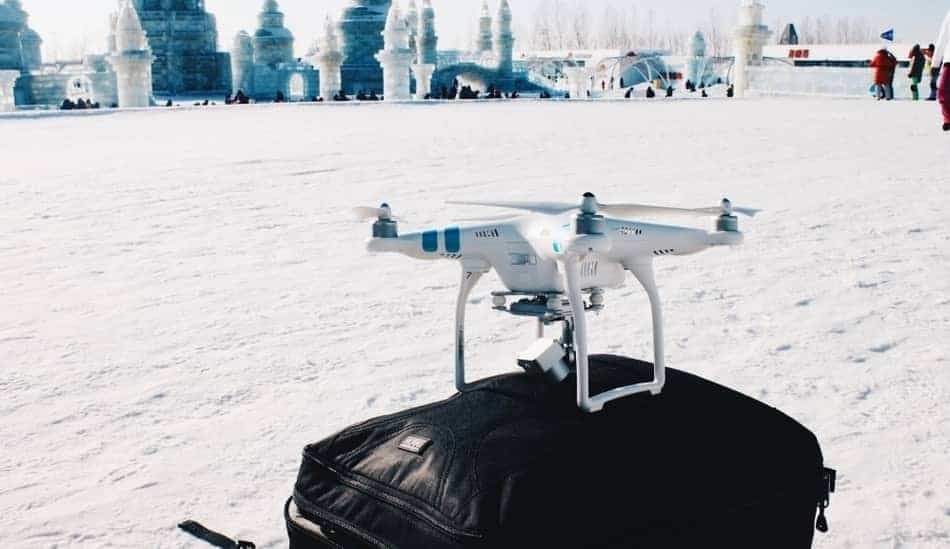 Do not skip this step: in flight, the battery voltage may drop dramatically. The drone can recognize this as a lack of battery and simply fall.
To our words did not seem fiction – watch the video below, in it until the second minute everything looks great. However, the most interesting part comes next.
3. Fully Charge Your Batteries
Whether you have a phone or a drone, the rule of lithium batteries, unfortunately, applies to all devices the same. In winter, they discharge much faster and have the ability to slow down, especially the sensor of the drone. And if you already know how to prepare the drone for the harsh climate, then do it right. This will help you to prevent sudden voltage drop and drone scheduling in flight.
Be sure to fully charge the battery and put on the case. Do not forget to use all the tricks for the drone battery: heating pads, inside pockets, scarves, etc.
If you are using a phone as a remote control, it will not be superfluous to use a power bank . Just connect it to the phone during the shoot and you can be sure that the phone will definitely not turn off unexpectedly. We don't need to mention that you should ONLY fly with fully charged batteries, right? The batteries lose their performance at low temperatures, but that doesn't mean that they lose charge, only that less amperes can be tickled out. It is all the more important that you always keep the batteries warm.
4. Watch Out For Voltage
For best civilian drones, such as DJI, special applications are usually created, which can measure voltage during flight. They allow you to conveniently monitor the status of all necessary drone systems. Inside the application, clicking on the battery icon, you will see the voltage, temperature and some related settings.
We recommend that you display the voltage on the screen and constantly monitor it. It is not recommended to fly if it falls below 3.2 volts. Therefore, it is necessary to closely monitor this indicator. There are 3 signal colors for backlight voltage. 
Green means the battery is OK. Yellow – warns of the imminent need to decline. Red color – a requirement to immediately land a copter. The voltage drop occurs due to the cold temperature and the batteries need to be warmed up before, as explained in the point above.
Remember a simple rule, as soon as the voltage mark reached 3.6V – feel free to turn around and start coming back.
If you drain the battery even more, there may simply not be enough "strength" to return. Halfway the drone can fall, and if you are lucky not to damage the drone, then the search in any case is unpredictable and can stretch for several hours.
Related Article: How To Sell Used Drone? 6 Best Ways
5. Keep Your Drone Dry
During the winter, the risk of humidity is increased, which means it could damage your drone. If you are in a winter environment where there is snow on the ground, try to avoid it and land on a dry surface. By that I mean your car, your bag, your pad, or directly to your hands (but be very careful about this).
It's best to use a landing mat , a hard case or, in the worst case, a piece of cardboard will do. Also, if you fly very high you can catch moisture in the clouds. This moisture can get into your drone and damage your electronics, and thus disable your drone.
Remember: for microchips and other electrical parts there is nothing more destructive than moisture.
Make it a habit to always check the weather forecast and monitor the cloud cover, so the unpleasant surprises from the side will become much less.
6. Smooth Control in The Air
When flying in cold weather, you need to be gentle with your drone and not strain the drone to maximum power. This will make your drone less burdensome and it will use less power to get to the default position, and thus give you more control over the drone.
Any sudden movements, especially when you add more speed to the drone, drain the battery noticeably faster. To avoid wasting a reserve of charge (which in the end can lead to an accidental fall), move the sticks on your remote control gently and smoothly.
Probably the very reason why you use a drone in cold weather is to capture a beautiful moment, so your camera will be more stable with light movements.
7. Touch Screen Gloves
Convenient, inexpensive and practical thing! Thanks to a special coating at your fingertips, you can use the touch screen without removing them from your hands. Gloves are advisable if you fly with your drone in cold weather.
The fingers are quite sensitive to cold and you would not want to compromise your health for a very simple thing like gloves. If you don't have gloves, you can get them cheap at any clothing store today or order online.
8. Put a Sweater On The Drone
This it's not a joke. Clothing for drones really exists, and if you are looking for an original and stylish option – you will definitely like this solution! You can find many different models through the Internet, which can further protect your drone. That's all! We hope our tips will help you in cold weather.
Ways To Keep Your Batteries Warm
If you use a car, place the batteries under the driver's seat, air ducts are located here and streams of warm air will warm them.
When leaving the car, throw something warm on the battery, it can be a glove, hat, sweater, scarf, etc. Is there nothing like this at hand? – Put the battery in the inner pocket of the jacket.
Another option is to purchase a battery heater. This is only available for DJI models. This accessory heats a cold battery in just a few minutes. However, do not leave the battery in the heater for a long time. Keep in mind: heaters use the power of the battery itself to raise the temperature.
For DJI Inspire pilots,  special stickers will become the thing of first necessity. They will help maintain the temperature of the battery during the flight – the battery will cool longer and lose capacity more slowly.
You can also use a thermal bag. Any, even the simplest "bag" for picnics is suitable.
Hand Warmer – Take some with you. Designed not only to warm hands, but also to keep the battery warm. Be careful – do not place the heating pad directly on top. Instead, wrap the battery with a cloth, then hold the heater next to it in the inner pocket.
Drone Battery Heaters
Battery Heater is a very useful tool if you fly the drone in winter, because as you have already learned, it is far from good and also safe if you start flying immediately with cold batteries. A battery warmer warms the batteries at about 30 degrees, which is the ideal temperature and then keeps them warm, so you don't have to wait long and can take off with your drone immediately. 
Unfortunately, the battery warmer is currently only available for the Phantom 4 and the DJI Inspire. From outside temperatures of 5 degrees, a battery warmer should always be used. The reason is that otherwise the chemical reactions in the battery no longer work well and, in the worst case, a failure can occur.
Related Article: Firefighting Drones: How Drones Help Fire Departments
How to Control a Drone at sub-zero Temperatures?
Tests confirm the fact that rechargeable batteries (lithium-polymer) discharge faster in conditions of subzero temperatures, from 15 degrees and below. Before launching the drone into the air, it is recommended to ensure the batteries are full and at least 25 degrees warm. 
For this purpose, it is better to use a battery heater. During the flight, if there is a possibility of lowering the temperature of the batteries, you should put the drone in hover mode and allow  the batteries to warm up a bit.
From time to time, you need to check the voltage level in the main application menu in the "show voltage" tab (this is for DJI models) on the battery information page. An indicator below 3.2 V is considered critical. So if you want to fly in low temperatures, buy a quality drone. With this kind of drone you will be safe in such weather.
Landing Pad Absolutely Necessary During Winter
The drone should by no means be in contact with the snow, even when landing. It is particularly important to take off and land in winter, which is why we recommend a landing pad . The propellers can cause the snow to be whirled up and get into the motors. 
There it can melt and form water, which in turn can lead to a short circuit and the death of the drone. The whole thing doesn't have to happen, but there is a risk, especially with the sensitive drones.
Therefore, use a landing pad in any case, so you are safe on the go and there is guaranteed no snow whirled up. If you fly drones in winter, then invest the few dollars and save your drone, you will thank yourself. You can check Landing Pads here.
Filters For Better Image Quality in Winter
In winter you can undoubtedly take breathtaking drone shots and epic videos, but an accessory should definitely not be missing such as, an ND filter.  Since the white surroundings and the incoming sunlight are extremely bright, the image is guaranteed to be overexposed and you will lose valuable details when taking the picture.
A neutral density filter, which works in a similar way as sunglasses, can help. The ND filter darkens the image a bit, which gives you more details in the image and does not overexpose the image. By using an ND filter in winter , nothing stands in the way of your winter drone video. Which ND filter you should use depends on the lighting situation. In our experience and if the sun is shining and the snow is strongly reflecting, you should use an ND32 filter.