On sunny days, drones fly like bees and take photos or make spectacular videos. But, if you want to take spectacular aerial photographs and videos during night, you need the right drone for the job. Previously, only professional drones were used to capture images during the night, but as technology has advanced significantly over the last few years, it is now possible to take amazing photos even during the night with a small consumer drones.
When shooting at night, the performance of the camera lens is also important. Here we will teach you how to adjust your drone settings for night photography and what you need to take into account during the night. We've taken a large range of drones for every budget in this article and ranked you the top 10 best drones for night photography. So let's begin.
Here are the 10 best drones for night photography that you can buy today:

| Drone: | Camera: | Flight Time: | Range: | Night Shots: | Available: |
| --- | --- | --- | --- | --- | --- |
| 1. DJI Inspire 2 | Zenmuse X5 or X6 | 27 min | 7 km | Yes | Check Price |
| 2. DJI Phantom 4 Pro | 20 MP | 30 min | 7 km | Yes | Check Price |
| 3. PowerVision PowerEye | 16 MP | 30 min | 5 km | Yes | Check Price |
| 4. Yuneec Typhoon H Plus | 20 MP | 28 min | 1.6 km | Yes | Check Price |
| 5. DJI Mavic 2 Pro | 20 MP | 31 min | 8 km | Yes | Check Price |
| 6. DJI Mavic 2 Zoom | 20 MP | 31 min | 8 km | Yes | Check Price |
| 7. GoPro Karma | 12 MP | 20 min | 3 km | Yes | Check Price |
| 8. Parrot Anafi | 21 MP | 25 min | 4 km | Yes | Check Price |
| 9. DJI Mavic Air | 12 MP | 21 min | 3.8 km | Yes | Check Price |
| 10. Holy Stone HS700 | 12 MP | 20 min | 300 m | Yes | Check Price |
(Below is a detailed list and reviews of all these drones)
Buyers Guide: How To Choose Drone For Night Photography
When buying a drone, you need to determine for what exactly you will use it for and how often. It is quite common that people buy a drone and not take its characteristics into account. Here are the five main things you need to consider when choosing a drone.
The camera is the most important thing that comes with a drone, therefore, choosing the right camera is crucial for good aerial photos. Most drones have built-in or add-on cameras that can take aerial images of at least 12 Mpx and at best 24 Mpx. Some drones have FPV so they can provide the pilot the view from the sky to a phone or tablet. Also, things to pay attention are features such as ISO, photo or video size, shutter speed, lens and more. These are some of the main things that are important for night photography as for day photography.
Flight range determines how far your drone can go from your standing point (remote control). The range is very specific because it depends on the type of the drone, the smaller drones have the flight range of around 100 m while more advanced quadcopters have a flight range of up to 8 km, which is quite sufficient. When choosing a drone, you need to consider for what purposes you will use it, and is range important to you.
When it comes to flight time, this also depends on the type of the drone, whether it's smaller model or more advanced model. Most drones offer a flight time that is between 15 and 30 minutes. We recommend that you always try to choose a drone with a better flight time as possible. Remember that you can always buy some extra battery and easily swap it.
The gimbal is a device that is attached underneath the framework of the drone and keeps the camera by pivoting around it. With a gimbal you can stabilize the motion in 3 axes: pitch, roll and yaw. This makes it much easier to stabilize shots during flight, no matter what drone tilt. Therefore, if you want to use your drone for aerial photography, it is advisable to have a 3-axis gimbal. Camera and gimbal work together when the drone is in the air so you can have stable and steady pictures.
And finally, the most important thing is how much you are willing to spend on your drone.There is a wide range of drones, but when we talk about  advanced models that are used for aerial photography, their starting price is at around $700 and extending to more than $3,000. The more money you spent the better drone you will get, therefore, you will need to carefully decide which model is right for you.
10 Best Drones For Night Photography
DRONE SPECS:
Dimensions: 427 x 425 x 317 mm
Battery Life: 27 min
Max Speed: Up to 94 kph
Max Range: 7 km
Camera Resolution: Zenmuse X5S or X5R
Video Resolution: 5.2K/4K; full HD 1080p
Weight: 3440 g
Lens: 24mm F2.8 LS ASPH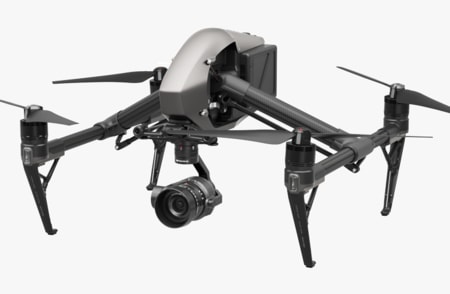 The DJI Inspire 2 is the perfect drone that is capable of taking good night photos with an SLR camera. This drone is designed for the most demanding photographers and filmmakers. The Inspire 2 can work with the DJI X5S or X5R camera. The X5S has fantastic micro 4/3 sensor that can capture 5.2K video at 30 fps using H.265 compression. When it comes to photos, the X5S captures 20 MP images with the RAW format.

8 lenses from 9 mm to 45 mm (equivalent to 18 mm and 90 mm on a full-frame sensor) are available for the mount of the X5S . The X5R has a 24 MP sensor that is capable to record  RAW videos in 6K 14-bit at 30 fps. Four fixed focal length lenses are available for the X7 , with focal lengths ranging from 16 to 50mm. This model is weighing 3.4 kg, and has the flight time of up to 27 minutes. It can reach speed from 0 to 80 kph in just 5 seconds, while for maximum speed, Inspire 2 can go up to 94 kph.

      PROS:
Interchangeable lenses.

Support 6K CinemaDNG / 5.2K Apple ProRes.

The quality of shooting at the level of much more expensive sets of devices
24-megapixel Super35 / APS-C sensor

3-axis suspension with 360 ° rotation
      CONS:
The price is not for the average user

Big sizes

Requires additional configuration and preparation for the flight
       DRONE SPECS:
Dimensions: 350 x 350 x 191 mm
Battery Life: 30 min
Max Speed: Up to 72 kph
Max Range: 7 km
Camera Resolution: 20 MP
Video Resolution: UHD 4k 
Weight: 1368 g
Lens: 24mm f/2.8 – f/11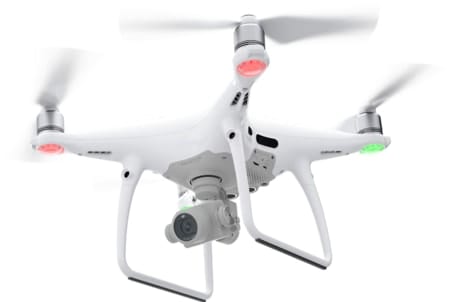 The DJI Phantom 4 Pro has always been the most drone among general public photographers that are looking for the best possible image quality. This drone has a large 1″ and 20 MP CMOS sensor. In addition to this large sensor, its main advantage is that it has a 24mm lens with a variable aperture ranging from f/2.8 to f/11. This variable aperture will allow you to control the amount of light captured other than with ISO sensitivity, thus avoiding overexposed scenes. During the night you can also take really nice photos.

When it comes to video, the DJI Phantom 4 Pro provides 4k recording with excellent fluidity, even when the drone is moving quickly, changes direction or experiences light bursts. To sum up; the DJI Phantom 4 Pro is the drone offering the best photo and video performance in this price range. The Phantom 4 is equipped with a FOV camera with a field of view of 94° allowing it to capture images in wide angle, and you can easily configure the type of quality that interests you from a wide choice of format ranging from classic HD (1280 × 720 24) up to UHD (4096 × 2160) which is the 4k format.
      PROS:
High video quality

Return To Home

Flight time

Good operating range

Upgraded obstacle sensors
      CONS:
No gimbal protection

No display on remote control

Cannot be folded
DRONE SPECS:
Dimensions: 513 x 513 x 310 mm
Battery Life: 30 min
Max Speed: Up to 70 kph
Max Range: 5 km
Camera Resolution: 16 MP
Video Resolution: 4K 30fps, HD 4640 x 3480
Weight: 3950g
Lens: f/3.5 14-42mm
The PowerVision PowerEye drone is made of high quality material for personal and professional use. This model has a stabilized 3-axis gimbal camera that is compatible with multiple micro variable lenses for 4k HD photos and videos. So you can change the lenses on your main camera easily. PowerEye also has 3 built-in cameras at the front, where one of them is used to stream video from the drone to give the pilot better navigation during the flight. This is necessary because the main camera which is used for taking photos and videos is mounted on a gimbal that is located below the drone.

This model has obstacle avoidance sensors to assist and warn you when the drone it is within 10 m of some object. PowerEye has a flight time of 30 min, weighs 3950 grams, and can reach speeds of up to 70 kph. It also has a thermal camera, so you can use this drone for a variety of purposes such as inspecting buildings, using it for search and rescue operations or for some other fun purposes. PowerEye has a landing gear that retracts after takeoff, so when using the 3-axis gimbal camera you can spin in any direction without interference.
      PROS:
4K UHD camera

Interchangeable lenses

Flight time up to 30 min

3-axis gimbal camera

Can carry a payload
      CONS:
Price

Software is a little bit behind
DRONE SPECS:
Dimensions: unknown
Battery Life: 28 min
Max Speed: Up to 30 mph
Max Range: 1 mile (1.6km)
Camera Resolution: 20 MP
Video Resolution:  4K 60fps
Weight: 1995 g
Lens: F2.8
The Typhoon H Plus is one of the high-quality aerial photography drones with the widest possible field of view. The Typhoon has always gone a step further than the Phantom and can flip up the landing gear after take-off. This means that the pilot and cameraman have a 360 ° free view and can align the gimbal and camera without interference.  The Typhoon H Plus can record videos in 4K at 60 fps, slow motion at 1920x1080p with 120 frames. The maximum photo resolution is 5472 × 3648 pixels, with 20 megapixels camera. The F2.8 lens of the drone camera shows that the H Plus is primarily designed for wide angles: the focal length equivalent is 23 mm and the recorded field of view is 91°.

Image files are saved as JPEG and DNG (RAW), video files are saved in MP4. So, you can capture high quality pictures and videos with this drone also during the night.Thanks to the strong camera and 360° field of view, the Yuneec Typhoon H Plus is a good option for professional photographers and filmmakers. Due to the size of the drone and the fact that the take-off weight with the C23 camera and RealSense module is 2.06 kilograms, the Typhoon H Plus is not for beginners and hobby pilots. 
      PROS:
360-Degree Image and Video Capture

3-Axis Sensor-Driven Image Stabilization

Capture 4K Video and 20MP Photos

Many advanced features

Equipped with sonar object recognition feature
      CONS:
To much time for charging

Price

Complicated controller for use
DRONE SPECS:
Dimensions: 322 x 242 x 84 mm
Battery Life: 31 min
Max Speed: Up to 44 mph
Max Range: 4.9mi (8km)
Camera Resolution: 20 MP         
Video Resolution: 4K @ 30fps
Weight: 2 pounds / 907 g
Lens: f/2.8
The DJI Mavic 2 Pro is the best choice for professionals and advanced users who want to get the highest image quality and at the same time use a compact, folding drone that you can easily take with you on a trip. This is the first custom drone with a Hasselblad camera and a 20-megapixel 1-inch CMOS sensor that uses proprietary Hasselblad Natural Color Solution (HNCS) technology to increase color accuracy. The model also uses the reliable OcuSync data transmission system, a 3-axis mechanical suspension to stabilize the camera, supports 4K 10-bit HDR video and the 10-bit color profile Dlog-M.

The DJI Mavic 2 Pro allows you to take shoot at UHD 4K/30p and HD/120p with a 70° field of view, while video can be recorded using H.264 or H.265 codecs with a bitrate of up to 100 Mbps. Hyperlapse is present among the shooting modes, and the improved APAS pilot assistance system detects obstacles around the quadrocopter and allows it to fly around, so that the pilot can concentrate on the shooting process. The Mavic 2 Pro is ideal for professionals as well as advanced hobby pilots who want crisp, sharp, and detailed shots. You can also use this model during the night, and with the right lighting you will get incredible images.
      PROS:
Superb image quality

DLog-M for movie shooting

Support for H.265

20MP 1-inch CMOS sensor

3-axis stabilization suspension
      CONS:
The best option for 4K shooting is only available from the crop zone of the matrix

Lack of 4K / 60p video

Extra batteries are expensive
DRONE SPECS:
Dimensions: 322 x 242 x 84 mm
Battery Life: 31 min
Max Speed: Up to 44.7 mph
Max Range: 4.9mi (8km)
Camera Resolution: 12 MP
Video Resolution:  4K; Full HD 1080p
Weight: 2 pounds / 905 g
Lens: f/2.8 (24 mm)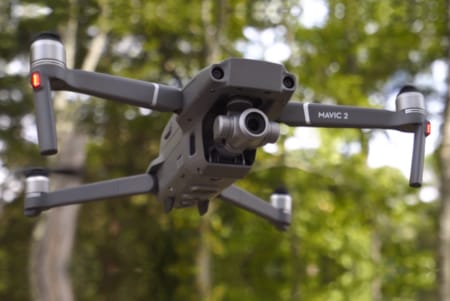 The DJI Mavic 2 Zoom is the direct descendant of the first Mavic Pro with the addition of a 4x zoom lens. This version is ideal for both ordinary consumers and professionals who need more flexibility in terms of focal lengths with the ability to take detailed pictures of objects without getting too close to them. Mavic 2 Zoom can be in the air for up to 31 minutes and is equipped with the same smart features as the Mavic 2 Pro, including Hyperlapse, as well as directional sensors for avoiding obstacles. The model is equipped with a 2x optical (4x digital) zoom lens with an angle of view from 83° (24 mm) to 48° (48 mm) on a three-axis stub.

Among the photo modes, there is the SuperResolution mode, which uses optical zoom to automatically shoot and glue nine photos to produce one highly detailed 48-megapixel image, which is an ideal option for landscape photography. In terms of video, the Mavic 2 Zoom allows you to shoot in 4K/30p, 2.7K/60p or 1080/120p for slow motion with the D-Cinelike color profile and bitrate up to 100 Mbps with support for the H.265 codec. The Mavic 2 Zoom was the first and so far the only drone with an optical zoom lens. 
      PROS:
4x optical zoom.

Unique flight modes

Support for H.265

3-axis suspension

12-megapixel, 1 / 2.3-inch CMOS sensor
      CONS:
Lack of a mechanical shutter

No log entries

Very expensive batteries
7. GoPro Karma (with HERO7 Black)
DRONE SPECS:
Dimensions: 304 x 411 x 116 mm
Battery Life: 20 min
Max Speed: Up to 56 kph
Max Range: 3km
Camera Resolution: 12 MP
Video Resolution: 4K 60 fps; 1080p
Weight: 907 g
Lens: 8.25mm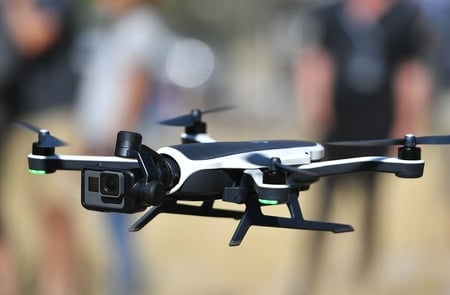 The GoPro Karma is distinguished by its very design that is nevertheless interesting: very flat, it is ultimately relatively compact once its arms folded. Since this drone has the ability to swap cameras, the GoPro Hero 7 black is a good fit for night time shooting on this model. A quick tour of the technical characteristics reminds us that the Karma is not a racer, but a quadcopter made for discovery, flight in cruising mode and aerial walk around. It has 4 brushless motors that have flight speed of nearly 56 kph and allow it to rub against winds of up to 10 m/s.

Stabilization is ensured by a GPS/Glonass module and the LiPo battery of 14.8 V with 5100 mAh promises an autonomy of 20 minutes of flight, which we have been able to verify in practice. The takeoff operation is very simple: once the tiny landing gears are unfolded, arms are open and the propellers screwed on, the remote control is first turned on, then the drone. The image quality of the Karma is of course the same as that of the GoPro Hero7 Black. The video quality is 4K / UHD at 60 fps.
      PROS:
4K image quality

Ease of use

Interesting modular concept
      CONS:
Does not shoot at 60 fps in 4K

Could be more compact
DRONE SPECS:
Dimensions: 175 x 239 x 63.5 mm
Battery Life: 25 min
Max Speed: Up to 33 mph
Max Range: 2.5mi
Camera Resolution: 21 MP
Video Resolution:  4K FHD 60fps
Weight: 320g
Lens: f/2.4 (23 mm)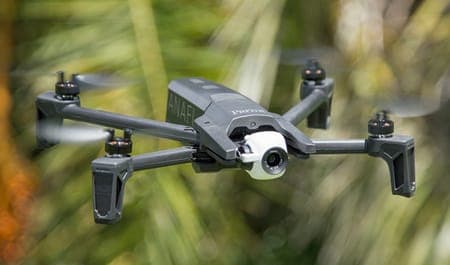 The Parrot Anafi is a folding portable drone with advanced photo and video capabilities, as well as a stabilization suspension unique to its class, which allows the camera to shoot vertically up and vertically down. The maximum speed of this drone is 55 km/h, and the battery allows you to fly up to 25 minutes on a single charge. The drone is not equipped with an obstacle avoidance system, but the application has a number of automatic flight modes supported by artificial intelligence algorithms.

As for the camera, the Parrot Anafi is equipped with a 21-megapixel 1/2.4-inch CMOS sensor from Sony, a 23mm equivalent f / 2.4 lens and allows you to shoot not only in JPEG, but also in DNG RAW. When shooting at 1080p (FHD), the camera can use a 2.8x lossless zoom. Video recording is available in DCI 4K/24p, UHD 4K/30p and 1080/60p with a bit rate of 100 Mbps and with support for HDR. Lightness and portability make Anafi a good choice for travelers, but the model is not very stable in strong winds. This is the cheapest drone on our list but it can certainly serve for night photography.
      PROS:
Unique 180 ° stab

Dolly Zoom effect

2.8x digital zoom for 1080p video

21 megapixel, 1/2.4-inch CMOS sensor

4K / 30p video with HDR
      CONS:
Lack of obstacle avoidance system

You need to get used to management

Not very stable in strong winds
DRONE SPECS:
Dimensions: 168 × 184 × 64 mm
Battery Life: 21 min
Max Speed: Up to 42.5 mph
Max Range: 2.4mi (3.8 km)
Camera Resolution: 12 MP
Video Resolution:  4K 60fps
Weight: 430g 
Lens: 24mm f/2.8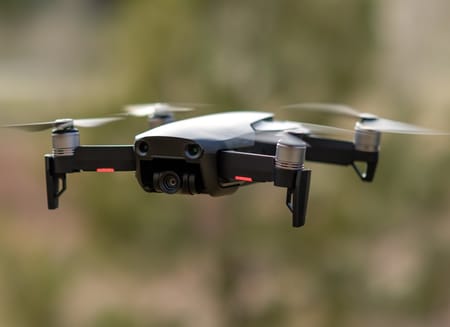 The DJI Mavic Air is the second smallest drone of the DJI brand after the DJI Spark. It has foldable wings, which limits the risk of breakage during transport and even allows it to be carried in a pocket. Do not be influenced by the size of the  Mavic Air , this small machine has performance worthy of a much larger drone. It is even the first foldable drone capable of capturing 4k videos at 60 fps. Mavic Air uses 1/2.3-inch 12-megapixel CMOS sensor, equivalent to 135 frames 24mm focal length. This drone is equipped with many intelligent functions.

Mavic Air can easily follow moving subjects, and is capable of  detecting obstacles in 3 directions (front, bottom, rear) with incredible 32 MP sphere panoramas. This model will be perfect for any photographer or videographer that is looking for an excellent drone without looking for the best in terms of autonomy and flight range. Mavic Air has a flight time of up to 21 minutes and a flight speed of up to 68.4km/h. The official claim that it has five levels of wind resistance makes it fly at a high altitude of 5000 meters. This drone is suitable for night photography also at affordable price..
      PROS:
1 / 2.3 "12mp CMOS sensor

4K videos at 30 FPS

Foldable boom

3-axis gimbal
      CONS:
Only 8GB internal storage

Short flight time
DRONE SPECS:
Dimensions: 220 x 220 x 155 mm
Battery Life: 20 min
Max Speed: Up to 15.5 mph
Max Range: 300 m
Camera Resolution: 12 MP
Video Resolution:  1080p FHD
Weight: 370 g
Lens: 110°FOV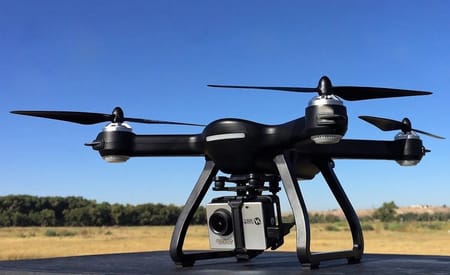 The Holy Stone HS700 is a good camera drone to get started with. With an affordable price and a fine camera gimbal setup, it is not equally worthwhile for everyone – but for certain people. The HS700 comes with a 1920x1080p Full HD camera that has a 120° viewing angle. Such wide-angle settings are known from earlier years, when good camera drones acted more as flight platforms. The wide-angle shots have the advantage where you get a lot of scenery in the picture. The image curvature can be corrected in post-processing with video programs, but one cannot expect this from beginners.

The highlight of the HS700 is not the supplied action cam – but the gimbal! The camera holder on this model is compatible with GoPro cameras. By this you can massively upgrade your drone in terms of camera technology and always install new action cameras. This model also have features such as Follow Me and Return to Home. With this drone you will be able to take night photos also, although it is the cheapest drone on this list. If you are interested in night pictures and videos of what a GoPro camera can do, feel free to check out Youtube reviews.
      PROS:
Easy to operate

Headless mode and low power alarm

Return to home

Compatible with other cameras

Quiet during flight
      CONS:
Short flight time

The battery takes long to charge

No 3-Axis Gimbal
5 Tips For Night Photography With Your Drone
The most experienced pilots will tell you that aerial photography is an art that requires knowledge of certain basic rules at the photographic technical level and good notions of piloting. Best way to learn how to do night photography is to start. So, follow these 5 tips to get the best night photos from your drone:
1. Prepare The Flight Plan
As most of the drones have relatively short flight time, unless you have enough spare batteries, it is better to develop a flight plan and save some time. Some drones have GPS and allow you to program circuits so you can fly in automatic mode. This mode is perfect for those who want to focus on framing and shooting without worrying about stabilization and steering. Find some attractive places like; roads, bridges and highways for your night photography. Try to avoid flying over people, because it is not advisable (and it is forbidden), and find some open areas such as parks and rivers.
2. Make a Test Flight During The Day
Doing a test flight is a very useful and desirable thing to do before nightly shooting. Make a test flight during the day, so you get a better feeling of your location beforehand. You need to specify a launch and landing spot, because it's easier to do that during the day, instead of night. Check for the trees, pillars and buildings in your area, so you can get a better feeling. It would be advisable to bring a friend with you, so you have extra pair of eyes at your disposal. Picking a calm night is also important because strong winds can disturb your drone in the air and affect stabilizing the image.
3. Set Your Camera For Night Shots
Set up correctly camera features is the main thing. First, you will need to set the settings correctly by selecting manual mode, so ISO is at 100. Also you need to set your shutter speed between 1.5s – 4s. Shutter speed depends on many things, as example: for moving cars, it is best to have about 2.5 sec shutter speed, but this factor also depends on the speed of the car. The drones of the Mavic range, the Inspire range and the Phantoms have very impressive camera systems, such as: the Zenmuse X3, X5, X5R, XT. These cameras all offer a wide range of resolutions and (at different degrees) a large sensitivity range: around 100 to 25600 ISO on the most advanced drones.
4. Always Take Multiple Shots
If you decide to take aerial photographs during night, it is advisable to take as many photos as you can. These photos should be taken in DNG (RAW) format, if they are supported by your camera. The RAW file format saves all the image data that is captured by the sensor while you take a photo. So remember to take multiple images with your drone at night.
5. Learn How To Post Processing
Once you've taken the night photos with your drone, you need to know how to process them to get the best possible picture. Whit just a little bit of editing you can get much better long exposure shots. It is advisable to experiment with white balance settings, add lighting where needed, and select color saturation to get a unique look for your night images. There are plenty of educational videos on Youtube about Exposure drone photos to help you learn how to edit these kinds of photos yourself. This is also a good opportunity to become a pro photographer.
Favorite Subjects For Your Night Shoots
Cities and their roads with moving vehicles

The sky, the stars and the clouds

Real Estate Photography

Concerts and Events Filming

Wedding Photography at night

Wildlife at night
Can You Legally Fly With Your Drone at Night?
If you want to fly your drone during the night, you need a night waiver. A night waiver is official document issued by the FAA in which you can operate with your drone (aircraft) at night. Once you obtain the night waiver, you must follow the rules under that restrictions. Night waiver or Part 107 waiver rule say that you must have lights on your drone that is visible for at least 3 miles. That is an additional equipment that you must put on your drone and does not come with the drone.

It takes about 90 days to get a Part 107 waiver from the FAA. In January 2019, FAA published future regulation rule, where they say that you might in the future fly at night without a waiver. Many people think this regulation will take some time and will be effective in the next 3 to 5 coming years. The FAA will require pilots to learn night flight informations, so you will not need a night waiver. Note: If you want to take night aerial photography without night waiver, you do it at your own risk.
Best Night Shots: Drone And 1000 Watt Lamp
If you attach a 1000-watt lamp to a powerful Alta drone , you can look into the very heart of the night – as the authors of this video do. In 2016 video blogger an YouTuber assembled a 1000-watt LED lamp on a drone. The powerful Freefly Alta 8 drone (which some craftsmen have already adapted for  single-handed surfing ) can shoot a beautiful video in which a ray of unnatural light from drone lamps conquers space from the dark.
As you can see, drones are capable of taking beautiful night photography. It takes a lot of knowledge to do aerial photography, because it is an art, and shooting at night is no different, even it is more complex. That is why we tried to cover all things that are related to night photography in this article. We went through things such as; tips for night photography, how to choose a suitable drone with right camera, ways to adjust your shooting settings and most importantly; a full review of the top 10 best drones that are suitable for this job with all their pros and cons. We also described a step-by-step guide on how to use a drone during the night. If this article helped you or you have something to add, feel free to leave a comment below.