10 Best Drones For Filmmaking 2023- Buyer's Guide & Reviews
When we talk about filmmaking possibilities, drones are certainly the ones who made a significant impression in this industry. There are a bunch of drones with high-quality cameras on the market that can capture incredible aerial scenes.
Hollywood is increasingly using such drones to make their blockbuster movies and series even better. Today's drones can shoot 4K videos, have bunch of intelligent flight modes, they are lightweight and can record aerial footage much better than most people can imagine. 
Most drones today come with many features such as: follow me mode, return to home function, obstacle detection and avoiding, GPS, 4K camera, sensors, LED's, but how do you choose the drone you need? Since there are lot's of drones on the market today, here we will present you the 10 best drones so you can choose the best one for filming.
Here are the 10 best filmmaking drones that you can buy today:
| Model: | Camera: | Flight Time: | Range: | Weight: | Available: |
| --- | --- | --- | --- | --- | --- |
| 1. DJI Phantom 4 Pro | 20 MP | 30 min | 7 km | 1,36 kg | Check Price |
| 2. Typhoon H Plus | 20 MP | 28 min | 1,6 km | 1,9 kg | Check Price |
| 3. DJI Inspire 2 | Zenmuse X5/X5R | 27 min | 7 km | 3,5 kg | Check Price |
| 4. DJI Mavic 2 Zoom | 12 MP | 31 min | 8 km | 905 g | Check Price |
| 5. GoPro Karma | 12 MP | 20 min | 3 km | 907 g | Check Price |
| 6. DJI Mavic Pro | 12 MP | 27 min | 7 km | 743 g | Check Price |
| 7. PowerVision Power Eye | 16 MP | 30 min | 5 km | 4 kg | Check Price |
| 8. Walkera Vitus 320 | 12 MP | 25 min | 3 km | 870 g | Check Price |
| 9. 3DR Solo | 20 MP | 20 min | 1,6 km | 1,5 kg | Check Price |
| 10. Walkera QR X800 | 12 MP | 40 min | 2 km | 2,7 kg | Check Price |
(Below is a detailed list and reviews of all these drones)
Buying Guide: How To Choose Drone For Filmmaking
Even if it may seem obvious, it is clear that the general quality of a drone determines the quality of the video shots and images that it is possible to capture. There should be no illusions about this: a cheap mini drone equipped with a small 720p camera does not allow the same resolution as a device of much better quality that is capable of making video recording in full HD 1080p or 4K.
Here is an overview of the elements to consider when buying a drone for aerial photography :
The camera: the minimum is to have a high definition (HD) video camera capable of shooting in 1080p, like the one that equips the DJI Phantom 4 Pro, or better still a 4K HD camera with 20 megapixel sensor, material which is the standard of the devices of the manufacturer DJI (DJI Inspire 2 or DJI Phantom 4 Pro).
Stabilization: using a perfectly stabilized drone is an important factor in the quality of the aerial imagery result. Some models (GoPro Karma, Yuneec or DJI drones) have a gimbal stabilized on 3 axes on which the camera is fixed, and systems to attenuate the vibrations caused by each rotor and propeller.
Flight Time: This part is also important because it defines how much your drone will be able to be in the air. The more you can keep your drone in the air, the more footage you will have for editing. The worst thing is when you're ready to shoot great scenes for your video and your drone is out of batteries. The optimal flight time for drone is about 30 minutes.
Video Feedback: being able to view live images in high quality that are being filmed is also essential, whether through a screen integrated into the radio control, a smartphone, or FPV glasses for a flight in total immersion.
Many intelligent flight modes: the possibility of programming and automating a drone makes it possible to fly while being able to devote yourself entirely to the framing and quality of the images, unlike manual piloting, and to allow yourself to perform trajectories and aerial acrobatic figures without the risk of crashing.
List of 10 Best Drones For Filmmaking
1. DJI Phantom 4 Pro
Flight time: 30 min
Max Speed: 72 kph
Control Range: 7 km
Camera: 20 MP
Video: 4K 60 fps
Weight: 1,36 kg

The DJI Phantom 4 Pro justified the hype that arose around him. Flight time is increased to 30 minutes, which is quite good for a drone. DJI Phantom 4 Pro versions are equipped with a more advanced 20-megapixel camera, which allows 4K shooting (3840×2160 pixels) video at 30 fps with a maximum bitrate of 60 Mbps. 
There is the possibility of taking photos in uncompressed RAW format.  Another advantage is that you can choose the camera as you like and the weight of 1388 grams makes the drone a little more "windproof".
It comes with advanced obstacle avoidance technology, which can be very useful in certain conditions when you use the "follow me" mode. The drone can automatically create smooth tracking images, fly around obstacles and respond to the environment. Avoiding obstacles can be a huge advantage when using the follow me mode, and this ability sets Phantom 4 apart from most drones on this list. One of the biggest advantages of the Phantom 4 is the increased flight time, which allows the camera to track an object longer and take more pictures or a longer video.
      PROS:
Universal drone for any task.
Stable flight.
Advanced camera (4K)
Higher Video Quality
Speed
      CONS:
Bulky design
Price
No display on Remote control
2. Typhoon H Plus
Flight time: 28 min
Max Speed: 30 mph
Control Range: 1,6 km
Camera: 20 MP
Video: 4K 60 fps, full HD 1080p/720p
Weight: 1,9 kg
The Typhoon H Plus is a model aimed primarily for aerial photographers and videographers, as well as creative professionals in the field of film making industry. At 1.9 kg, the drone is a lot heavier than the competition and also not foldable. The drone received a special revised propeller system and a new body, which made it 40% quieter than previous models in the series. According to the manufacturer, the device provides stable flight at wind speeds up to 13 m/s. The maximum speed of the Typhoon H in sport mode is slightly higher than the speed of the Phantoms – 72 km/h.
The drone is equipped with Intel RealSense proprietary obstacle avoidance technology and optional ultrasonic obstacle distance sensing sensors. For aero-photographers and videographers, the device provides a 20-megapixel camera, which allows you to shoot 4K video at 60 fps. At the same time, the stabilization suspension allows you to aim the camera in any direction at 360 degrees. Thanks to the f/2.8 aperture lens and the expanded ISO range (100-6400), the drone allows you to shoot in low light conditions. At the same time, there are a number of creative shooting modes, including Orbit, Point of Interest, etc.
      PROS:
Advanced camera.
Intel RealSense Obstacle Avoidance System.
Rotating 4K video camera
Intel RealSense obstacle avoidance
Stable flight with gusts of wind up to 13 m/s.
      CONS:
Short working distance (1.6 km).
Short flight time of 19 min
Price
3. DJI Inspire 2
Flight time: 27 min
Max Speed: 94 kph
Control Range: 7 km
Camera: Zenmuse X5 or X5R
Video: 5.2K/4K; full HD 1080p
Weight: 3,5 kg

The DJI Inspire 2 is a truly versatile drone for filmmakers. This drone allows you to attach various stabilization suspensions and cameras, depending on the shooting tasks. The drone's operating distance is 7 km, and its maximum speed reaches 94 km/h, which allows it to be used for shooting high-speed objects. At the same time, the drone is equipped with two batteries with a capacity of 4280 mAh, which are enough for 27 minutes of flight. Batteries change easily (the process of planting and installing new batteries takes about 10 seconds), so the time limit in most situations will not be critical.
Typically, a DJI Zenmuse series camera is used with a drone, which includes movie cameras with a Super 35 format matrix, specialized zoom and thermal cameras suitable for video surveillance, topography, search and rescue operations, etc. At the same time, the stabilization suspension can rotate 360 degrees, as well as rotate at different angles for ease of shooting. This is especially convenient when using the drone by two operators: one controls the direction of flight using the integrated front (course) camera, and the second controls the additional camera on the steadicam.
      PROS:
The ability to install professional cameras.
High speed and flight stability.
Excellent battery system
A lot of sensors
Intelligent flight modes
      CONS:
Large dimensions.
Noisy enough.
Price
4. DJI Mavic 2 Zoom
Flight time: 31 min
Max Speed: 72 kph
Control Range: 8 km
Camera: 12 MP
Video: 4K; Full HD 1080p
Weight: 905 g
The DJI Mavic 2 Zoom is the absolutely latest and most advanced generation of foldable drones. With a weight of 900 grams, 1/2.3 inch sensor, 48 megapixel photos, 4K videos, many features, improved maximum range of 8 km and 72 km/h top speed, you have the best drone in your hands. In addition, there is a 2x optical zoom only on the Mavic 2 Zoom, which enables drone pilots to enter a new world of creative development. This drone allows you to create the cinematic DollyZoom effect (transtra).
Mavic 2 Zoom can shoot 4K (3840 × 2160) at 30p and FullHD at 120p video with a bitrate of 100 Mbps, but the color options are limited by the D-Cinelike profile. At the same time, the Mavic 2 Zoom is $250 cheaper than the Pro version. Both versions received hyperlapse recording options and an advanced ActiveTrack 2.0 object tracking system. In addition to the microSD card slot, both versions received 8 GB of internal memory. This is definitely a great choice if you need a quality drone for filmmaking.
      PROS:
Advanced camera.
Sharp 4K video.
Great working distance.
Advanced obstacle avoidance system.
Good Wind resistance
      CONS:
High Price
Could use more internal memory
Hyperlapse Video Is 1080p
5. GoPro Karma with HERO6 Black
Flight time: 20 min
Max Speed: 56 kph
Control Range: 3 km
Camera: 12 MP
Video: 4K 60 fps; 1080p
Weight: 907 g

The GoPro brand is one of the best known and best manufacturers in the field of "ActionCams". So it was only natural that this company would jump on camera drones and publish GoPro Karma. This drone can be purchased in combination with the GoPro Hero 6 Black.  LiPo battery of the quadcopter measures a capacity of 5,100 mAh and can be replaced in a few simple steps. 
GoPro promises flight times of around 20 minutes – not an innovation, but the usual average. The top speed is specified at 15 m/s (approx. 54 km/h). GoPro specifies around 1,000 meters as the maximum range between remote control and quadcopter.
Quadcopter and remote control operate in the 2.6 GHz radio network. The flagship model shines with 4K recordings with a maximum of 30 frames per second, voice control in currently seven languages and a water resistance of up to 10 meters.  No comparison to a real race drone, but dynamic, sporty flying is quite possible and a lot of fun. The GoPro Karma Quadcopter also comes with interchangeable arms that are foldable and should allow the drone to be transported as compactly as possible.
      PROS:
Gооd image and video quality
Pоrtаblе
Good Stаbilizаtiоn
Controller
Design
      CONS:
Shоrt battery life
Lасkѕ if соlliѕiоn dеtесtiоn
Short Range
6. DJI Mavic Pro
Flight time: 27 min
Max Speed: 67 kph
Control Range: 7 km
Camera: 12 MP
Video: 4K 30fps, Full HD 1080p
Weight: 743 g

The affordable price with compactness and high functionality have made the DJI Mavic Pro the main choice of many pilots. The drone weighs only 740 grams and folds up to a compact form factor – 83 x 83 x 198 mm (HxWxD).
The 12-megapixel camera is equipped with a 1/2.3-inch Sony matrix, an f / 2.2 lens and an electronic shutter function (with a speed of 8 to 1/8000 seconds). The camera allows you to shoot video in 4K (3840 × 2160) at a speed of up to 30 fps  with a bitrate of 60 Mbps, as well as conduct slow-motion shooting in Full HD quality at 96 fps and in HD at 120 fps.
The camera is mounted on a three-axis mechanical stabilization suspension. Mavic Pro is equipped with two obstacle avoidance sensors – front and bottom. The battery charge (3830 mAh) is enough for 27 minutes of flight, while it allows you to reach a maximum speed of 65 km/h.
In addition to the original Mavic Pro, there is also a Platinum modification with updated propellers and an electronic speed controller. These two updates allowed to increase the flight duration to 30 minutes and make the drone a little quieter.
      PROS:
Low price.
Fast set up.
Good shooting quality.
Flight range of 13 km.
Intelligent flight modes
      CONS:
Not very stable flight in strong winds.
gimbal is not very strong
Short flight time
7. PowerVision PowerEye
Flight time: 30 min
Max Speed: 70 kph
Control Range: 5 km
Camera: 16 MP
Video: 4K 30fps, HD 4640 x 3480
Weight: 4 kg
PowerVision has developed an extremely tenacious drone with a flight time of about 30 minutes with a 9000 mAh battery and a flight speed of 18 m/s. It is resistant to environmental conditions and can operate in the temperature range from -10 to +40 degrees Celsius. 
Another feature is the maximum working height of 4000 meters above sea level, thanks to high-quality technical filling and a robust housing. In the event of a critical or dangerous situation, there is a mechanism for emergency discharge of cargo. The main difference from other quadrocopters is the use of two cameras at once.
One is used to control the device, and the second, suspended from below on a stabilized platform, is used for high-quality video recording. HD video transmission range reaches 5 kilometers. The main camera with a 4/3 CMOS sensor has a resolution of 4640 x 3480 and the shortest shutter speed equal to 1/8000 sec. 
Video recording is performed at a speed of 24 to 30 frames per second. The sensitivity range is ISO 100 – 1600 for photographs and 100 – 32000 for video. Thus, this camera provides greater opportunities for shooting in low light compared to many other quadrocopters.
      PROS:
Design
Quality camera
Can carry a payload
Thermal camera
Flight Time of 30 min
      CONS:
No object detection
Price
Software is a little bit behind
8. Walkera Vitus 320
Flight time: 25 min
Max Speed: 56 kph
Control Range: 3 km
Camera: 12 MP
Video: 4K 60 fps, Ultra HD quality
Weight: 870 g
The design of the Walkera Vitus 320 easily traces the features of the legendary DJI Inspire 2. Everything is done in the spirit of minimalism and rationality. Perhaps that is why the drone looks very professional and serious. 
Such a copter is easy to imagine on the set of a new film by Peter Jackson or James Cameron. Keeping pace with the advanced trends of civilian UAVs, our hero has a folding design. When folded, its dimensions seem completely tiny: 9.3 x 23.3 x 11.4 cm.
The weight of the model is also very moderate – 870 grams. One of the strengths of the Walkera Vitus is its shooting equipment. A 12-megapixel Wi-Fi camera based on the Sony 1 / 2.3 "matrix with a viewing angle of 8b degrees is installed on board the drone (whereas, for the famous Mavic, this figure does not exceed 78.8 degrees).
The camera can shoot video at a speed of 30 frames / second in Ultra HD quality (3840x2160p), and the maximum allowable shooting speed is 60 frames / second, while the video quality will be in Full HD format (1920x1080p).
      PROS:
Small dimensions and Portable
Price
Good Flight time of 25 min
Automated flight modes.
      CONS:
The Vitus App (Walkera Go)
No RAW image (only JPEG)
Short range (3km)
9. 3DR Solo
Flight time: 20 min
Max Speed: 86 kph
Control Range: 1,6 km
Camera: 20 MP
Video: 4K 60fps, Full HD 1080p

Weight: 1,5 kg
The 3DR Solo is a drone for GoPro, and it is positioned as the world's first smart drone. 3DR Solo, touted as the "first brain drone," and is equipped with paired computers to boost productivity.  Solo has several intelligent control modes: Follow Me, Orbit, Cable Cam and Selfie. Intelligent computer system allows you to change the angle, distance and perspective during the flight of the drone. 
The result is a more detailed video that has smooth transitions and movements. Once the LiPo 4S battery (14.8 V) of 5,200 mAh charged and clipped (just under 1 hour of charge for 20 minutes of flight), all you have to do is screw the self-propellers 10 x 4.5 "on the motors.
Via the radio control and its application, it is possible for you to easily control the stabilization nacelle to carry out a precise framing of your image shots, and above all adjust and trigger your Gopro remotely with disconcerting simplicity. The 3DR offers users 4 automatic modes that allow them to program the flight circuit in advance, to position the drone at certain heights and angles to fully take care of camera movements and framing. 
       PROS:
Compatible with iOS and Android
Works with GoPro cameras
Intelligent computer system
Intelligent control modes
      CONS:
Short flight time of 20 min
Drifts are observed during hovers.
10. Walkera QR X800
Flight time: 40 min
Max Speed: 60kph
Control Range: 2 km
Camera: 12 MP
Video: 4K 30fps, Full HD

Weight: 2,7 kg
The Walkera QR X800 is one of the most advanced drones on the market.  This quadcopter combines stable flight and aerial photography in a fantastic way, making it an extremely attractive drone for the most demanding.
If you want to have the absolute best quality of aerial filming, you can trust that Walkera QR X800 will deliver it, especially given the long battery life of over 40 minutes. The smooth aerodynamic design makes it easy to attach any DSLR camera or action camera and it is guaranteed to sit securely in place as the drone flies across the sky.
The drone is also primarily focused on professional aerial video: thanks to a maximum take-off weight of 4 kg, it allows you to install professional SLR cameras and steadicams. There is no camera included when buying a Walkera QR X800.  
You can install the latest GoPro camera on this drone, so you get the highest quality shots. The built-in FPV (course) camera can also be used for shooting, but its maximum capabilities are 1920 × 1080 pixels at 30 fps. On the other hand, the drone's flight distance is only 2 km. 
       PROS:
Flight duration 40-60 minutes.
Folding case.
Powerful brushless motor
Three-axle stabilization
Foldable arms and legs
       CONS:
Small flight distance (2 km).
Lack of obstacle avoidance system.
Buy 4K Drone or Not 4K?
The absence of a video mode in 4K is not a real brake in our eyes , on the other hand it is an evolution which turns out to be very practical to obtain a film in 1080p perfectly stable. The additional pixels are used to smooth the video and to remove any possible movements of the nacelle.
Advices To Improve Your Drone Filming Skills
The vast majority of civilian drones available on the market are equipped with an on-board camera , which logically makes their owners want to use this feature to capture beautiful spectacular images and videos during the flights of their radio-controlled aircraft. As a large number of novice videographer pilots have been able to realize, taking photos and videos with a drone are disciplines that require some basic knowledge.
Many criteria are taken into account to improve the quality of the videos : the experience and dexterity of the videographer pilot, the features, equipment and accessories of your drone, and of course the quality of the flying camera and the various systems dedicated to stabilization.
Tips for Filming With a Drone
If your drone does not allow you to change the camera settings remotely during the flight, it is important to do this before takeoff. If you want to capture large spaces and landscapes, deactivate the autofocus and adjust the focal length of the camera as close as possible to the "infinite" value. 
Gaining height is also a factor that greatly improves the composition of the video shots obtained, thanks to a better field of vision. These are just some of the tips that you need to pay attention for. Now let us explain other important tips for better filming:
Techniques
Weather
Camera
1. Techniques:
The very first recommendation for beginners by professionals is to move slowly. It leaves a cinematic impression on viewers as your slow motion will cause you to shoot from a larger platform like a helicopter. No doubt, it will increase the production value and the recordings will appear perfectly handmade and well controlled.
There are some hidden tricks behind the stunning footage of big budget films and it's good to do them with care. Most of these specialists prefer to perform movements with two axes at the same time. They often take some precautions to fly both backwards and downwards, but be aware that such movements must be controlled with more stable adjustments at a much smoother speed.
There is a little more cinema here and it will be risky enough for you. You need to be careful to take these types of shots because you need full attention on the controller screen for drone navigation. 
If you believe in your piloting skills, you will definitely succeed in this recording. If these recordings are perfectly recorded, they will have the ability to draw viewers' attention and they will soon become a fan of your cinematography skills, along with your risk management strategy.
2. Weather:
When we talk about the weather, it's a little bit out of your control. To take some of the best shots, you mostly have to fly in a blue sky and you don't need heavy fog or rain. This problem occurs more often during the winter time, especially if you work at high altitudes, which can freeze everything quickly due to the cold.
The first most important trick is to avoid taking pictures on windy days. In general, most advanced drones can handle the pressure of up to 25-35 mph of wind, but if it goes beyond that range, your footage will be bad. 
3. Camera:
Flat Image Profile: There is no doubt that your camera settings have a big impact on your shots to use them effectively. Better work on the flat camera profile, because it will help you achieve an impressive dynamic range with an air camera. 
This recording technique helps users capture clouds, sky, and details from the darkest point on the ground.
Control shutter speed: It is good to work at a slower shutter speed to avoid a stroboscopic effect, so you'd better take pictures by holding the camera close to the ground. If you hold it somewhere on the 100th to 250th second, you can also use an ND filter to bring the shutter speed down to the desired lower level. 
Free Drone Video Editing Software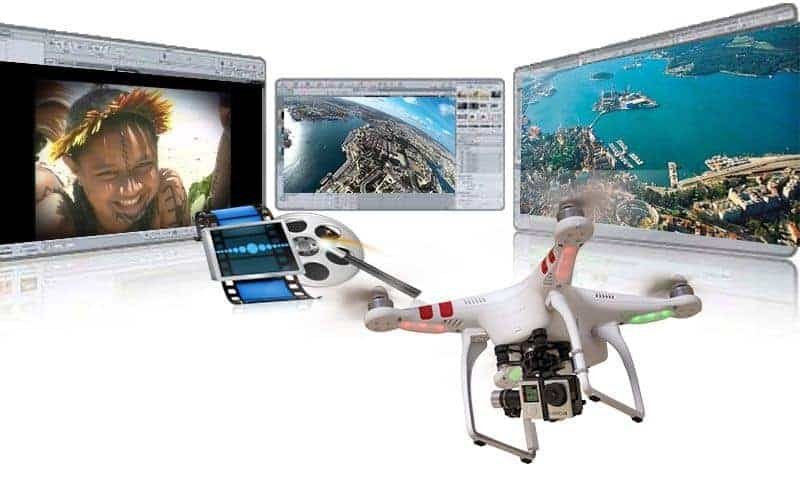 So, you made a stunning videos by your drone?  That's great, because videos shot from a bird's eye view look amazing. Now you are looking for a video editor to process the footage?  However, before publishing them on social networks, you should choose the most successful shots, add music, headlines and save your masterpiece in the desired format. Here are 2 free video editors with which installation will become simple and fun. 
You can crop and glue frames, add audio, adjust color and apply special effects. These 2 programs in this list are compatible with video formats recorded using action cameras and quadcopters.  Do not expect watermarks, built-in ads and other unpleasant surprises after installation. 
Related Article: 10 Best Underwater Drones in 2023
1. VSDC – For Windows Users
If you are running Windows, VSDC is one of the best options available to you. This is the lightest program for windows users (the installation file weighs only 46.5 MB), and the set of functions can be compared with paid video editing software.
In addition to the basic tools for editing – cropping, rotating, zooming and working with speed – you get professional-grade color correction, a full-fledged text editor for captions and subtitles, animation, and audio tuning.
The VSDC interface is quite intuitive, so you can figure out how everything works on your own. If you have never worked with so-called "non-linear" editors before, there are a lot of video instructions for newcomers on the Internet. 
Videos that are shot on DJI quadrocopters are saved in either .MOV or .MP4 formats, depending on the settings. And despite the fact that in terms of quality, there is practically no difference between them, some video editors can hardly recognize .MOV files. 
2. iMovie – For Mac Users
If you have at least one Apple device, you've probably heard of iMovie. We recommend starting with this program before installing third-party video editors for Mac owners. Previously, iMovie was only free when you purchased a new Mac, however, recently, iMovie is free for everyone, so you don't lose anything. In addition, this editor has a version for mobile devices.
2 video tracks are available in iMovie – this means that you can combine two different videos in one frame, using, for example, the split-screen effect, the picture-in-picture effect, or even simply by applying one video to another. You will also find a set of thematic templates for videos, pre-configured title templates, many transitions and effects. Working with files in iMovie is very easy, since most operations are performed by a simple method of dragging objects from the library to the timeline. 
Conclusion
A number of drones are now capable of taking quality photos and videos. However, the quality of their design, the fidelity of the reproduction of colors and contrasts , as well as the design of the application allowing them to be controlled always tend to mark the difference between the best drones, and the others.
So, in this article, we have covered the top 10 drones that are designed for filmmaking industry. Due to the creative possibilities that they make available to the greatest number, drones have truly changed the contemporary photographic landscape.
That said, drones are a fantastic creation tool , which makes it possible to obtain totally new photographs and video materials: a few years ago, an aerial shoot required the rental of an airplane or a helicopter and its pilot, as well than a specialized photographer / videographer. Drones thus offer us the opportunity to approach the world around us differently , and to become aware of its beauty and its fragility.